These decadent double chocolate peppermint cookies are part of my Christmas Cookies Series, check out the other two recipes at the end of the post!
If you usually don't like peppermint cookies because they "taste like toothpaste" (my boyfriend says that lol), well friend...with this recipe I am ready (and confident) to change your mind. Boyfriend approved!
---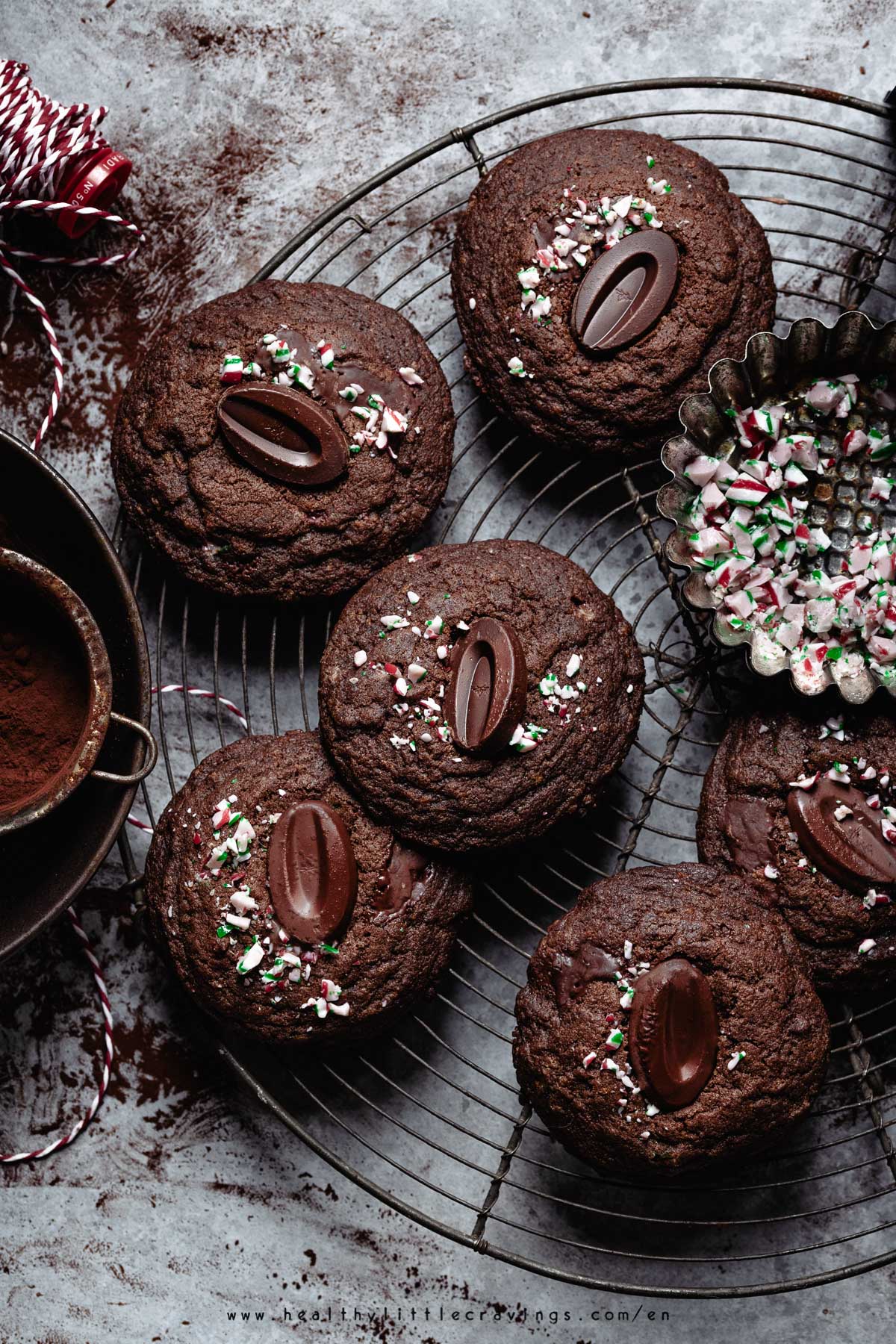 About the Christmas cookies series...
Friend, as I did for the other post last week (click here if you missed those fabulous coffee caramel cookies), first I'm going to introduce you this Christmas cookies series.
Last year I decided it was time for me to gift some sweets to friends and family (to actually SEND). So I created a box full of different cookies, made with ONE dough only. Stress free!!!
See the photo below? It was cute!
This particular cardboard box was used just with the purpose of taking a beautiful photo, but in the post you will actually learn how to safely box and dispatch them.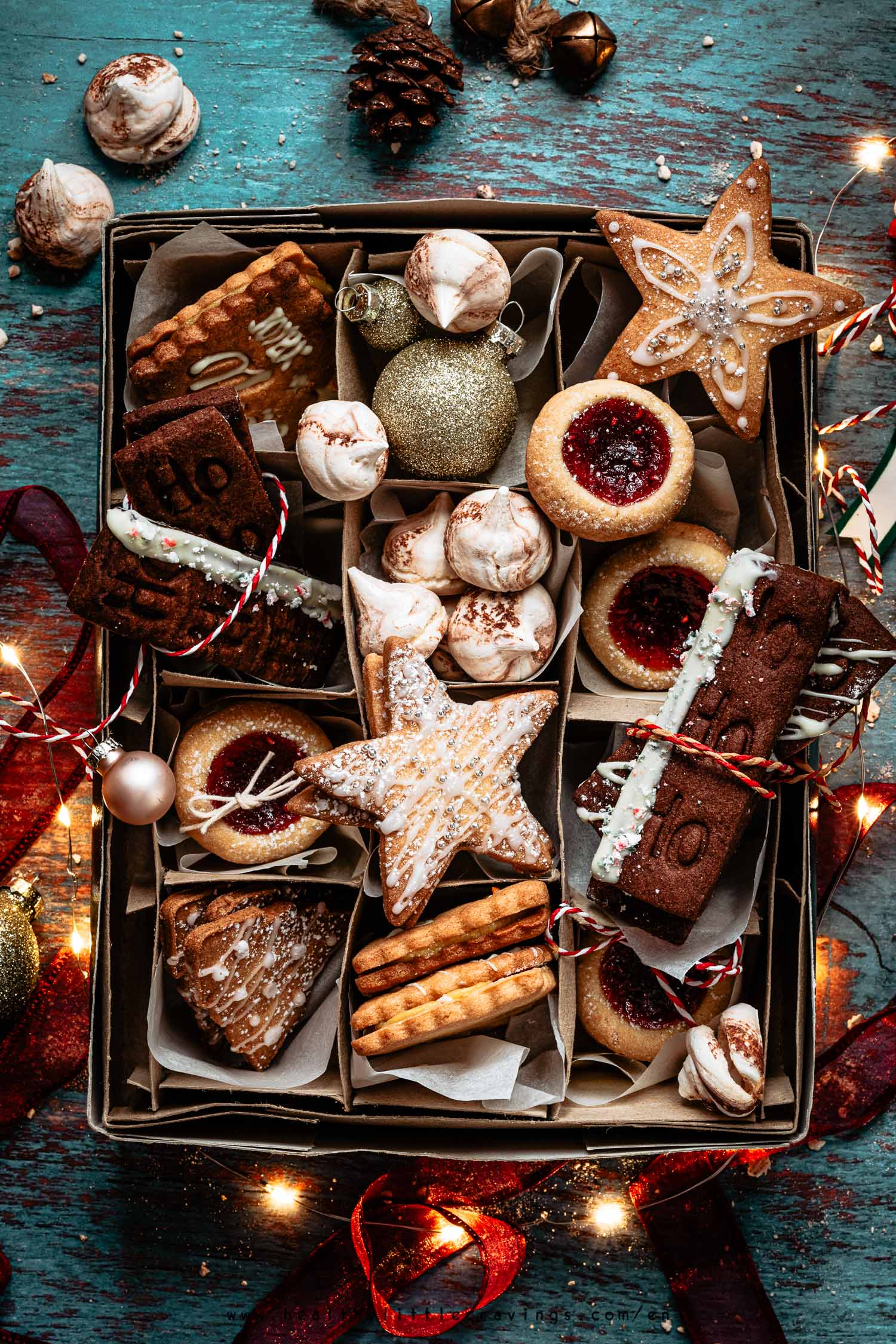 Anyway, the idea this year was very similar: creating a basic cookie dough recipe, then adding various ingredients to create different flavours. High five to me because all the cookies of the series are so freaking delicious!
Moreover, these double chocolate peppermint cookies are the most decadent. Soft but chewy. Every bite is a BURST of FLAVOR!
As I mentioned at the beginning, my boyfriend tends to keep away from anything mint flavoured. He hates the feeling of eating something that tastes like toothpaste.
I made these thinking about him (hey, I wanted to create a balanced cookie!). And HE.LOVED.THEM!
On a scale from 1 to 10, how much happiness do you think I felt?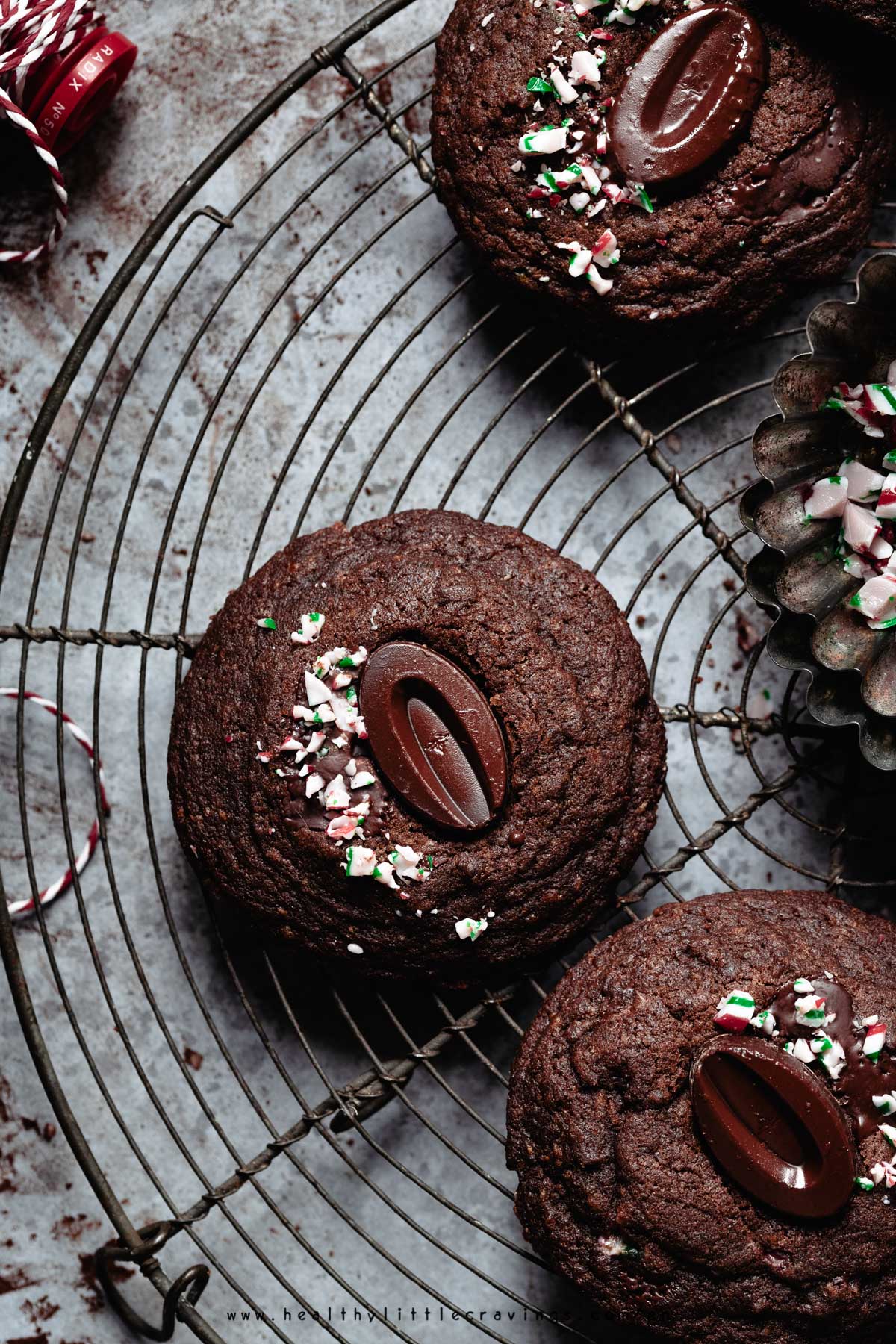 How to make this cookie dough & what makes these cookies chewy - part 2,
SUGAR

.

As I mentioned in my last post, there are THOUSANDS of cookie dough recipes out there.
They are all very similar, only the ingredients' ratio varies.
So mine is nothing new.

But I tested this dough different times to get the perfect chewy cookie.
Despite that, you will necessarily have to adjust it, based on the ingredients that you'll use (a different brand of flour, for example, could absorb more liquids).
To make my cookie dough:
First make your brown butter (find the instructions in the recipe card)
Combine butter and sugars
Last time we talked about how butter impacts on the chewiness of the cookie. Well, sugars too. A lot.
To get the most out of a cookie you have to use a

combination

of white sugar and dark brown sugar. If you use only white sugar, the cookie will be a bit...plain, and flat (it spreads a lot).
Dark brown sugar instead has a higher % of molasses in it, which makes the cookie

moist and chewy.

Add egg, peppermint and vanilla and let incorporate
Now add dry ingredients + chocolate + peppermint candy canes
Let chill for 30 minutes
Form cookies and bake
This cookie dough spreads, but less than my coffee caramel cookies. Anyway, make sure to space them evenly on two baking trays.
You will end up with 10 cookies, 3.5 inch wide.
ABOUT THE CONSISTENCY:
My coffee caramel cookie dough was sticky and also a bit greasy.
Because we've used cocoa powder here instead, which absorbs liquids, the dough is more malleable and not extremely sticky.
P.S. in the next post you'll find part 3. of "WHAT MAKES A COOKIE CHEWY", make sure to read it!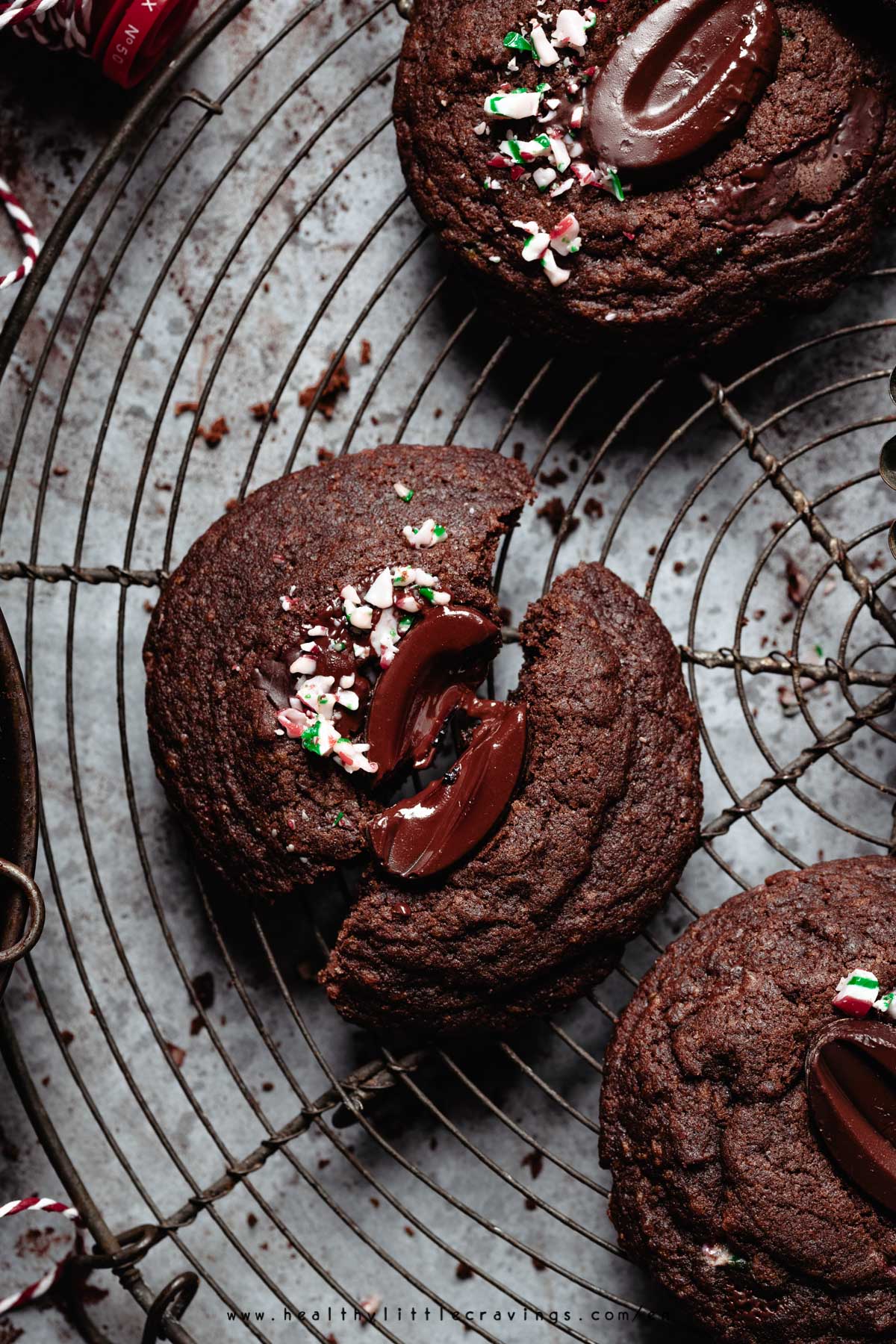 The chocolate I've used to make these double chocolate peppermint cookies and substitutions
The chocolate chips I've used to develop all the recipes from this series are from Valrhona (not sponsored, I just deeply love them).
In particular, I purchased: Caramelia, Strawberry Inspiration, Ivoire and Guanaja 70%. For this recipe I've used the latter.
If you want to use them too, make sure to buy them soon. They're definitely not cheap, but it's worth it, especially if you want to gift them to someone for Christmas.
Little ADVICE I also gave you last time: in order to avoid wasting them, test a small batch of my cookie dough recipe (divide it into 2 or 3, yes also the egg) without them. Then make it again using these chips. I don't want you to waste money!
SUBSTITUTIONS:
If you don't want to use Valrhona, simply find another brand. They will be delicious anyway!
Happy baking!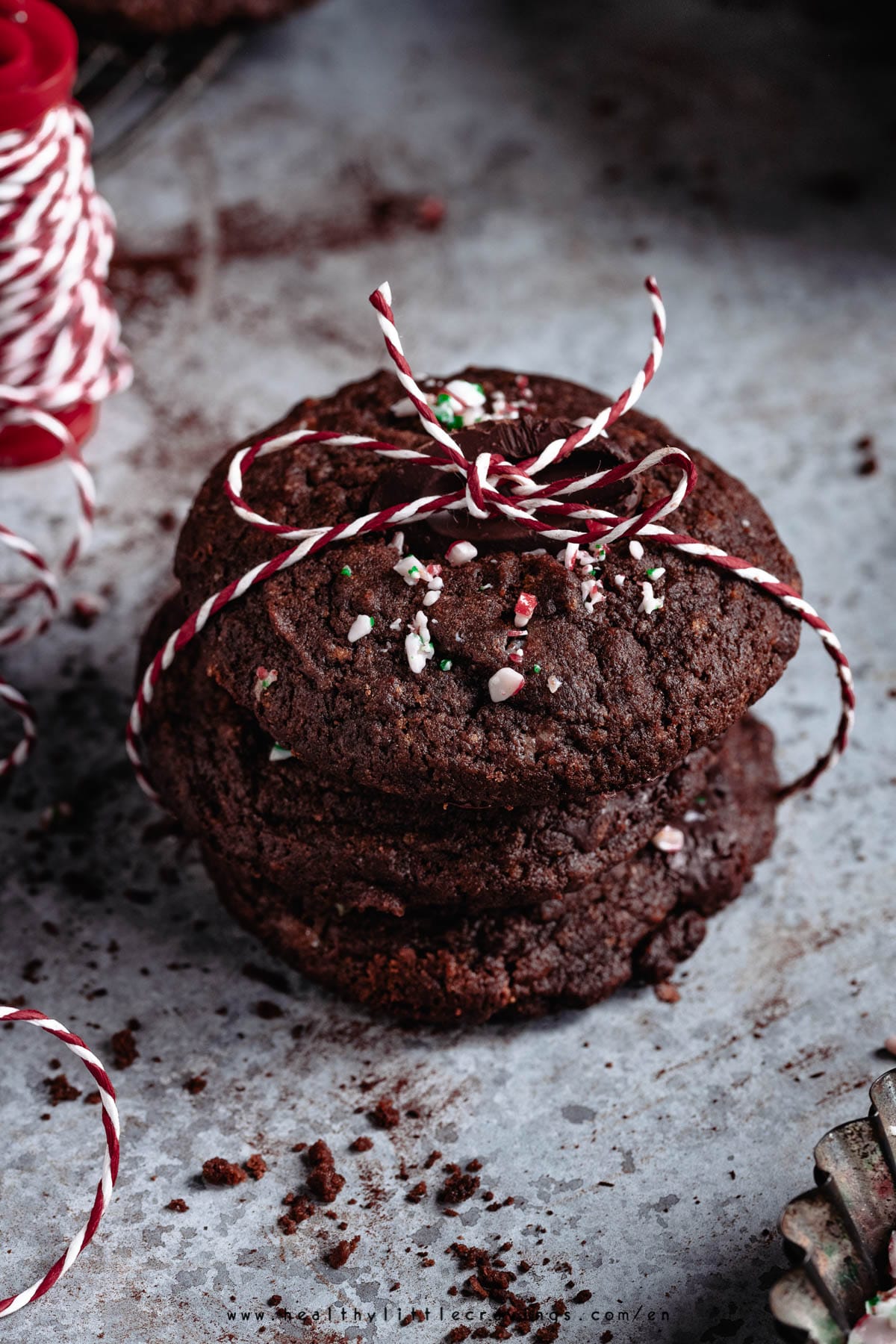 ---
If you make this recipe, please be sure to give it a rating and leave a comment! It would make me so happy! 🙂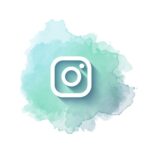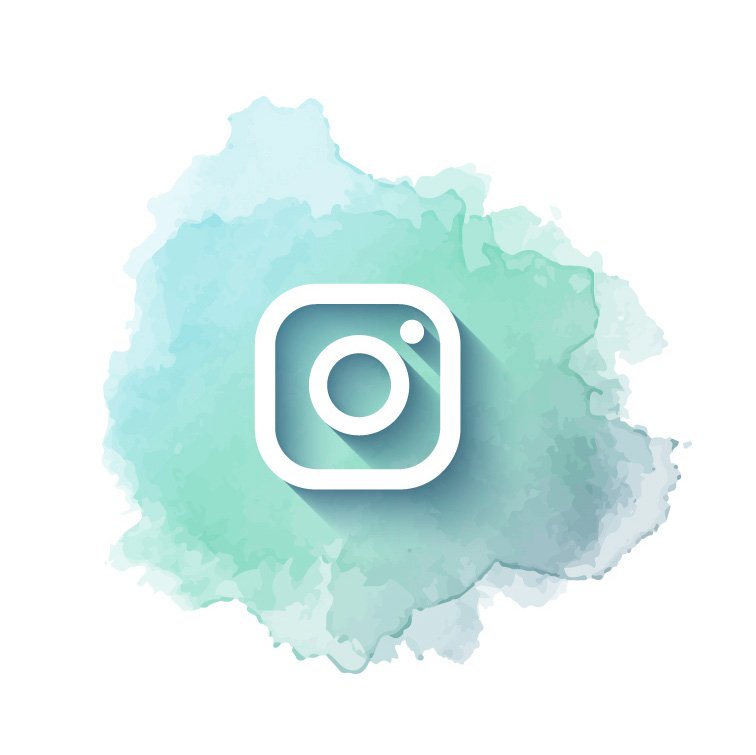 Remember: if you try one of my recipes, tag me on Instagram or DM me the photos!
---
Don't forget to pin and share this easy and delicious recipe!
---
Double Chocolate Peppermint Cookies
Rich and decadent DOUBLE chocolate peppermint cookies that don't taste like toothpaste!;)
Print
Pin
Ingredients
½

cup + 1 tablespoon

Unsalted butter

-

129 gr

¼

cup

White sugar

-

45 gr

½

cup

Raw brown sugar or coconut sugar

-

75 gr

1

Egg at room temperature

1

teaspoon

Vanilla extract

1

cup + 4 tablespoons

All-purpose flour

-

I use 00 flour - 150 gr

½

teaspoon

Baking soda

½

teaspoon

teaspoon Salt

2

tablespoons

Cocoa powder

1

or 1.5 teaspoons

Peppermint extract 

-

(I use Nielsen Massey - not sponsored)

2

Peppermint candy canes

- (like these)

½

cup

Dark chocolate chips (linked in the post)

-

+ some to decorate (total, 1 cup) - For a total of 125/130 gr
Substitutions:
1

cup

Regular dark chocolate chips
Instructions
Brown the butter:
Cut your butter in pieces, place them into a stainless steel pan (or a light-colored one) over medium heat.

Stir and always keep an eye on it. Once melted, the butter will begin to foam. Keep stirring until it turns golden brown.

The butter will be ready when you'll see browned specks at the bottom of the pan. Pour it into a bowl to cool down at room temperature.
Make cookie dough:
Using a stand mixer with flat hook (or by hand, using a whisk), beat butter and sugars at medium high speed for 2 minutes until you get a pale mixture.

Add the egg, vanilla extract and peppermint extract and let incorporate for a few seconds.

Now add flour, baking soda, salt and cocoa powder and stir with a spatula just until incorporated.

Now add the chopped dark chocolate chips, 1 crushed candy cane (the other one will be used on top) and stir with the spatula again. Do not overmix.

Alternatively you can use 2 candy canes inside the dough.

Let chill into the fridge for about 30 minutes.

Preheat the oven at 345°F (175°C).

Using an ice cream scoop to form the cookies and arrange them well spaced on 2 lined baking trays. I place 5 on a tray, 5 on another.

Bake for 11-13 minutes. While you bake one batch, place the other into the fridge.

IMPORTANT: they will be ready when their edge looks crisp and the center looks soft. DON'T overbake, we want chewy cookies right?;)

A few minutes after taking them out of the oven, place a chocolate chip on top of the cookie. As mentioned in the other recipe, these chips are heavy and for this recipe I've used a total of 125 gr (which is about 1 cup).

If your cookies are not round once baked: while they are still warm use a round food ring to make them "rotate" and smooth out the edges. (this is a tip I've learned from Mike @mikebakesnyc)
---
Check out the other two recipes from this series!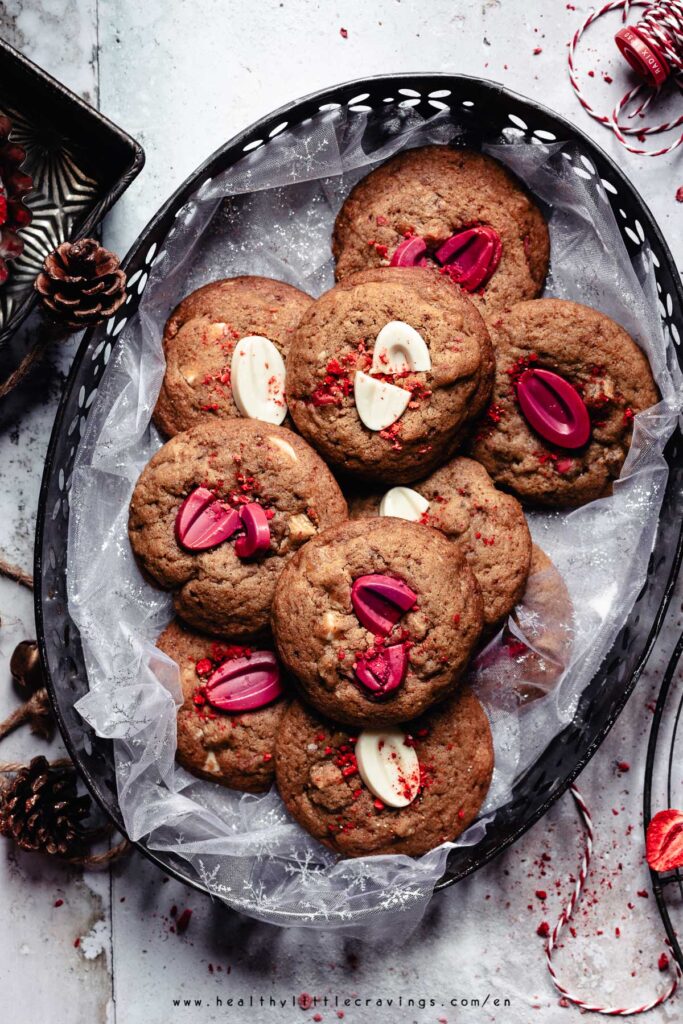 ---
Check out last year's Christmas cookies "project"!;) a box full of cookies made with the SAME dough!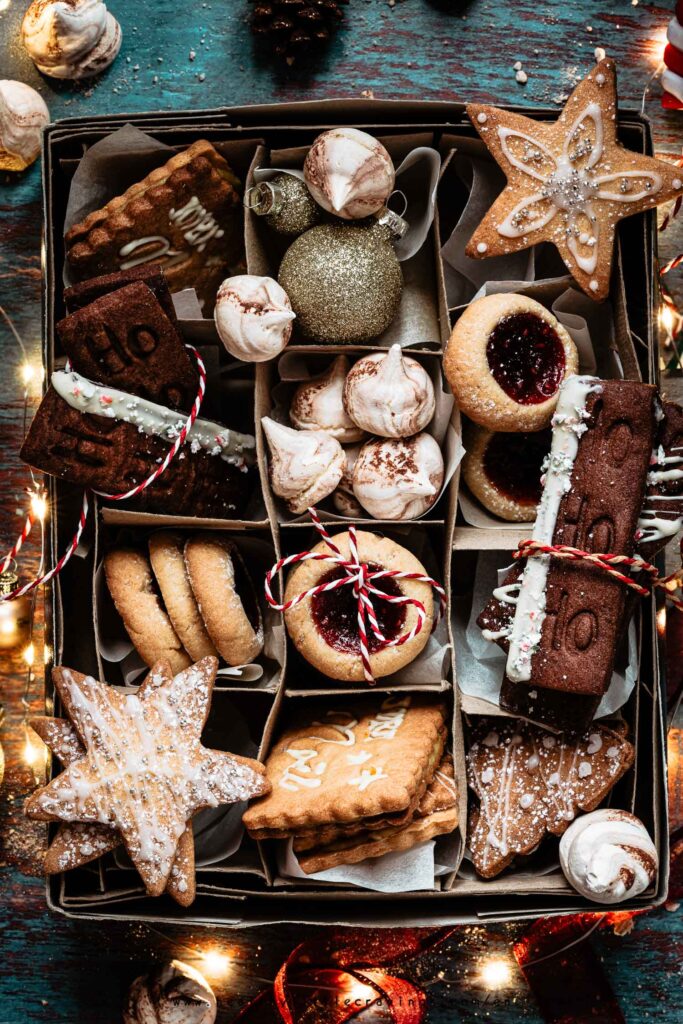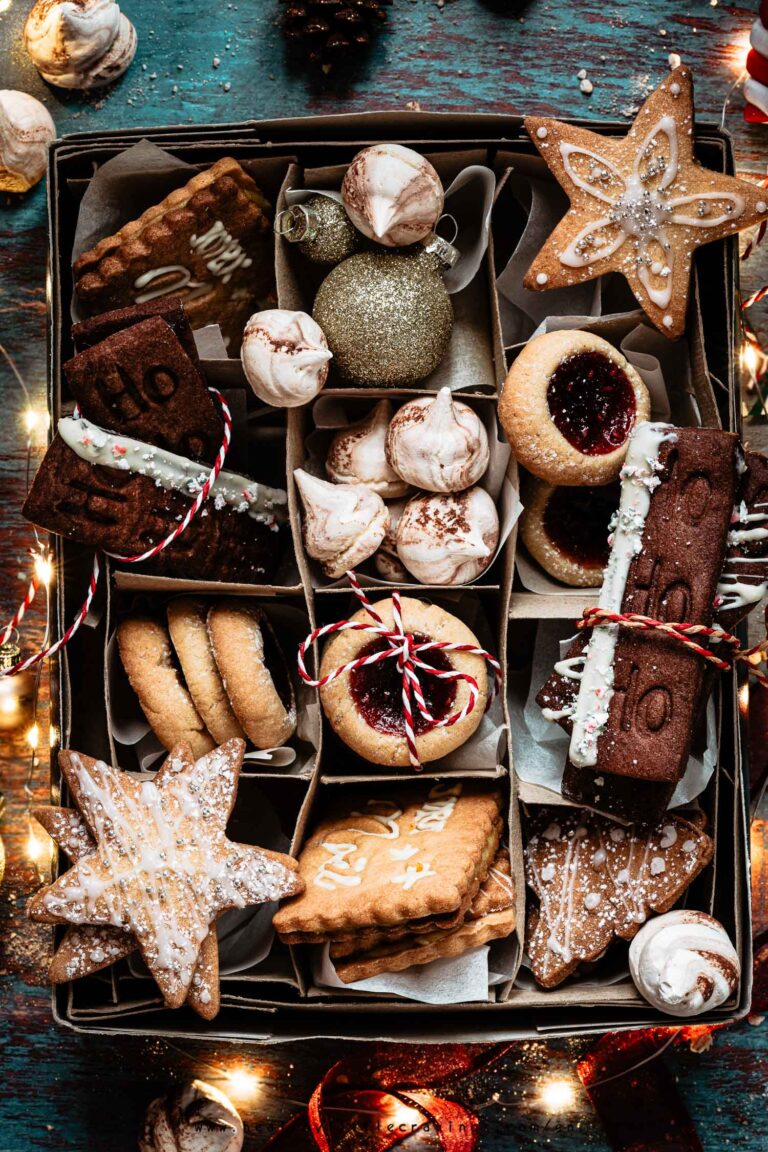 ---
© Healthy Little Cravings – Roberta Dall'Alba.
I own all content and photos' copyright.
Before using my photos and recipes, please email me.
If you would like to republish a recipe, please link back to this post and re-write the instructions in your own words.