Two weeks of January are magically gone. Wow wait, I don't know if I'm ready.
It has been a difficult December for us here (we lost our sweet cat Amélie, she was one), it left me very confused and scared of the uncertainty.
What I know though is that I LOVE this salad with orange, fennel and olives because it reminds me of Sicily and its good food.
So, here you have your delicious salad (thanks boyfriend for being Sicilian eheh).
---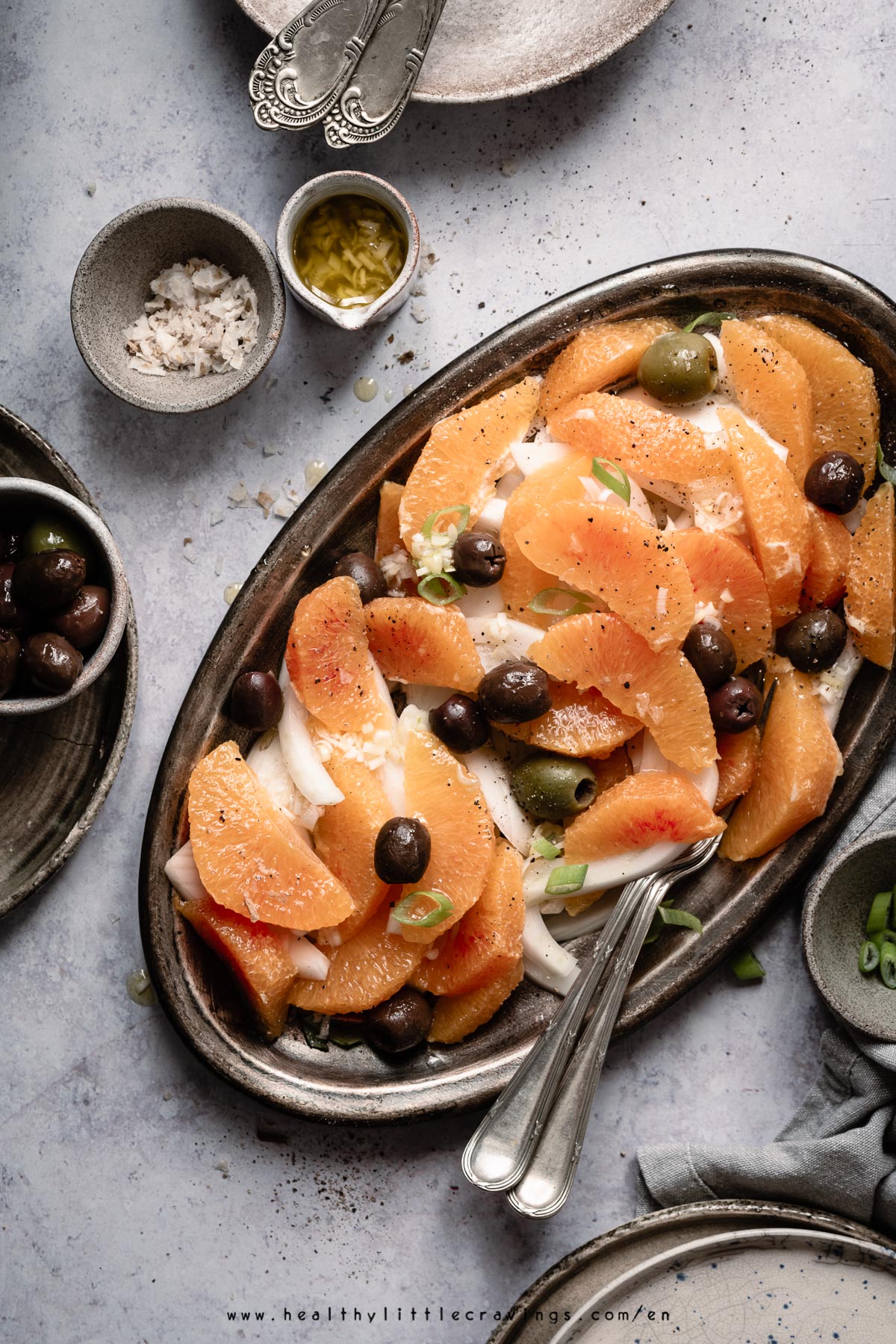 Sicily really has the best food: salad with orange for the win
Listen, I spent too many days eating whatever people were offering me on Christmas Eve, Christmas Day, and the day after that, then Sundays, New Year's Eve, New Year's Day, etc etc etc
Don't get me wrong, I absolutely loved everything I ate and you already know my philosophy (eat healthily but don't forget to indulge). But now I need to have my fill of healthy recipes and nutritious food. Oh, and fibers.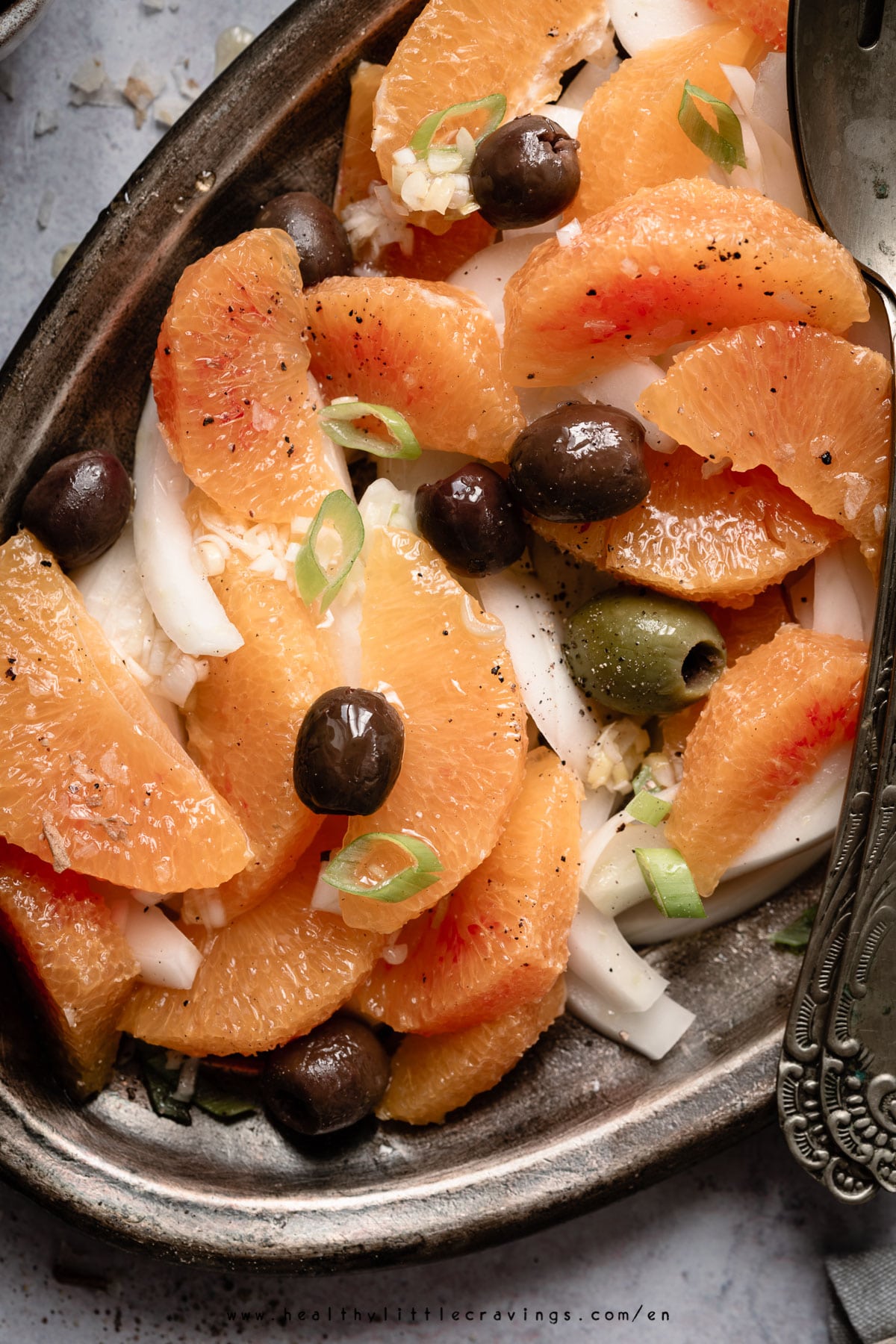 "Who's" better than Sicily to do that and to offer amazing materia prima and ideas for healthy side dishes?
This salad with orange and fennel is actually something they serve with meat/fish, but also during the holidays in-between those heavy meals, to kind of balance out.
That is why I absolutely wanted to share it with you: it's such a refreshing salad, I love it and I'm confident it will become one of your favorite side dishes from now on (just like my Summer salad with cucumber, tomato, and feta)!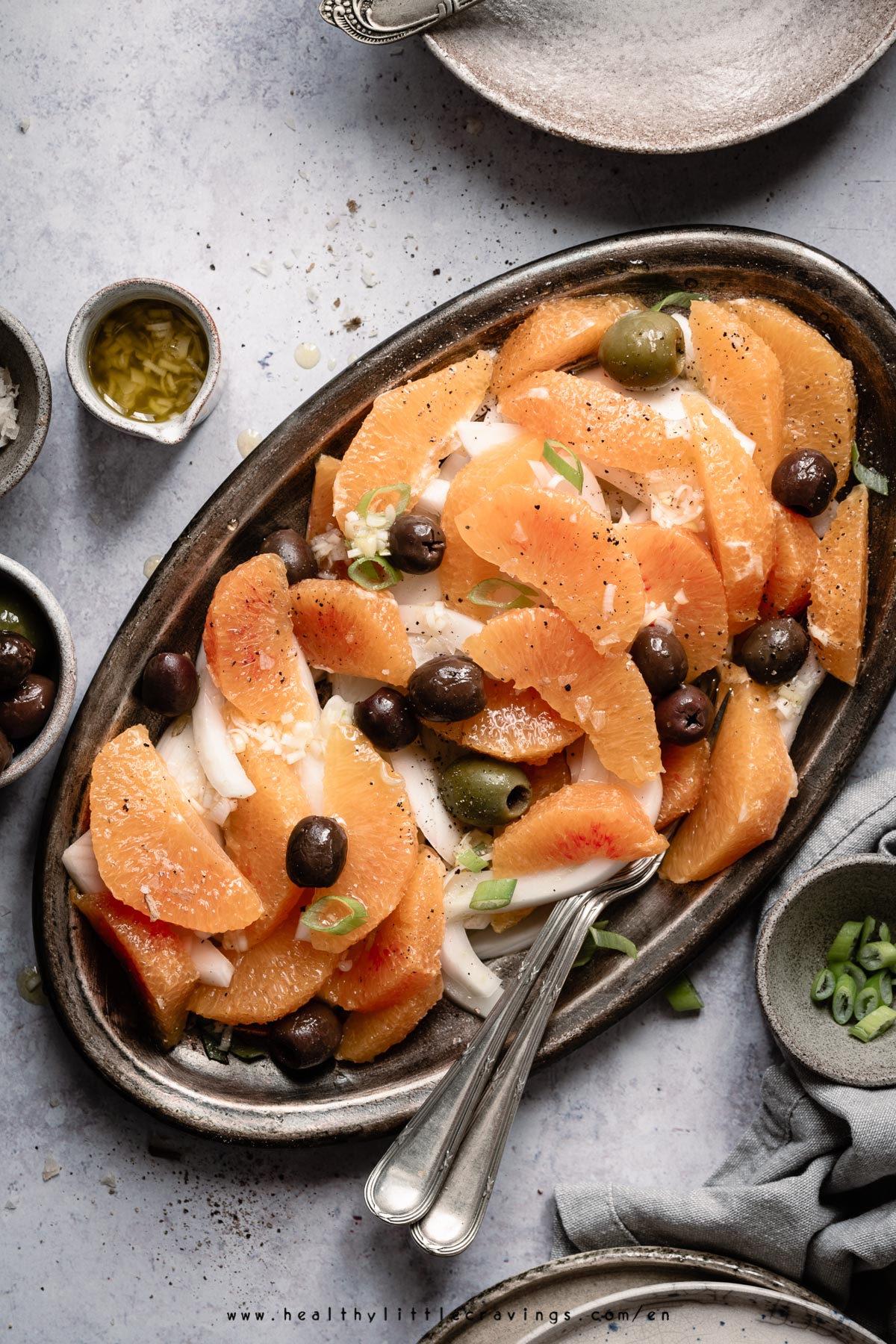 What to use to make the best salad with orange and fennel
"Well, orange and fennel, duh" you could say. Yes, but also a couple more ingredients that will make your salad extra delicious (boyfriend approved).
Oranges
I'm not too picky when it comes to choosing the right variety of fresh oranges. I'm not familiar with what you have in the US or UK but, if it's a possibility for you, try to choose Italian oranges (or at least organic ones).
When I make this, I usually always use fruit that comes straight from Sicily (that my parents-in-law sent).
In this case, I've used arance rosse di Sicilia (which translates into red oranges, even though the color here was more on the orangey side). You can also opt for blood oranges or navel oranges.
Because I love food styling (if you have guests, read how to present a beautiful salad ), this time I decided to cut pretty orange segments, and just use the flash, not the white pith. Of course, you'll have leftovers when you'll cut the wedges, but do not throw them away, instead eat them!;) They may not be pretty but they're good.
My tip: choose organic oranges so you can reuse the skin (to make candied fruit, for example, as my mom does)
Another tip: if they're particularly juicy, do not throw away that orange juice (on the cutting board) that you're left with. It's part of the seasoning.
Fennel
I think fresh fennel is perfect in this salad and, if it's one of the "good, flavourful ones", it can take the dish to the next level.
Again, good and flavourful. Do not buy it when out of season. If you have the chance, buy it where you can find the best vegetables (with flavor, that don't taste like water!!!)
Having said that, the original salad with orange doesn't have fennel, so you can omit it (but I would recommend using it).
Onions or green onions
My boyfriend says in Sicily they usually use both red onion and green onions in the salad.
In this case, I've "incorporated" the green onions into the vinaigrette, and sliced some more to garnish.
Feel free to also add some red onion (but make sure you let it chill into some water a few minutes before using.
Olives
Green, black, taggiasche... use whatever olives you prefer!
Vinaigrette (or just extra virgin olive oil)
For the seasoning here my inspiration was my cucumber, feta, tomato salad I shared back in Summer, where I've used shallot vinaigrette by Samin Nosrat. This time instead I substituted shallot with green onions. Added vinegar (Samin uses red wine vinegar), then oil, ¼ teaspoon salt, and black pepper. Approved!
Another idea for you: use a citrus vinaigrette, or orange vinaigrette (with some of the leftover juice on the cutting board eheh)
Are you lazy? Then use extra virgin olive oil, salt, pepper, and vinegar (apple cider, red wine, or white wine vinegar). Combine everything into a small bowl and then use.
---
Now that you have the best ingredients, toss everything together into a large bowl and enjoy.
Again, I am sure this orange salad recipe will become one of your favorites, so check out the recipe card below for the full recipe.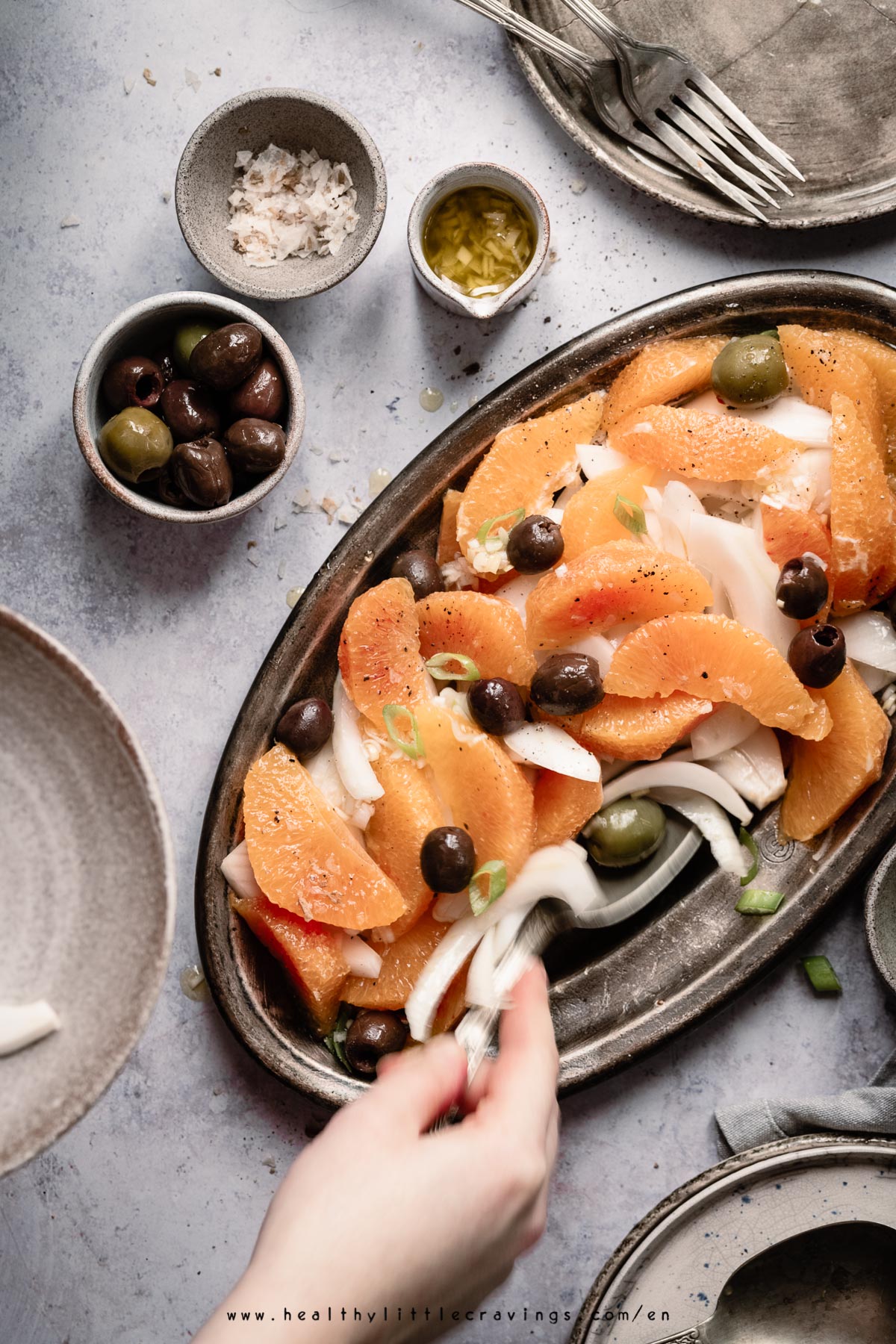 The number one tip to make it REALLY delicious
Number 1 tip? My boyfriend recommended not to save on the oil.
You don't have to "drown" the oranges with it, but don't just use a drop.
This recipe - which is for two people - has 3 tablespoons total, which is still an acceptable amount, and makes the most delicious light salad.
Oh, in case you're wondering, using extra virgin olive oil here (the high-quality one) is mandatory.
It's a staple here and it's our main source of healthy fats. SO amazing when used raw, in salads.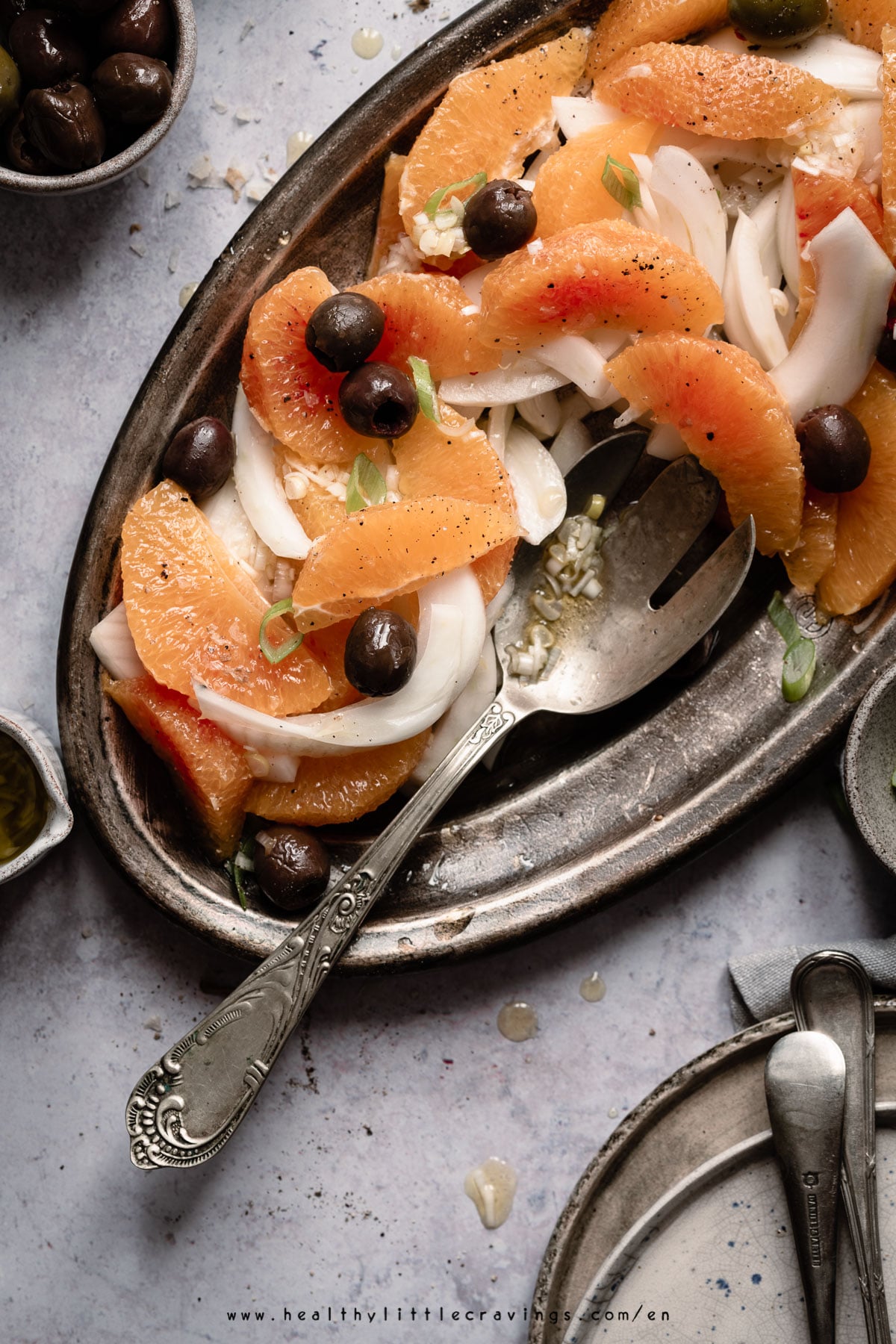 How to store this salad with orange
I prefer preparing my salads at the moment, right before serving. But in this case, you can prepare it in advance and store in the fridge for up to one day.
This is just the perfect side dish and I hope you'll love the fresh flavor of this fruit salad as much as we do.

---
If you make this salad recipe, please be sure to give it a rating and leave a comment! It would make me so happy! 🙂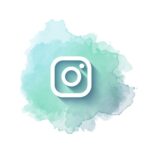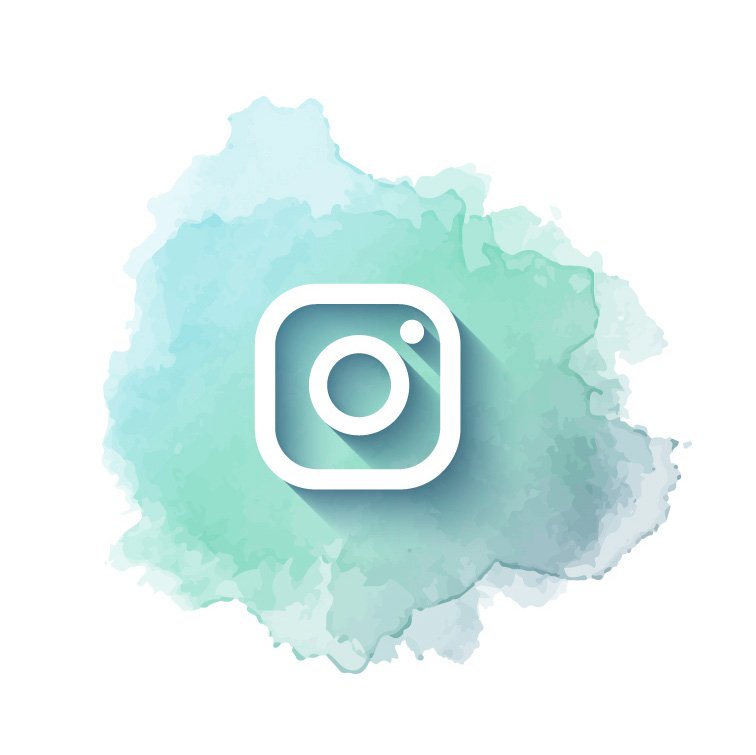 Remember: if you try one of my recipes, tag me on Instagram or DM me the photos!
Salad with orange, fennel and olives
A delicious and nutritious side dish, perfect to serve with meat, fish or in-between meals during "heavy meals" lunches/dinners
Print
Pin
Ingredients
For the vinaigrette:
2

tablespoons

Finely diced green onion

1

tablespoon

Apple cider vinegar

-

(or red wine vinegar)

3

tablespoons

Extra virgin olive oil

¼ teaspoon

Salt

Black pepper
For the salad:
3

Organic oranges

½

Fennel

⅓

cup

Pitted olives

Green onion to finish
Instructions
For the vinaigrette:
Finely dice green onion, then put 2 tablespoons into a jar. Add apple cider vinegar, close the jar and let sit for 10-15 minutes.

Then add extra virgin olive oil, salt and pepper to the jar, close and shake for a few seconds. Set aside so the oil can "absorb" the flavor.
In the meantime, prepare the salad:
Slice the fennel, thinly, then wash and dry.

Into a bowl, add fennel, orange segments and pitted olives. Season with vinaigrette and toss.

Serve on a nice plate and garnish with more green onion.
Store:
You can also prepare it in advance and store into the fridge, for max one day.
---
Don't forget to pin and share this easy and delicious recipe!
---
You absolutely need to try this too 👇
Salad with spinach, sweet potatoes, and goat cheese!
---
© Healthy Little Cravings – Roberta Dall'Alba.
I own all content and photos' copyright.
Before using my photos and recipes, please email me.
If you would like to republish a recipe, please link back to this post and re-write the instructions in your own words.