If you're looking for the perfect weeknight (or weekend eheh) dinner, then this vegan tofu tacos recipe is the one for YOU!
Juicy tofu (who wants dry tofu?!), no oven required, creamy avocado, crunchy radishes... a complexity of flavors that will make you *drool*. Enjoy!
---
What you'll need for this vegan tofu tacos recipe
I told you this a million times probably, but look: if there's something I really appreciate, those are quick lunches and dinners.
That is because working as a food photographer & recipe developer requires cooking, styling, photographing, and then cleaning.
And when I am done with that (around 2 pm) the last thing I want to do is cooking again. So, usually, I kill two birds with one stone and photograph my lunch. When I shoot anything else instead, I need a quick recipe to eat.
Luckily, this vegan tofu tacos recipe is not only quick to make, but you'll also just need a few simple ingredients. And those are firm or extra firm tofu, soy sauce, tomato sauce, spices, avocado, radishes, corn (+ seasoning and flour or corn tortillas). That's all. Here are some recommendations:
Tofu
Let's talk about the tofu for one sec. Here in Italy, we can't find a lot of varieties. So far, I only found firm and silken (and the latter is rare). I know you in the US have more types, so I'm linking here a post you may find useful and clarifying.
For this recipe, you want firm or extra-firm tofu which is amazing to crumble and to use as a meat substitute.
Read the paragraph below to know the best way to cook it.
Soy sauce and tomato sauce
Are you familiar with umami? It's one of the five basic tastes (it translates to "pleasant savory taste") and, in simple words, it adds complexity to your dishes.
And did you know both tomato and soy sauce here add that umami touch?
We're adding them also to prevent the tofu from drying (is there anything worse?)
Trust me, do not skip this: I've tried and, when eating, it just causes a mess because the tofu falls apart.
Spices
When I prepare a recipe and it's not something I have been doing for a lot of years, I like to dig deep and increase my knowledge of it so I can respect it (thank God tacos are pretty versatile).
In this case, I wondered: what are the typical spices Mexicans use?
Tacos seasoning (I recommend making your own) is simply made with: chili powder (I've used flakes), onion powder, dry oregano, paprika (I like using smoked paprika), garlic powder, and ground cumin. That's it.
If this tofu taco recipe will become your favorite I highly suggest that you make more and store it.
Personally, because it's so easy, I like to make it in the moment.
Avocado, radishes and corn
For that extra creamy touch, I recommend using avocado.
You can cube it, slice it, prepare some guacamole with it, we don't care. Just do whatever you prefer.
Now, I don't think radishes are typical, but I wanted to give that extra crunchiness and freshness (and also liven everything up) to my tofu tacos recipe, so here you have it.
Final sweet-ish touch: corn.
Serve tofu crumbles and the rest on some flour, corn tortillas, or a taco shell, sprinkle some parsley or cilantro on top, a drop of fresh lime juice (or lime zest;))...and enjoy your super nutritious and delicious meal! Great idea for Taco Tuesday eheh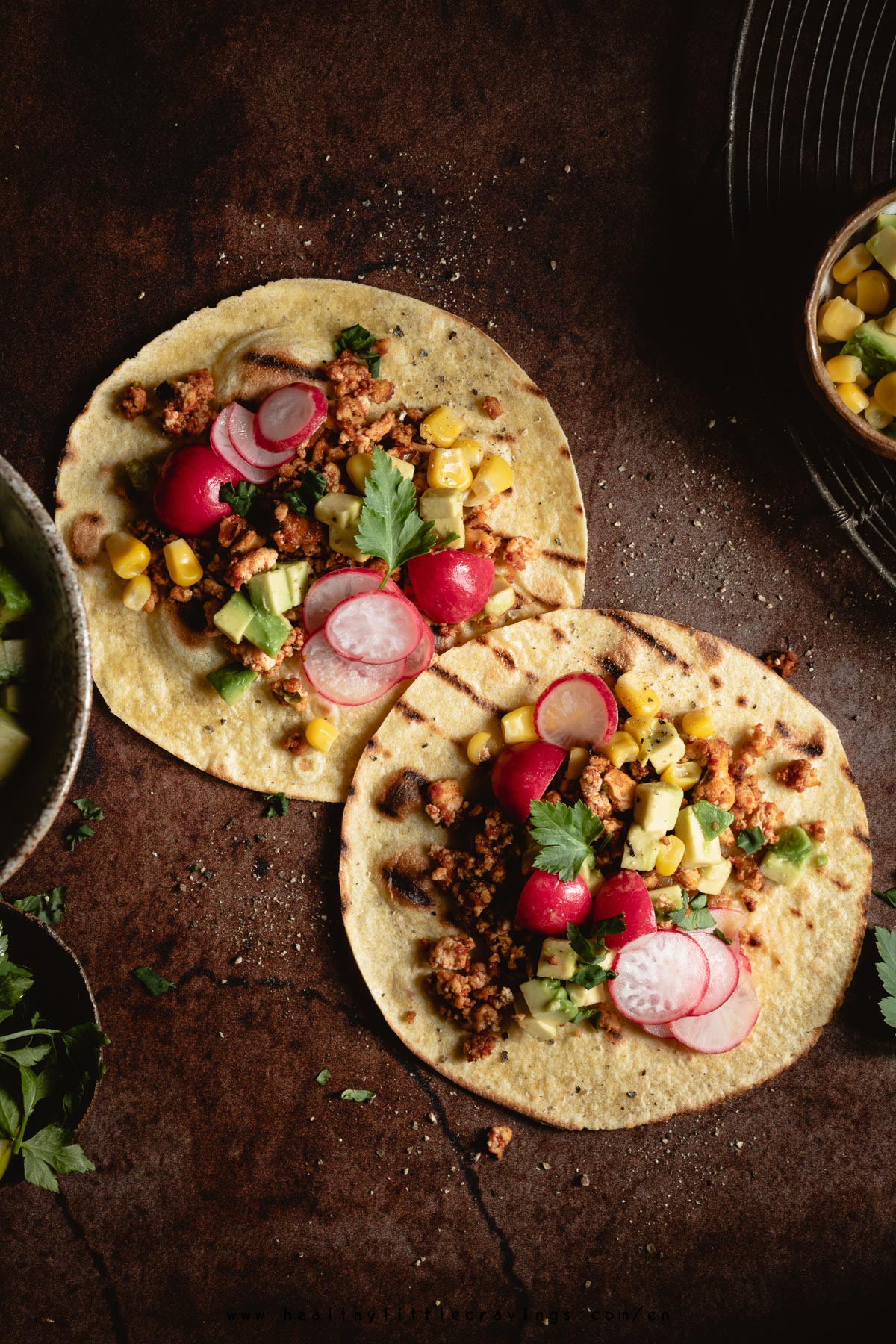 How to prepare tofu for tacos
Preparing tofu crumbles for this recipe is extremely easy and it will take you max 10 minutes.
I confess: I am lazy and most of the times I don't press it to drain the excess moisture. "They" say you should do it if you want to get a crispy tofu and if you want it to absorb the flavors.
But, is it really necessary in a recipe like this? It came out delicious, so I would say no (some people are gonna hate me, but watch this).
Crumble.
Crumble the tofu with your hands. At this point I quickly and lightly squeeze with my hands over a strainer, then put into a medium bowl and set aside.
Infuse.
Into a large skillet, heat 2 tablespoons of neutral oil then add garlic powder, chili powder or flakes, cumin, onion powder or flakes, paprika and oregano. Let cook at medium heat for about 30-60 seconds (but pay attention not to burn the spices). Add tofu crumbles (arrange on an even layer) and increase to medium-high heat. Let cook about 1 minute.
Umami pt.1
Add soy sauce and let absorb. Cook for about 5 minutes until it becomes golden brown and looks like ground meat. Do not stir it too often or it won't brown.
Umami pt. 2
Now add tomato sauce (for a deeper flavor you can try to add tomato paste) and let cook for about 5 minutes or until reduced.
My homemade sauce was very liquid, so I cooked it a bit longer.
This is how it should look like.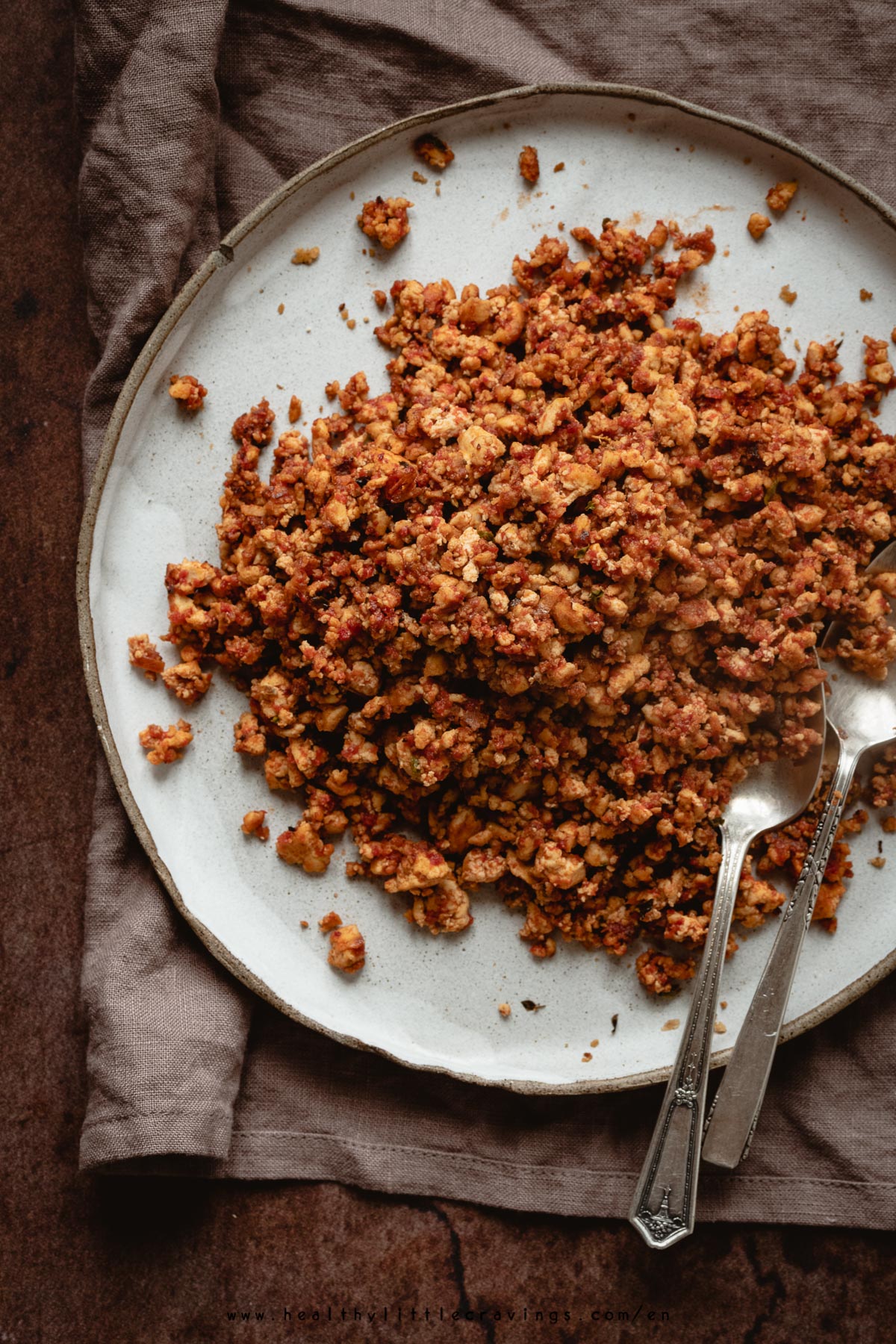 Set aside into a small bowl while you prepare tortillas, avocado and radishes.
In this recipe, it's very important that you trust your eyes. The tofu needs to brown and almost "dry", so do not keep stirring. We want that Maillard reaction. Let cook, THEN stir, let cook, then stir etc
Just like what we do with caramelized onions.
I hope you'll fall in love with these easy vegan tacos.
If you're omnivorous, you can also prepare vegetarian tacos if you add sour cream or other cheeses. Have fun with your favorite toppings!
Let me know!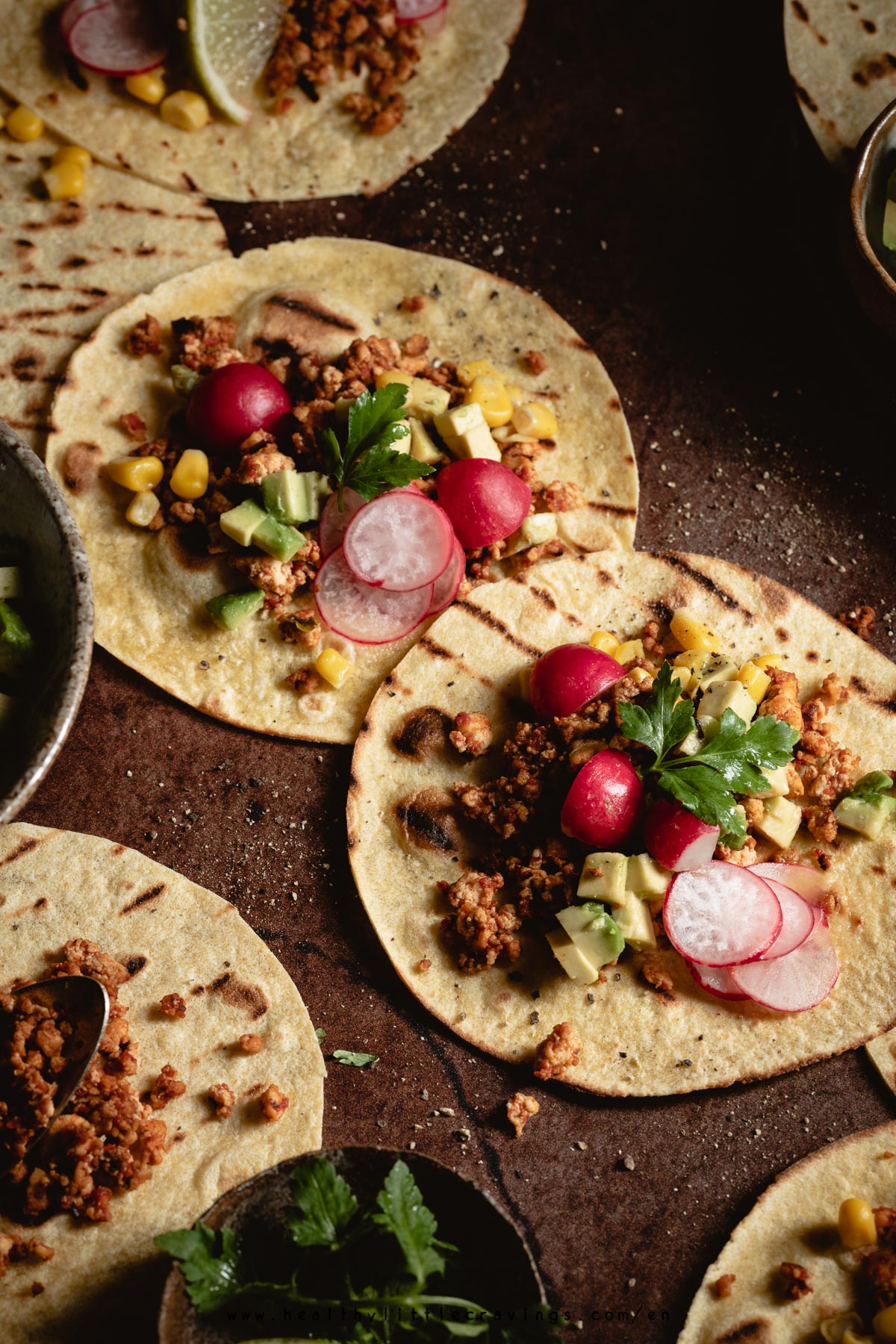 ---
If you make this delicious tofu tacos recipe, please be sure to give it a rating and leave a comment! It would make me so happy! 🙂
Remember: if you try one of my recipes, tag me on Instagram or DM me the photos!
---
Don't forget to pin and share this easy and delicious recipe!
---
In love with this vegan tofu tacos recipe? Then try other savory vegan recipes.
---
© Healthy Little Cravings – Roberta Dall'Alba.
I own all content and photos' copyright.
Before using my photos and recipes, please email me.
If you would like to republish a recipe, please link back to this post and re-write the instructions in your own words.