Imagine: you wake up in the morning, and there's a soft but moist vegan banana bread waiting for you on the table. So you warm up your milk, pour it into a mug, then slice the loaf and enjoy them together. Isn't it the best thing?
Trust me: this moist banana bread recipe is perfect if you want to start the day off right!
---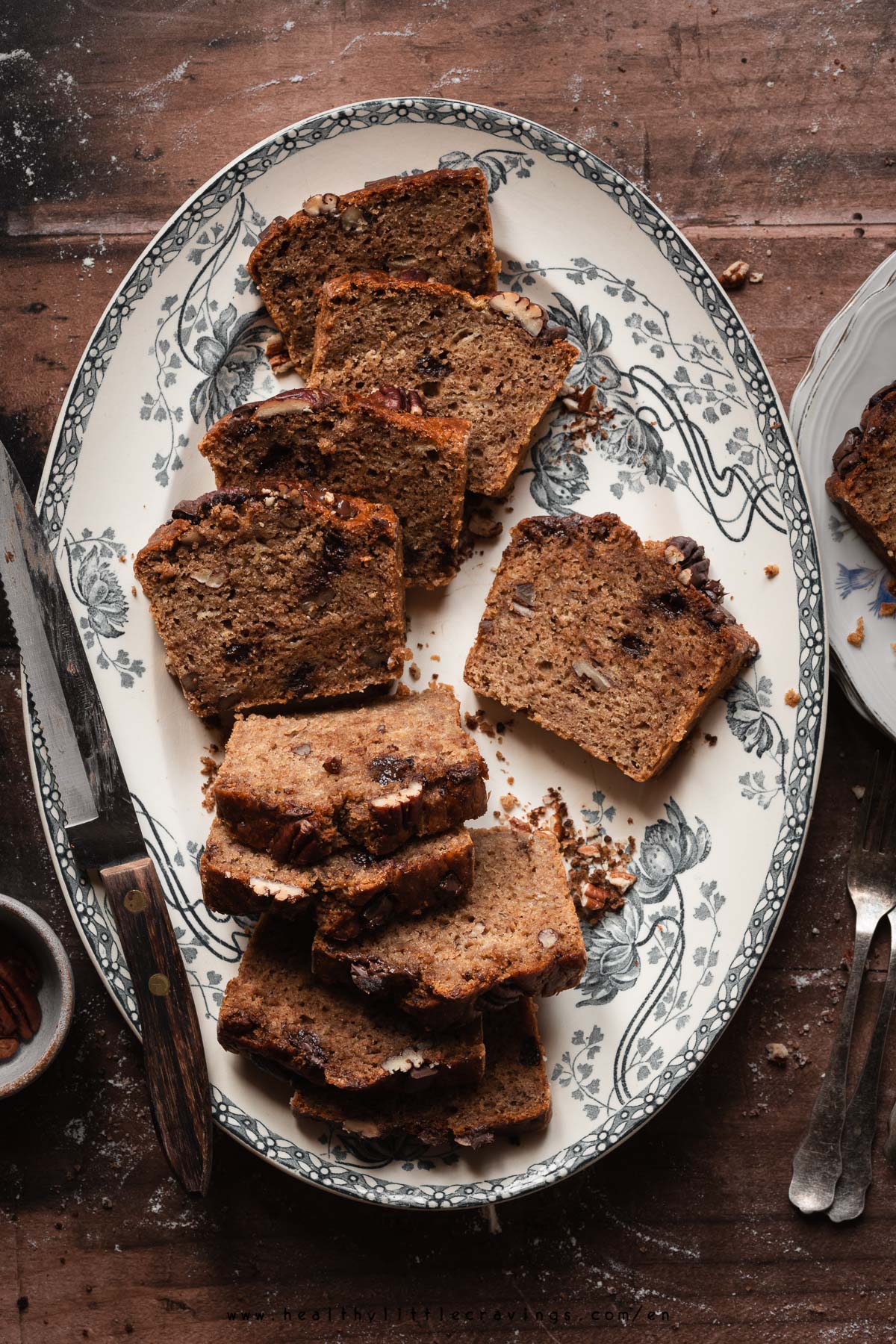 Eggless moist banana bread recipe that will make everyone #jawdrop
If you've been following me for a while, you'll probably know that I moved into my boyfriend's house last month and we started living together.
As a consequence, he instantly became my official taste-tester.
Ok, I personally think he's biased but I also 100% trust him, and I know that if something is wrong he tells me without thinking twice.
So last week, when I baked this moist banana loaf and he took the first bite, I think he fell in love with me again, for the second time.
It was so good that we wanted to eat it for lunch, we couldn't help being tempted (but we resisted)! Must say it was the ideal Saturday dessert though.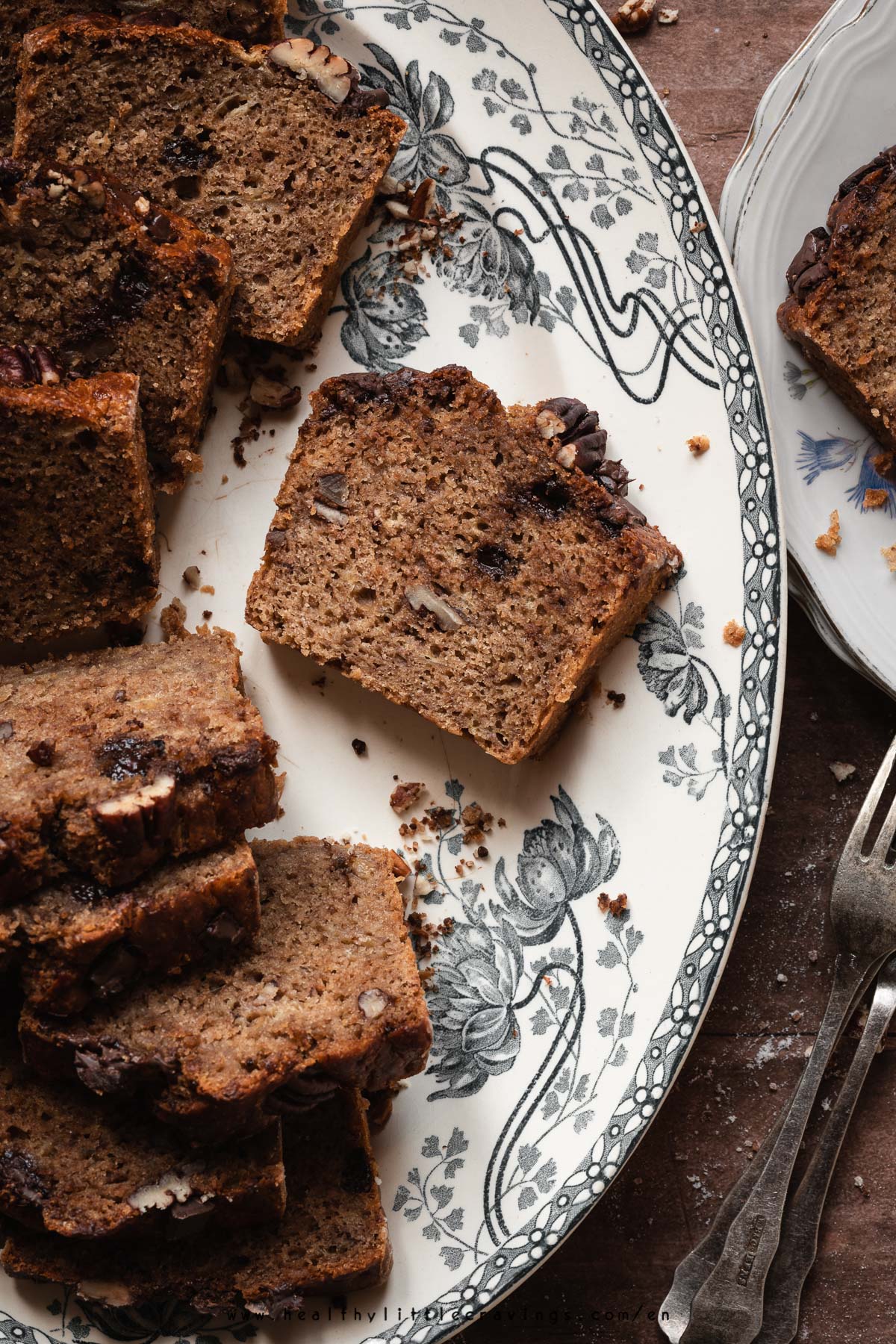 So you want to know why this is the perfect breakfast?
Should I really list the reasons? I mean, look at it and imagine the flavor, or better: try it now!
In the meantime, I'll tell you why this is an amazing breakfast for you (and your kids too!):
It's homemade and you know homemade is aaaaalways better than store-bought;
The moistness: oh, it's so moist that it almost melts in your mouth;
It's sweet but not too much;
Sweetness comes to the ripe bananas (there's just a tiny bit of sugar but you can actually reduce it!)
Walnuts give the perfect nutty flavor to the loaf;
Almond butter? The perfect final touch!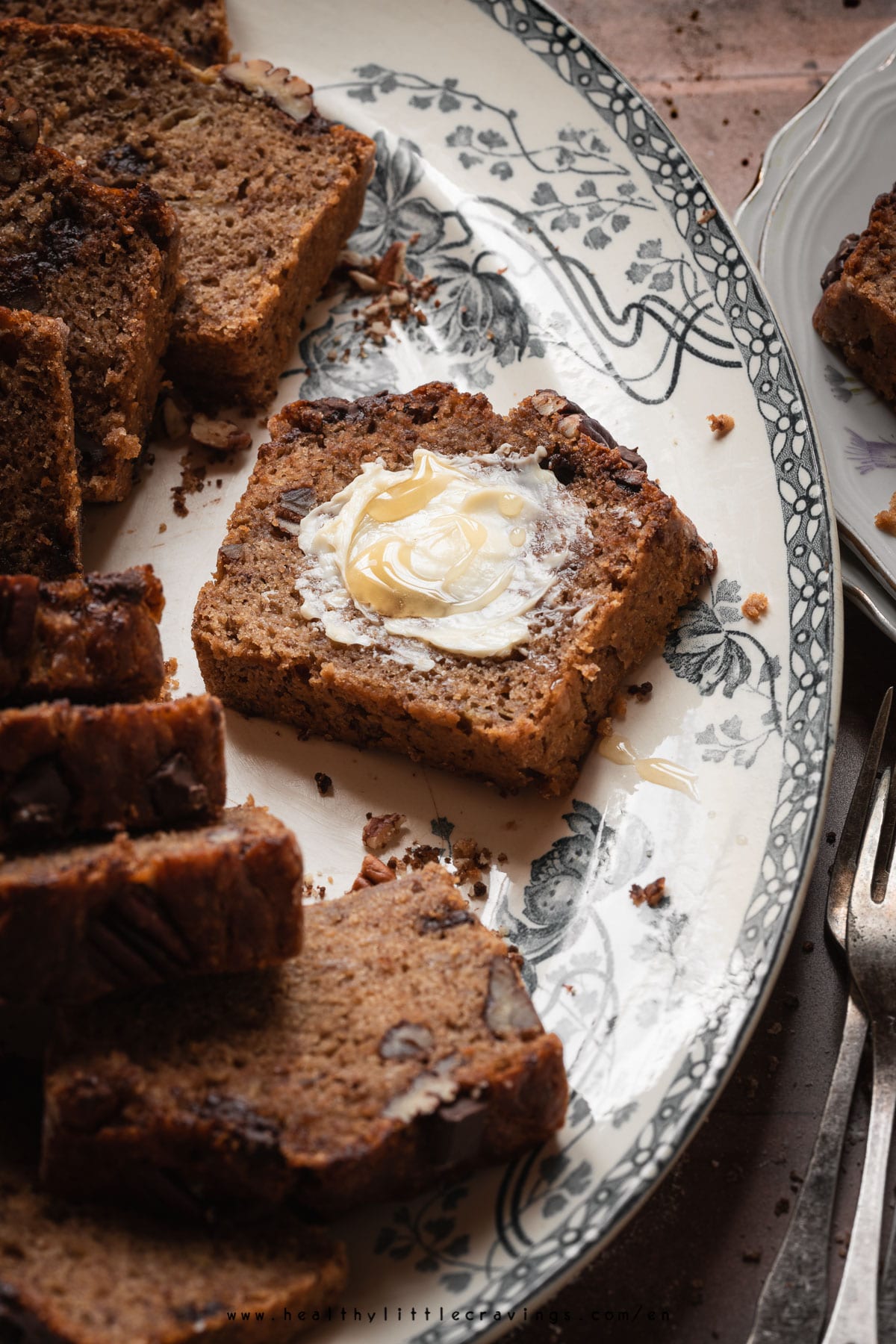 A few Banana bread FAQs answered...
How brown should bananas be for banana bread?
I only use ripe bananas and not overripe, so they shouldn't be brown or mushy. They should just have some spots on the skin.
How do I know when banana bread is done?
The "toothpick test" always works: pierce the loaf on the left, center and right side to make sure it's evenly cooked. It should come out clean!
Why is my banana bread usually dry?
First, do not over-bake. As soon as your toothpick comes out clean, take it out of the oven.
Second, store it into an airtight container so the air won't dry it out.
The quantity of banana purée is also important: follow my instructions and you won't have a dry banana bread, promise. This is the moistest you'll ever have!
How do you keep banana bread moist after baking?
As I mentioned before, store it into an airtight container.
How long is homemade banana bread good for?
I'm not sure I can answer this question because ours always finishes in a couple of days (um), but it should lasts a couple of days outside the fridge. If you want to make it last longer, store it into the fridge.

---
SUGGESTED PAN & THERMOMETER:
As I mentioned in my hokkaido milk bread post, I used to use an ordinary loaf pan to make my loafs (and I still do sometimes), but I recently started using paper pans and I must say they're very handy. You don't have to grease them and the loafs come out perfect.
You can find it here: HERE.
---
Do you have other questions?
It's not easy to answer all the questions you may have, so PLEASE leave a comment below and I'm glad to reply! Thank you.
---
If you make this recipe, please be sure to give it a rating and leave a comment! It would make me so happy! 🙂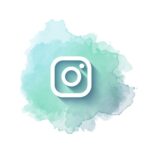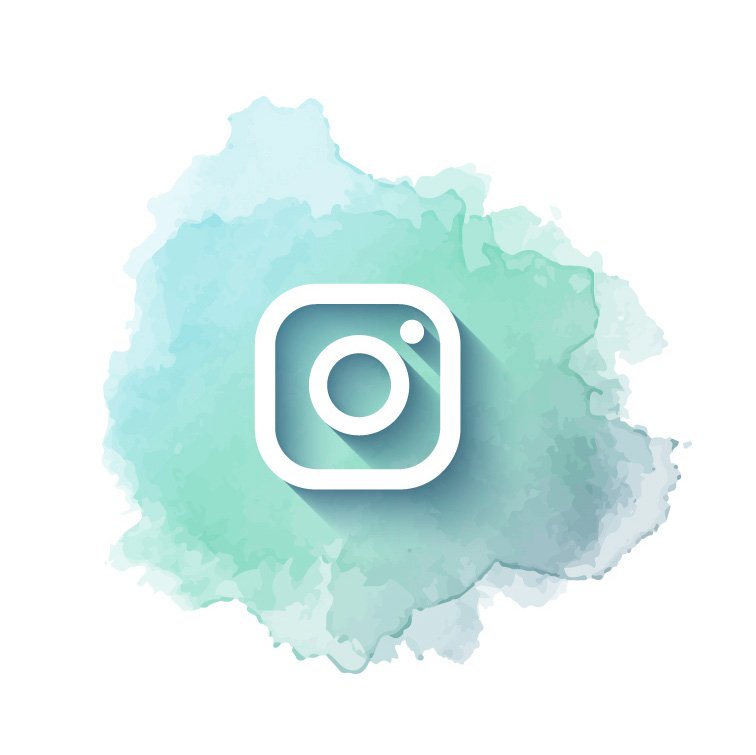 Remember: if you try one of my recipes, tag me on Instagram or DM me the photos!
---
Don't forget to pin and share this easy and delicious recipe!
MOIST BANANA BREAD RECIPE
This banana bread without eggs is moist, sweet and delicious! Try it, it's perfect for your breakfast!
Print
Pin
Ingredients
For a 10 x 22 cm loaf pan:
3

(400 g of puree)

Bananas

¼

cup

Melted coconut oil

-

45 g

¼

cup

Raw brown sugar

-

40 g (or 50 g of erythritol - tested it and it was good)

1 teaspoon and a half

Vanilla extract

1.5

cups

All purpose flour

-

175 g

1.5

teaspoon

Baking powder

-

6 g

¼

teaspoon

Salt

Walnuts to taste

Chocolate chunks/chips to taste
Instructions
Preheat the oven at 175° C (350° F)

Purée 3 of the 4 bananas (or mash them with a fork)

Combine melted coconut butter and brown sugar, whisk. Then add banana purée and vanilla extract.

In another bowl combine flours, baking powder, salt.

Add the wet ingredients to the dry and stir with a whisk.

Chop your walnuts and chocolate, and add them to the batter.

Avoid over-mixing it.

Pour the batter into a loaf pan (I use a paper loaf pan).

Garnish with more chocolate chips and bake for about 35/40 minutes or until golden brown.

Remember to test with a toothpick: pierce the loaf on the left, center and right side to make sure it's evenly cooked.

Let it cool down and - optional - garnish with almond butter.
---
If you loved this healthy recipe, you'll absolutely ADORE these banana bread cookies! SO easy and healthy!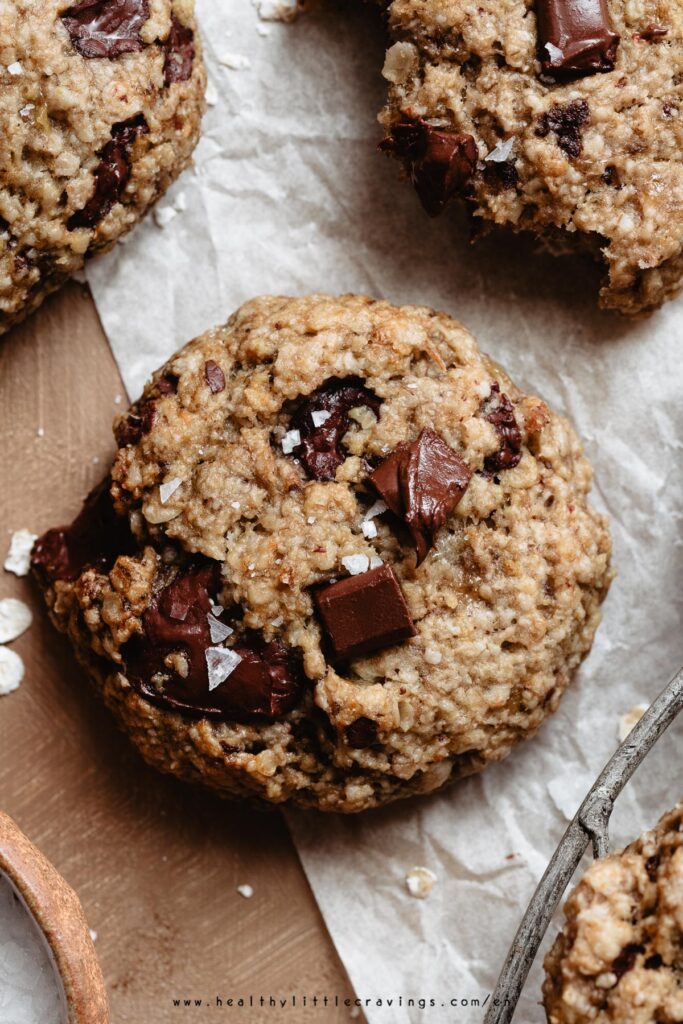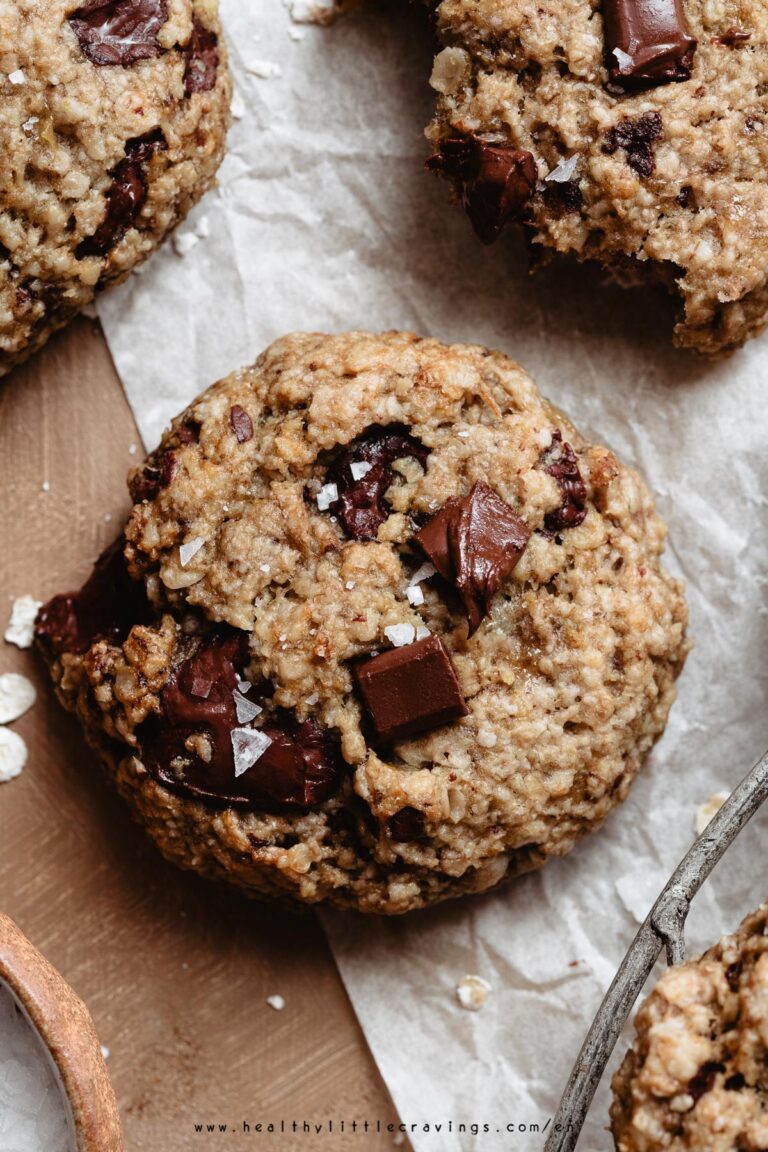 ---
© Healthy Little Cravings – Roberta Dall'Alba.
I own all content and photos' copyright.
Before using my photos and recipes, please email me.
If you would like to republish a recipe, please link back to this post and re-write the instructions in your own words.