There's nothing better than preparing a recipe for someone that doesn't even like that particular food, but then he/she ends up loving it. Do you agree?
Do you believe me if I say that my boyfriend didn't like artichokes, but then he ate these and "😍"
This is the reason why today I really want to "teach" you how to make roasted artichoke halves [with lemon and toum in this case]. They're bomb and you'll end up appreciating them!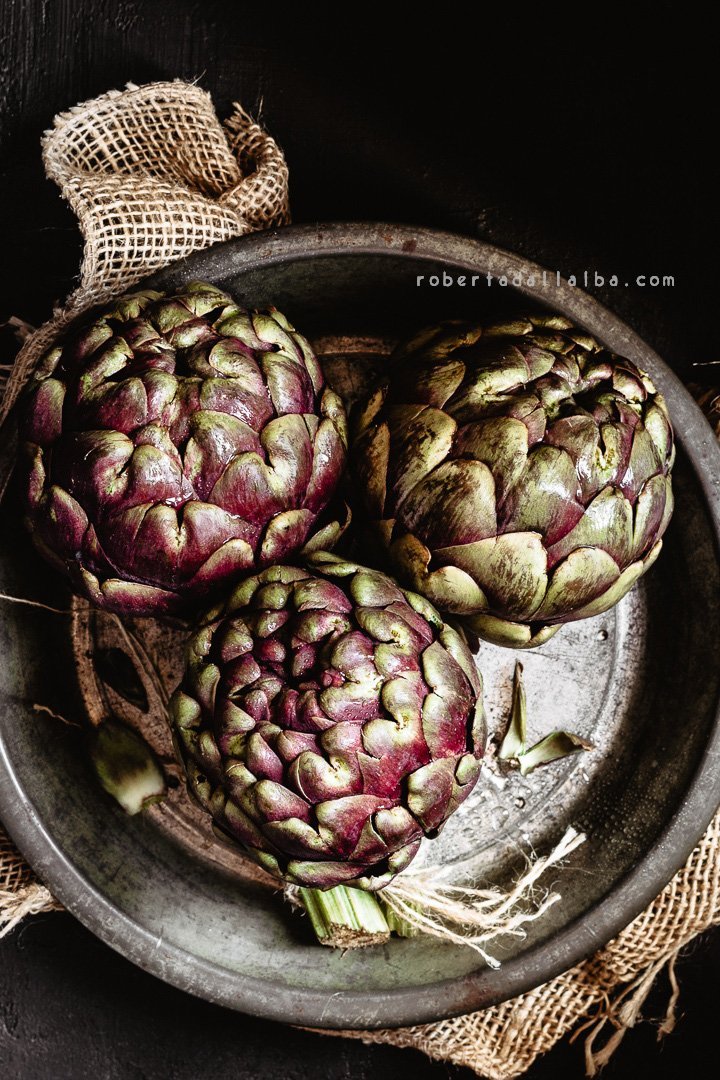 It's easy to learn how to make roasted artichoke halves...
I swear, it's veeery easy and, after you learn how-to, it will also be quick!
The only thing that could bother you though, is finding out that you buy one artichoke and you'll probably only eat half of it or even less.
The reason is simple: they are not 100% edible. Softest parts are the hearts and the first couple of centimeters (about one inch) of the stems. I usually also like to strip off the tender parts of the petals, that's why I cook the whole artichoke.
My mom instead only bakes the hearts. And THAT, my friend, is my favorite recipe EVER (maybe I'll share it one day). She roasts potatoes and artichokes hearts together. Slow cooked. They becomes so tender that they almost melt in your mouth. HEAVENLY.
Also, that's the only recipe that my boyfriend eats. But now he tried these roasted artichoke halves I made and he finally started appreciating them!
So if you're not into artichokes that much, try this recipe first!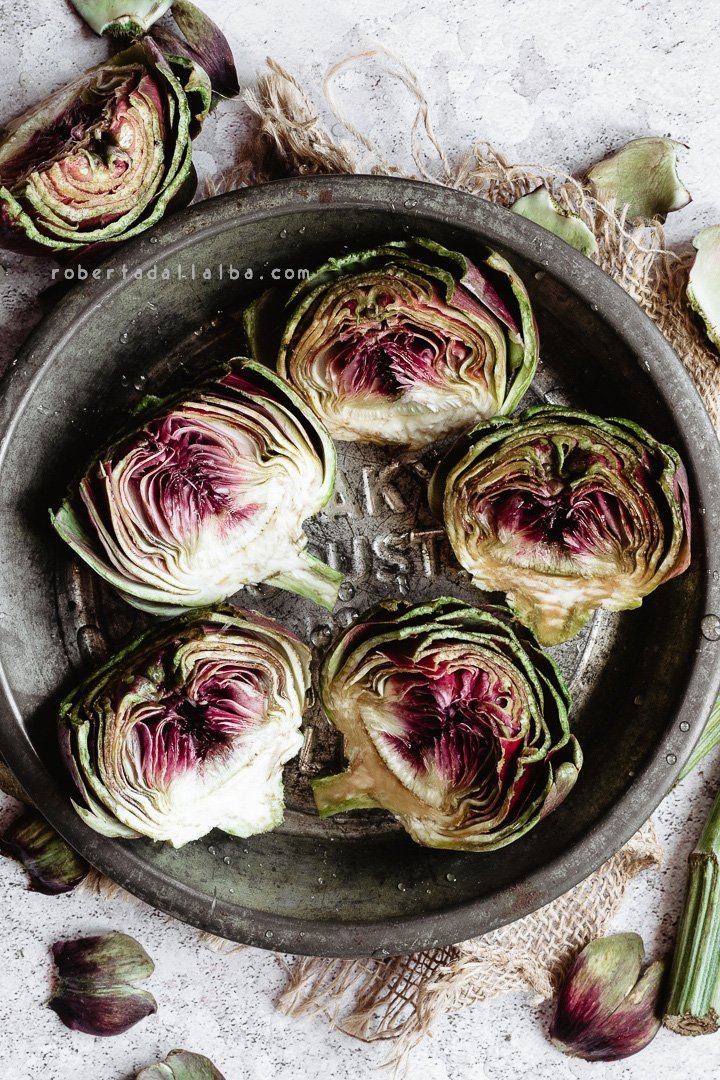 Roasted artichoke halves & toum FAQs
How do you eat baked artichokes?
Pull off the outer petals of your artichoke and strip off the petal meat with your teeth (or with a fork, then eat all the meat).
When you've finished the petals, eat hearts and stems. They're soft!
How do you trim an artichoke?
I've dedicated a whole paragraph to this, see the "how-to" below.
What is toum? And why did you use it?
Toum is a lebanese sauce, mostly used as a dip.
It's made with garlic, water, oil, salt and lemon juice and it's SO GOOD (well, if you like garlic).
In this case I decided to used toum because it was easy to brush on my artichokes (being emulsified garlic, similar to mayo).
You can find the recipe [and FAQs] on my friend Cosette's blog [here]
Can I use garlic cloves instead?
Of course you can! Take 3 garlic cloves, divide them in half and place each half on the artichokes central cavities. Alternatively, mince it and combine it with extra virgin olive oil, then brush it on top of the artichokes' halves.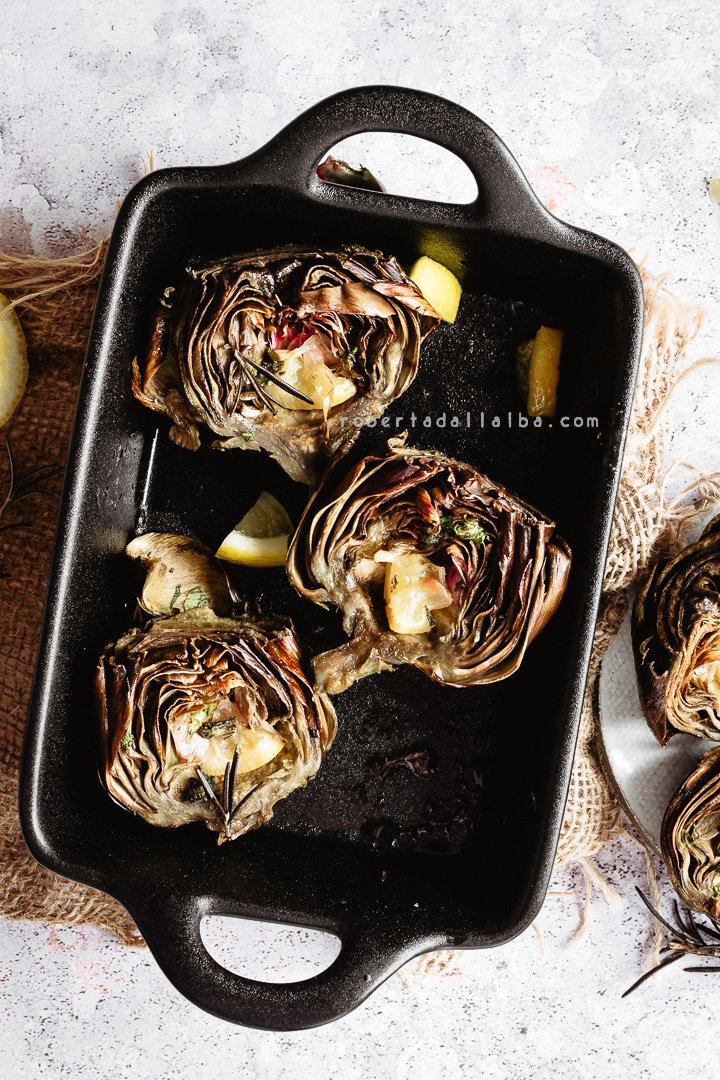 How to trim an artichoke easily:
Trimming artichokes is a bit time-consuming, but don't worry..it's easy!
First, prepare a bowl full of water and lemon juice (half is enough).
Using a serrated knife - cut the stem off, leaving about ⅔ cm.
Discard any outer tough leaf.
Cut about 2 cm off of the top of the artichokes to remove the toughest parts of the remaining leaves.
Peel away the fibrous outer skin of the remaining stem.
Cut in halves and hollow out the fuzzy part in the center of each artichoke.
Place them into a bowl full of water and lemon juice while trimming the others.
If for some reasons you don't understand my instructions, watch this video: click here.
Ready to bake some delicious roasted artichoke halves?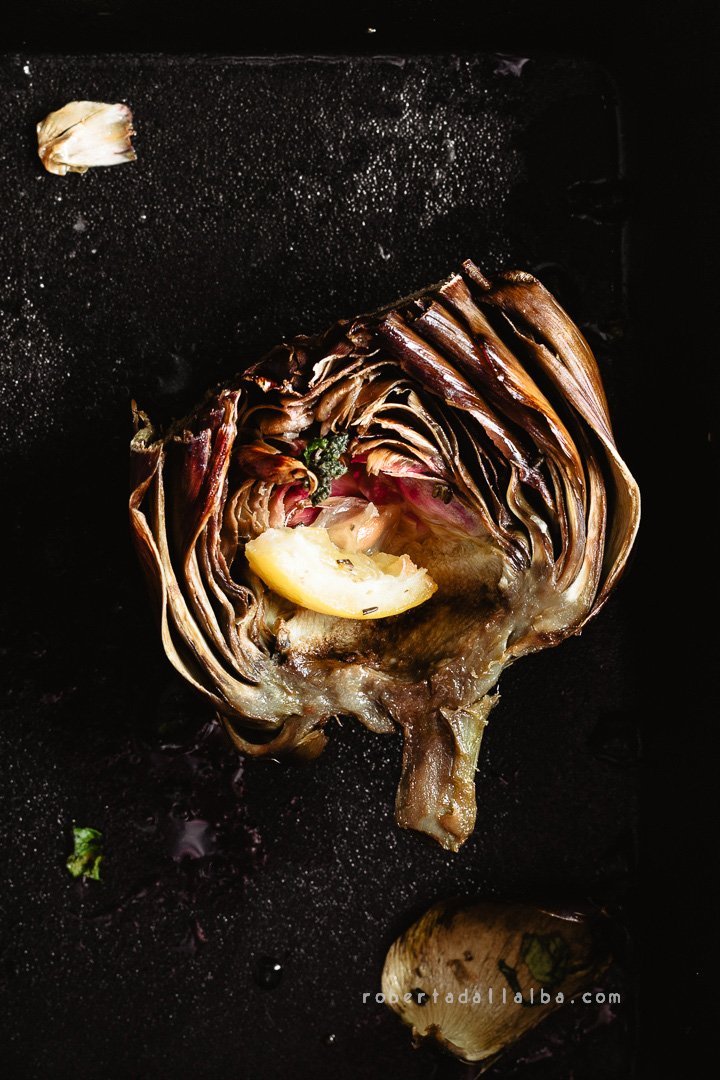 ---
You may need...
The following are affiliate links which means I make a commission off of them with no additional cost to you. Thanks for supporting me!
Roasted artichoke halves are easy to make: cook them into a deeper baking tray like this one, so you can add some water while they're cooking.
---
If you make this recipe, please be sure to give it a rating and leave a comment! It would make me so happy!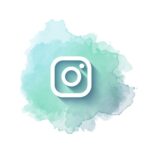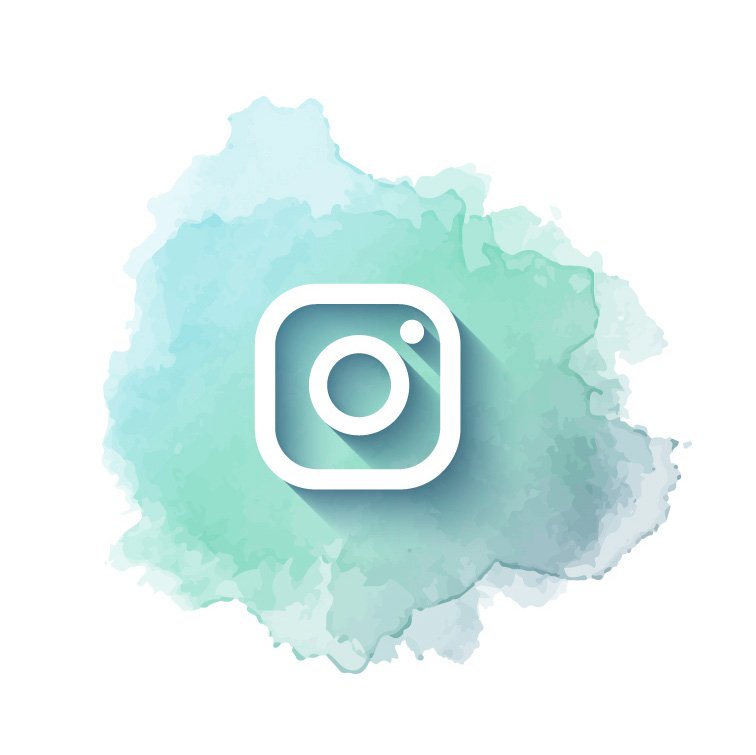 Don't forget to share your photos with me on Instagram: tag me or send a DM!
---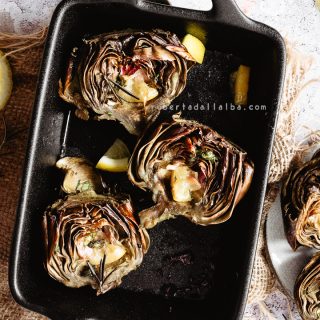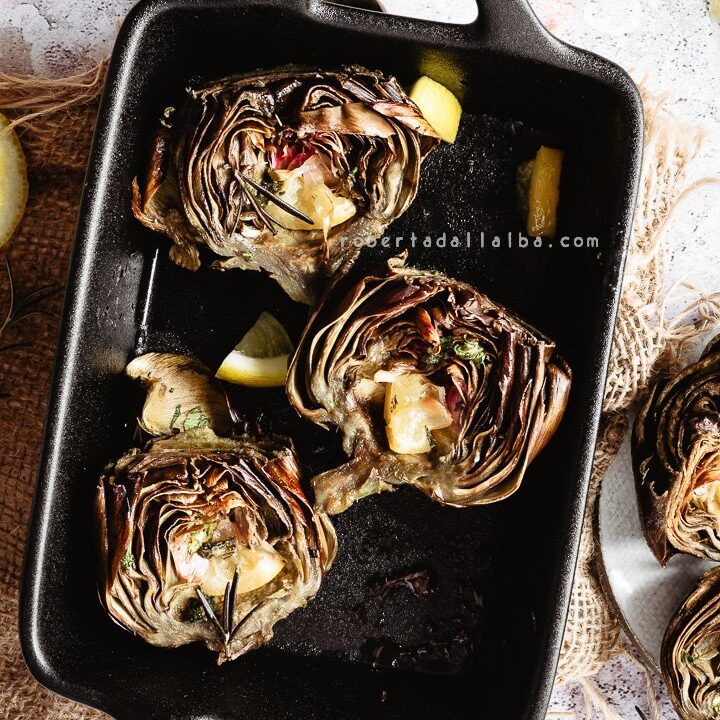 ROASTED ARTICHOKES WITH LEMON AND GARLIC
These roasted artichokes are so tasty: they have garlic and lemon, that will make them taste fresh!
Print
Pin
Ingredients
3

Globe artichokes or artichokes

Toum

-

or 3 garlic cloves

a pinch

Salt

few slices

Organic lemon

Extra virgin olive oil

Herbs of your choice
Instructions
Clean your artichokes:
Prepare a bowl full of cold water and a piece of lemon, set aside.

Using a serrated knife: cut the stem leaving about 2 cm, then

cut about 2 cm off of the top of the artichoke.

Peel away the fibrous outer skin of the remaining stem.


Cut your artichoke in half and remove the inner fuzzy center. Place the artichoke into the bowl full of water with lemon.

Repeat the process with the other 2 artichokes.

In the meantime preheat your oven at 200°C (400°F).

To bake the artichokes:
Place your artichokes halves into a greased baking tray (possibly quite deep).


Brush each half with toum*, sprinkle some salt and place a small slice of lemon into the central cavity. Bake for 10 minutes.

*if you don't have toum, place half of a garlic clove into each cavity and brush the artichokes with extra virgin olive oil.

After 10 minutes, add some water to the baking tray and cover it with aluminum foil, bake for about 45/55 minutes or until you can pierce the steam easily with a knife.

Serve with some fresh herbs (I used rosemary, sage and basil) on top.

Drizzle some extra lemon juice on top. Serve.
---
Don't forget to pin and share this easy and delicious recipe!
---
Liked this recipe?
Try them in combination with my roasted potatoes (I LOVE this combo!)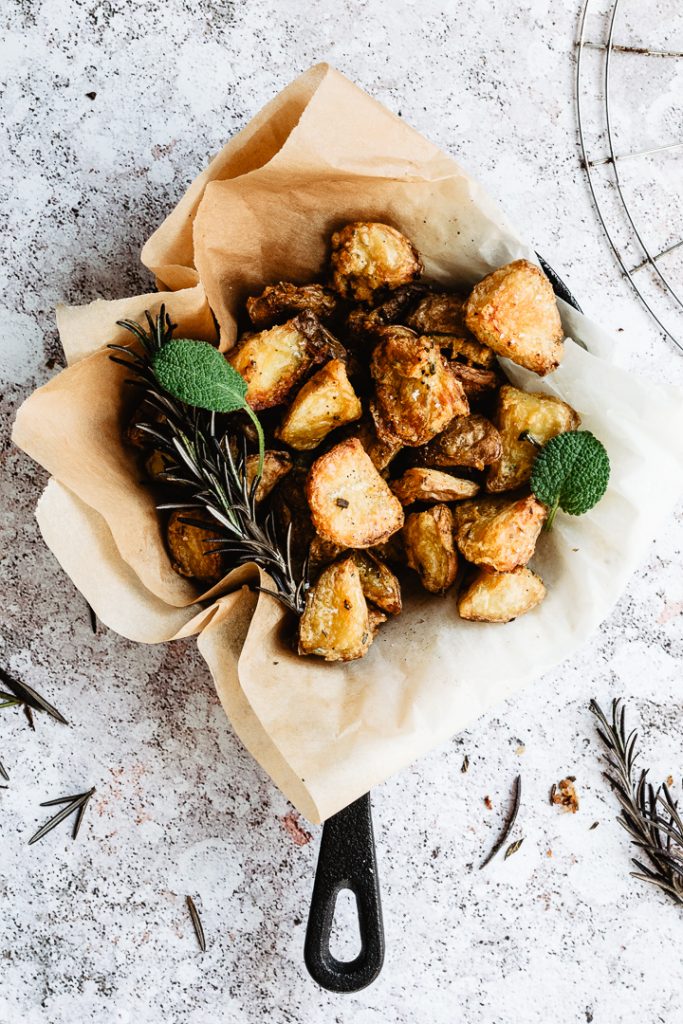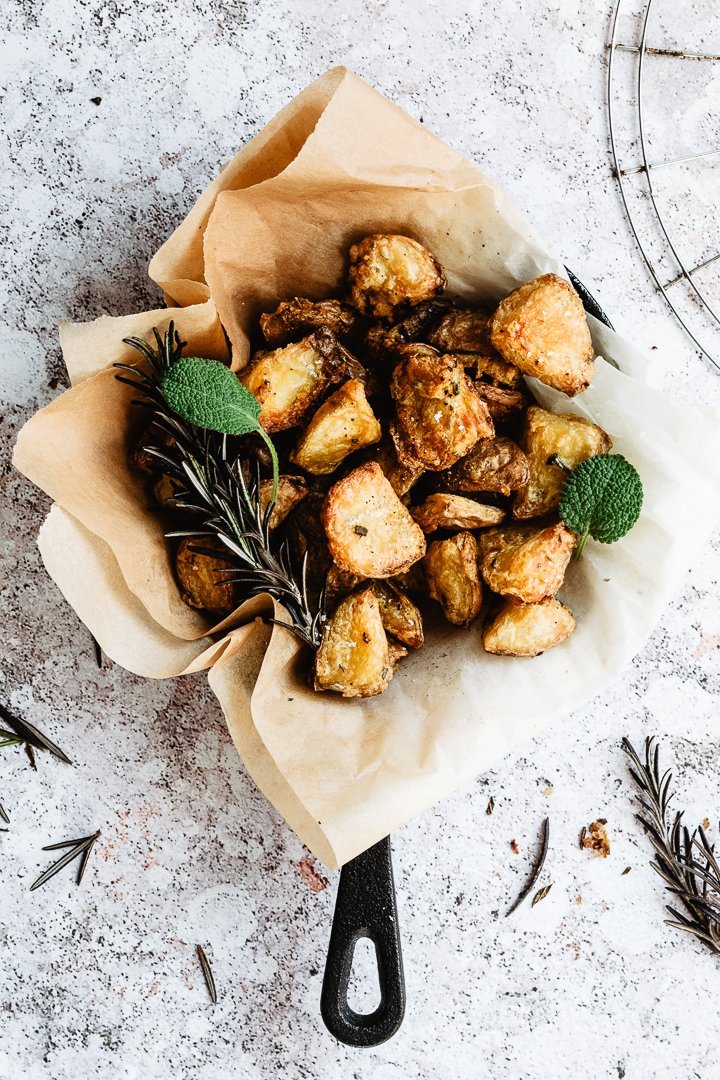 ---
NOTE: This post contains affiliate links which means I make a commission off of the links with no additional cost to you. Thanks for supporting me!
---
© Healthy Little Cravings – Roberta Dall'Alba.
I own all content and photos' copyright.
Before using my photos and recipes, please email me.
If you would like to republish a recipe, please link back to this post and re-write the instructions in your own words.