In this post I'll teach you how to make coconut butter from scratch at home, and all the tips & tricks!
---
Believe me when I say that one of the things I love most is sharing with you all the tips and tricks I learn everyday (most of the times from experience, from trial and error).
When it comes to sharing, some people are almost "jealous" of their secrets. Instead, to me is quite the opposite. I think sharing is caring: I'm so grateful when someone share with me their tips and secrets, equally if I discover something I'm happy to share. What's your philosophy? Tell me in the comments! Now let's talk coconut butter!
What's the difference between coconut butter and oil?
I found out there was a difference just a few months ago, to be honest. Before, I was using coconut butter and coconut oil as synonyms. Instead they actually are different (understanding won't be difficult, I promise!)
Coconut butter is made by grinding dehydrated coconut flesh. It's like every other nut butter: peanut's, hazelnuts', almonds' etc. It's basically a spread that is solid at room temperature and softens when heated.
I want to give you a much clearer idea: think about olive oil. It's usually made by crushing the olives into a paste. That paste is somehow like our coconut butter. So it will still contain all the fibers and benefits of the coconut.
Coconut oil instead is the fat extracted from coconut meat and it's usually used as a substitute for butter and vegetable oil in baking or to fry/stir-fry/sauté. Coconut oil will solidify at 24/25° C.
In the example above, it's like olive oil (the fat extracted from olive paste).
That's it!
Tips and tricks to make homemade 100% coconut butter
I don't know if you have ever read my post on how to make nut butter at home (highly suggested reading by the way). At the time I decided to write that article because I had had some problems with my homemade nut butters. So I collected all the tips and tricks and shared them with you.
I did the same thing with our 100% coconut butter: I took note of my mistakes/difficulties and wrote this article.
Here are my 3 top tips and tricks:
Tip #1: Slightly toast your shredded coconut 
Same thing I've noticed while making nut butters: my 'meal' grinds better when it's toasted. So go and toast that bad boy!
Tip #2: Use a small blender
You probably will never make 1 kg (2 lbs) of coconut butter, right? So buy a pretty small grinder/food processor/blender (are they synonyms?) and you ready to go!
I've been using this one for over a year and I adore it.
Tip #3: Alternate speeds
Even when you use a small food processor, if you grind on high speed the meat will stick to the sides. I've used this method and it worked: start with medium speed - so the meat will grind evenly - then pulse at high speed. If the coconut collects around the edges of the bowl, scrape down the sides and repeat.
Trick
Every 5 minutes or so, stop, let it chill for 5 minutes and start again.
After 10/15 minutes you will obtain a nice and smooth 100% coconut butter!
"Where can I use it?"
There are many ways you can use your homemade coconut butter, since it's so versatile:
You can make Bulletproof coffee (check out my recipe here!);
You can use it to top your oatmeal, pancakes, waffles;
You can spread it on a toast;
You can make delicious fudge (soon on this blog);
You can also use it into cakes ;
...or eat spoonfuls! (just kidding, do not overdo!)
Remember: if you try one of my recipes, tag me on Instagram or send the photos to [email protected]
---
NOTE: This post contains affiliate links which means I make a commission off of the links below with no additional cost to you. Thanks for supporting me!
---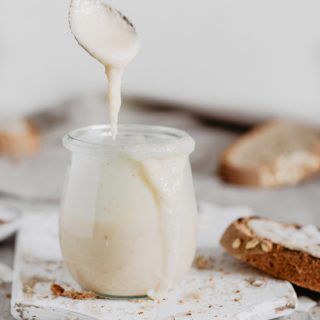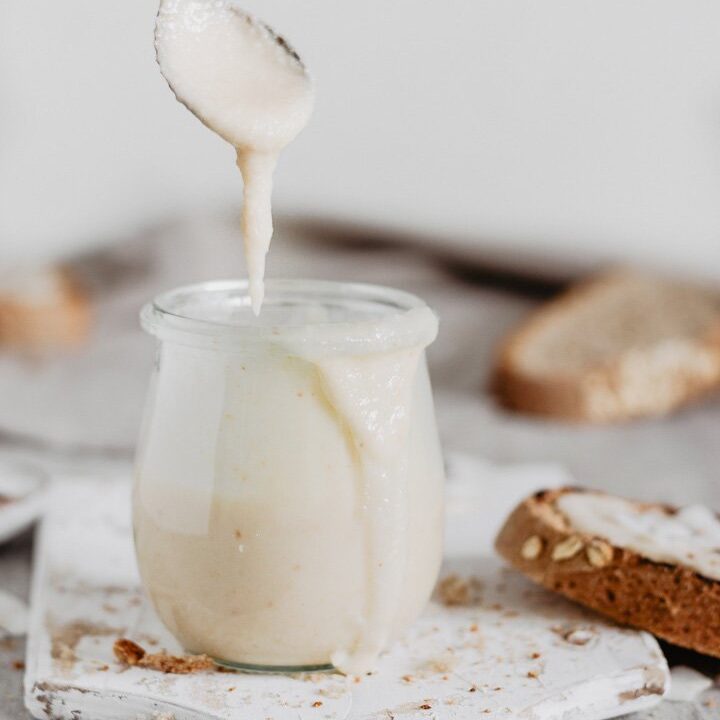 100% COCONUT BUTTER
All the tips and tricks to make your 100% coconut butter at home!
Print
Pin
Ingredients
200

gr (or more)

Shredded coconut (coconut flakes work as well)
Instructions
Into a large pan, toast your shredded coconut for ⅘ minutes (keep stirring the whole time).

Put the shredded coconut into a blender (I use a small blender in this case) and grind it.

Alternate medium speed with high speed, and stop every once in a while to avoid overheating.

Scrape the coconut from the sides when needed.

It will take up to 10 minutes to make it.

In case your device is overheated, let it chill for 5 minutes and the continue blending.

Store the coconut butter into an airtight jar at room temperature.

In Fall/Winter the coconut butter will become solid, that is normal. Just take some from the jar and heat it with your microwave (not the whole jar!)
Nutrition
Nutrition Facts
100% COCONUT BUTTER
Amount Per Serving
Calories 1200
* Nutritional information is only an estimate. The accuracy of the nutritional information for any recipe on this site is not guaranteed.