"WHAAAAAAT?! A 2 minute hot chocolate? Wait, hot chocolate on stick?! What the...."
I know, I know that you're thinking this. I know you're thinking it's impossible to make a delicious hot chocolate in literally two minutes.
Glad to say it's not impossible if you follow this recipe. Are you ready?!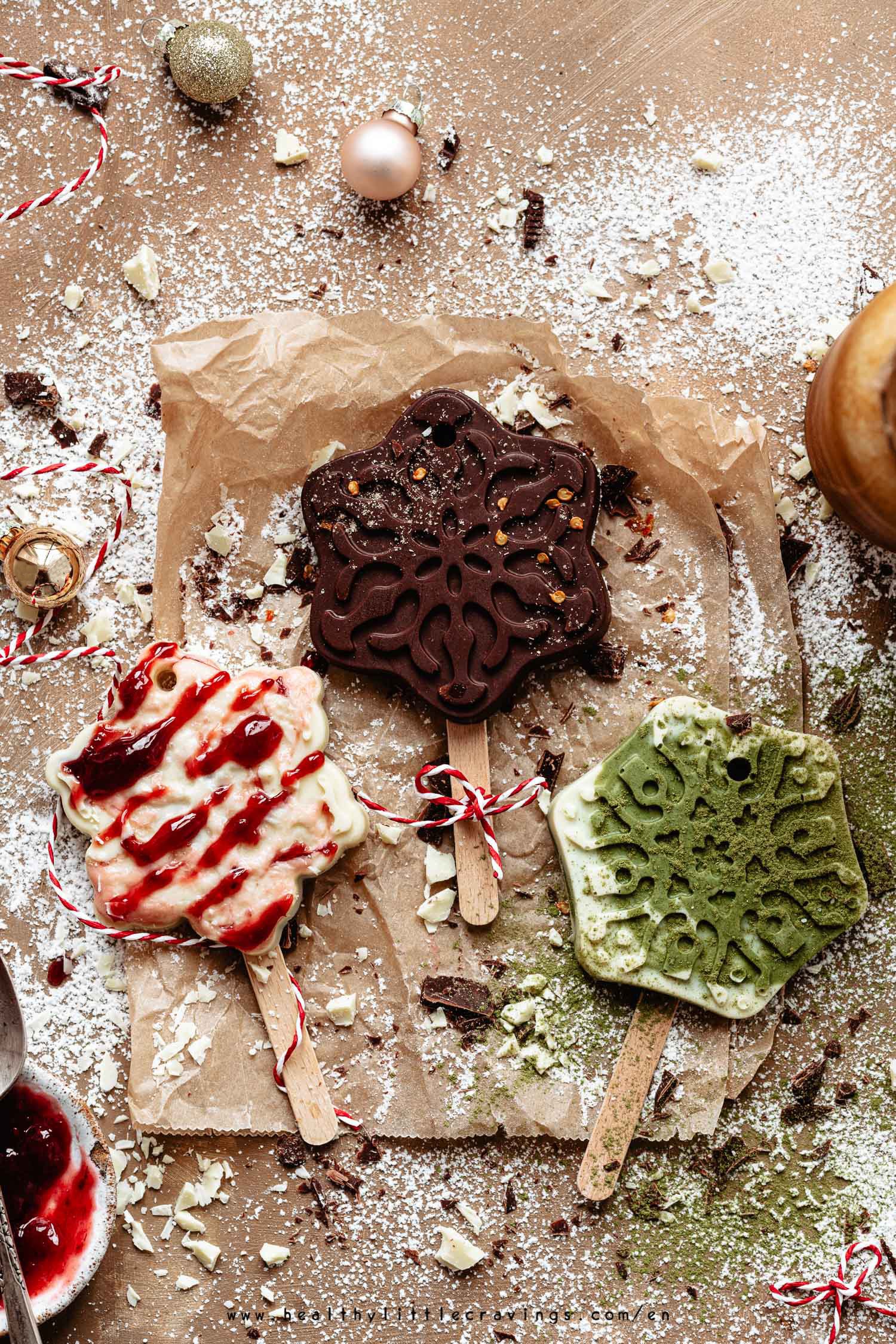 Best Christmas gift: hot chocolate on stick!
Honestly (and you know I'm always frank), not my idea.
A couple of weeks ago I accidentally bought these. I wanted to gift them to my friend but then I realized he's not a fan of spices.
Well, not a big deal actually, because last Sunday we (me & boyfriend) cozied up on the sofa to drink them. Took us 2 minutes to make this hot choc, hygge vibes all evening.
I immediately thought this was a genius idea: a block of chocolate to melt into hot milk?
I had to steal it.
So here we are: I created this simple and quick hot chocolate on stick 3 ways.
If you're like me and you love creating edible gifts for Christmas, this makes the perfect gift for your friends! Make them then find cute small bags and some Christmassy ribbon. Done!
How precious are they?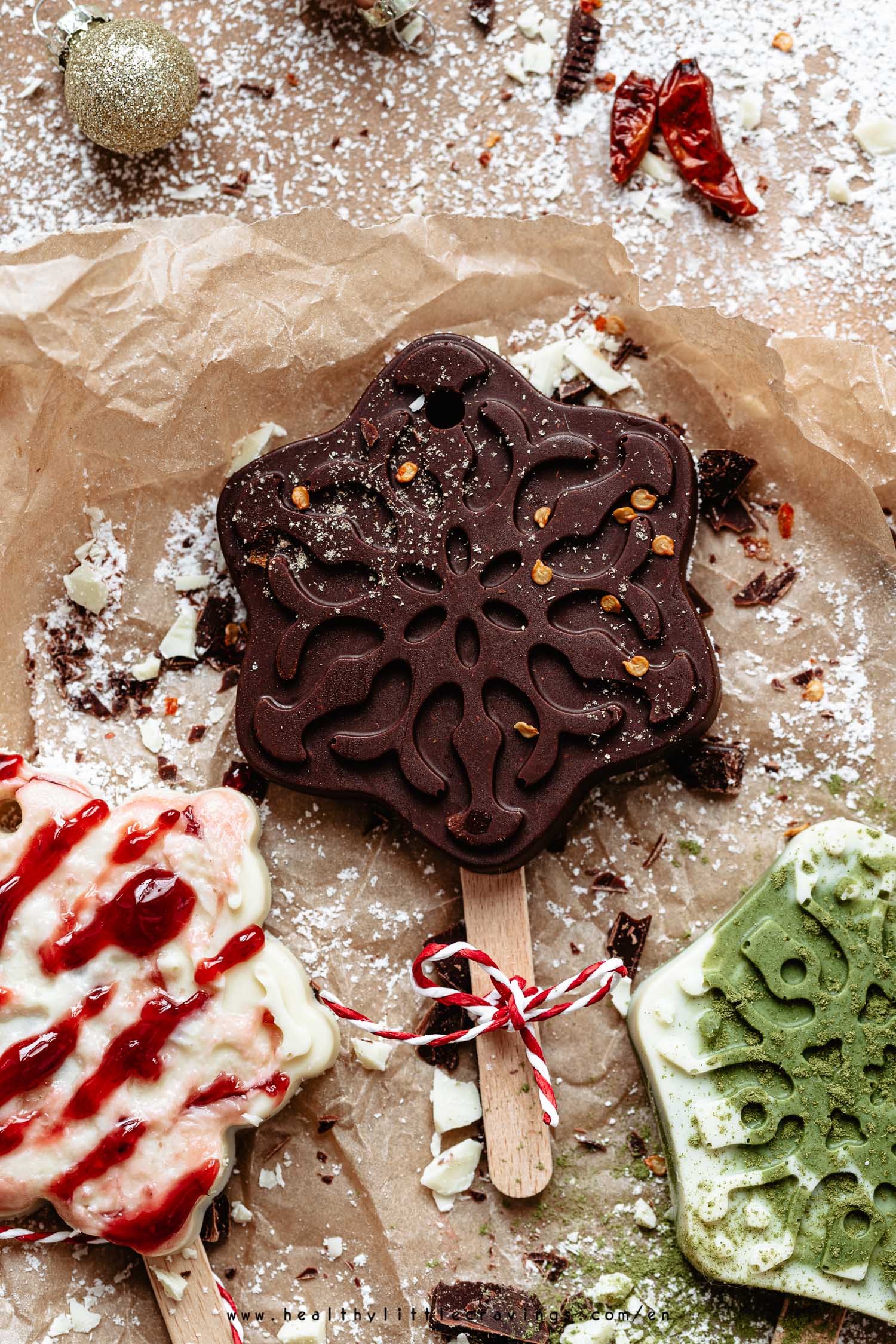 How to make this 2-minute hot chocolate in 2 steps.
Now let's see how to practically make these.
Seems like 'two' is the king number in this recipe. Oh, I just realized that two of these hot chocolate on stick have...TWO ingredients! lol
Alright, let's see the 2 steps you need to take to create these cuties.
Melt chocolate
Duh. You have to melt your chocolate first. PLEASE read next paragraph to know how to melt white chocolate. It's a bit tricky!
Add ingredients and let get firm
You could also take this step before melting the choc.
Pour into molds and let chill.
I've used some cute snowflake silicone molds that I already had at home (here you can find some), but you can use any. Potentially, you could also use a paper/plastic glass.
Finally "glue the stick" like this >>

When the choc snowflakes are ready, gift them or use them when you crave hot chocolate. Let them melt into hot milk/plant milk, and enjoy!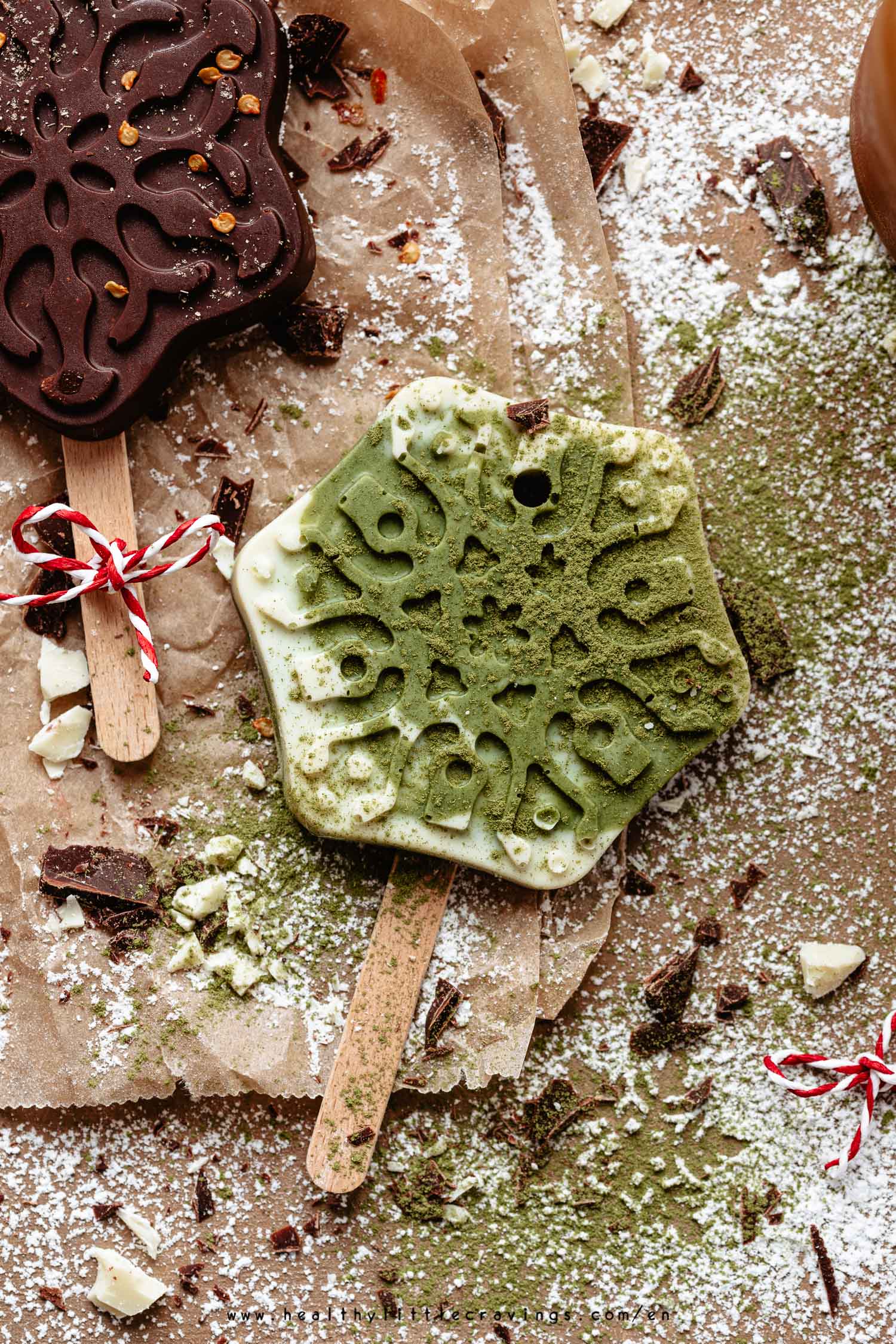 The tricky part: how to melt white chocolate.
When I first created these I had troubles with melting white chocolate. This is not an ingredient that I use often in my kitchen. I mean, I melt a lot of dark chocolate, but I'm not an expert when it comes to white. But now I learned a lesson.
So, how to melt white chocolate? The trick is to cut it into small bites, the smaller the better. Want to use choc chips? Even better.
This way, it will take just a few seconds to melt.
Melt it over a double boiler or microwave, your choice.
(Hope this helps!)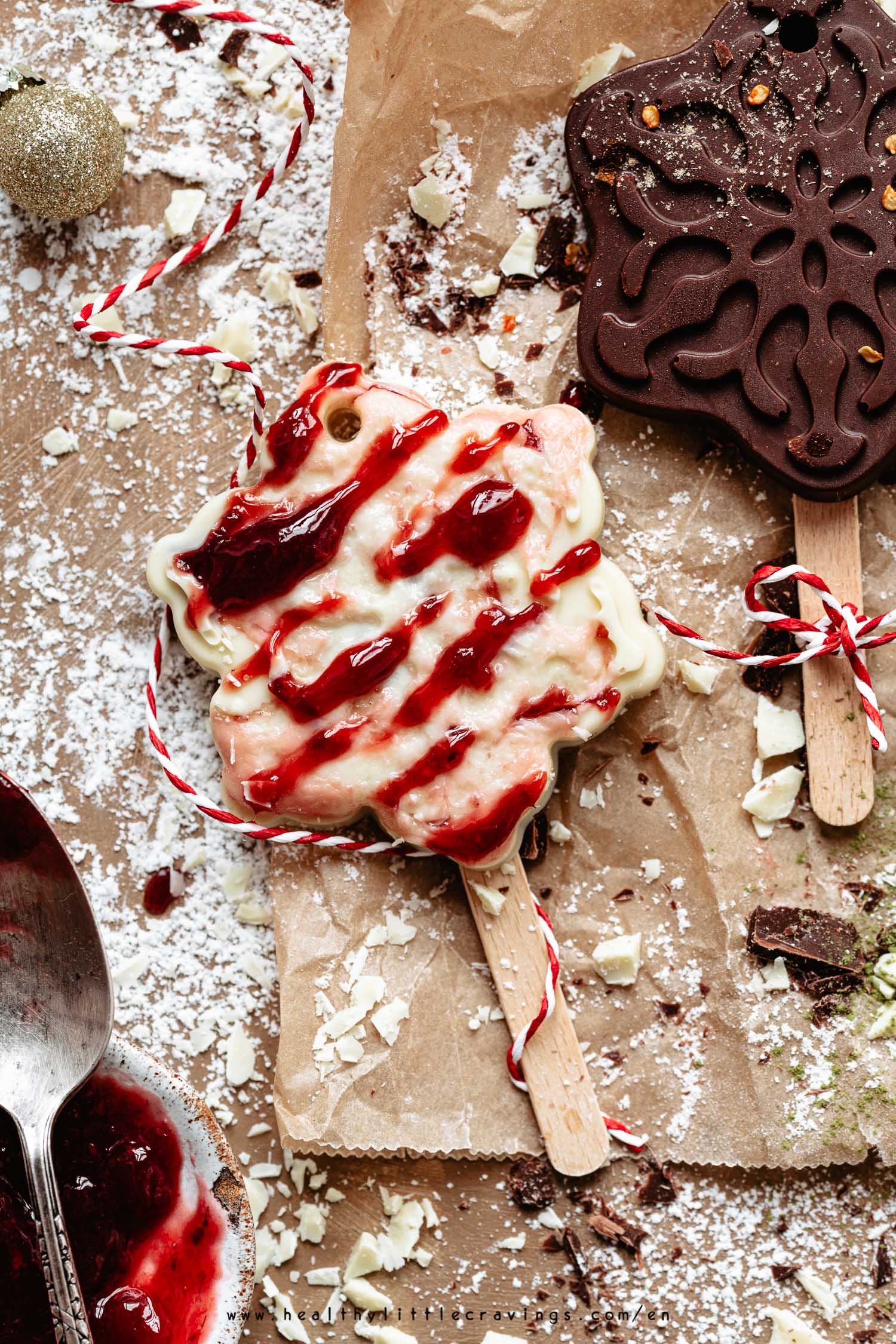 About the consistency: not a thick hot chocolate.
I have to highlight this: the consistency is not like what you in the US call "Italian hot chocolate", which is thick and creamy.
This is more a "thin" hot choc, which in some cases I really enjoy.
Want a thicker version? You should definitely try my gluten free hot chocolate, that is suuuuuper creamy! Everyone here loves it!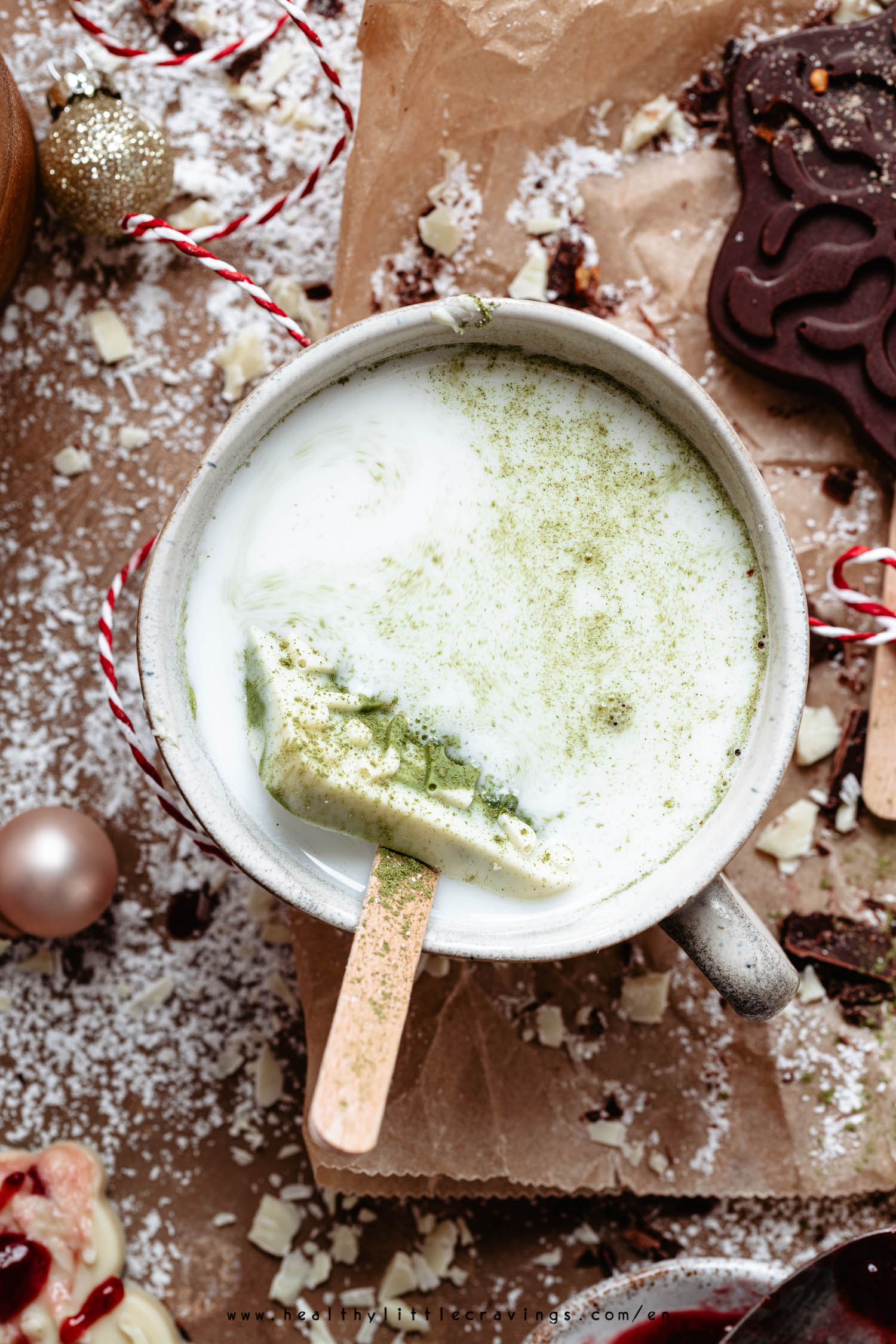 ---
If you make this recipe, please be sure to give it a rating and leave a comment! It would make me so happy! 🙂
Remember: if you try one of my recipes, tag me on Instagram or DM me the photos!
---
Don't forget to pin and share this easy and delicious recipe!
---
Liked this recipe?
Try the second most-clicked recipe on my blog: this thick gluten free hot chocolate!
---
© Healthy Little Cravings – Roberta Dall'Alba.
I own all content and photos' copyright.
Before using my photos and recipes, please email me.
If you would like to republish a recipe, please link back to this post and re-write the instructions in your own words.