If I'm Italian, why the h*ll am I sharing healthy super bowl snack ideas? Well, because I love my American audience (you're actually a pretty big % ) and I know that for you the Super Bowl is always an epic event. That's why I made these vegan homemade crackers: because they're just perfect to eat while watching the game and ideal to dip in any sauce and dipping and whatever you want.
Also, the Internet says that the Super Bowl is, after Thanksgiving Day, the second largest day for food consumption in the U.S.
Hence, here I am sharing my recipe with you (actually, this homemade crackers recipe is perfect all year round!)
Homemade crackers are the perfect snack (for your kids too)
Mmm, can you already feel the flavor? Their crunchiness? Can you feel their spiciness? These vegan crackers are everything, believe me, they're the perrrrfect snack [Actually, I still have some left, let me snack on them while I write the post!]
When I was young, the easiest snack that my mom used to give me and my sister was bread (it was a specific kind of bread, it was called cornetto) or crackers. So, besides being the ideal healthy Super Bowl snack, they're an amazing idea for your kids as well (obviously avoid the chili pepper!).
If you give them to your kids, serve them with hummus, avocado dip or nut butter for a sweet version (check my raw vegan Nutella here)
To enjoy them on Super Bowl day, assemble the platter using cheese or vegan cheese, cured meat (if you're not vegan), all kind of dips/sauces, veggies/fruit, honey or other syrups or whatever you love most. Have fun!
How to make crackers at home (spoiler: it's easy)
Let me tell you: there's nothing easier than making your crackers at home. I promise it's foolproof (not saying that you're a fool obviously).
Now let's see how to make crackers in 3 easy steps:
1. Combine dry, wet & let rest
Start by combining your dry ingredients (+ oil) into a bowl, then gradually - so you can adjust - add the water. The dough shouldn't be too tacky or too dry (but in case, better to add flour later).
2. Brush with olive oil
This is what makes crispy and super flavorful crackers so please don't skip this step. After rolling out the dough, cut them with a cookie cutter (or a small cup) and brush each cracker with some high quality extra virgin olive oil (mine is sent straight from Sicily). Lastly sprinkle them with salt flakes (or regular salt).
3. Bake!
I baked mine for 30 minutes because they were not extra thin, but if you manage to roll them out very thinly, keep a check on them because they might take 15/20 minutes.
Let them cool down and they'll turn out even more crispy!
Do you want to know what's the best thing about them? They last days if you store them in a plastic bag or an airtight container!
---
If you love the shape of my crackers, check out these cookie cutters on Amazon. They're very similar!
---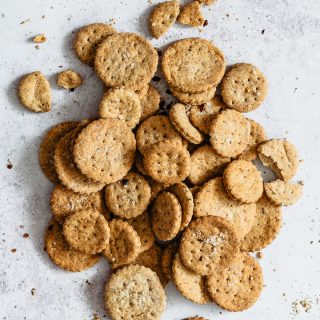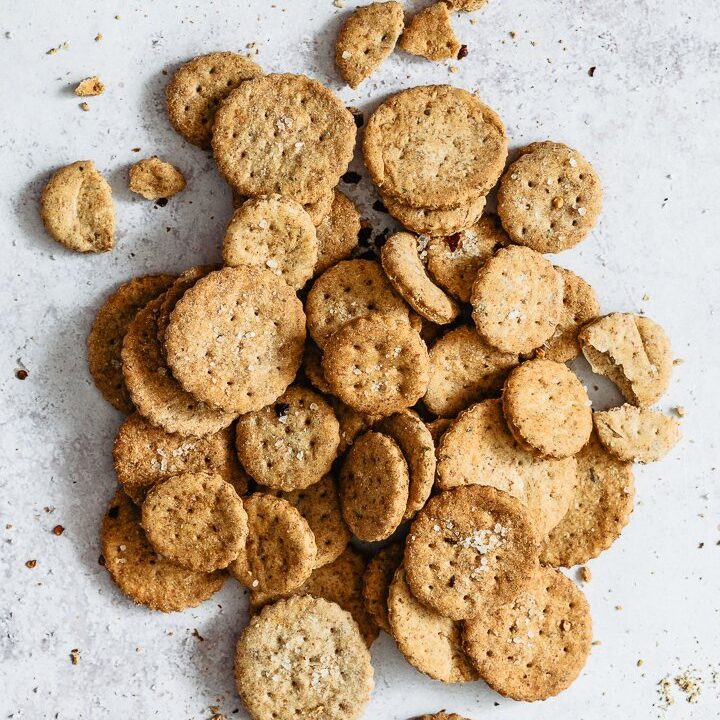 HOMEMADE CRACKERS
The easiest homemade crackers recipe you'll ever find: spicy vegan crackers!
Print
Pin
Ingredients
65

gr

All purpose flour

200

gr

Whole wheat flour

half a teaspoon

Baking soda

Oregano

40

gr

Extra virgin olive oil

-

+ some to brush

100/110 gr

Water

Salt

Chili pepper
Instructions
Into a bowl, combine all-purpose flour, whole wheat flour, baking soda, oregano, a pinch of salt and extra virgin olive oil. Stir.

Gradually add the water until you obtain a nice dough. Knead it for just a few minutes.

Let it rest at room temperature for 30 minutes.

In the meantime, preheat the oven at 200° C (390° F).

Onto a floured surface, roll the dough about a couple of millimeters thick. Use a cookie cutter to cut your homemade crackers and prick each of them with a fork.

Note: you can also cut rectangles using a pizza wheel.

Line a baking tray with parchment paper then transfer the crackers to the baking sheet.

Brush each cracker with oil and sprinkle with salt.

For the spicy version: sprinkle some chili pepper on top.

Bake for 20/30 minutes** or until lightly browned. Let them cool and store them into an airtight container until you're ready to serve them.

**it depends on how thick they are.
Assemble your platter:
Serve the crackers with guacamole (you can find my recipe below), hummus, vegan queso (I've used Broma Bakery's recipe), vegan cheese (or ordinary cheese if not vegan), olives and whatever you prefer.
---
Don't forget to try this delicious guacamole...
---
Pin it!