Naturally sweetened and oil-free healthy cinnamon granola with a touch of cardamom: DELISH!
---
I still remember the day my boyfriend told me "Love, remember the interview I had for that job in Sweden? They accepted me!". There was a rush of emotions in my heart: I was so happy for him, but I was scared as well. We had (and still have, for a few more weeks) a long-distance relationship, so I should have been "used" to distance.
At the time, he was studying in Modena, 200km from where I live, and we used to see each other every couple of weeks. Before that he lived in his hometown in Sicily, 1400 km from me, and we saw each other every couple of months.
So, knowing that he was going to be even more far from me - in Sweden -, made me felt lost again. Like we took a backward step.
It happened 2 years and a half ago, I was more immature than now and the inner selfish me told me not to let him go. But I couldn't prevent him doing it, it would have been so egoistical of me. So, he left (oh, anyway, it was just for 2 months).
Let me say though: in no way we thought, even just for a minute, to break up. We were there for each other. No matter what.
Healthy cinnamon granola, inspired by Kardemummabullar
Long story short: my boyfriend fell in love with Sweden (and he actually want to go back!). So when I saw on Instagram that David from gkstories was giving away - together with VisitSweden - a trip for two to Stedsans in the Woods in Sweden, well...how could I not take part?!
The  only rule was to "take a photo of a Swedish inspired breakfast and share it on instagram". That's it? I thought. OK!
Guess what my first idea was: yep, something inspired by Kardemummabullar! (read below what they are!).
I'm not sure if Swedish people eat granola that much for breakfast, but they do eat oats so...
I wanted this brekkie to really taste like cinnamon buns. Well, people, I've made it!
Kardemummabullar, Swedish most amazing treat...
Coincidentally, I'm about to go in the kitchen and make Kardemummabullar, cinnamon cardamom Swedish buns. I've shared the recipe almost one year ago (btw, are you curious? You can find it here!), my photography was not that good though. So, today I'm gonna make 'em and re-shoot 'em! You ready for me to share them on Instagram in a few days?
Update: I'm finishing up this post in the afternoon, I made them this morning so at this time they're ready. They turned out so good again!
About Kardemummabullar, let me say: when I tried them for the first time I literally fell in love. I bit them, closed my eyes and immediately felt like I was sat in a Swedish cafè. The flavor was just AMAZING, so rich and characteristic. I can't describe them: TRY THEM!
In the meantime, if you want to have breakfast with a healthy cinnamon granola that reminds of Swedish Cinnamon buns...you're welcome!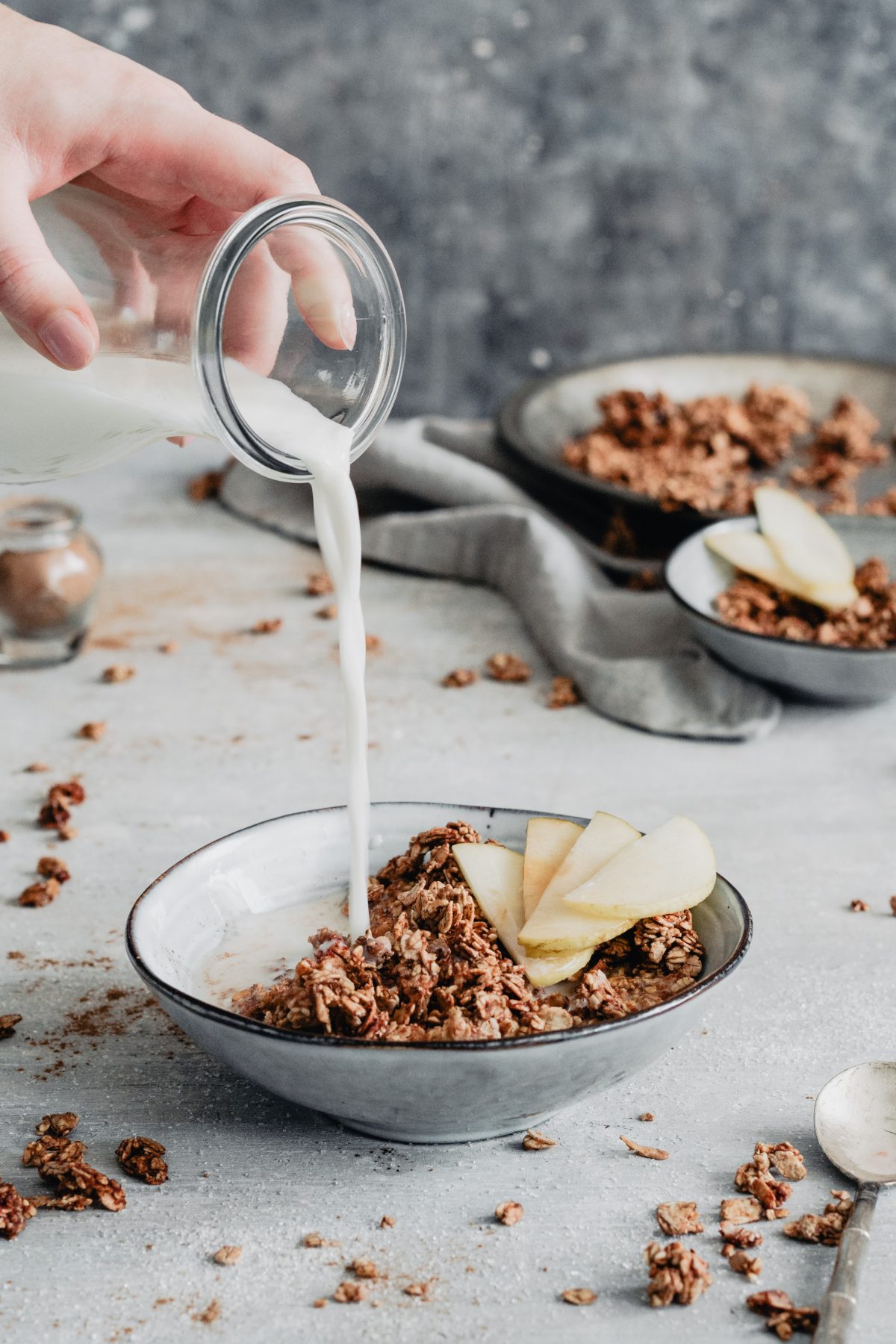 ---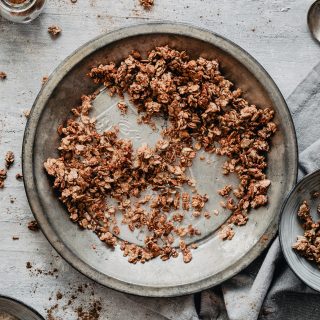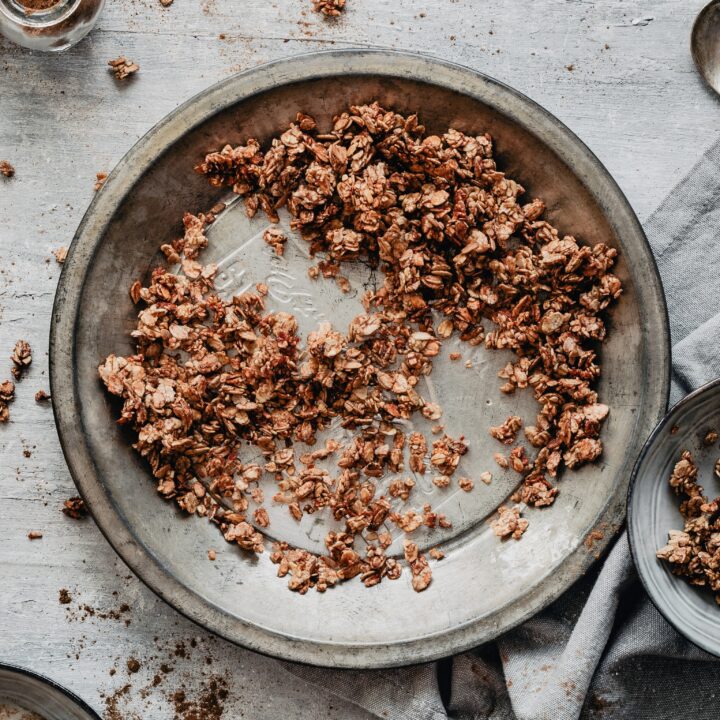 HEALTHY CINNAMON GRANOLA
A delicious and healthy cinnamon granola with a touch of cardamom to remind swedish cinnamon buns (Kardemummabullar) - plus, it's naturally sweetened and oil-free!
Print
Pin
Ingredients
160

gr

Oats

100

gr

Apple sauce

half a teaspoon

Cinnamon

¼ of a teaspoon

Cardamom

25

gr

Date syrup

a pinch

Salt
Instructions
Pre heat the oven at 170°C.

In a bowl, add all the ingredients and roughly stir using a tablespoon.

Spread your mixture in a thin layer on a baking sheet lined with parchment paper and bake for 35 minutes or until toasted.

Let it cool, it will become crunchy!

Serve with milk or yogurt (or your vegan choice). Store in a airtight container.
---
Pin it!