Have you ever thought you could fall in love with a veggie? Well, wait until you try these brussel sprouts with maple syrup & mustard dressing!
---
In my last post I told you how we Italians can be very fussy and snobbish sometimes, when talking food. Today I think I should put in a good word for us.
Our food culture
Last week I went to the hairdresser and, apart from the same old gossip, some ladies were discussing what they would have prepared for lunch that day. I remember them talking about broccoli, which variety is best for what, different flavors etc.
Now, in 2018 we have all the tools we want to study, inform ourselves of what is "good" and what is "bad", what can be combined with other flavors and so on, so we are facilitated and it's up to us.
These ladies, though, were talking about it with such a naturalness that made me think about it. Maybe it is in our DNA - I thought - maybe food culture is something we handed down from one generation to another, we have it in our blood. Well, yeah, it's called culture so...
Am I spluttering or does it make sense? Lol. In case, tell me!
An amazing roasted Brussel sprouts recipe...
Talking about today's recipe: I told you at the beginning of this post, you'll fall IN LOVE with these roasted beauties! I mean, how can you not try them? The flavor is just amazing: not the regular dull veggie, but something extra delicious enriched with mustard and maple/date syrup dressing. Sweet and slightly spicy. Sounds good?Oh, they're also super simple to make: wash them, remove the outer leaves, then cut the ends and, using a small knife, slice them lengthwise. Season them, bake and you're done.
I told you several times that eating healthy is easy and... not that bad actually! This will be your all time favorite side dish, I promise! Or should I say snack? Yeah, 'cause... those leaves are super duper crunchy and they could be eaten instead of potatoes fries you know.
Ok, now go and get some Brussels sprouts and try my roasted brussel sprouts with maple syrup & mustard dressing! Then remember to write me on Instagram if you liked them!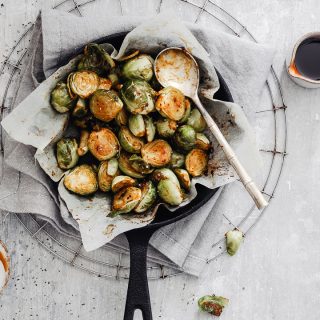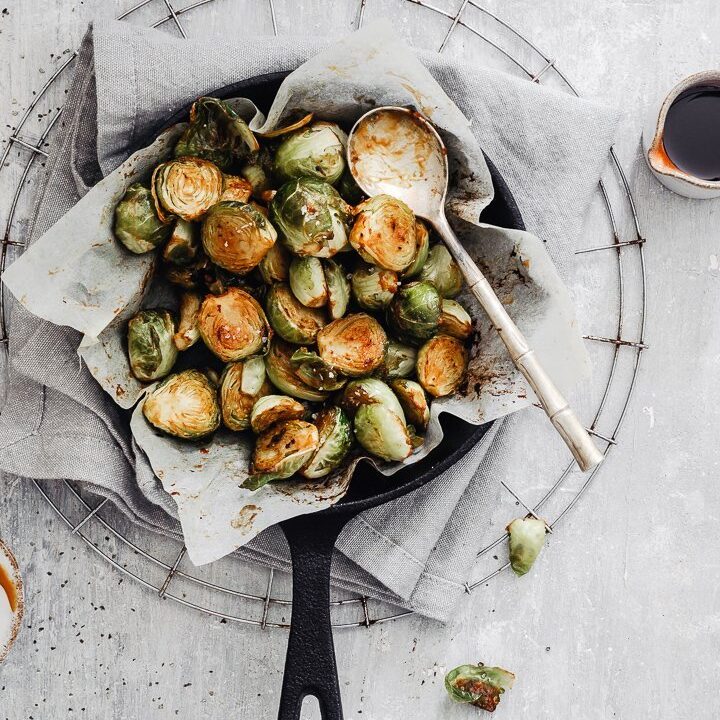 ROASTED BRUSSELS SPROUTS
Easy and delicious oven roasted brussels sprouts with delicious mustard dressing.
Print
Pin
Ingredients
350

gr

Brussels sprouts

a

drizzle

Extra virgin olive oil
Mustard dressing:
one

teaspoon

Mustard

one

teaspoon

Maple or date syrup

-

(or honey)

a few drops

Lemon juice

a

pinch

Salt

a

pinch

Black pepper

-

(optional)
Instructions
Wash your Brussels sprouts under running water, trim off the outer leaves, cut the bottoms off and slice lengthwise.

Preheat your oven at 200° C / 400° F.

In a small cup, combine mustard, date syrup, lemon juice, salt and if you want it a pinch of pepper. Mix.

In a bowl, toss the Brussels sprouts with oil and half of the dressing.

Layer them onto a tray lined with parchment paper, in a single layer.

Bake for approximately 30 minutes or until golden brown and perfectly roasted. Coat with the rest of the sauce.