You ready for a delicious and creamy pumpkin risotto with feta cheese?
---
If I'm here today sharing recipes with you it's because I LOVE food and I LOVE staying in the kitchen experimenting and this is all thanks to my mom. My mom has always been passionate about baking rather than cooking savory dishes ( we share this thing). She's also a very traditional and creature of habit so she used to cook always the same meals, very simple and quick to make (maybe this is the reason why I love easy recipes).  Sundays were an exception, we preferred slow food.
Don't get me wrong, she didn't cook only a couple of dishes all week long, but she had some basic recipes that she "preserved".
And risotto was one of this. She loved making rosemary risotto, risotto with mushrooms, risotto alla milanese (with saffron), with zucchini and many others.
Pumpkin and feta winning combination
This creamy pumpkin risotto though is quite a new thing for me because no one goes crazy for pumpkin chez moi.
Have YOU ever tried to make it? I'm curious to know how you season it (write me!) to balance flavors.
In my opinion, because it's sweet, it's not an easy ingredient to use in savory dishes but if you combine it with the right spices/other food it's just amazing.
By the way, you should definitely try this combo: feta cheese and pumpkin (and rosemary). It's a winning combo!
If you want to spoil yourself...
Ahem, I'm telling you: if you do this you'll never come back. If you want to spoil yourself try to add some smoked bacon. And red onion.
If you want to keep it healthy, like my recipe, then just add the onion.
I ate 'Pizza zucca' (aka Pumpkin Pizza) last Saturday and I loved it. It was made with mozzarella, pumpkin, onion, bacon and rosemary. It inspired me so much that...well, try this risotto and then write me on Instagram. *Over and out*
---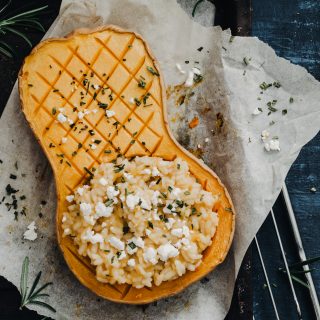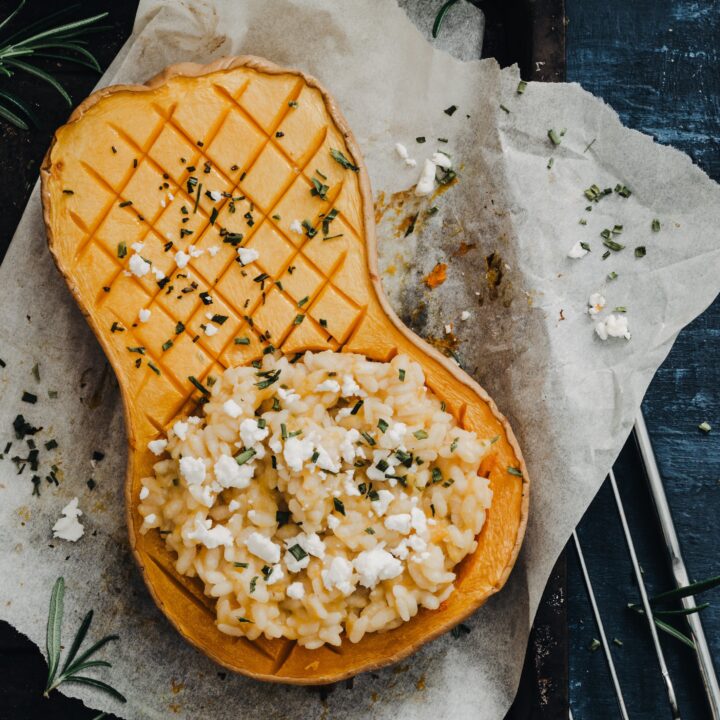 PUMPKIN RISOTTO
Delicious and easy creamy pumpkin risotto with feta cheese to give that little extra!
Print
Pin
Ingredients
80

gr

Risotto rice (I use Vialone Nano, but you can use Arborio or Carnaroli)

100

gr

Pumpkin

enough

Water (or veggie stock)

a pinch

Salt

Chives

Rosemary

approximately 25

gr

Feta cheese

a drizzle

Extra virgin olive oil
Instructions
First of all, cut your butternut squash into pieces and bake them at 180/200° for about 50 minutes. The bigger the pieces, the more you'll need to bake it.
To make the risotto:
Bring some water to a boil.

In a pan (mine looks more like a wok), let your rice toast for a few moments at medium heat. You can add some butter or oil, I personally never do.

Start pouring some hot water, a pinch of salt (not much, feta will give enough saltiness) and the baked pumpkin.

After a few minutes add chives and fresh rosemary. Let your risotto simmer for 15 minutes or until cooked (at LOW heat).

Lastly, add the feta and a drizzle of olive oil.

You can serve it into the butternut squash like I did!