A delicious and healthy breakfast for you: ginger pear oatmeal with chestnut honey!
---
Very often, when I write the introduction to my posts, I feel like I'm talking to a virtual sister. So, dear sister, if you've been reading me for a while you should know that one of my favorite breakfast EVER is ...mister Oatmeal!
Why?! Because it's both healthy and tasty, and delicious, and yummy. And OMG, have you tried it yet?! Ok, ok, let's fix the "damage" then.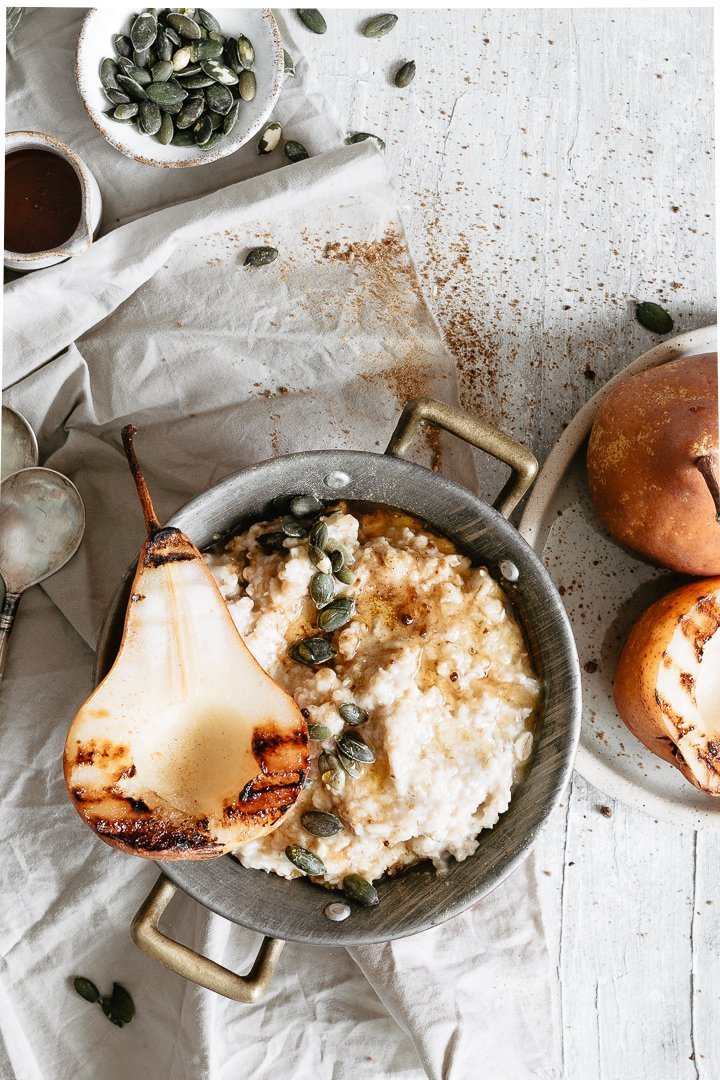 One of my favorite oatmeal...
This ginger pear oatmeal is seriously one of my favorite oatmeal that I've been doing lately. Now, honestly, it's like when I try a new granola: I think that 'this' is better than the 'previous' one, but it's actually so difficult to choose.
Together with berries, pear is one of my favorite (for real) fruit to use into oatmeals. It's like color white (or black?): it just goes with everything. Think about pear and chocolate combo: to die for! (wait, did you miss this chocolate pear oatmeal?)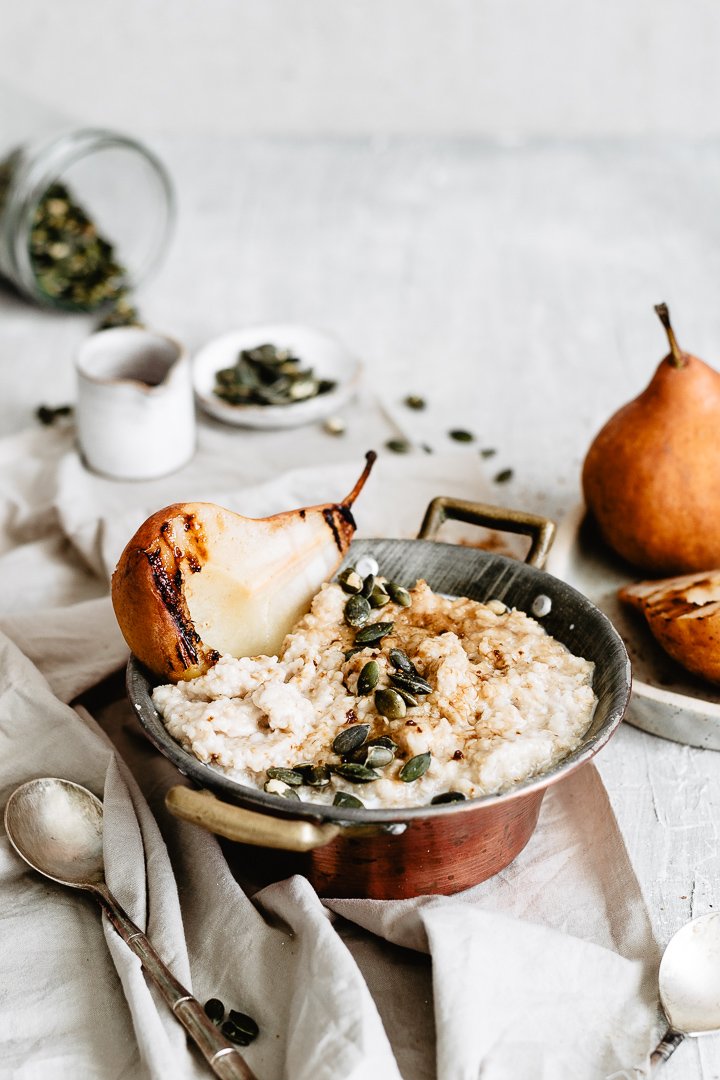 When I created this recipe I absolutely wanted to give it a twist: didn't want the same "boring" (in a manner of speaking) pear oatmeal. So, what was the first step to take? Grill those pears, friend! When grilled, pears slightly caramelize and their flavor is even better.
Then what? Oh, add some ginger powder! Have you ever tried ginger-pear combo? You're missing out on this, make sure to try it!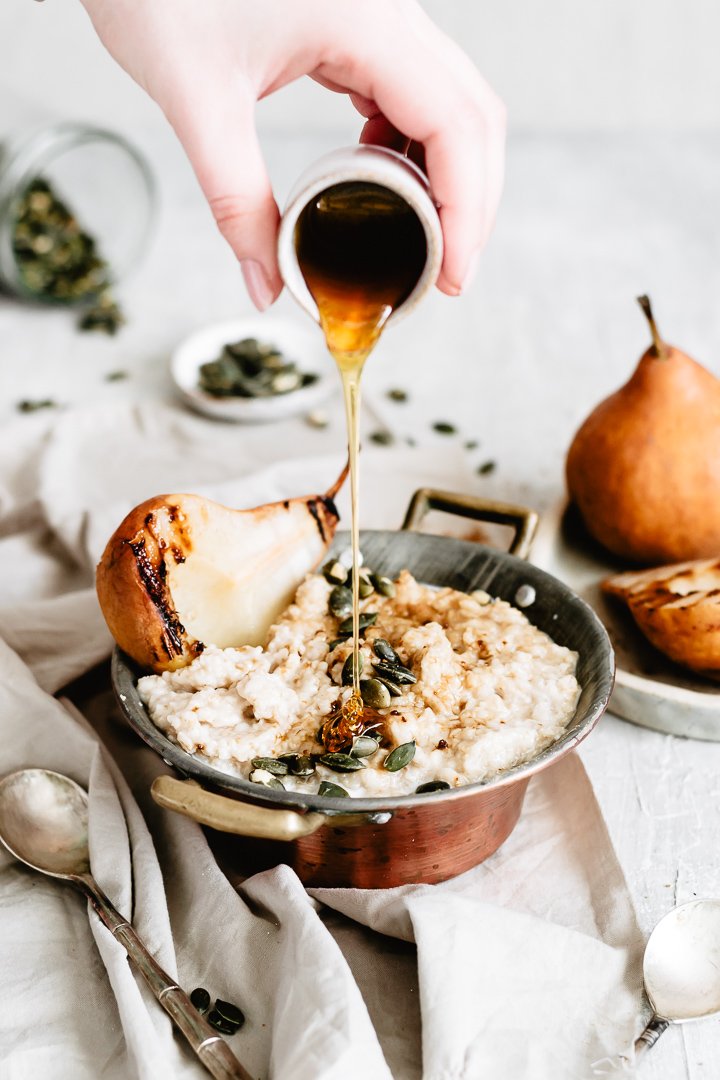 Lastly: that perfect sweet touch given by the honey, chestnut honey in my case. I'm not sure this kind of honey is popular elsewhere, but if you find it please give it a shot. Its flavor is incredible, intense and unique! You won't like it, though, if you usually prefer mild-flavored honey.
Enough with the words. You're here to try this ginger pear oatmeal, aren't you? Then let's go!
---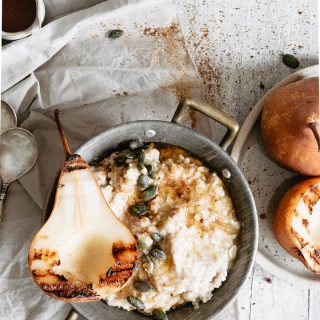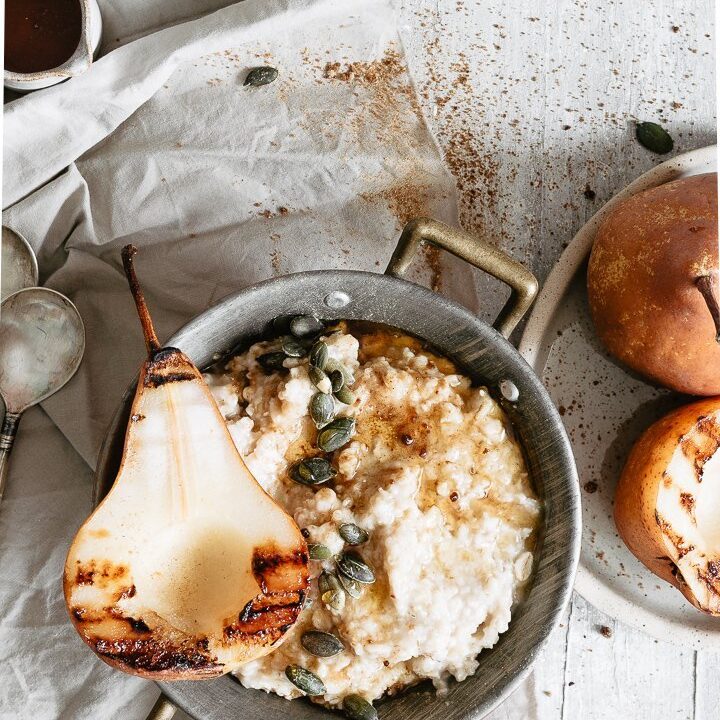 GINGER PEAR OATMEAL
A delicious and healthy breakfast for you: pear oatmeal with ginger and honey!
Print
Pin
Ingredients
50

gr

Oats

200

gr

Water

1

Pear

1 level teaspoon

Ginger powder

-

(or more)

Honey (I use chestnut honey)

a pinch

Salt

half a teaspoon

Vanilla Extract

Seeds (optional)
Instructions
Measure all your ingredients then put oats and salt into a pan or pot, pour the water and bring to a boil at medium low heat. After a minute or so, add vanilla extract. Remember to stir often.

In the meantime, wash your pears and cut them in half. Heat a cast iron grill pan, then grill your halves until slightly caramelized.

When the oatmeal is nice and creamy, add ginger powder and stir.

Serve your oatmeal with the caramelized pear and honey (and seeds if you want). Happy breakfast!
Notes
If you prefer you can slice your pear.
---
Pin it!