You said chocolate chia pudding with orange, Roby? - I hear you saying.
Well, I've already expressed my obsession with the choco-orange combo, right? And if you don't remember, after reading this quick introduction, go back and check the amaaazing buckwheat granola I shared about 10 days ago (or click here) and make sure you try it! It's bomb! "Cross my heart and hope to die" (while eating granola maybe?)
So yeah, there's a new obsession "in da house", my friend: chocolate chia pudding with orange purée! Best part? You can make it overnight and enjoy it the following day: it's the ideal breakfast if you're in a hurry!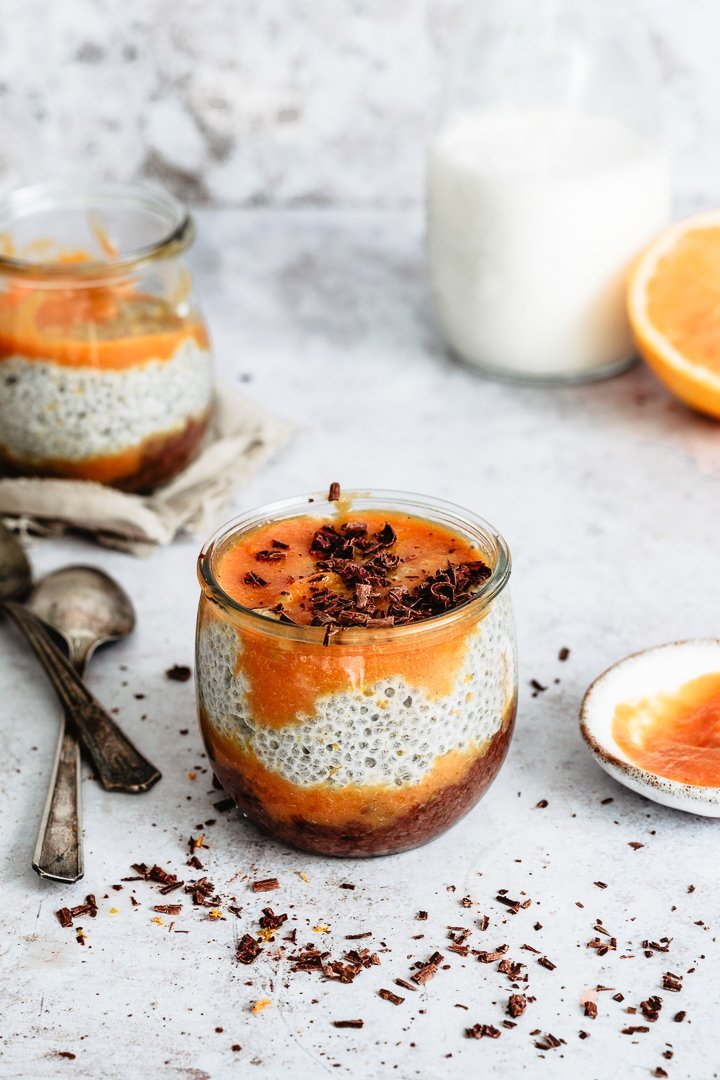 Serve your chia pudding with grated chocolate on top!
Winter and its colors...
Every night, before falling asleep, my brain starts (over)thinking. Last night happened the same: I started thinking about how, being a photographer, I get freaking excited when I see beauty in nature. Colors, shapes, textures. And let me say that, in terms of this, Winter is one of the best seasons: just think of clementines, tangerines, Roman cauliflower, red cabbage, blood oranges...
So no wonder I was inspired by oranges to make this chia pudding: the color was just amazing and won me over completely!
What's the chia pudding ratio?
If you were looking for a specific (in this case chocolate) chia pudding recipe, you probably already know how to make it and all the ratios, but a review never hurt anyone.
So what makes a good and nutritious chia pudding, and what is the "famous" ratio (if there's one)?
To make it good, choose the right ingredients: start with seeds and milk, combine and let chill until thick; then add fruit, jam, compote, chocolate and/or seeds;
The chia pudding ratio: I don't think there's a "right" amount of milk + seeds. To be precise, it depends if you want a thick pudding or a more liquid one. In the first case, the longer you let it chill, the best. This recipe's amount in fact (35 gr seeds + 235 gr almond milk) was perfect!
But you can experiment and add more or less liquid, as you prefer.
---
If you love the jars you see in the photos, this is the link where you can find them: I've been using them for years, they're so cute and versatile (you can store nut butters in it, or jams etc)! My advice: buy at least 2 of them in different sizes!
---
Wintery breakfast? Chocolate chia pudding with orange is perfect!
No, you're not experiencing a déjà vu. Ok, kinda: about ten days ago I mentioned that my chocolate orange granola was the ideal Wintery breakfast because, you know, Vitamin C.
That, of course, was a joke because no one in need of Vitamins would eat a granola instead of supplements or veggies.
Still, that's one of my favorite breakfasts to have during these gloomy cold (and dark) mornings.
This orange chocolate chia pudding though just walked up on the top step of the podium, not only because it's freaking delicious, but also because it's nutritious, packed with benefits and easy to make.
It literally takes 5 minutes to make and it'll "prepare itself" overnight! I'm sure it'll become one of your favorite breakfasts!
If you'll like the recipe, please give it a 5 star rating: I'd be so happy!
If you make this recipe, please be sure to give it a rating and leave a comment! It would make me so happy! 🙂
Remember: if you try one of my recipes, tag me on Instagram or DM me the photos!
---
Don't forget to pin and share this easy and delicious recipe!
---
You might also be interested in these healthy vegan breakfasts:
---
NOTE: This post contains affiliate links which means I make a commission off of the links with no additional cost to you. Thanks for supporting me!
---