This easy chia pudding tastes like...cappuccino! It's delicious, satisfying and healthy, plus it's the quickest breakfast you can make!
---
I've been trying to maintain my morning routine for almost one year and a half, but reality is some days I'm sooooo lazy and I have no want to wake up and get up. I try at least to meditate in bed for 5 minutes until...breakfast time comes! No one can touch my breakfast, no one. I ALWAYS have breakfast, it's my peaceful moment [I need some time to settle in the morning]
My go-to breakfast is oatmeal: a pan, four tablespoon of oats, some water or milk, fruit, maybe a piece of chocolate, five minutes and I'm done. What if I am extremely lazy and I don't want to make myself oatmeal? Here comes chia pudding...
An easy chia pudding for the quickest breakfast ever...
Chia seeds are, together with oat flakes, the first thing I've started incorporating into my diet when I decided to eat healthier. I think I learned about them on Instagram three years ago [thank you IG]. I was so amazed by the gazillion benefits they had, that I decided to buy them immediately.
In fact, also one of the first recipes I've shared here on the blog was made with these seeds.
In my opinion, chia seeds are one of the easiest food to incorporate into your diet: you can put them on your salad, you can use them as a yogurt topping, you can use them as an egg substitute when baking (this is genius)...
And there's pudding, chia pudding [like Bond, James Bond].
Born by chance...
Ok last week I told you that the recipe of the mini blueberry tarts [delicious, check here] was born by coincidence.
Well, let me tell you how this cappuccino chia pudding was born: I was shooting my choco-coffee chia pudding and I wanted to give that extra oomph to my photo by adding some milk. And this came out: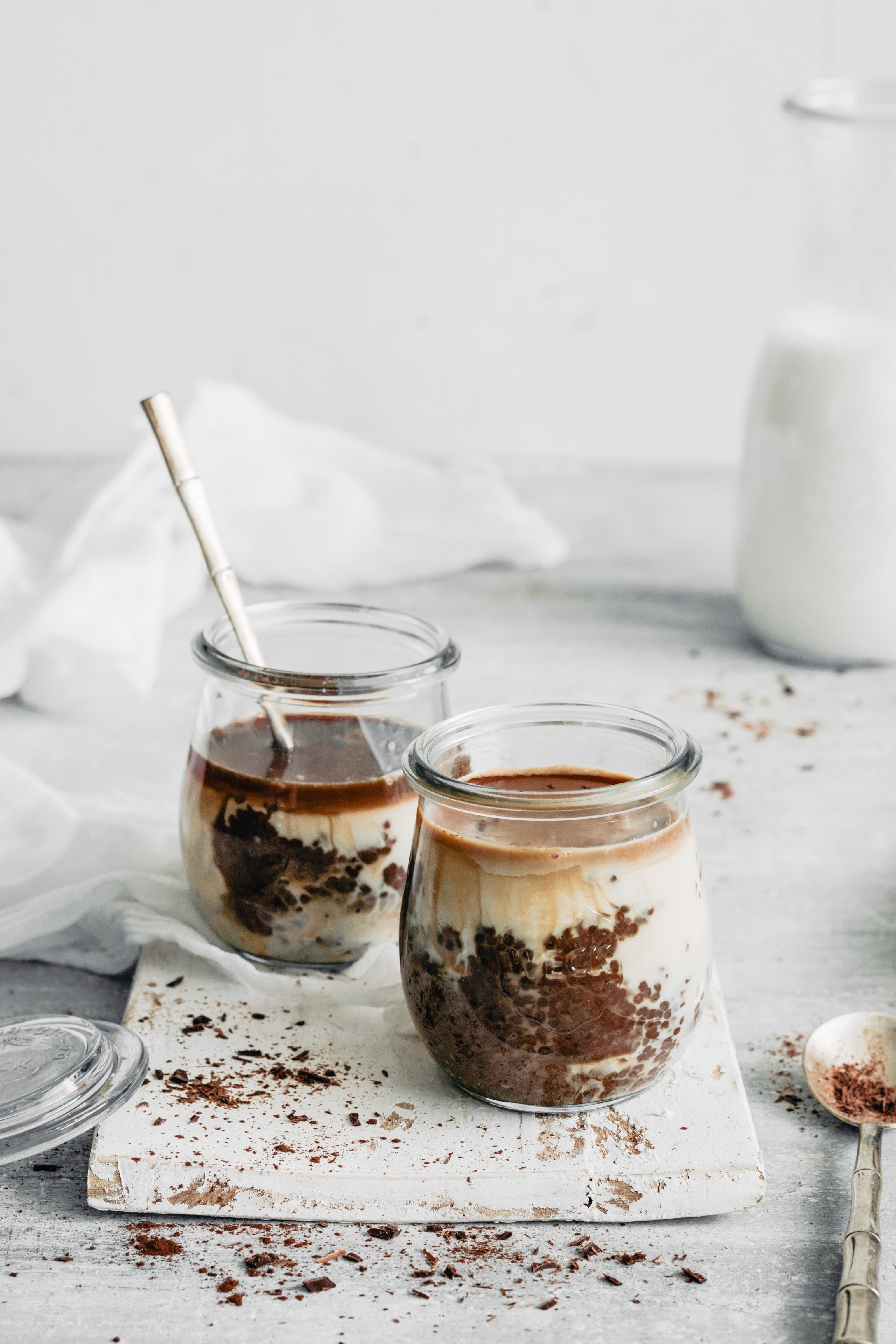 But then I thought 'Wait, why not frothing some milk and making a cappuccino chia pudding?' and BAM this came out: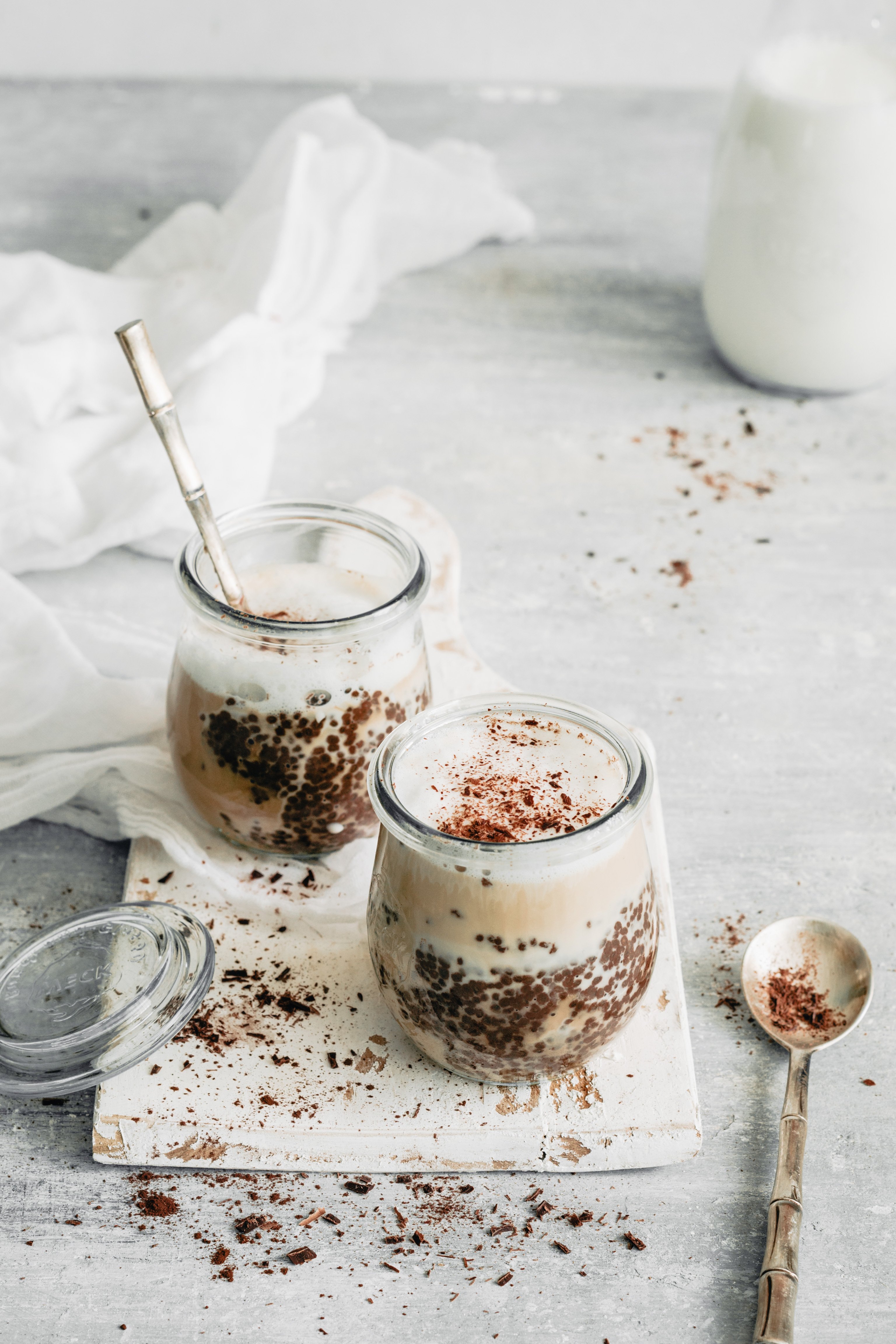 So go and grab some chia seeds and make this for tomorrow's breakfast!
---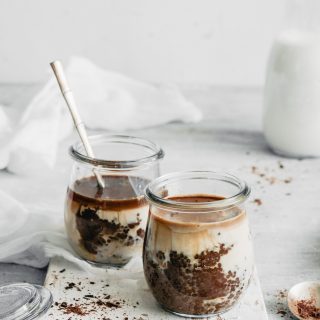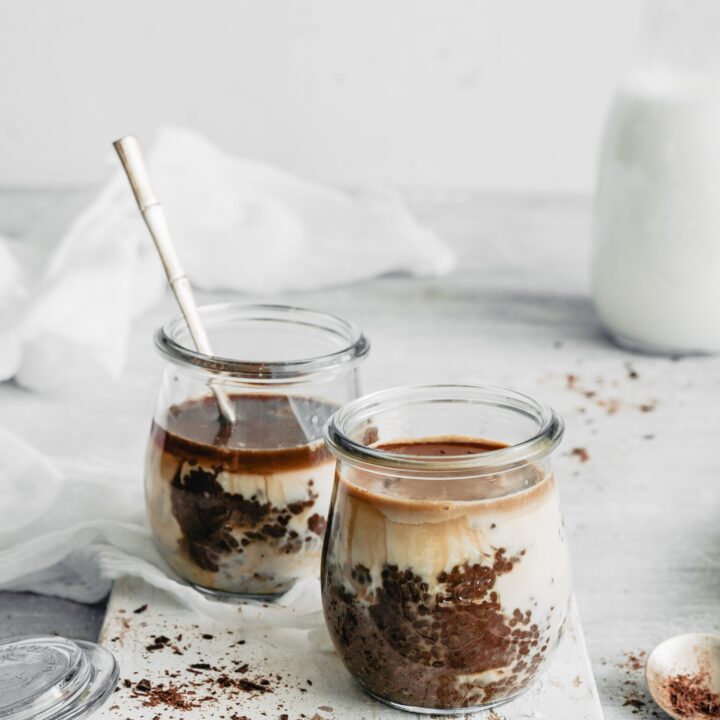 CAPPUCCINO CHIA PUDDING
Quick to make, satisfying and healthy: this cappuccino chia pudding is your next breakfast!
Print
Pin
Ingredients
40

gr

Chia seeds

200

gr

Soy milk (I used vanilla soy milk with a touch of sweetener)

2

teaspoons

Unsweetened cocoa powder

about

50 gr

Coffee

(enough)

Soy milk to froth
Instructions
Add your chia seeds and cocoa powder to the milk and stir well to avoid chia clumps. You can pour everything into a bowl or you can use a jar (with its lid) and shake.

Let it chill into the fridge 30 minutes or overnight.

When you're about to serve it, first of all pour the coffee into the glass, then add the pudding on top.

Pour the foam onto the pudding and serve.
---
Pin it!