This vegan coconut panna cotta with strawberry basil compote is the recipe you were waiting for!
---
Paracetamol, candle, blanket on my shoulders, hot beverage: October starter kit.
It's October 2 - while I'm writing this post - and we can definitely say Autumn 🍂 has arrived. Oh you bet! At least here in Northern Italy, temperatures dropped 10 degrees and I caught a - mini - cold
I would have preferred not to take paracetamol, but at least I can cover up with my blanket and keep my hands warm while I hold my hot chamomile tea.
Now, you might think I'll share a Fall recipe next...nope! It was Apple babka turn last week, instead today...
Vegan coconut panna cotta...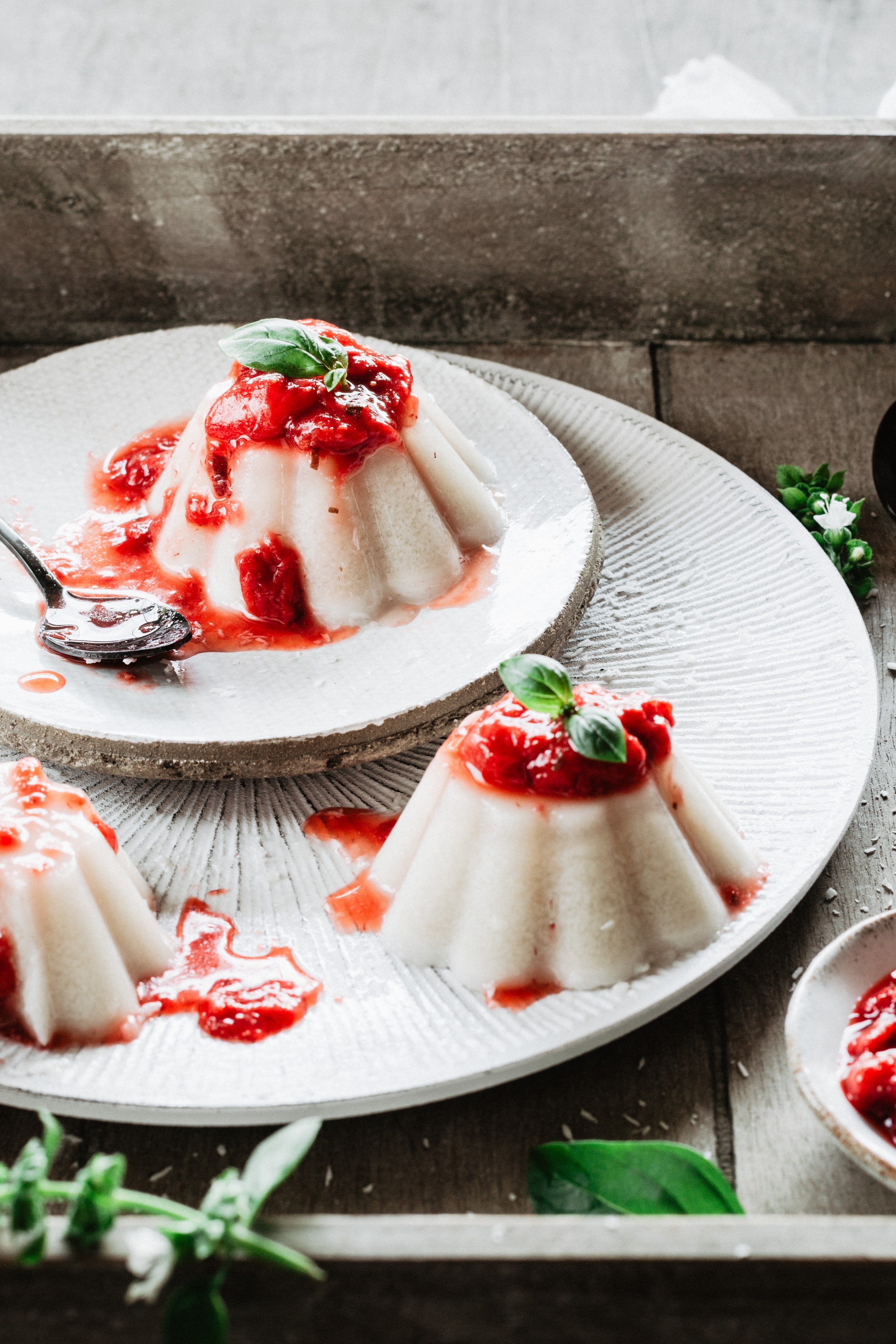 It's vegan coconut panna cotta turn today!
It's been a year since I've tested this recipe for the first time, can you believe it? [I just went looking for the photo on Instagram but apparently I've archived it, never mind]
Last year, I've attempted to make it using coconut milk from the carton, but it was a total flop: too bland, tasteless. So I renounced and never tried it again.
A few weeks ago though I saw some beautiful photos of panna cotta (vegan and not) on Pinterest and I told myself  'Ok Roby, time to test that vegan panna cotta again!'. And there you are: a perfectly balanced panna cotta, with the best consistency and the ideal flavor. The cherry on top? That compote!
...with a touch of Summer.
I served this vegan coconut panna cotta with a delicious - believe me! - strawberry basil compote. Extreeeeemely easy to make, so quick but oh so fabulous. You can also pour this on your oatmeal in the morning - I did it, yum - or use it like you'd use a jam on tarts etc
I know strawberries are not a Fall fruit and basil is definitely not Autumn's kid, BUT..in my defense I have to say I had some frozen strawberries to use up and some pretty basil in my garden. How could I leave it there? I put my shoes on, took my scissors and went gathering it. Then I made some pesto and this amazing Summery compote. Can you blame me? Please nooo.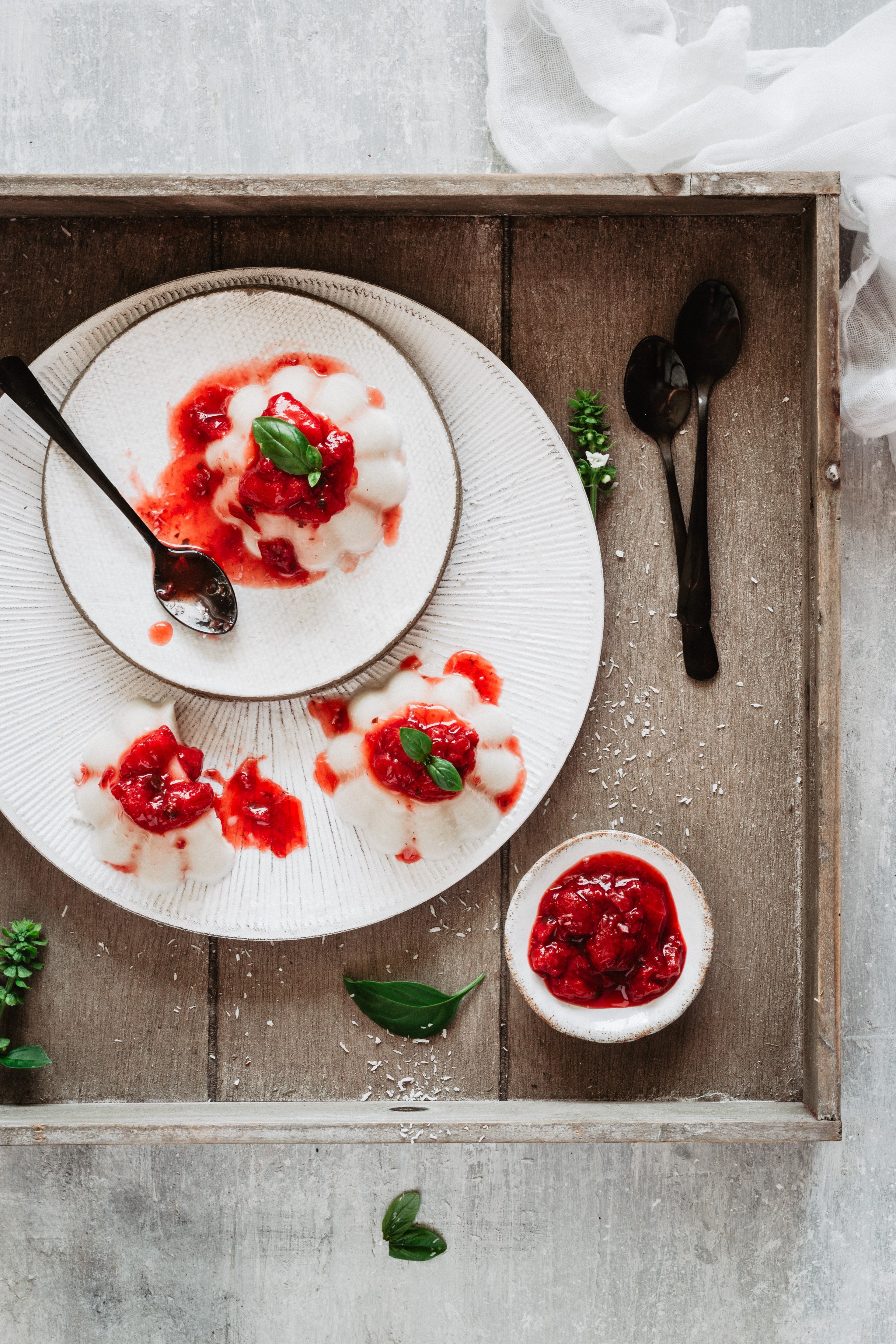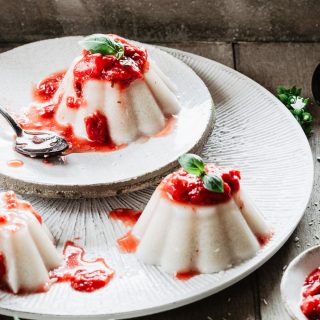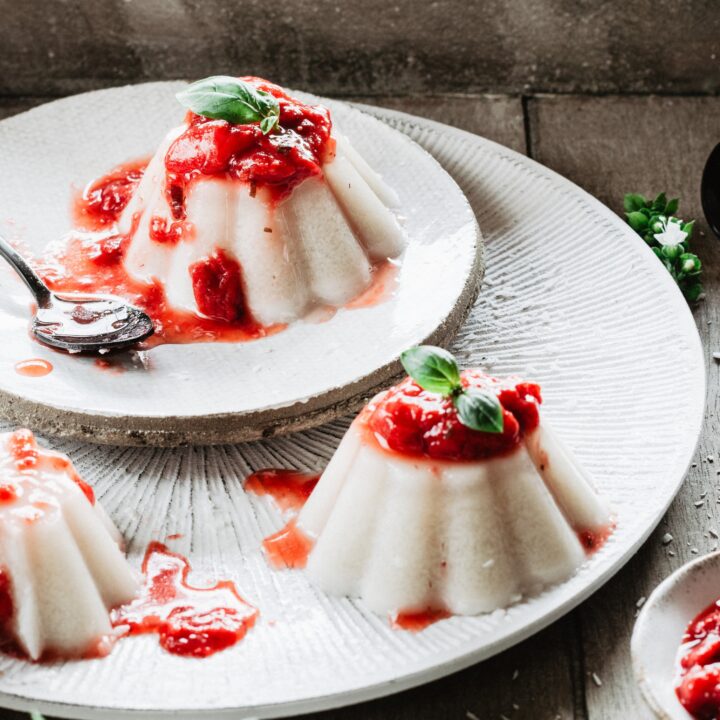 VEGAN COCONUT PANNA COTTA
Easy peasy vegan panna cotta with a delicious strawberry compote!
Print
Pin
Servings:
6
small panna cotta
Ingredients
1

teaspoon and a half

Agar agar powder

10

teaspoons

Water

400

ml

Coconut milk (from a can)

-

1

teaspoon (or more)

Agave syrup

a few

drops

Vanilla extract

-

optional
For the strawberry basil compote:
215

gr

Frozen strawberries

50

gr

Water

a quarter of a

Lemon (zest)

2 or 3

leaves

Basil

1

tablespoon

Raw brown sugar
Instructions
In a small cup, mix well water and agar agar powder, avoiding clumps. Add half of a can of coconut milk (200 gr) and stir.

In a pan, let simmer the milk + agar mixture and when it comes to a boil add the other half of coconut milk, agave and vanilla.

Let cook for 5 minutes or so (low heat).

Pour the liquid into your molds or glasses and let cool down at room temperature for 10 minutes, then in the fridge.
For the strawberry basil compote:
In another pan, let the frozen strawberries defrost - with the water - at low heat.

Then add lemon zest, basil chiffonade (cut basil into long, thin strips) and brown sugar.

Let simmer until it becomes syrupy and set aside.

Serve your vegan coconut panna cotta with the strawberry basil compote.