Were you looking for a nutritious snack? Then these healthy and easy baked beetroot chips are perfect!
---
Writing this post while snacking on these amazing baked beetroot chips is PERFECTION!
Remember a while ago - in this post - I told you that I don't meal plan except for when I spend the week with my boyfriend? Well, I have now decided that it's time to meal plan for real.
I told you that I usually spend all morning working on my projects, then when lunch comes it catches me unaware. I no longer want to be disorganized. Being disorganized means sometimes I eat less than I should or I eat "unbalanced". You know that balance - together with high quality ingredients - is my main "concern" when it comes to healthy eating.
I've just finished reading "The Life-Changing Magic of Tidying Up" by Marie Kondo (I loved it) and I think this is the reason why I've now decided to tidy up also other aspects  of my life. And healthy eating is one of them.
I want everyone to try these EASY baked beetroot chips
What was that premise about? Well, yesterday I took some time - about 30 minutes - to plan aaaaaaaall my meals for the week. Since eating veggies doesn't come naturally to me, I started with them first. I checked the seasonal calendars online and I wrote down all the veggies I want to have these days.
Then proteins, fats and carbs. Easier than I thought. Nothing too fancy, no elaborate meals. Easier is better.
Speaking of meal plan, healthy eating etc: in my plan I also included snacks (duh).
I swear this is a life-changing snack! I had some beetroots in the fridge and I thought 'Ok, why not transforming them into chips instead of grating them into my salad?'.
Now I cannot help but eating them as a mid-morning (or mid-afternoon) snack. One chips leads to another!
Perfect for kids too!
My audience is between 25-34 years old so there's a chance you have kids. Well, let me tell you: these easy baked beetroot chips are perfect for them. They take a few minutes to make and they're super nutritious. Waaaaay better than the processed snacks you can find at the grocery store.
While I was taking the photos, my youngest nephew started stealing them from the baking tray. At first, I thought he was going to spit them, but then he kept asking for more (true story). I'm so happy when this happens.
Remember: if you try one of my recipes, tag me on Instagram or send the photos to [email protected]
---
NOTE: This post contains affiliate links which means I make a commission off of the links with no additional cost to you.
---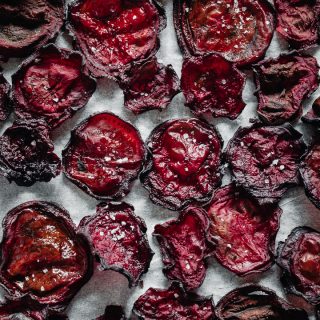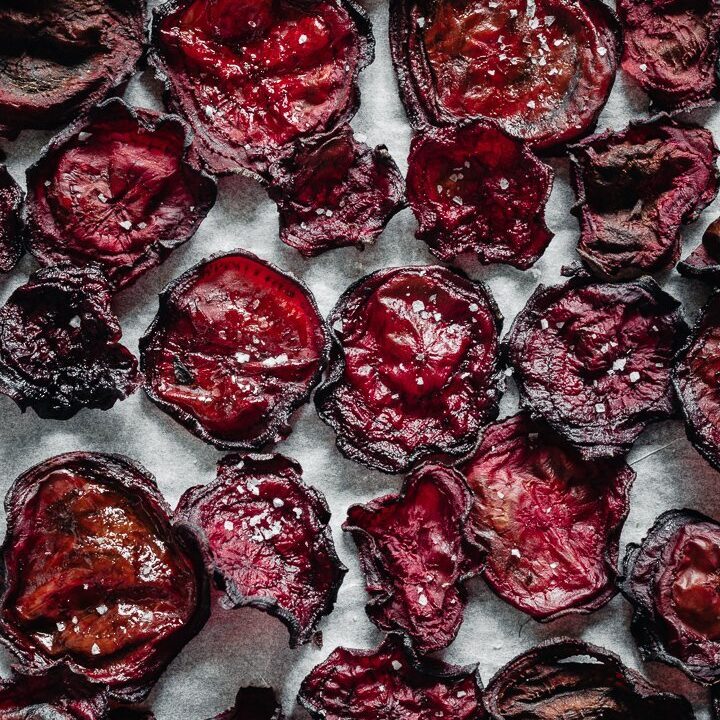 HEALTHY BEETROOT CHIPS
Were you looking for a nutritious snack? Then these healthy easy baked beetroot chips are perfect!
Print
Pin
Ingredients
700

gr

Beetroots

a

pinch

Salt

Approximately 3 tablespoons

Extra virgin olive oil

2

teaspoons

Apple cider vinegar

-

optional
Instructions
Preheat your oven at 150°C (approximately 300°F) fan-assisted.

Clean your beetroots very well under running water, then dry them off.

Cut the tops then slice them thinly using a mandolin. Mine were 1.5 mm (I used a meat slicer because I had the chance).

In a bowl, place your beetroot slices and season with vinegar, oil and salt. Toss well. Let them sit for about 20 minutes or until the beets' liquid comes out (then drain it).

Line three baking trays with parchment paper and lay the slices in a single layer.

Bake for about 30 minutes or until dried.