I know you were looking for this pumpkin spice muffins easy recipe! It's all yours!
---
My friends, when they say you start appreciating things when they're gone, it's so damn true. Italy, in these days, is floating. Venice is under water (literally, I would say) It's unexplainable how much grateful I am for lighting, electricity and everything else. Some areas of my Bel Paese have no electricity and transport working. It has been (and it still is) a catastrophe.
Here in my region, we had 3 days of uninterrupted rain. We also had several blackouts, also while I was baking these pumpkin spice muffins on Saturday... (maybe that's one of the reasons why it took them 40 minutes to cook!).
Luckily today it seems to be sunny(ish).
Pumpkin spice muffins, for the win
I'll be honest with you (as usual, after all), this pumpkin spice muffins easy recipe is a last minute recipe. Last week - while I was busy cooking Brussels sprouts - I realized I had nothing prepared for Halloween's week. WHAAAAAAT?! Oh no, it just can't be that I don't share anything on this day. Especially because you, my English-speaking audience, are more and more everyday! So this is dedicated to you.
So, I started thinking what I could have baked: I had pumpkin puree in the fridge, I had cream cheese... *brainwave* Idea!
Why not making some pumpkin spice muffins with cream cheese swirl? - I thought. I immediately took out of the fridge my puree, the eggs to let them chill at room temperature and all the other ingredients, and got started on it right away.
These babies came out super soft (look at the photos!) and moist, with the perfect sweetness and consistency. If you have a really sweet tooth you can add icing sugar on top, or some more brown sugar.
Regarding the pumpkin: it's practically the main ingredient of these muffins so please CHOOSE wisely, develop your sixth sense, choose the right pumpkin (easier said than done?)!
See that cream cheese on top? That's the cherry on top (its sourness matches perfectly)
To make your own pumpkin puree...
Canned pumpkin purée is not a thing here in Italy so if want to make something that involves this velvety-pumpkin-thing. I inevitably have to make it from scratch. Don't worry though, there's nothing easier, it's actually more difficult to write it down!
First cut your pumpkin in half or quarters, place it onto a baking tray lined with parchment paper, bake it at 160/170°C until soft to touch (or pierce it with a fork and check if it's soft enough). Remove seeds. Scoop out flesh then puree using a food processor.
P.S. mine was a Kabocha squash.
Now go and grab some pumpkin, cream cheese and try this pumpkin spice muffins easy and healthy recipe! Oh and don't forget to write me on Instagram!
---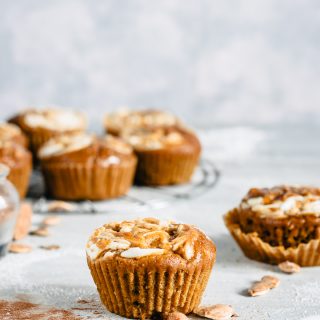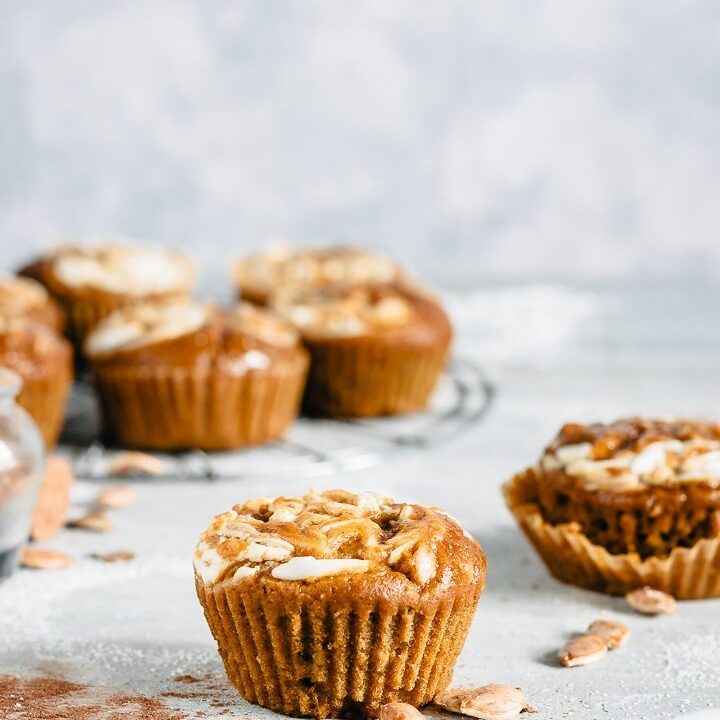 PUMPKIN SPICE MUFFINS
Delicious and healthy pumpkin spice muffins easy recipe. Ideal for your Halloween!
Print
Pin
Ingredients
50

gr

Oil

50

gr

Raw brown sugar

a few drops

Vanilla extract

2

Eggs (at room temperature)

300

gr

Pumpkin puree

120

gr

Organic all purpose flour

a teaspoon or more

Cinnamon

a

pinch

Salt

one

teaspoon

Baking powder

half a

teaspoon

Baking soda

half a

teaspoon

Apple cider vinegar

90

gr

Cream cheese (I've used low fat)

one

teaspoon

Icing sugar

-

(optional)
Instructions
Preheat your oven at 170°C.

Start by whisking - using a hand mixer - the oil, vanilla extract and brown sugar until you obtain a smooth and creamy mixture. It won't be creamy as if you beat sugar and butter, it'll be more liquid.

Add the eggs and whisk again, then combine together the pumpkin puree.

Sift the flour with salt and cinnamon, and gradually add it to the mixture. Stir with a spatula until you have no clumps.

Finally, add baking powder, baking soda and half a teaspoon of vinegar (on top of your baking soda so it forms bubbles). Stir.

Fill muffin tin (or fluted paper cases) ¾ full.

Mix cream cheese and icing sugar and a top each muffin with about 1 tablespoon of the mixture (use a toothpick to swirl it).

Bake for about 40/45 minutes or until a toothpick inserted comes out clean. Let them cool onto a cooling rack.