I am SO EXCITED... it's here again! Watermelon salad with feta and mint is back!
The quintessential summery dish, the perfect side dish for those hot Summer days, the ideal meal when you're in a rush and you don't want to put pots on the burner. Did I convince you?
If you love sweet and savory combo, this 5-minute salad is for you!
P.S. I don't consider it a side dish, but a complete meal. Check out nutritional values below.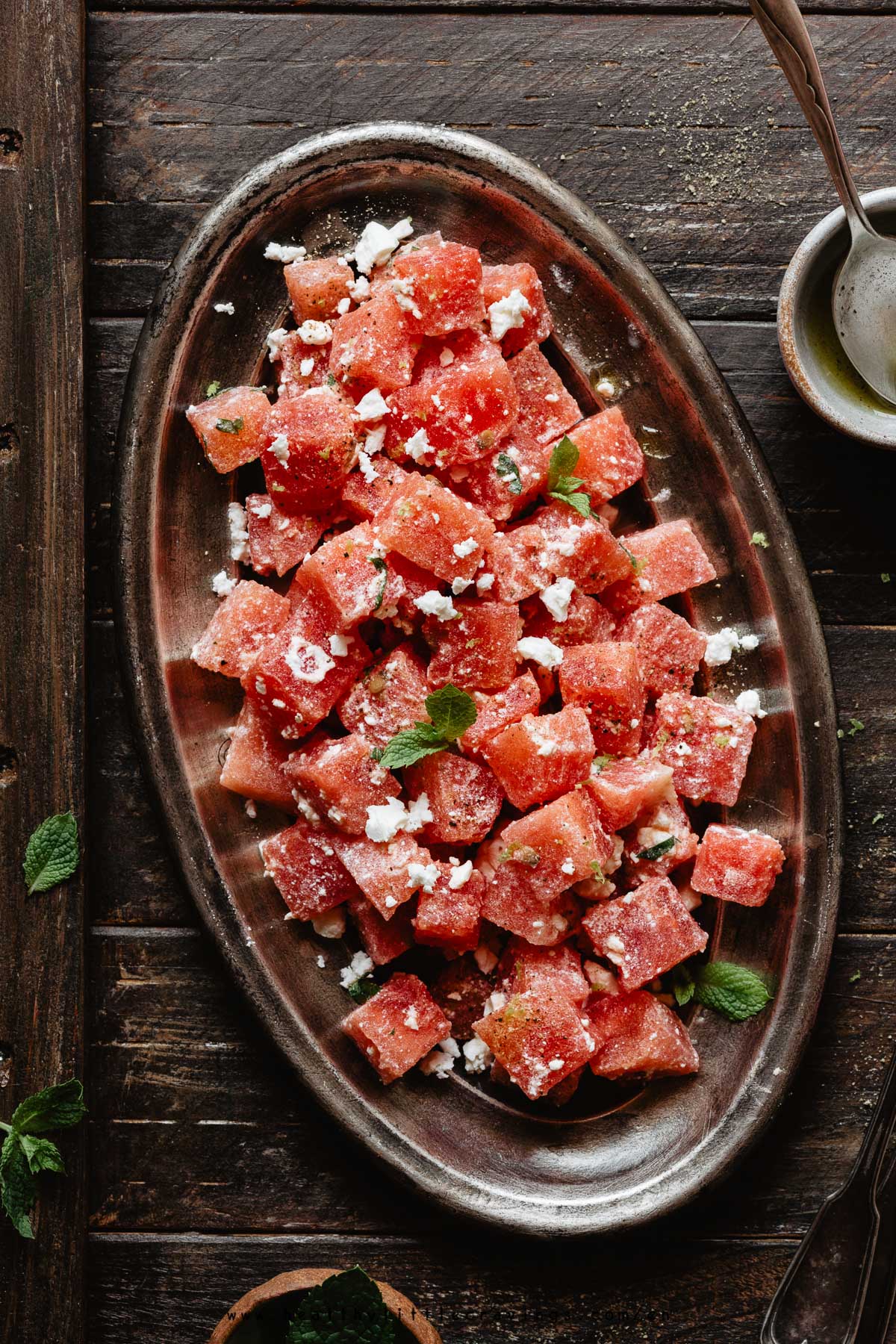 Someone once told me that our body craves what the season is offering in that moment. During cold seasons we need comfort food, "heavier" sharp flavors, cooked vegetables and fruit (and maybe more sugar too!).
Instead, as the warm & hot seasons approach, we start craving lighter food, more delicate flavors and veggies that have plenty of water in them.
Ever paid attention to this? Our body is just amazing.
Watermelon salad with feta and mint: create yours!
So yeah, I don't know about you but I'm craving tons of watermelon, cucumber and water (and ice cream haha) in this period.
Watermelon salad with feta and mint is PERFECT when you crave light and refreshing food. Best thing is, you assemble it in literally 5 minutes.
Want to know why I'm saying "create yours" in the title?
Well, simply because this salad has not an exact recipe. You just have to:
Cut watermelon into chunks;
Drizzle with extra virgin olive oil and lemon juice;
Then top with mint leaves, a pinch of black pepper, lemon zest (gives that extra touch) and feta. Done!
My watermelon-feta ratio is 5:1, 500 gr of watermelon and 100 gr of feta. But if you want a lighter flavor, increase the amount of fruit keeping the feta at 100 gr.
This is perfect for two and creates a balanced meal (with 15 gr fats, 10 gr carbs, 9 gr proteins).
But feel free to try other ratios of ingredients and create your salad!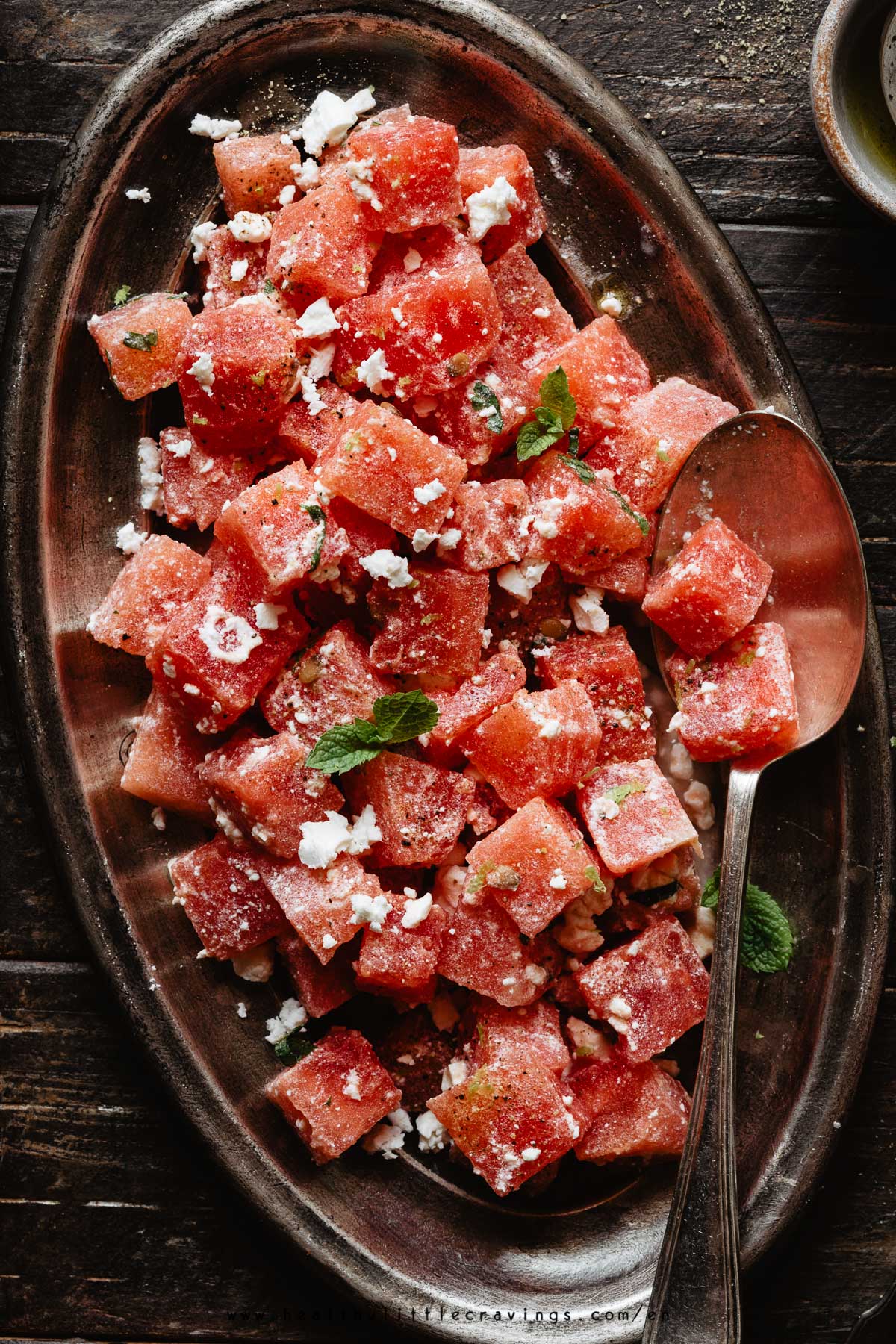 How to pick a good watermelon
Watermelon is the key ingredient here and you absolutely have to find a good one. The deliciousness of this dish depends on it!
My mom always said that, in order to pick a good one, I had to hear its sound. I've never really understood this method.
But I recently started using another "method": before picking my watermelon I check if it has a big yellow spot with small brown marks on it.
The yellow spot means the melon has been sitting on the ground on that side and had time to ripen.
The brown spots is sugar seeping out, that means sweet melon. We want that.
How do you cut a watermelon into cubes?
It's very simple and I actually always do this, even when I'm not making this salad.
I cut my watermelon in half, in the middle (not stem-to-stem);
Then I cut side down and slice into strips (about 1/1.5 inches wide), I rotate the watermelon 90° and I cut going the other way.
Last step, I cube it et voilà.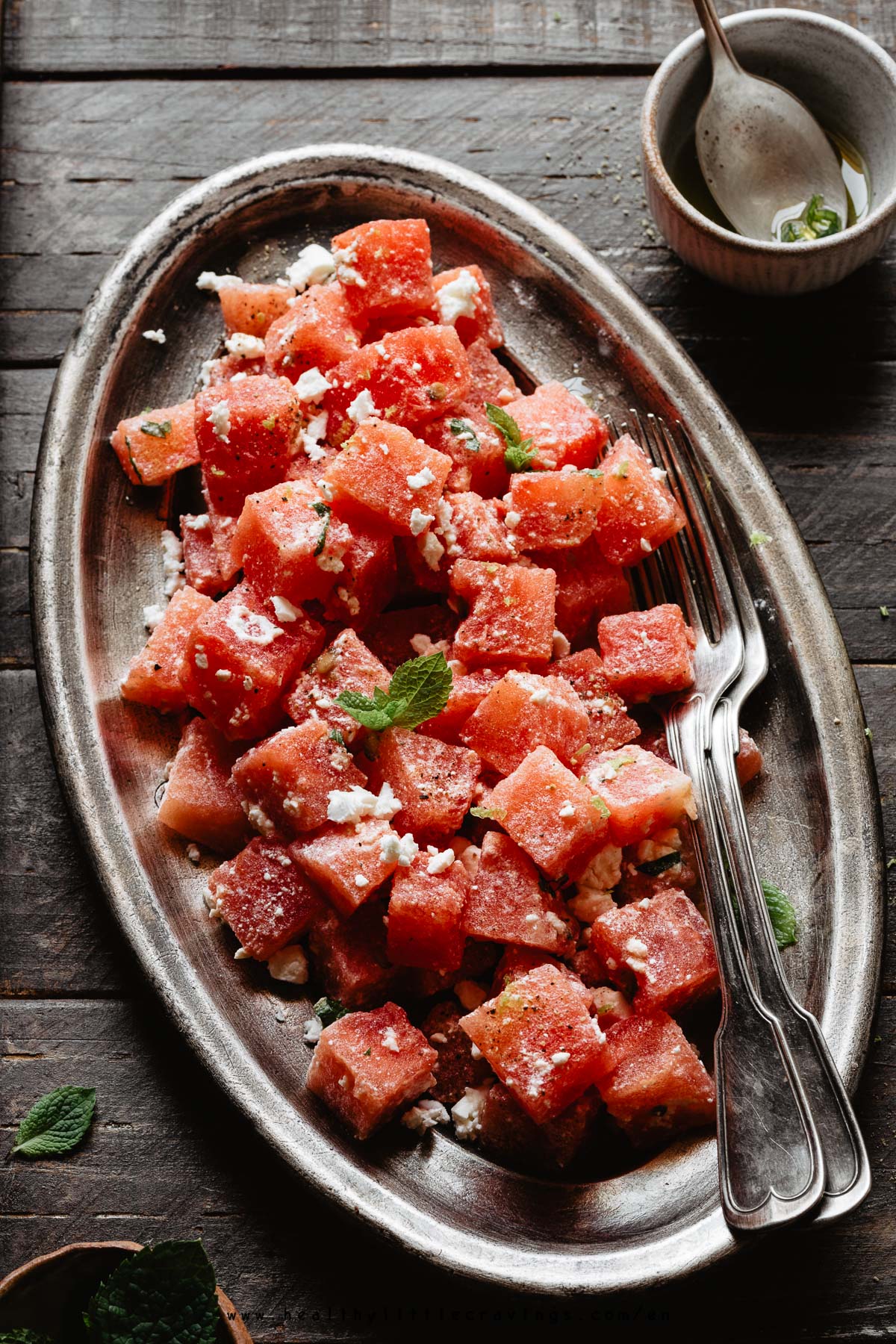 What kind of cheese goes with watermelon?
As I mentioned above, you could think of creating your own watermelon salad with feta. But... not only feta!
You can also try goat cheese (some people tried old cheddar and halloumi cheese too).
My next experiment? Rosemary goat cheese watermelon salad! If you try it, let me know.
Can I make this salad ahead of time?
You can BUT add the feta when you're about to serve it.
The salt contained into the cheese may draw juices out of the watermelon 🍉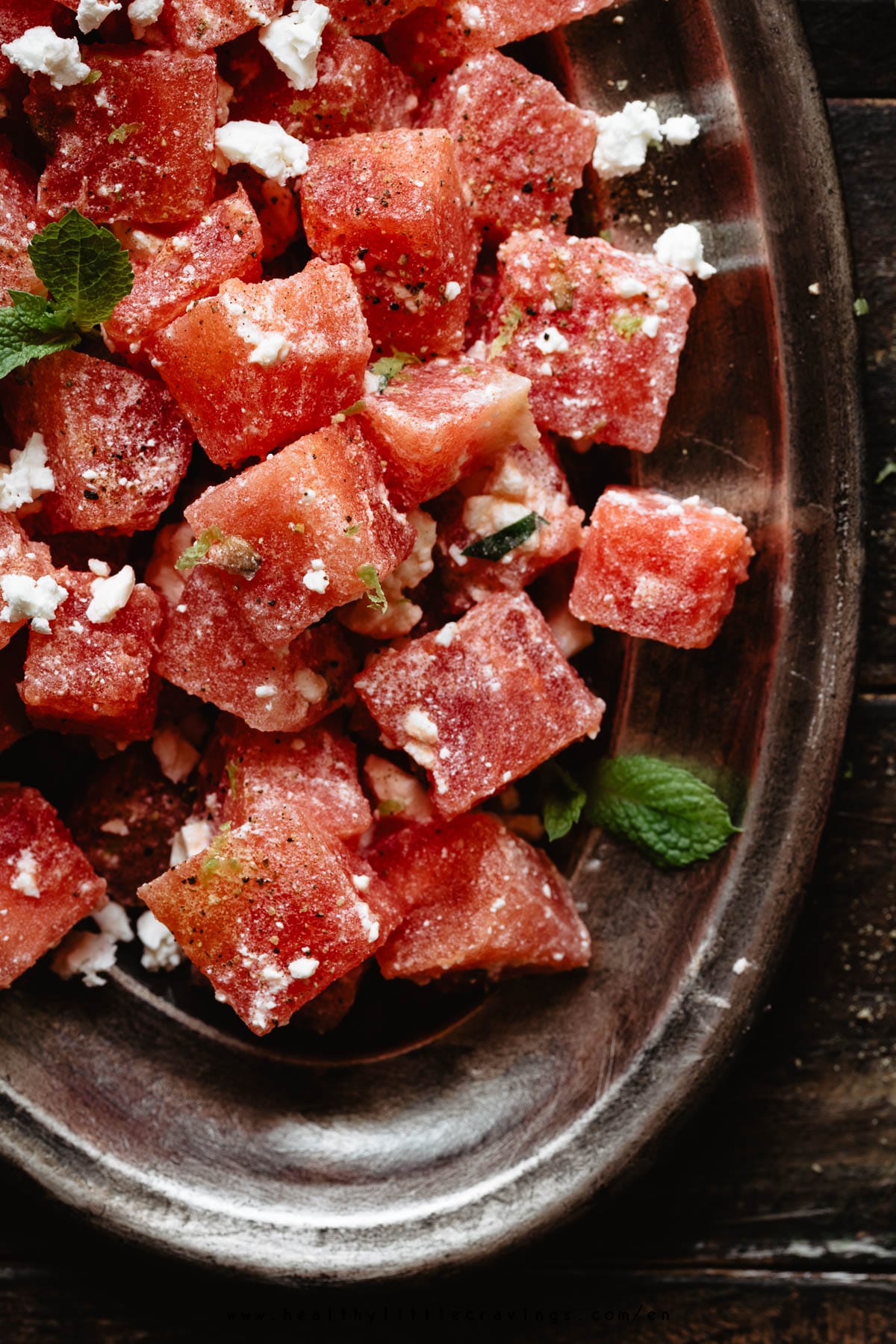 ---
Do you have other questions?
It's not easy to answer all the questions you may have, so PLEASE leave a comment below and I'm glad to reply! Thank you.
---
If you make this recipe, please be sure to give it a rating and leave a comment! It would make me so happy! 🙂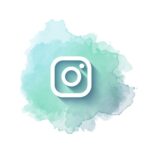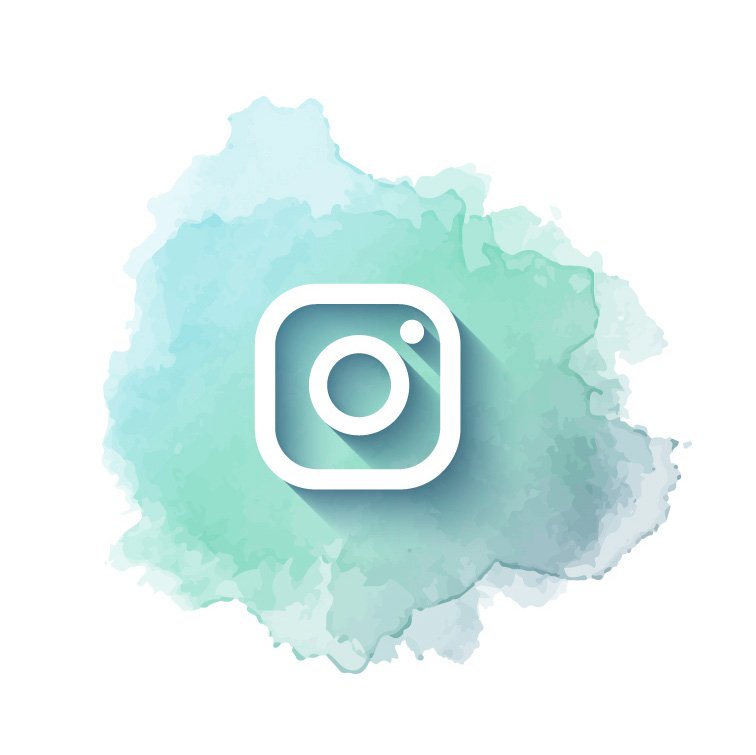 Remember: if you try one of my recipes, tag me on Instagram or DM me the photos!
---
Don't forget to pin and share this easy and delicious recipe!
WATERMELON SALAD WITH FETA
A super refreshing and healthy salad: watermelon salad with feta and mint!
Print
Pin
Ingredients
one (or half) small

Watermelon

-

500 gr

a

drizzle of

Extra virgin olive oil

a

drizzle of

Lemon juice

a

few

Mint leaves

Lemon zest

-

to taste

Black pepper

100

gr

Feta cheese

-

or scrumbled marinated tofu (tofu feta)
Other ingredients to experiment with:
olives, basil, other herbs, capers (not many, they're salty), lime juice...
Instructions
Chop the watermelon into chunks and place them in a colander to drain (this is optional though).

Sprinkle the feta cheese (or tofu feta - I'll post mine soon, meanwhile google the recipe).

Season with oil, mint leaves, black pepper, lemon zest, lemon juice and mix. Then eat!

You can also let it chill in the fridge for half an hour, but the salt contained in the feta cheese will probably draw juices out of watermelon.
Nutrition
Nutrition Facts
WATERMELON SALAD WITH FETA
Amount Per Serving (1 serving)
Calories 206
Calories from Fat 135
% Daily Value*
Fat 15g23%
Carbohydrates 10g3%
Protein 9g18%
* Nutritional information is only an estimate. The accuracy of the nutritional information for any recipe on this site is not guaranteed.
---
Want to try another salad? Try this sweet potato and pecans one, and try adding feta instead of goat cheese!
---
© Healthy Little Cravings – Roberta Dall'Alba.
I own all content and photos' copyright.
Before using my photos and recipes, please email me.
If you would like to republish a recipe, please link back to this post and re-write the instructions in your own words.