This super easy spinach ricotta quiche with pesto will blow your mind!
---
This post's preface will be somehow different from the previous.
A couple of weeks ago, a friend of mine (IG friend actually, hope I'll meet her soon) made such an interesting poll on 'Dieting, social life and fit influencers'. Questions varied from ' do you track your macros?' to 'ever happened to you to turn down an invitation to dine out with friends and family?'.
Answers were pretty 'scary'. The poll revealed that most of the people actually turned down invitations because of the fear of cheating/gain weight/lose control.
In fact, it happened to me in the past, when I was not well informed on nutrition and not AWARE of what 'healthy eating' meant. And yes, I was almost "scared" to  eat out twice a week (that, by the way, rarely happened...so there is NO "justified problem"). Luckily for me, I've always been curious and wanted to learn new things, so I soon realized that my "fears not fears" were groundless.
I know I have an "healthy food blog" where I share mostly healthy recipes but, as I told you many many times, there are no dangerous foodstuffs. There are better ingredients of course, and maybe worse ingredients too. But if you eat junk food every once in a while, nothing will happen because IT'S ALL ABOUT BALANCE.
I'll always refer to my recipes as 'healthy recipes' being part of a 'healthy lifestyle', because if you eat them once and then adopt a not-so-healthy lifestyle, well...they won't be 'healthy' anymore. Ok, ok, you'll be confused now.
Let's go to the recipe...
Make this spinach ricotta quiche right now!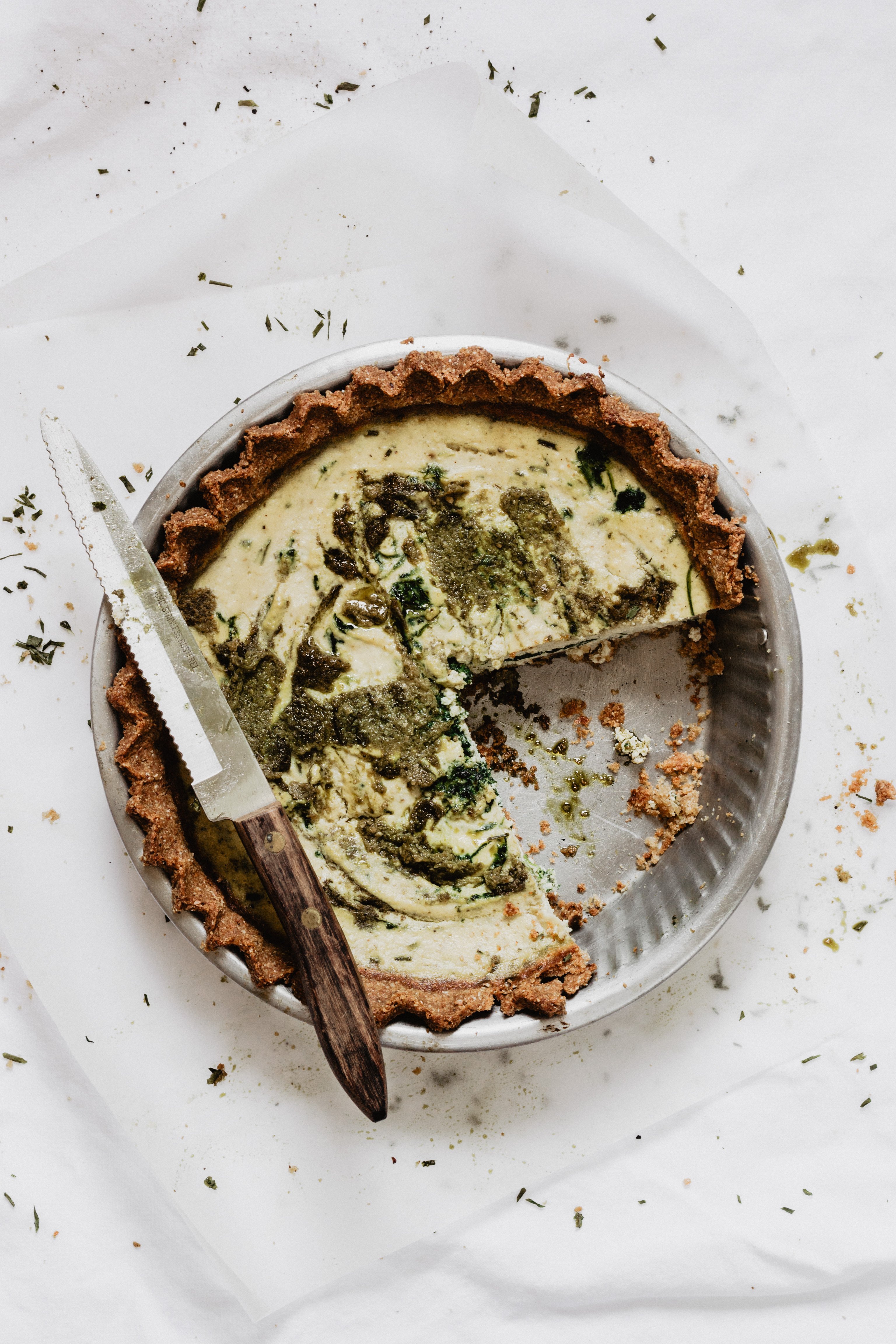 Talking about "healthy recipes"...go and make this spinach ricotta quiche immediately! Oh, if only you could take a slice through your device! I swear it's extreeeeemely easy to make - I know I say it often, but it's true - and you won't need many ingredients, except for spinach, ricotta, pesto, eggs and seasoning.
Plus, you can decide to make the crust from scratch or buy it. You know I'm team #fromscratch, that's why I made mine following HappyKitchen's recipe (check it out here). Try it, it's fabulous.
For the filling: 'throw' in a large bowl half a kilo of amazing ricotta, 3 eggs, a drop of milk and you're basically done. Oh, don't forget some frozen spinach (I had to use them up, but you can use fresh spinach too), some pesto and seasoning! See? Easy-peasy.
A couple of tips...
I told you, this quiche is super easy BUT it's not that quick to prepare and cook. It took me a while to obtain a perfect healthy quiche, almost a savory cheesecake.
So, here's my tips:
Make the crust and let it chill for at least 30 minutes;
Roll it out and blind bake it for at least half an hour with weights on it (like beans or this)
Remove the weights and bake until the bottom is cooked (15 minutes or so)
Pour the filling and bake until it's evenly cooked.
Yes, I know it's a bit long, but you can make it and store the crust and then baking it with the filling. Or, prepare it on Sunday, it will last a couple of days in the fridge.
---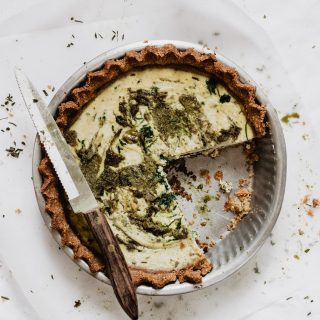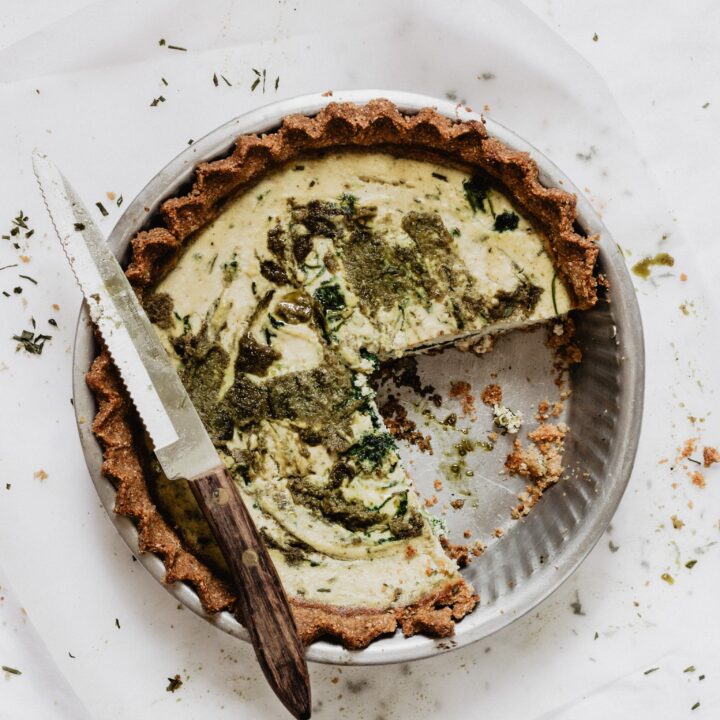 SPINACH RICOTTA QUICHE
This super easy spinach ricotta quiche with pesto will blow your mind!

Print
Pin
Ingredients
For the crust:
250

gr

Whole wheat flour

80

gr

Extra virgin olive oil

1 teaspoon

Salt

Approximately 100

gr

Ice-cold water
For the filling:
250

gr

Frozen spinach

500

gr

Ricotta

1 or 2

teaspoons

Basil pesto

-

+ some teaspoons on top

3

Eggs

50

gr

Milk

Chives

Salt

Pepper

Nutmeg
Instructions
For the crust:
In a bowl, combine flour, salt and oil.

Start stirring with your hands and gradually add the cold water.

Knead it until you obtain a smooth ball, but don't over knead it.

Wrap it in plastic foil and let it chill in the fridge for at least half an hour.

After 30 minutes, roll it out and fold your pie pan (mine was 22 cm - 8/9 inches - and 5 cm tall sides).

Preheat the oven at 180° C.

Cover the crust with parchment paper and fill with beans (I only had chickpeas) or pie weights. Bake for 30 minutes.

Remove the weights and paper and bake for 15 minutes more.

Let it cool and, in the meantime, prepare the filling.
For the quiche filling:
If your spinach is frozen, boil it for a few minutes and let it drain VERY WELL. You don't want extra moist into the filling.

In a big bowl, slightly beat your eggs, then add ricotta, a couple of teaspoons of pesto and 50 gr of milk to make it runnier. Stir.

Add seasoning: salt, pepper, chives and nutmeg. Stir well with a whisk.

Add the filling to the baked crust, top with your spinach and extra pesto to give more flavor.

Bake for 40 minutes or until the filling is fully cooked (you should know it's ready when piercing with a knife, it comes out clean)