There's nothing that screams "FALL" more than pumpkin. (Well, pumpkin and apples)
Reason why today I am sharing with you a very Fallish, easy and quick breakfast: pumpkin waffle recipe, super simple to make and also nutritious (all that pumpkiiinn).
Make them and immediately enjoy!
---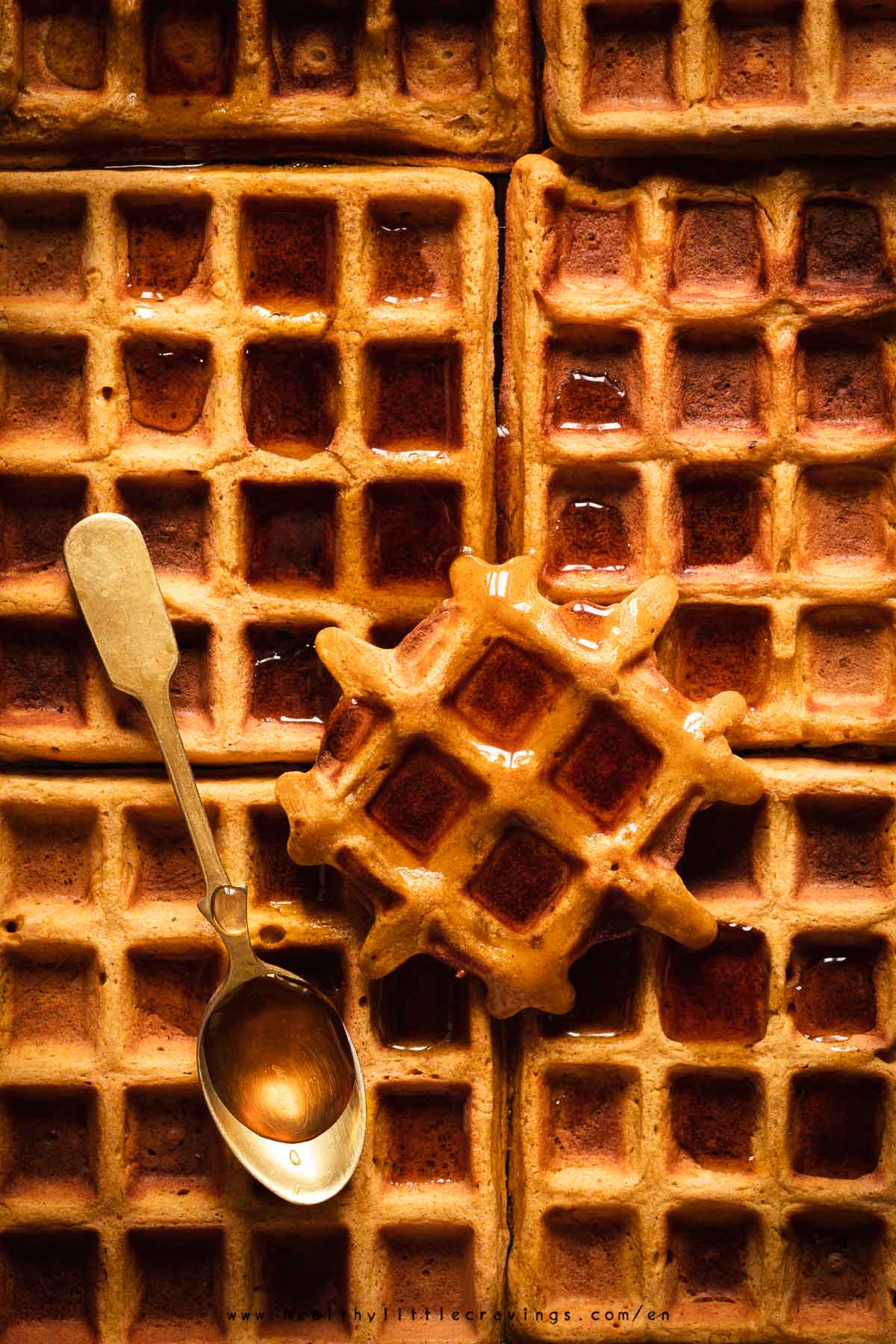 Who's in need of a quick pumpkin waffle recipe?
I don't know about you but breakfast is my favorite meal of the day. Despite this, I don't always want to spend a lot of time making it, in the morning.
So simple breakfast recipes are my favorite. And this is one of them.
I tested this pumpkin waffle recipe a few times. First time with oat flour (but they were too dense and soggy), then with less flour etc etc. But they were not that delicious.
Then found this great recipe by Damndelicious.net, made it with a few adjustments (not that it was needed, but simply I didn't have some of the ingredients) and voilà... easy homemade pumpkin waffles. Perfect! And look that color!
This recipe is quick because all you have to do is combine wet and dry. It could be a little bit longer in case you decide to bake your own pumpkin to then make purée. In that case, just prepare it in advance and then store it in an airtight container (or freeze and then thaw).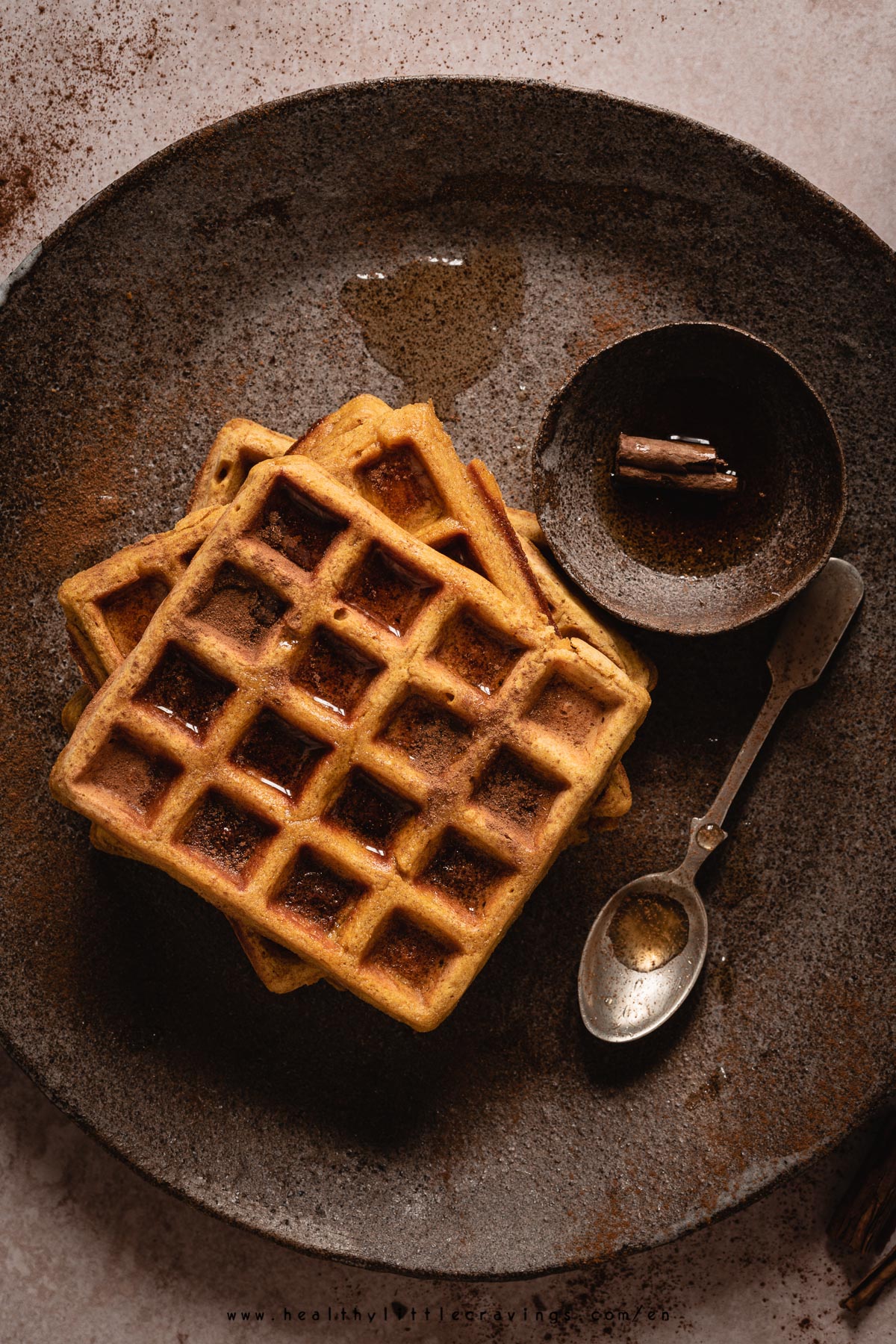 How to make these pumpkin cinnamon waffles + how do you keep waffles from getting soggy?
Should I really explain it? 'Cause making waffles is really really simple.
Ok ok, let's do this, so I can also give you tips for making crispy-on-the-outside waffles.
Milk + vinegar
Because I cannot find buttermilk that easily here in Italy, what I usually do is I make my own buttermilk (well, kinda): I substitute buttermilk for the same amount of milk + some vinegar.
In this case, a bit more than one cup of milk + 1 tablespoon apple cider vinegar. I mix into a small bowl then set aside until it curdles a bit.
HOT HOT waffle iron (1st tip)
Here's the first tip to have crispy-on-the-outside waffles. Before cooking I always make sure the iron warms up for about 7-8 minutes, while I am preparing the batter.
This is what needs to happen: when you'll pour batter on the waffle iron, after brushing/spraying some butter/oil, you should hear the sizzle. That means the "crust" will immediately begin to set. Then close and let all the steam evaporate.
Again, hot iron is key.
Combine dry ingredients
In a large bowl add all the dry ingredients: all purpose flour, baking powder, about a teaspoon cinnamon (or pumpkin pie spice) and salt. Give a quick stir with a fork.
P.S. you can also use half whole wheat and half all purpose, but make sure you add more milk to avoid making the batter too dense.
Combine wet ingredients and incorporate to dry
In a medium bowl instead combine pumpkin puree, maple syrup (or use brown sugar like in the original recipe), eggs at room temperature and melted unsalted butter. Whisk for a few seconds (no need to use a stand mixer), then add milk + vinegar, and stir again.
Pour the wet ingredients over the flour mixture and use a whisk or spatula to incorporate. The batter shouldn't be too dense, but quite thin (again, to prevent the waffles from being soggy).
P.S. to have crispy waffles, I know some people use egg whites whisked separately until they form soft peaks (then incorporate). To me, that's not an essential step, but feel free to try.
Cook and serve immediately
Like I said before, having a hot waffle iron is key, so the crust will immediately form.
Spray/brush your iron with cooking spray, melted butter or oil/ coconut oil, then pour a few tablespoons, about ¼ cup batter.
Close and let cook (you should see all the moisture evaporate). While you're cooking all your pumpkin waffles, keep the others into a warm place (like the oven), so they don't cool down too much.
Here's another tip indeed: pre heat your oven at about 100°C/215°F, place the waffles on the cooling rack and, as you cook them, place them onto it and into the oven.
Then serve with some good maple syrup and more ground cinnamon (or chocolate chips, or your favorite toppings)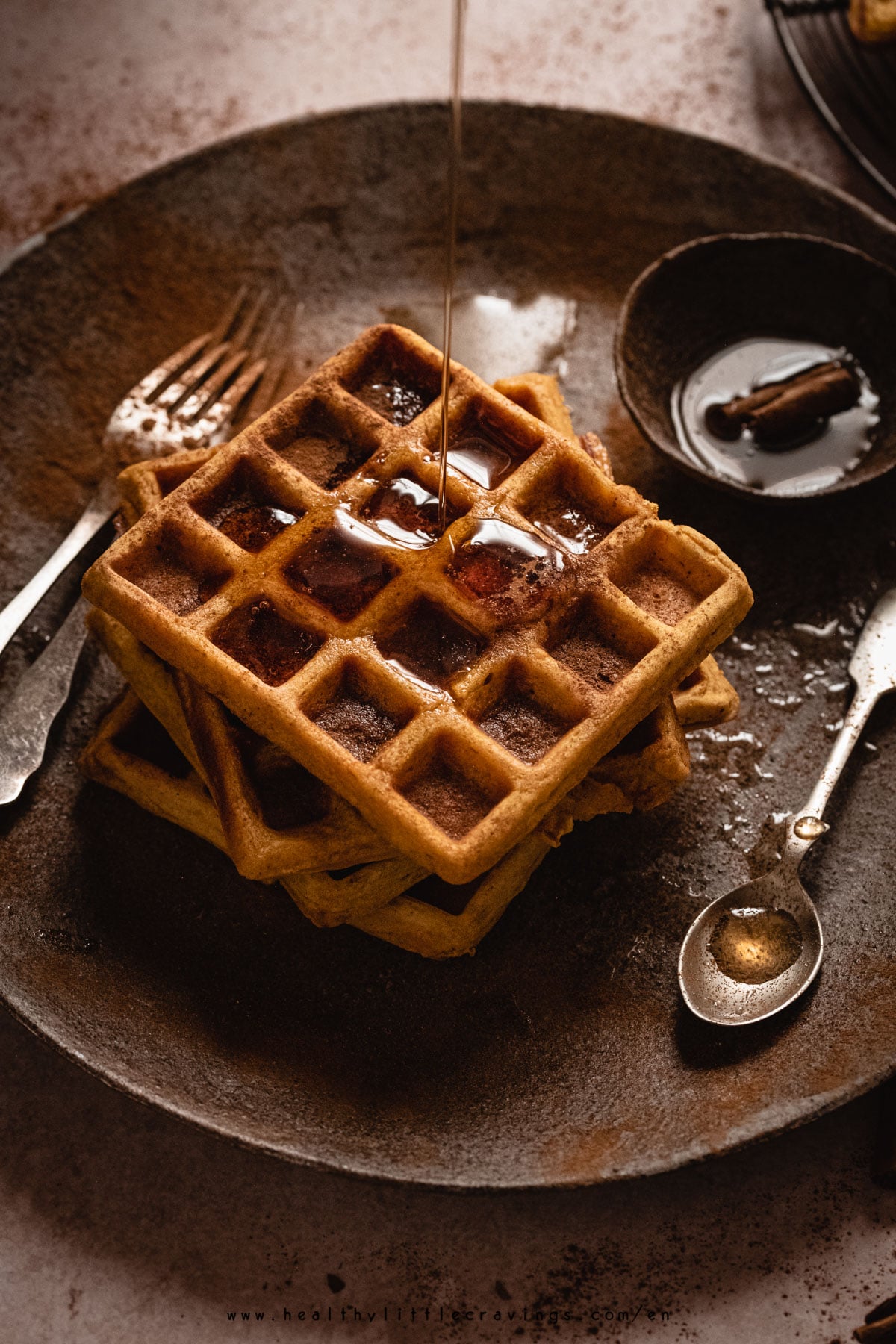 How to store these waffles
You don't. I am serious: I am always for storing food in airtight containers and then heat them up. Not waffles though.
This pumpkin waffle recipe is for when you want something to immediately eat. If you try to warm them up next day, you'll end up with soggy waffles. And we don't want that, right?
It's true these are fluffy pumpkin waffles (inside), but they also have a nice crispy surface. Let's preserve that!
All right, I hear you saying "What if I have leftover waffles?".
1. Next time consider making less,
2. When they cool down completely, freeze them into freezer bags, and next time simply thaw them and heat them into the oven/toaster until crispy (no microwave in this case).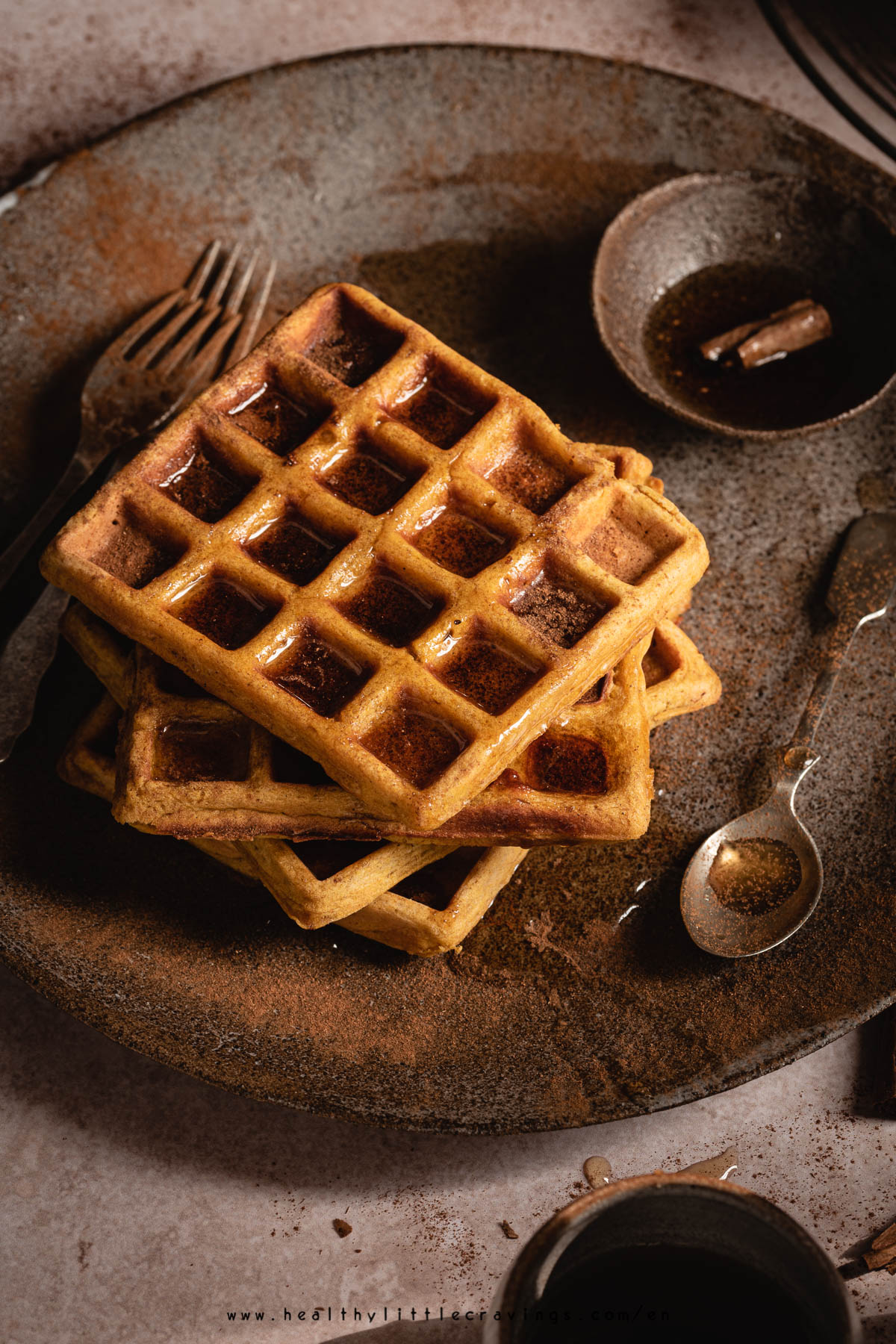 I am sure with these easy pumpkin waffles you'll make the whole family happy! Or just yourself (reduce the amount of ingredients in that case)!;)
---
If you make this recipe, please be sure to give it a rating and leave a comment! It would make me so happy! 🙂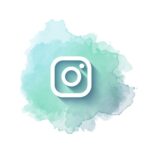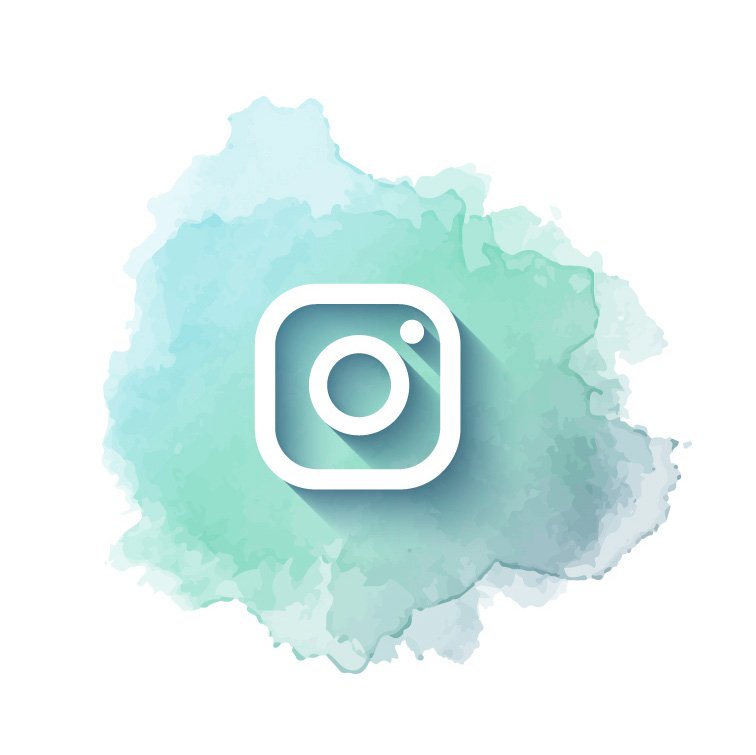 Remember: if you try one of my recipes, tag me on Instagram or DM me the photos!
Pumpkin Waffle Recipe
An easy and delicious breakfast recipe: pumkin waffles with a loooot of cinnamon in it!
Recipe adapted from Damndelicious.net
Print
Pin
Ingredients
1 ¼ cups

Milk

-

250 g

1

tablespoon

Apple cider vinegar

1 cup + ⅔

All-purpose flour

-

200 g

2 ½

teaspoons

Baking powder

1

teaspoon

Cinnamon powder

1

teaspoon

Salt

⅔ cup + 1 tablespoon

Canned pumpkin purée

-

approx. 150 g

3

tablespoons

Maple syrup

2

Eggs

¼

cup

Unsalted butter (melted)

-

40 g
Instructions
Into a small bowl, combine milk and vinegar, give it a quick stir and set aside.

In a bowl, combine dry ingredients: flour, baking powder, cinnamon powder and salt. Stir and set aside.

Into another bowl, combine pumpkin purée, maple syrup, eggs and melted butter. Whisk for a few seconds until combined. Then add milk + vinegar mixture and stir again.

Pour the wet ingredients over the dry ones and use a whisk to incorporate. Remember: do not overmix.

Grease your waffle iron then pour a few tablespoons of the pumpkin mixture. Close and cook until golden brown and crisp.

Serve immediately, with more maple syrup.
---
Don't forget to pin and share this easy and delicious recipe!
---
Do you like waffles? I am 100% confident you'll love these easy whole-wheat waffles with NO baking powder! One of my favorite recipes!
---
© Healthy Little Cravings – Roberta Dall'Alba.
I own all content and photos' copyright.
Before using my photos and recipes, please email me.
If you would like to republish a recipe, please link back to this post and re-write the instructions in your own words.