In this post you'll find the recipe for these amazingly delicious peach raspberries popsicles!
---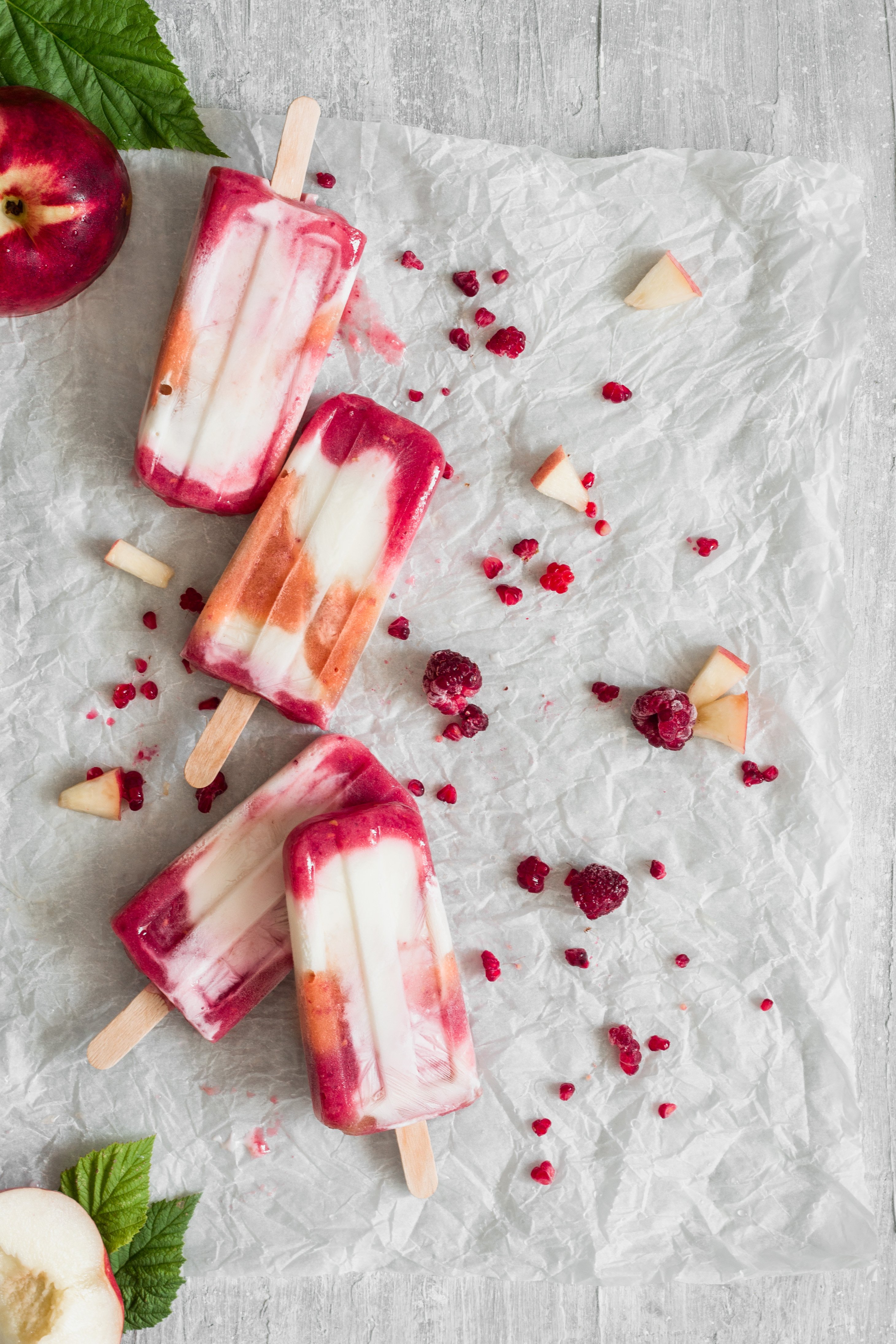 Wet heat, sultry weather… what can cheer you up in a day like this? A popsicle, of course! I made these peach raspberries popsicles last year after my trip to Sicily and I want to share them again this year (after a trip to Sicily, what a coincidence;))
Sicily, I miss you.
I'm back from my trip, I'm pretty nostalgic right now, more than the past few years. Maybe because it had been 10 months since we went visiting my boyfriend's family? Maybe because it was even more intense than the last time we went there? The only thing I know is that Sicily is there…waiting for us. Always.
Also, the weather has been perfect: not too hot, not too cold. There was just a little refreshing breeze. Therefore, our conclusion was that June is the best month to visit this part of Italy. The last days though were a bit warmer and we felt in our hearts (yep) that we absolutely had to enjoy a big ice cream with brioche col tuppo (check on google if you don't know what I am talking about). That's a typical Sicilian snack/breakfast on Summer. EDIT: this year we chose July to travel and it's been 'hella' hot (sometimes 40°C)
The perfect summer snack…
I remember that a couple of years ago, during Summer when I was working near my hometown for 8 hours a day, the only thing I craved when I came home, was a huge slice of watermelon or a popsicle/icecream.
Unluckily the ones you buy at the store are packed with sugars and unhealthy fats. So I used to puree some fruit and put that in the molds. Few hours of freezer and my popsicles were ready to eat.
But these ones…oh man, these ones are beyond perfect!
…seriously, for EVERYONE
These ones have an extra touch: Greek Yogurt. I just added a touch of agave syrup to adjust yogurt acidity et voilà: peach raspberries popsicles with amazing nutritional facts! What are you waiting for? Go and make them!
P.S. Just to let you know: my nephews literally scoffed these homemade popsicles and they wanted to steal each other one.
---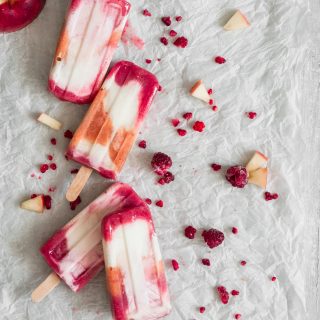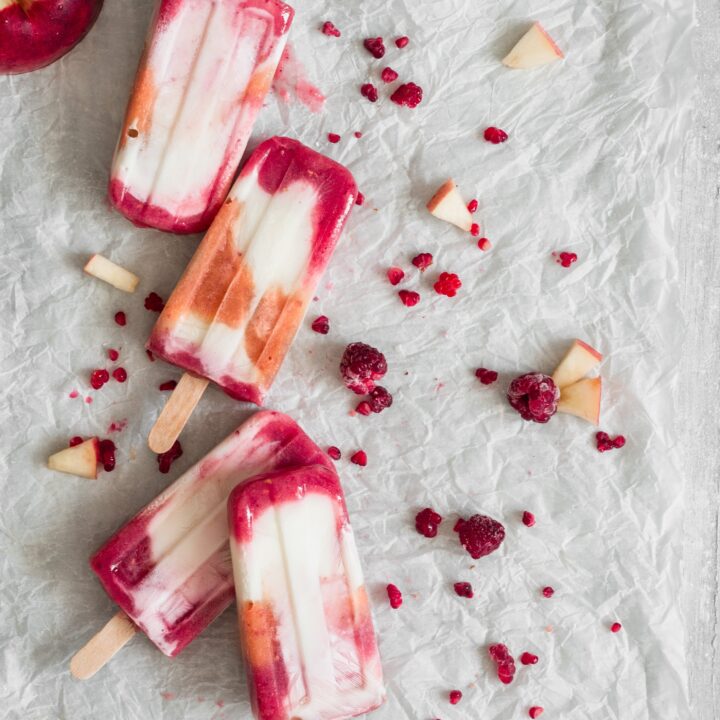 PEACH RASPBERRY POPSICLES
Delicious and refreshing peach raspberries popsicles with greek yogurt to enjoy during the hottest days! You'll only need 4 ingredients!

Print
Pin
Ingredients
180

gr

Greek yogurt

-

or soy yogurt for vegans

one

tablespoon

Agave syrup

-

(make adjustments if you want more/less)

115

gr

Peaches (pulp)

-

(one peach and a half)

15

gr

Frozen raspberries

-

15 gr
Instructions
Puree your peach/es and defrost your raspberries.

Divide peaches' pulp in two bowls and add the raspberries to one bowl.

Combine one tablespoon of agave syrup with Greek yogurt.

Pour a tablespoon of peach purée, raspberries purée and yogurt in each mould.

Freeze and enjoy whenever you want!