In need of something to get all cozy with? I have the perfect lunch/dinner for you: this cream of mushrooms soup with no cream, just to keep it "minimal" and lighter.
A combination of flavors (earthy, nutty, slightly sweet and herbaceous) that will make you really "taste" Fall!
I don't like complicated meals: this soup is easy and will be ready in no time (almost! Total time approx. 30 minutes). Let's see how to make your new favorite soup;)
---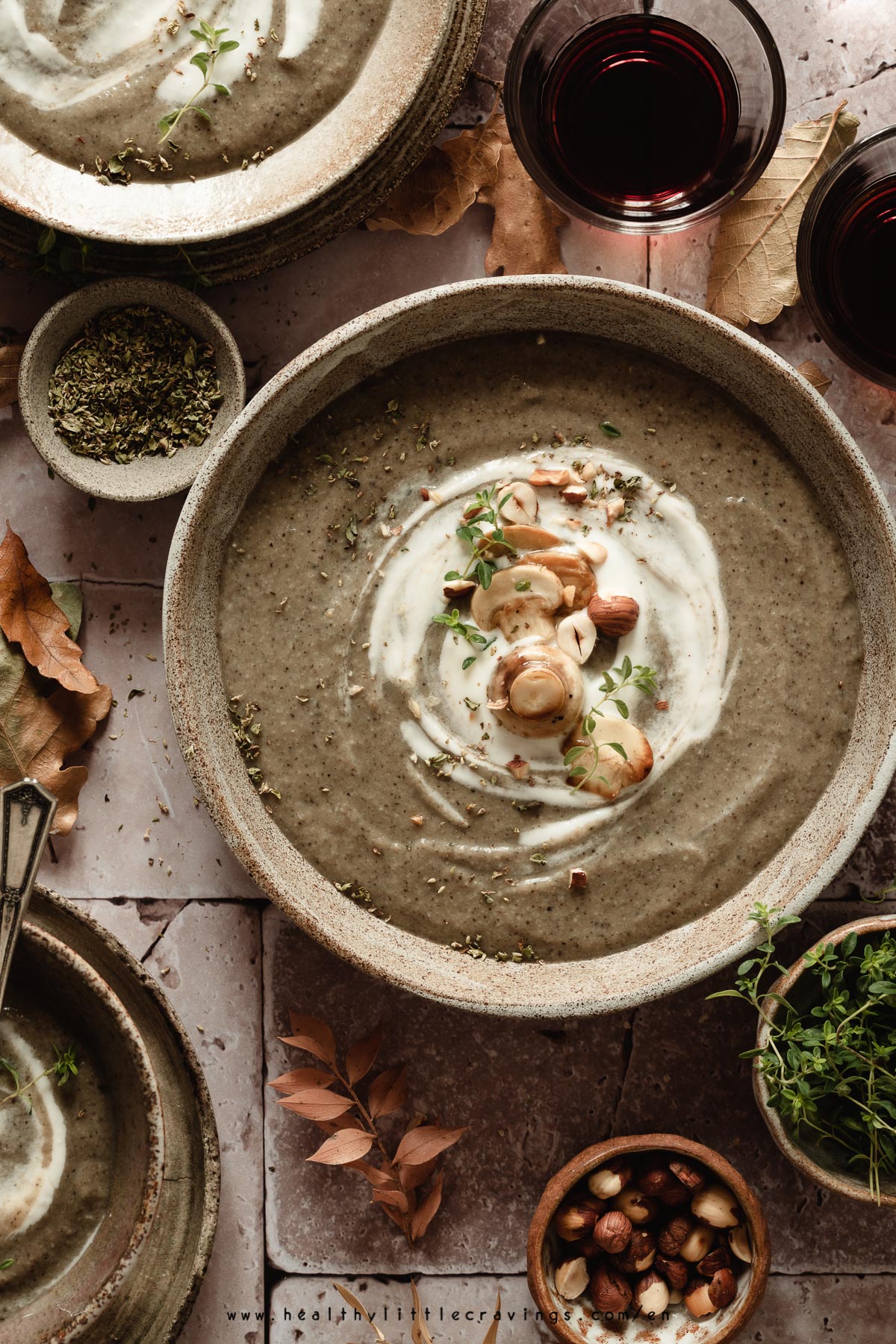 Creamy mushrooms soup... with NO cream?
Don't know if you agree with me but when a cold night comes, there's nothing better than enjoying a hot soup. Especially into a bowl that can also warm up your hands while you hold it.
For this soup I wanted the mushroom flavor to dominate and I wanted to keep it light but still creamy.
How?
Instead of using heavy cream (which - to clarify - I'm not against to!), I've used a combination of plain milk + a bit of flour.
Et voilà, the magic happened. CREAMINESS level 1000.
So next time you want to make your favorite cream of *something* soup, remember about this combo.
Oh, this is probably the best soup I've made so far. You're a mushroom lover? 100% sure you'll appreciate this.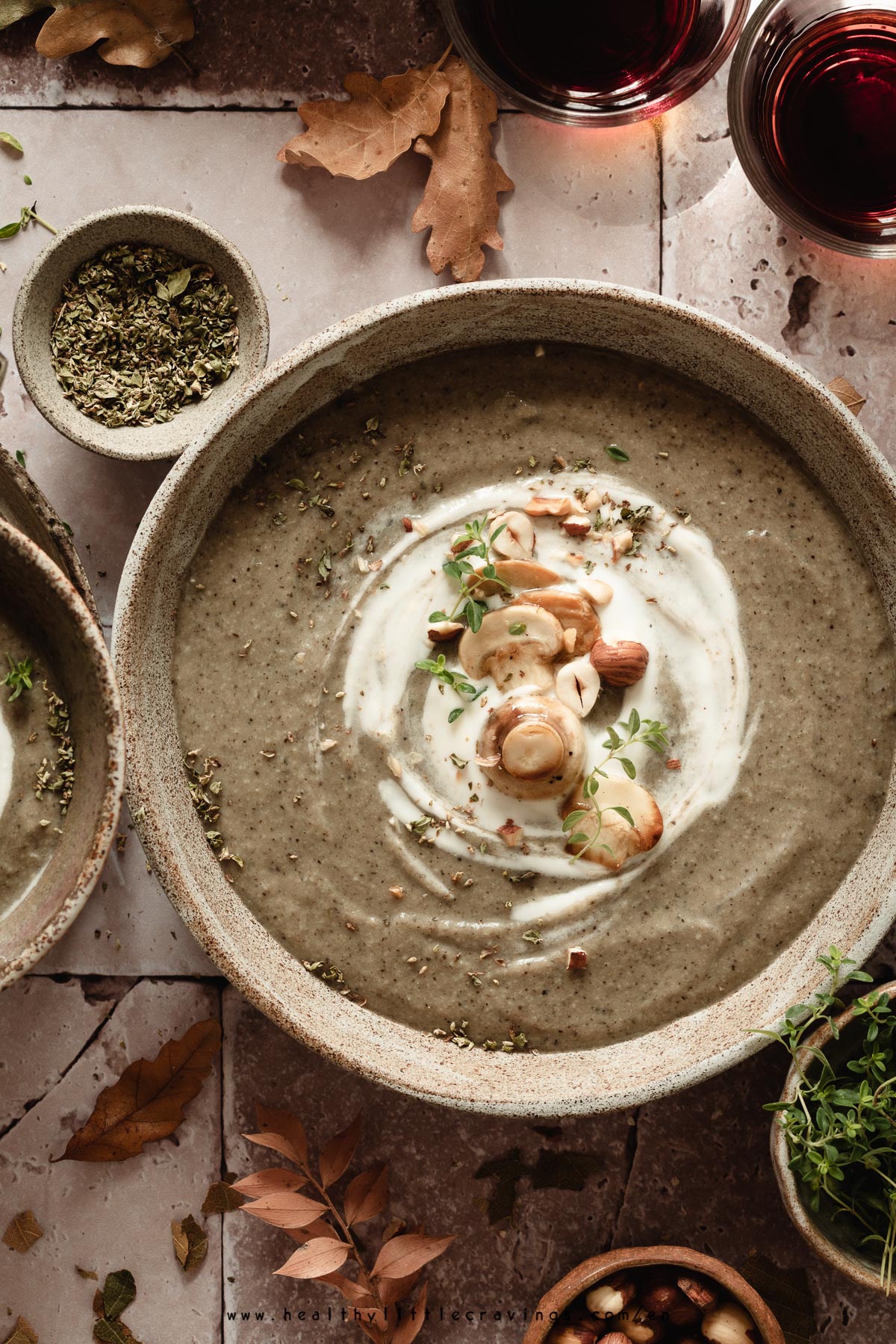 How to make this cream of mushrooms soup
Like I said in another of my posts here on the blog, I already work with food all day long - being to develop recipes or just to photograph them - so at lunch and dinner I don't want to spend too much time to cook.
My meals usually take up to 45 minutes to cook and this is definitely one of them.
Perfect "quick" recipe that I recommend for a weeknight, especially.
Now let's see the main steps:
Brown the butter
In my opinion brown butter gives an extra touch here (nutty flavor!) so I recommend using that (alternatively use butter or olive oil).
To brown the butter: take a pan (preferably one that allows you to see the color of the butter) then melt butter at medium low heat.
Once melted keep stirring until you see brown spots on the bottom of the pan. The brown butter is ready when it has a beautiful golden brown color. Transfer it to a dutch oven.
Onion + potato
Time to mince the onion and grate the potato. You can also cut the potato into cubes, but grating it allowed me to shorten the cooking.
Add them to the pan (medium heat), stir and let cook for 2-3 minutes making sure they don't stick.
Deglaze
Oh did they stick? No problem!!! Time to deglaze.
Deglazing seems a fancy word but it's something really simple: just add liquid (marsala in this case - you can also try with white wine or other dry wine) into the hot pan and scrape the caramelized bits stuck on the bottom of the pan.
Those "bits" are a treasure, full of flavor!
Add mushrooms + cook
Time to add your favorite mushrooms (chopped), then cook for about 5 minutes stirring every once in a while.
To give more creaminess I add all purpose flour to the mushroom mixture. To add more aroma I add oregano and fresh thyme. A teaspoon salt to enhance all the flavors. Simple.
Then pour both broth and milk, and stir. Bring to a boil (medium-high heat) then reduce to low heat. Your goal now is a gentle simmer (for 15-20 minutes until creamy).
Finally, use an immersion blender to blend the cream of mushrooms soup and serve warm/hot.
I served mine with goat cheese, thyme leaves and a sprinkle of black pepper (for extra flavor use parmesan cheese - I personally don't like it).
(Recipe is for 2 people so we ate half of the soup each, but you can also serve this to 3 people).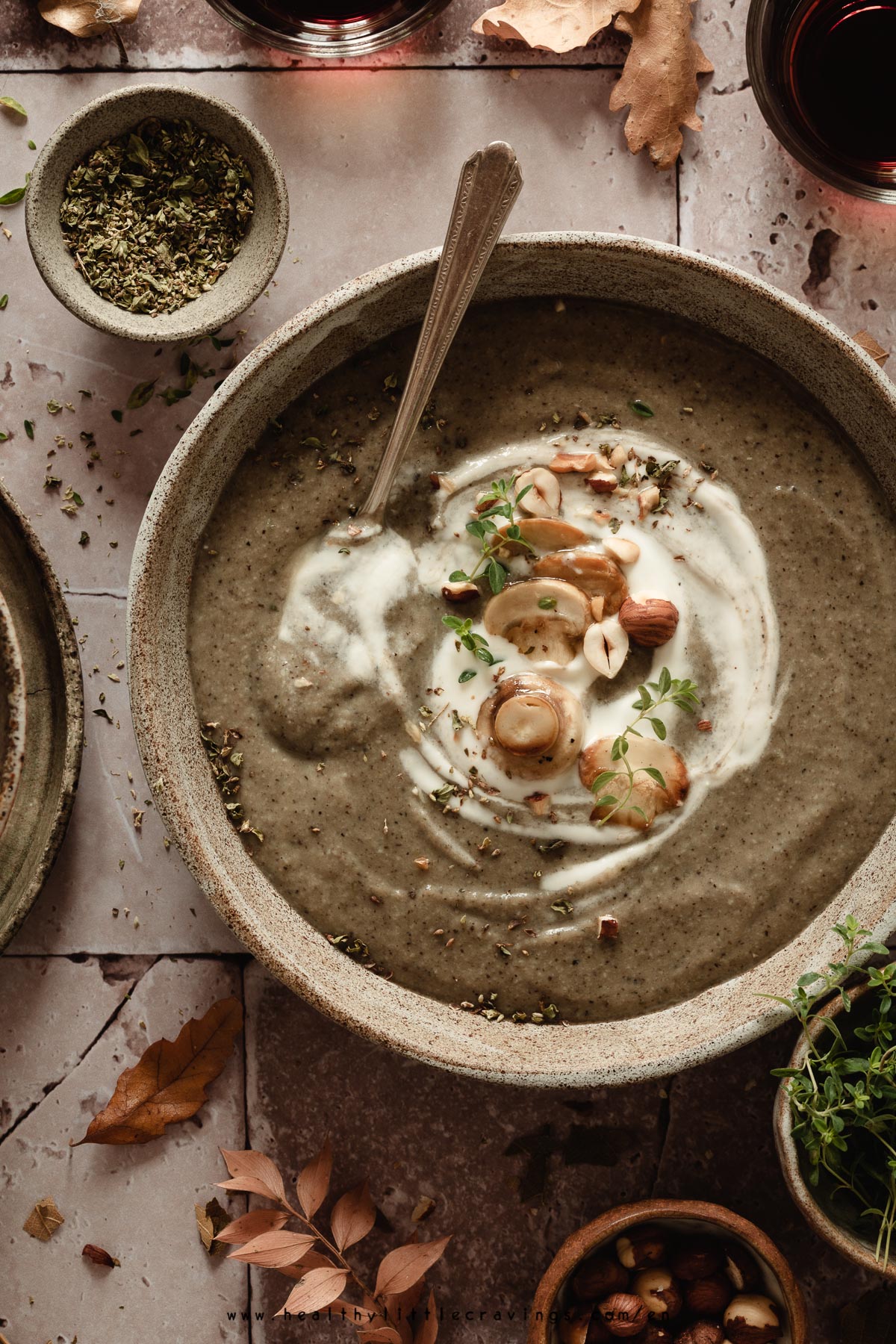 Broth, mushrooms, marsala, herbs: possible variations
Let's talk about substitutions for this cream of mushroom soup recipe. There are a few ingredients here that cannot be omitted, just like mushrooms (duh), others are optional or you can substitute them.
Butter

: you can skip making brown butter, or you can use oil. To me brown butter gives the nutty touch that a mushrooms soup needs.
Marsala wine

: just omit it or use another dry wine.
Mushrooms

: I've used 3 types of mushrooms because that is what I had - cremini mushrooms, portobello mushrooms and King trumpet - but you can absolutely use one kind only...your favorite!
Flour

: I've used 00 flour (all purpose), but you can also use cornstarch. The flour here will increase the creaminess.
Herbs

: I read the books that I own to see which herbs are best with the earthy flavor of mushrooms, and it looks like thyme and oregano are ideal.
Broth

: I've used homemade unsalted shiitake mushrooms broth but you can also use vegetable broth (or chicken stock). I would recommend not using the salted one because the soup will reduce so the concentration of salt will increase.
Milk

: I think milk is essential for a creamy soup so I wouldn't omit it, instead you can soy milk for a vegan version, or heavy cream (but I usually want to keep it lighter so I use plain milk).
Goat cheese

: I topped my mushrooms soup with goat cheese to give an extra herbaceous taste, but you can skip it or use a tablespoon or so of creme fraiche / sour cream.
You can make a vegan mushroom soup by omitting goat cheese and replacing butter with oil/vegan butter, milk with soy milk.
How to store it
I usually prepare this for dinner and enjoy hot. It's a cuddle, especially in Fall/Winter.
But you can absolutely prepare this in advance and reheat it several hours later or next day, using a microwave or on the stovetop.
Make sure though that you store it into an airtight container.
Enjoy your creamy mushroom soup!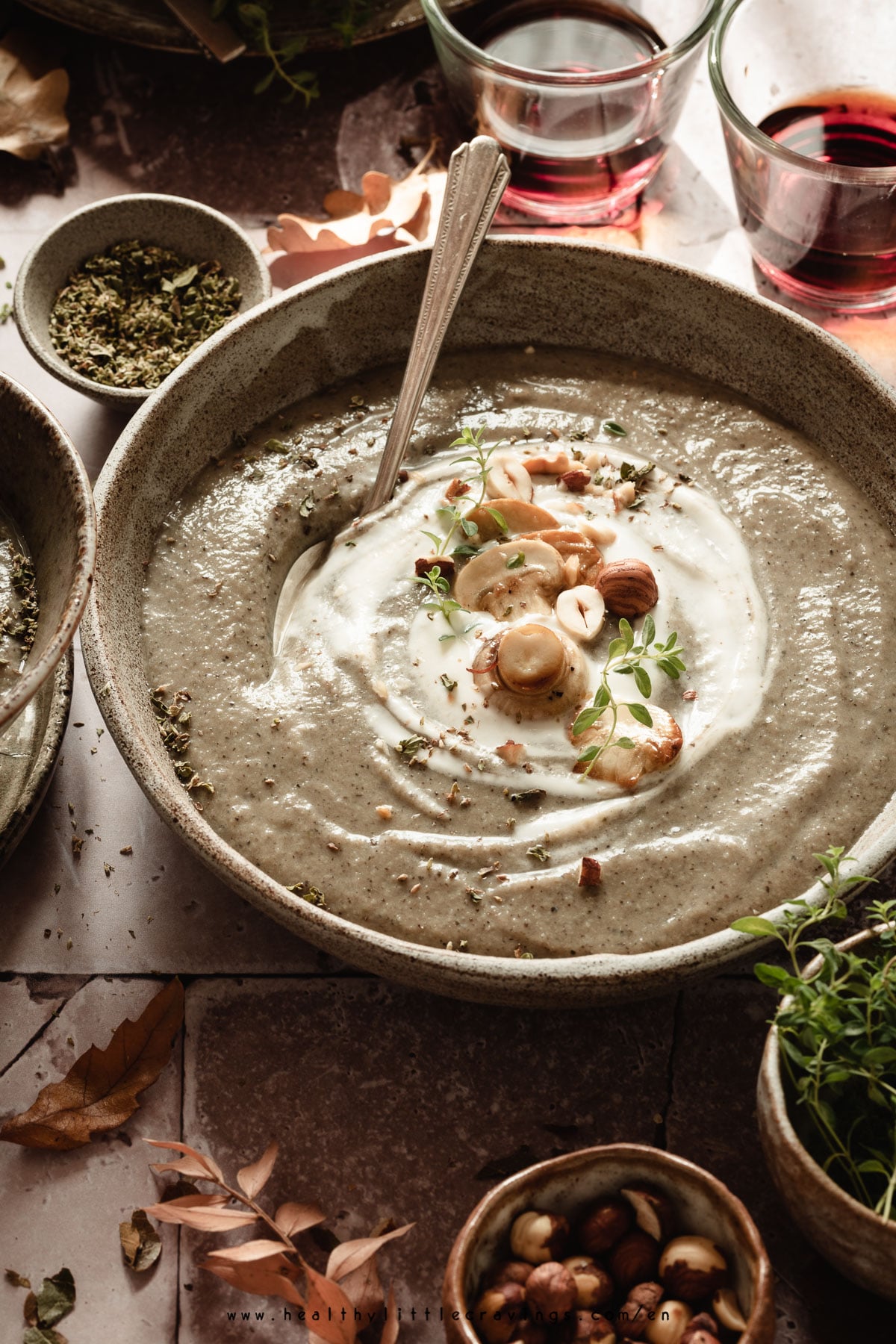 ---
If you make this recipe, please be sure to give it a rating and leave a comment! It would make me so happy! 🙂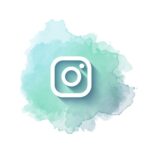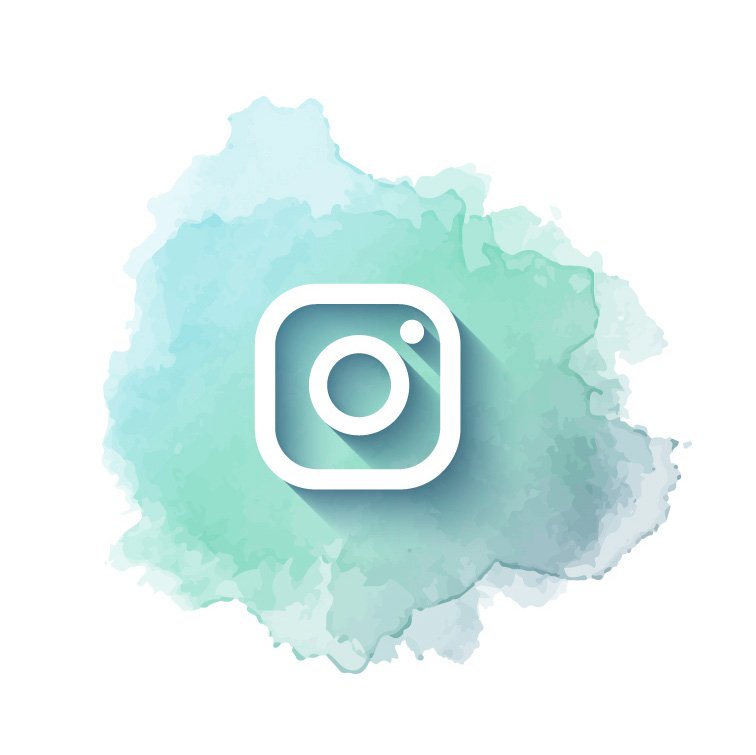 Remember: if you try one of my recipes, tag me on Instagram or DM me the photos!
---
Don't forget to pin and share this easy and delicious recipe!
Brown Butter Mushrooms Soup
A delicious, easy, nutritious soup to make this Fall/Winter: a soup made with your favorite mushrooms, brown butter, and the flavor of Marsala wine.
Print
Pin
Ingredients
2

tablespoons

Butter (to make brown butter)

1

Onion

1

Potato

2

tablespoons

Marsala

1

pound

Mixed mushrooms (I've used portobello, cremini and King trumpet mushrooms)

-

500 g

2-3

teaspoons

Flour or cornstarch

Thyme and oregano

1.5 teaspoons

or more

Salt

2

cups

Broth (I've used homemade shiitake stock, unsalted)

-

400 g

½

cup

Milk

-

100 g

Goat cheese (optional)
Instructions
First make brown butter: into a pot, let the butter melt at medium low heat, and keep stirring until it turns golden brown.

Transfer the brown butter into a dutch oven pan.

Mince onion and grate the potato. Then turn on the heat and add both to the brown butter, stir. Let cook for about 2-3 minutes.

Add marsala wine to deglaze the bottom of the pan ("scrape" with a wooden spoon).

Add chopped mushrooms and cook for 5 minutes. Stir every once in a while.

Add flour, salt, oregano and thyme then stir again. Immediately add broth, milk and stir once again.

Let cook for about 15-20 minutes or until creamy.

After that, use an immersion blender and blend to get the cream of mushrooms soup. Serve warm.
---
Want something else to get all cozy with? Try these Swedish meatballs with ho-heavy-cream gravy!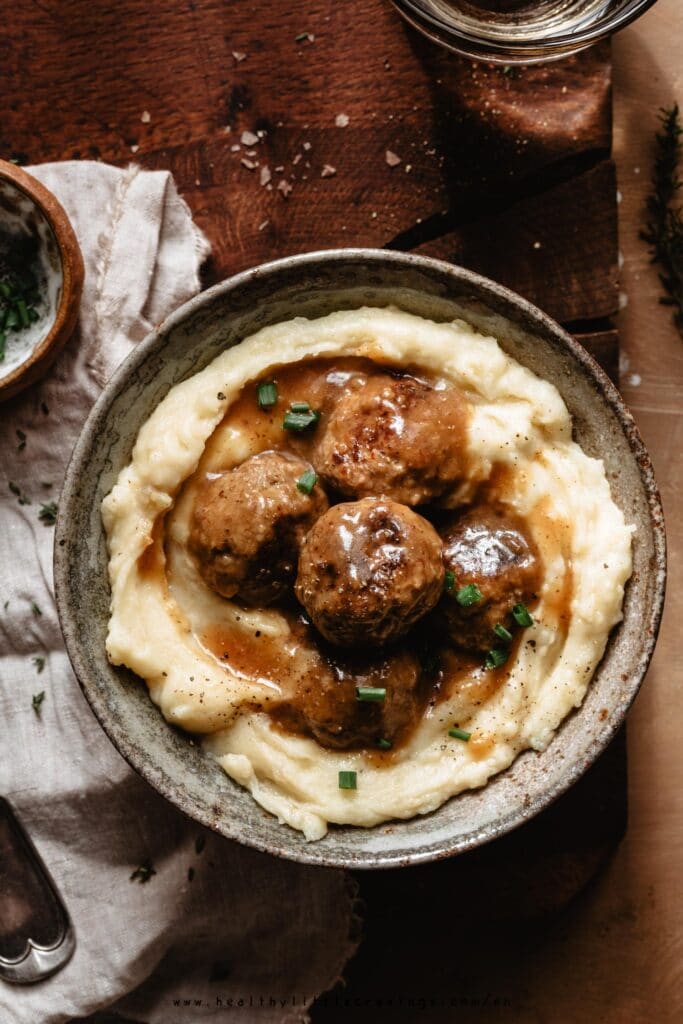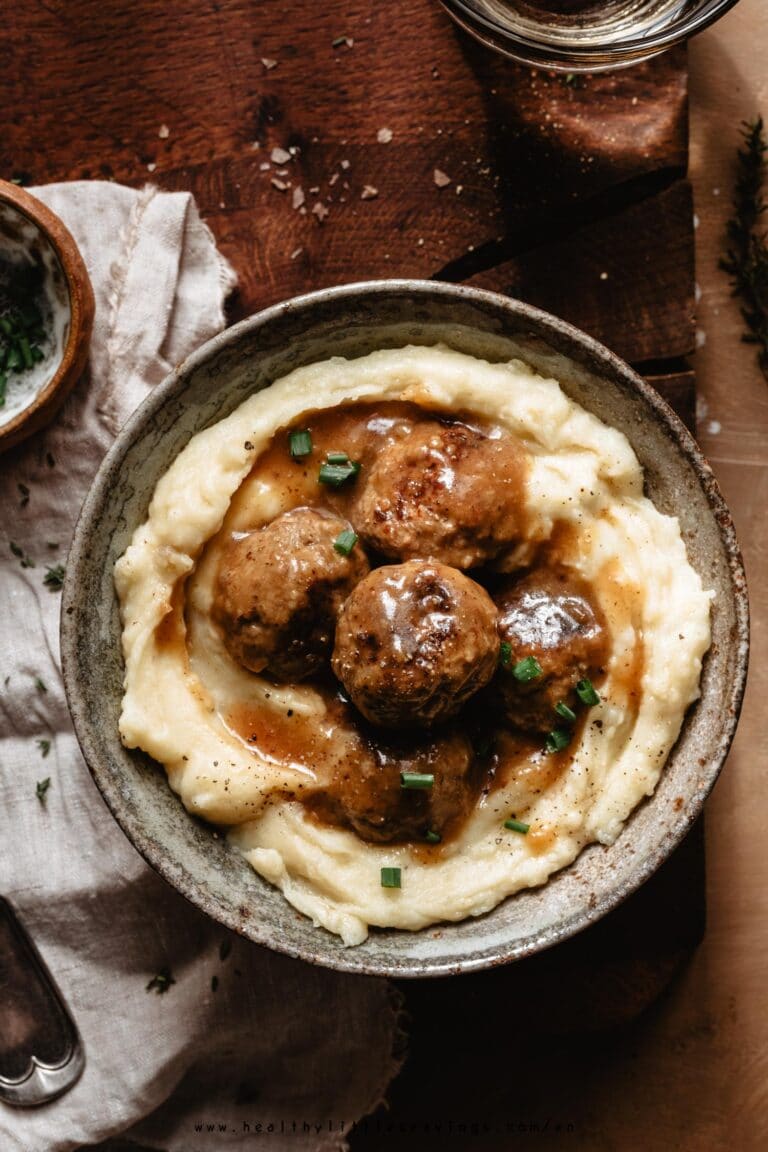 ---
© Healthy Little Cravings – Roberta Dall'Alba.
I own all content and photos' copyright.
Before using my photos and recipes, please email me.
If you would like to republish a recipe, please link back to this post and re-write the instructions in your own words.