When I say I am 100% confident you'll love this, I mean it 100%. This ricotta cake with lemon is absolutely irresistible, moist and fluffy. The brown butter adds a delicious autty flavor. Can it get better than this?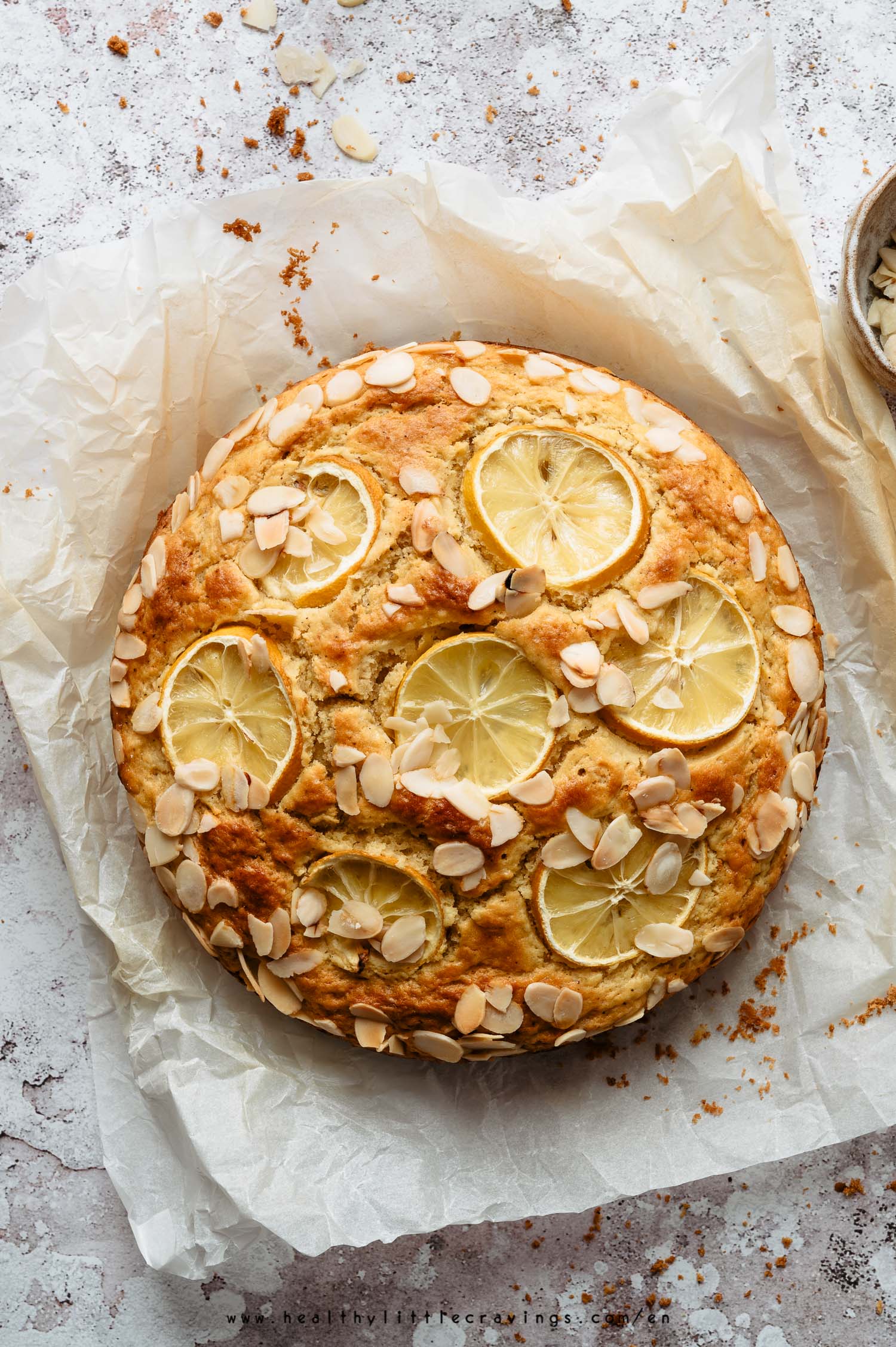 This ricotta cake with lemon is just perfection because...
I've been wanting to make a ricotta lemon cake FOR AGES. At first, my idea was to make easy-peasy cheesecake with few ingredients (still developing that recipe though!). But then...
Then one day I found this great recipe by Jul's Kitchen (that she adapted from a raspberry ricotta cake by BonAppetit) and I absolutely wanted to try it. And OMG it was just perfection (here's the photo!)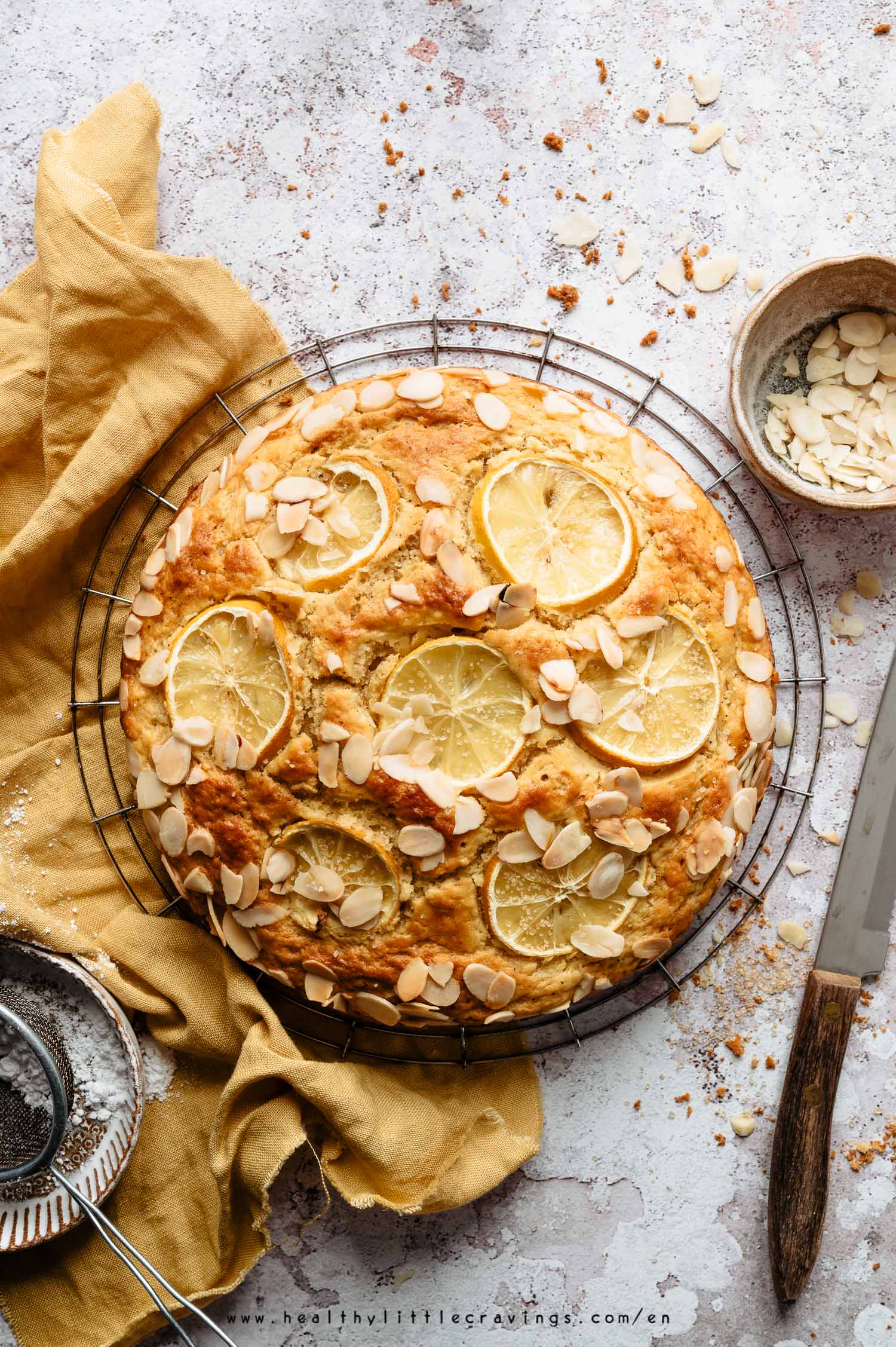 Anyways, a few days after making that deliciousness, I decided to try a variation: Why not making a ricotta cake with lemon instead? I thought.
It's just PERFECTION because 1. it's extremely easy to make, 2. the flavor is irresistible, 3. the consistency too;), 4. you won't need many ingredients; 5. it will last for a few days (unless you eat it all before).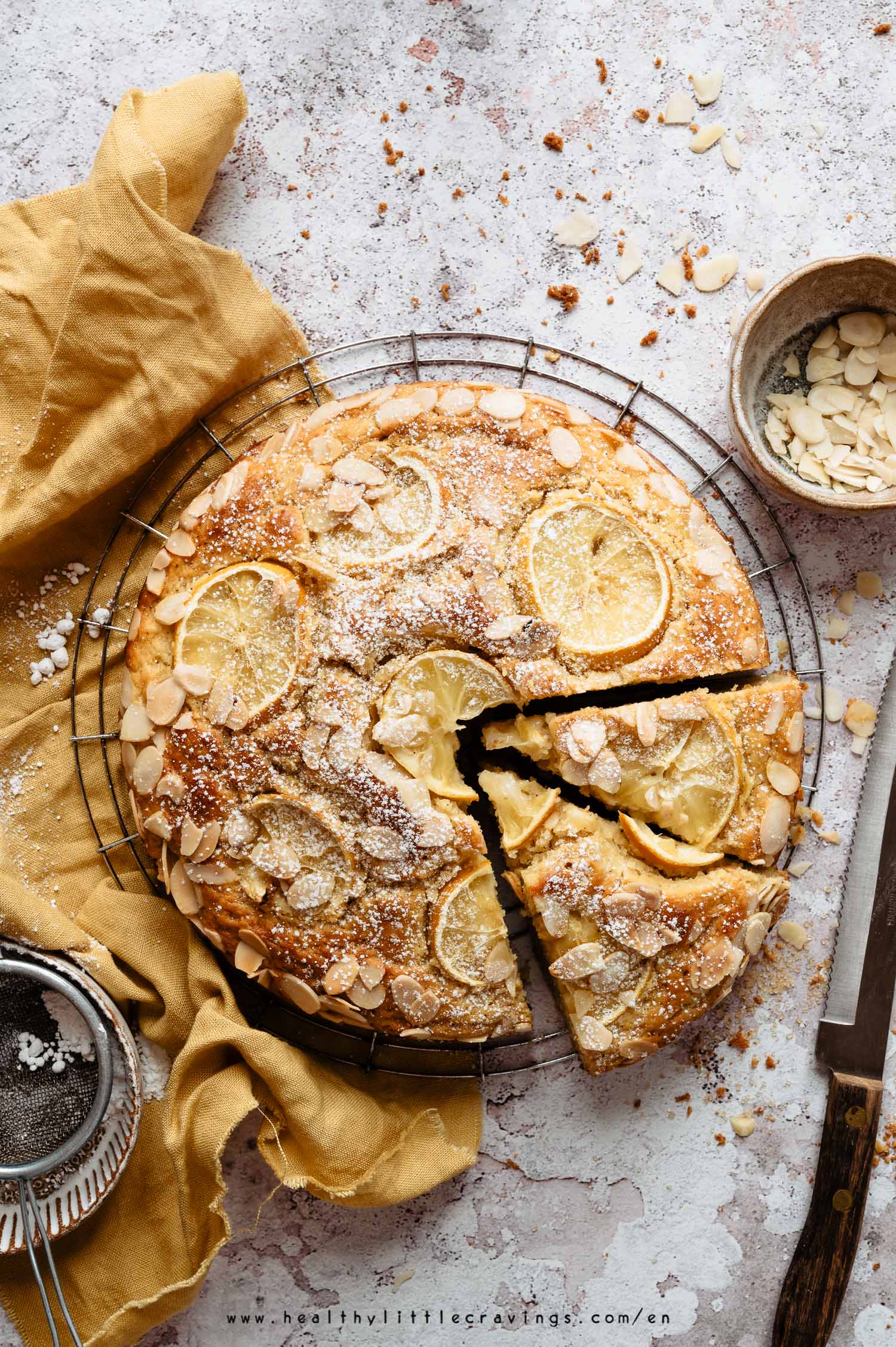 Recipe ingredients
A few simple ingredients are required for this ricotta lemon cake, but they are essentials and I am sure you'll have them already.
Eggs. Remember to bring them to room temperature so they blend more evenly in the batter.
Fresh ricotta cheese. (also at room temperature) Buy the good one for this. I promise you won't regret. No need to drain the ricotta, just remove excess liquids if needed.
Unsalted butter. That we are going to brown so there's no reason to soften it before. Browning butter is easy, don't worry.
Lemon zest and juice. Buy organic ones (we don't wanna eat pesticides, right?). The amount of juice we are going to use is necessary just to increase the power of the leavening agent. Tip: try this cake with orange zest too;)
All purpose flour. In Italy we have 00 flour and that's what I use. I tested this also with 'type 1' flour which is a combination of 00 and whole wheat (so it's not as refined). All purpose is ok.
Light brown sugar. To add sweetness but also a tiny bit of flavor (and more moist). You can use regular white sugar.
Baking powder (leavening agent), vanilla extract, salt.
How to make it
This lemon ricotta cake is incredibly easy to make, but it's important to follow the steps in order. You'll need 2 bowls, an electric mixer or a stand mixer, a spatula and...some music on 🎶 🙂
1. Brown your butter
First step is to make brown butter (using unsalted butter). If you're not sure of the process, follow this video. It's easier to watch. Then let it cool to room temperature (warm/cool is ok).
Preheat your oven at 180° C (355° F).
2. Wet ingredients first
Using a stand or electric hand mixer (+ a large bowl) at medium speed (with whisk attachment), whisk wet ingredients - whole milk ricotta cheese, 3 large eggs, vanilla extract - until you get a fluffy mixture.
3. Dry ingredients
In a separate bowl, combine dry ingredients: all purpose flour (for this recipe though I've used 'type 1' flour which is not as refined as all purpose), light brown sugar, lemon zest, and a pinch of salt.
4. Combine
Add wet ingredients to flour mixture, then add brown butter. Gently stir with a spatula. Lastly add baking powder and fresh lemon juice (over the baking powder, so it forms bubbles). Stir again.
5. Bake and let cool
Time to grease a 8/9 inch springform pan (or regular cake pan/bundt pan) with oil/butter then line with parchment paper (sides and bottom of the pan). Pour batter into the prepared pan and add sliced almonds (lemon slices are optional) on top of the cake.
Baking time is about 50-60 minutes. Remember to let your cake cool onto a wire rack, then take it out of the cake pan. Sprinkle some powdered sugar on top when you're about to serve.
What is the consistency of the batter?
If you're wondering what the cake batter should look like: this is a dense cake (but with soft delicious crumb), so batter will be more on the "thick" side, not runny.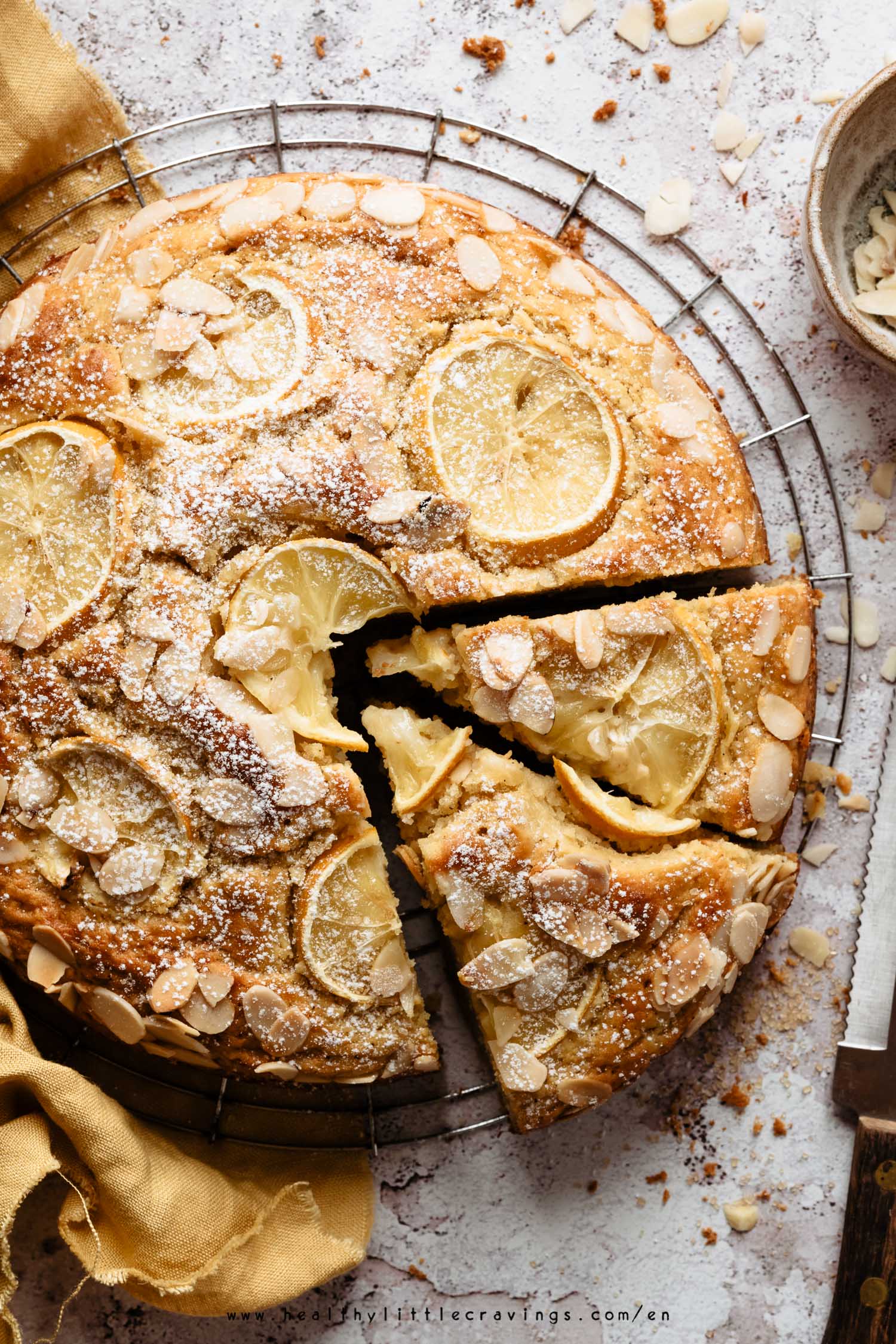 How to serve lemon ricotta cake
This is a "very Italian" cake, and traditionally these types of cakes are served after a (lighter) meal as a dessert, or for breakfast. The latter option is my favorite, just to get off on the right foot. Perfect to enjoy with afternoon tea as well.
How to store this cake
When I bake something a little bit more moist and with fresh ingredients inside, like fruit, I like to store it into the fridge inside an airtight container. Then when I want to eat it, I warm it up in the microwave for just a few seconds. Becomes soft and AMAZING. It will last for a few days in the fridge.
Does ricotta cake
need

to be refrigerated?

As I just mentioned, it's better if you store it into the fridge, since it has ricotta and also lemon juice. You can also store it at room temperature but it won't last much longer.
Can I make this gluten free?
I personally haven't tested this with gluten free mix. I have seen people making it with almond flour, but in this recipe I wouldn't recommend the 1:1 substitution.
---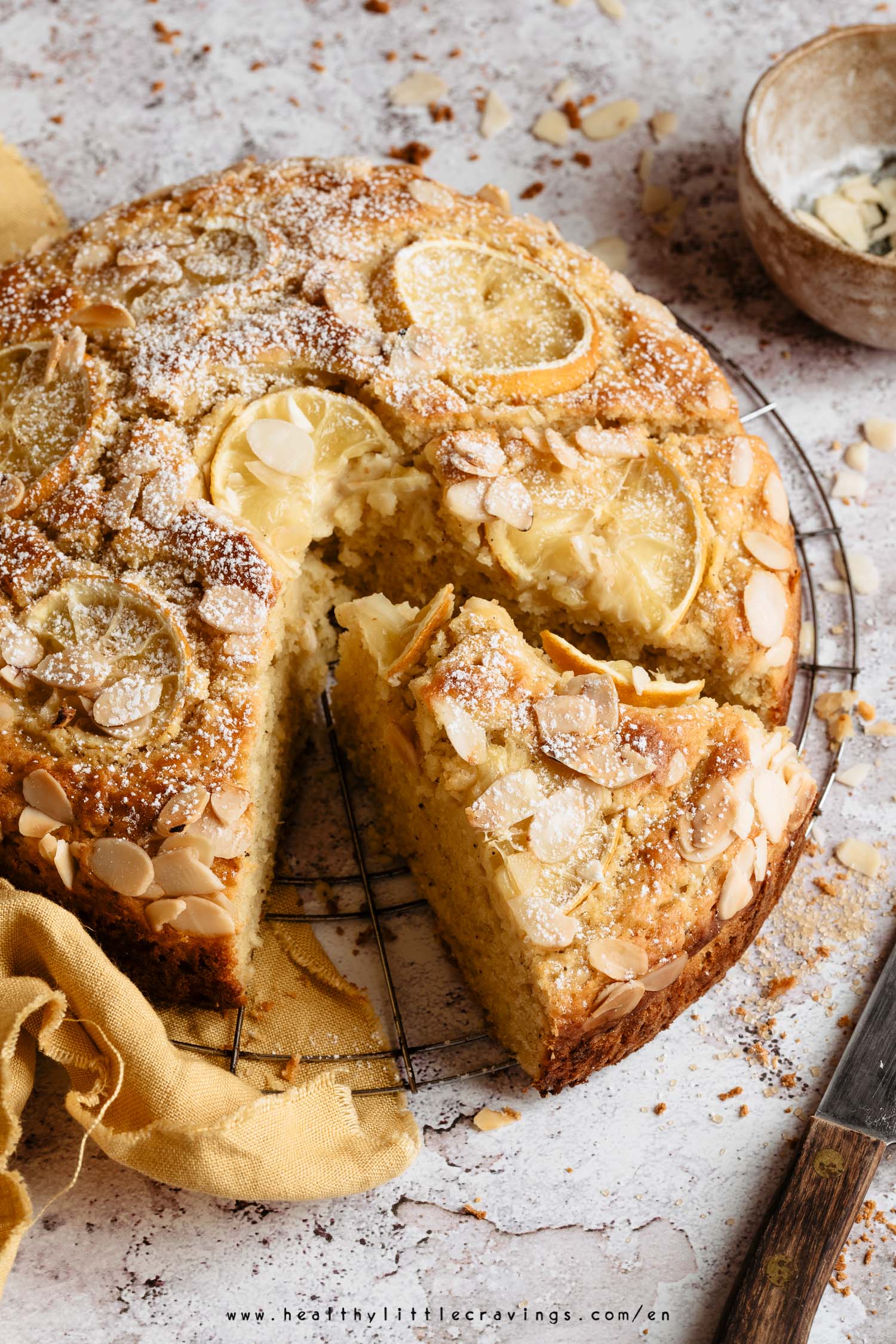 Do you have other questions?
It's not easy to answer all the questions you may have, so PLEASE leave a comment below and I'm glad to reply! Thank you.
Enjoy this simple recipe, a lovely lemon ricotta cake!
---
If you make this recipe, please be sure to give it a rating and leave a comment! It would make me so happy! 🙂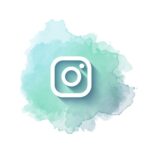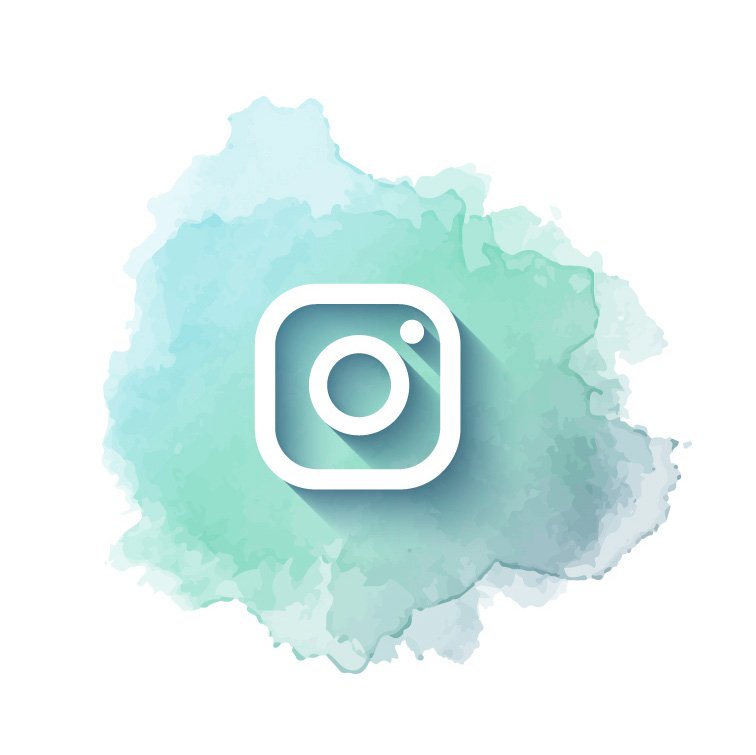 Remember: if you try one of my recipes, tag me on Instagram or DM me the photos!
---
Don't forget to pin and share this easy and delicious recipe!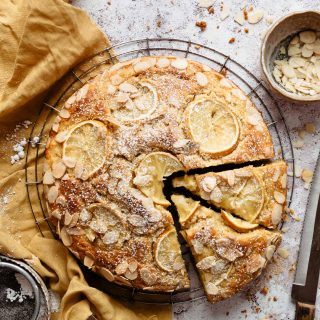 Ricotta Cake With Lemon
A delicious soft cake perfect for breakfast/afternoon snack: lemon ricotta cake with brown butter. So moist and yummy!
Print
Pin
Ingredients
3

Eggs (at room temperature)

250

gr

Fresh ricotta cheese (at room temperature)

Vanilla extract

-

to taste

230

gr

Organic all purpose flour

-

(personally, I've used 'type 1' flour which is not as refined as all purpose)

150

gr

Light brown sugar

15

gr

Baking powder

a pinch

Salt

2

Organic lemons

-

(zest + a bit of lemon juice)

115

gr

Unsalted butter

Almonds to garnish
Instructions
First step: let your butter melt into a small metal pan, then let it brown. If unsure of how to make brown butter, click here.Let cool down.

Preheat the oven at 180° C (355° F).

Using a stand mixer (with whisk attachment) or hand mixer: beat eggs and ricotta until well combined and creamy (about 2 minutes), then add vanilla

In another bowl, mix flour, sugar, zest from two lemons and salt.

Add the ricotta mixture to dry ingredients, then also add brown butter, and gently stir with a spatula just until combined. DO NOT over mix otherwise you'll get a tougher cake.

Now add baking powder and about 30 gr of lemon juice over the baking powder so it forms bubbles. Stir again just to incorporate it.

Grease and dust a 22 cm (8.5 inches) round cake pan. Pour batter into the pan.

Garnish with sliced almonds and bake for about 50-60 minutes.

Let cool down on a cooling rack. Add icing sugar before serving. AMAZING to serve after a meal, or for breakfast.
Notes
HOW TO STORE:
When I bake something a little bit more moist and with fresh ingredients inside, like fruit and ricotta in this case, I like to store it into the fridge inside an air-tight container. Up to 5 days.
---
Loved this cake? Try my carrot cupcakes, easy and delicious for this time of the year!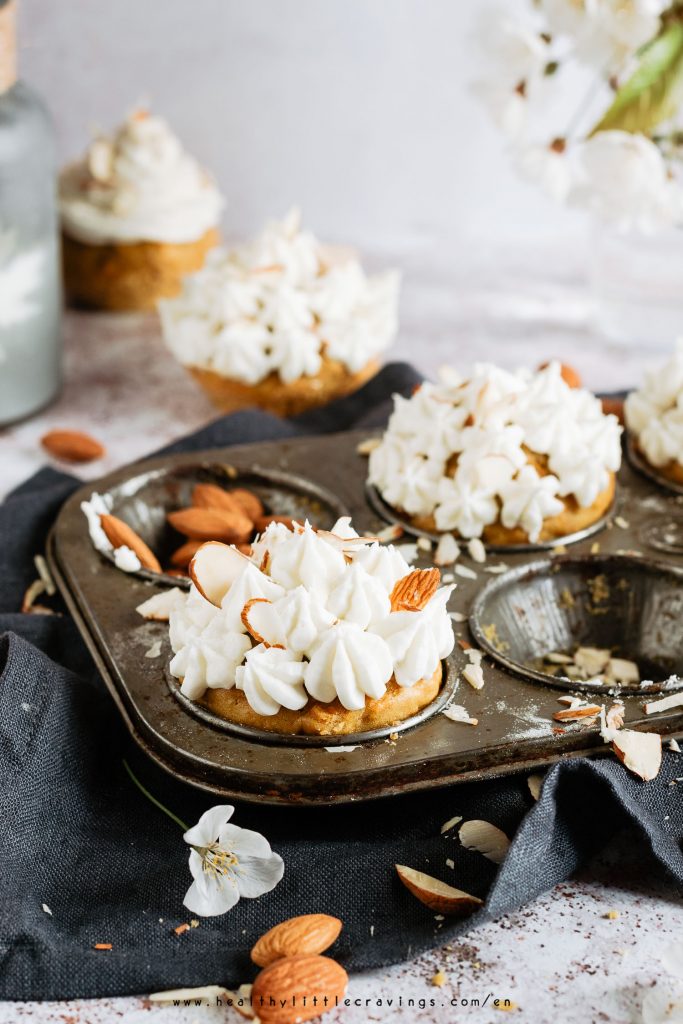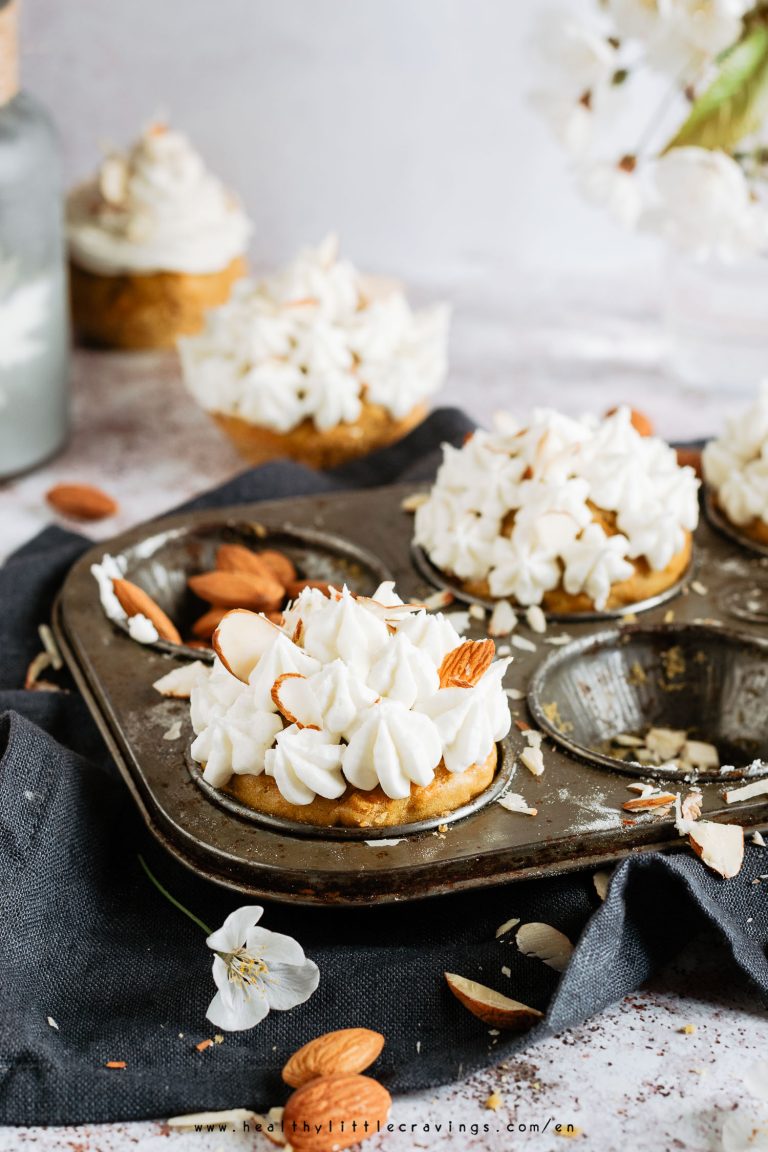 ---
© Healthy Little Cravings – Roberta Dall'Alba.
I own all content and photos' copyright.
Before using my photos and recipes, please email me.
If you would like to republish a recipe, please link back to this post and re-write the instructions in your own words.
---