Are you scared of crème brûlée because of its name? Well, you shouldn't.
You may think it is a difficult dessert to make and that you need fancy equipment. No worries, if you don't have a torch, I have a solution for you!
Dear friend, today we're going to learn how to make crème brûlée easily, without cream and without refined sugar!
Ready?
[Recipe is adapted from Paleo Lemon Crème Brûlée by What Great Grandma Ate]
How to make crème brûlée without...cream!
Really quick premise: a couple of weeks ago I was participating in a food photography challenge on Instagram. The theme, on day 2, was usage of the "shades of the same color".
So I decided to make crème brûlée to play with orange and yellow.
You maybe know original crème brûlée calls for yolks, cream, sugar and vanilla.
Problem: I didn't have cream at home, and I had to make it ASAP. Ok - I thought - I'm going to use coconut milk instead. I found this simple recipe on What Great Grandma Ate and decided to make it.
But then I remembered I had to use the last can to make chickpea curry.
*arggg*
You know, though, that life is all about troubleshooting, right? Well, I had exactly a cup of milk left, to which I added half a tablespoon of organi all purpose flour and... TADAAAAAN! Who needs cream when you have those 2 ingredients?? (kidding, not my intention to insult traditional crème brûlée recipe!)
Participating in a food photography challenge doesn't mean the recipe has to be good. But I've been pleasantly surprised when I realized this dessert was not only beautiful to photograph, but also delicious. So, I had to share it.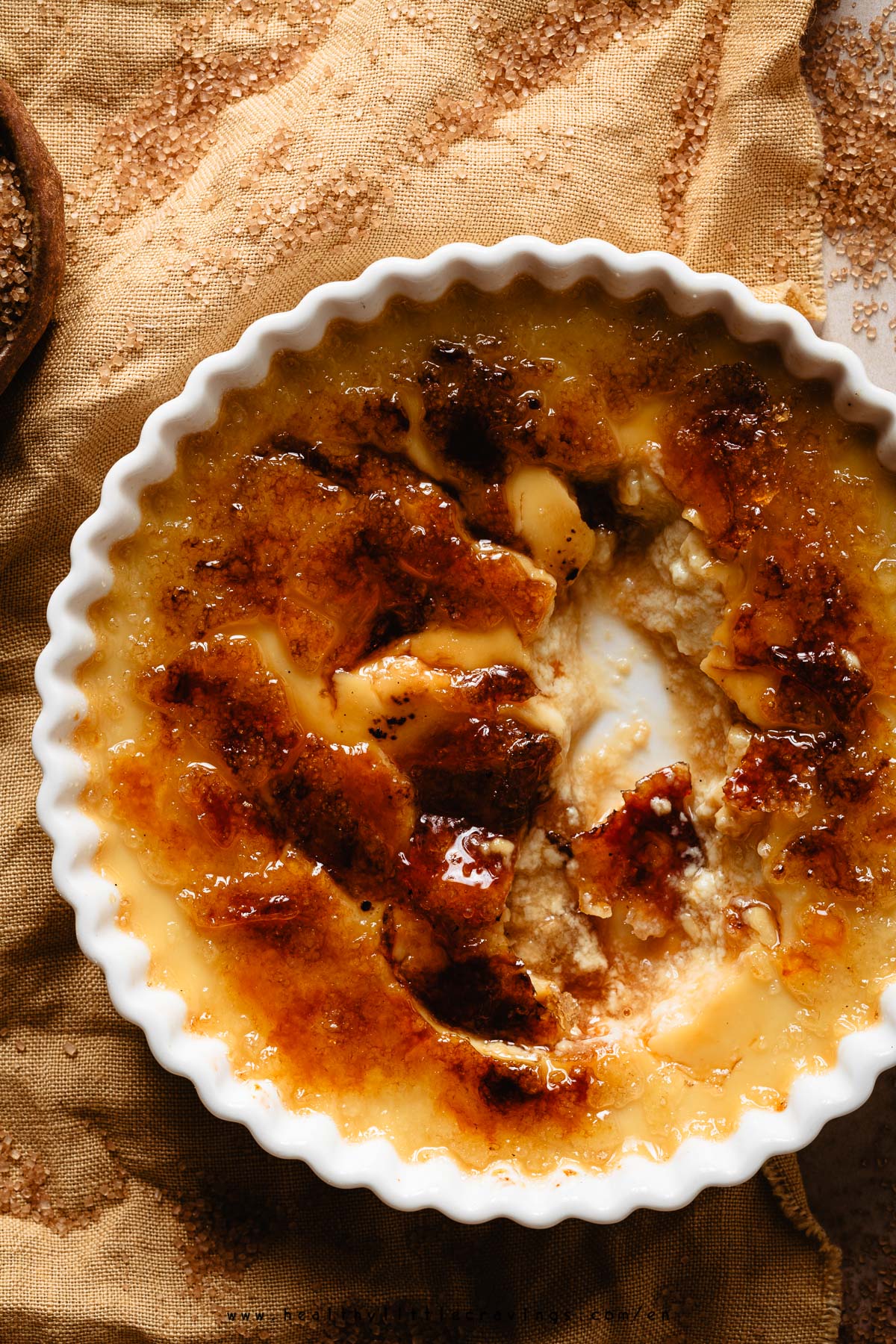 Essential steps
To make my easy crème brûlée, the essential steps are (make sure to watch the video below!)
Combine egg yolks (at room temperature), vanilla and lemon zest (from organic lemon), give a quick stir;
Into a pot, add flour, milk and honey, stir and bring to a simmer;
Add it to the egg mixture to temper them, and - this is optional - use a mesh strainer to strain the batter.
Pour it into one or more ramekins, depends on the size, (remember the water bath! A humid environment is key), bake. Then let cool down.
Use a torch - or your oven's broiler - to caramelize the sugar.
And you're done!
The thing I love more? You can prepare it in advance, then torch it in front of your guests (but be careful!!!) and serve!
The extra touch? Red currants. Perfectly balance the overall sweetness.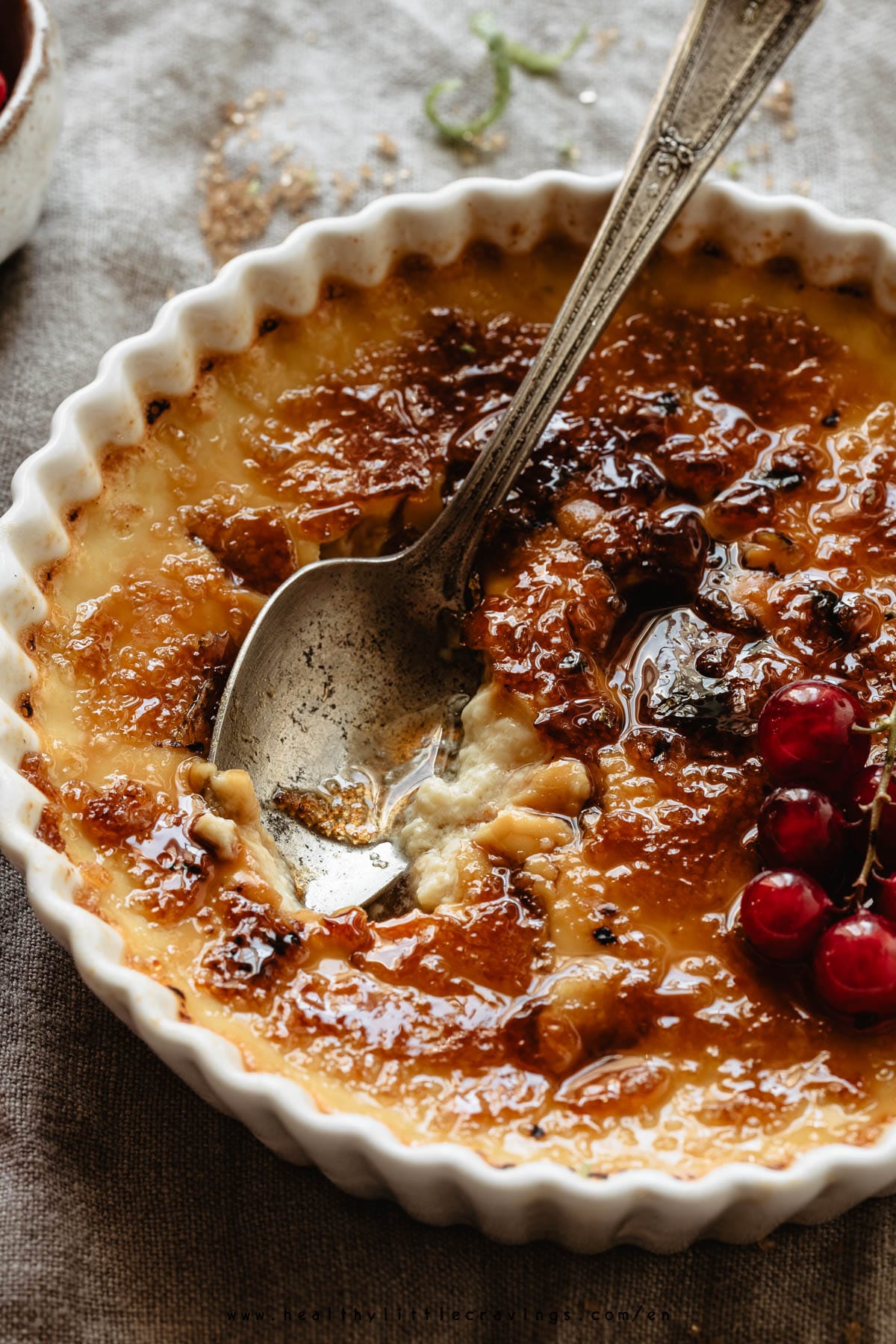 Fun-fact: is this dessert French or not?
I did a bit of research and what I found out is, well...nothing is sure!
I found that "England, Spain and France all claim to have created the first version of the famous crème brûlée."
If you think about it, England has custard, Spain has crema catalana.
But they say that one of the very first recordings of crème brûlée in its French form, was in 1691, when François Massialot, the King's cook, wrote it in a book.
And, since I like the sound of crème brûlée, I will think of it as a French dessert!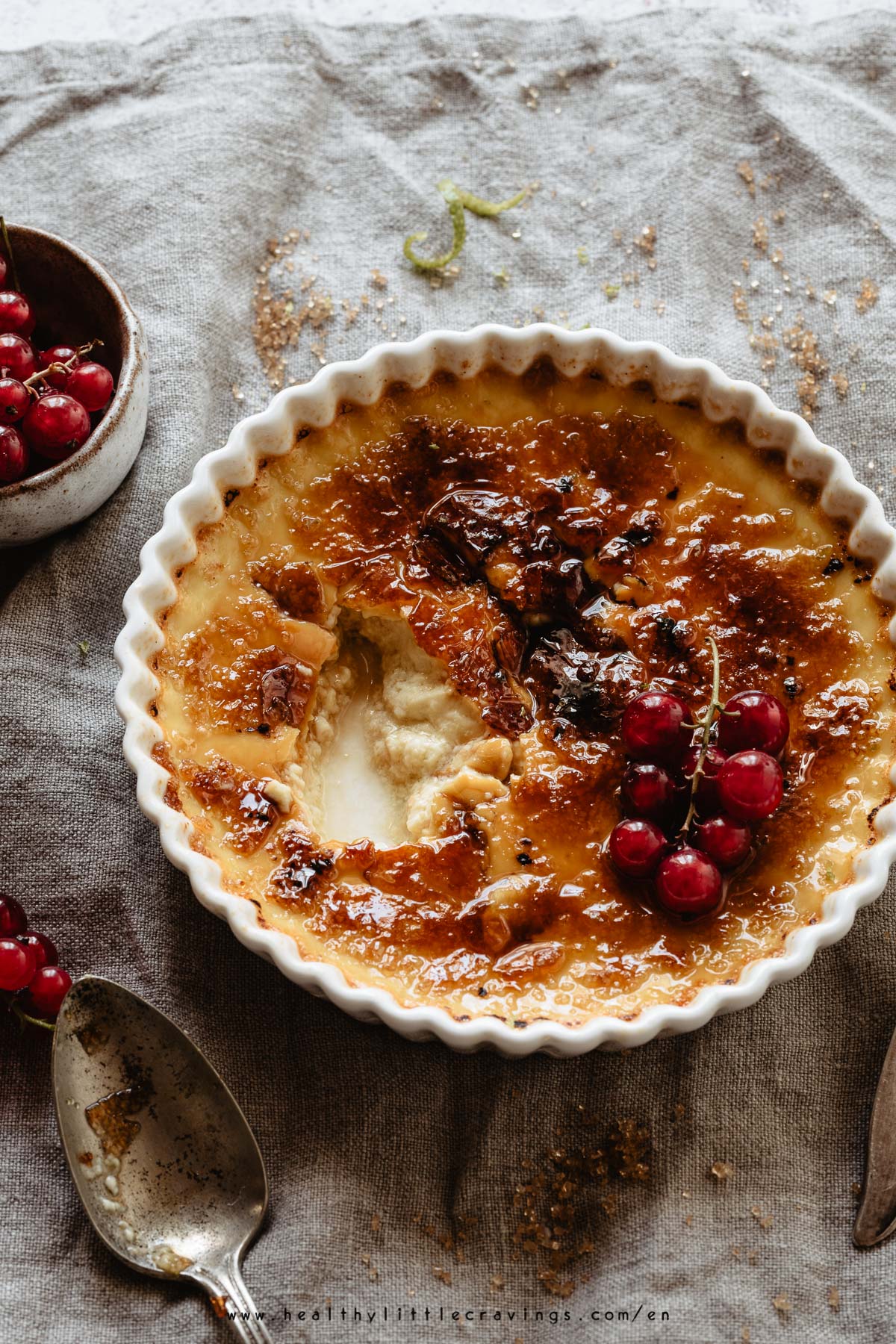 How do you make a water bath for creme brulee?
This step - the water bath - is really important. Don't skip it.
In my case, what I've done (watch the video) is I've used a deep brownie pan, because I didn't have any other pan for this purpose. If you use more ramekins though, you can use a larger pan. But it has to be quite deep.
Do you have to wait for crème brûlée to cool, before torching?
Yes, you definitely have to wait before torching, otherwise the sugar will melt and you don't want that!
Prepare your crème brûlée in advance, then caramelize the sugar right before serving.
What can I use if I don't have a crème brûlée torch?
Easy-peasy: use your oven!
Put the ramekin under the broiler for a few minutes, until your sugar has caramelized. Keep an eye on it, don't leave it alone.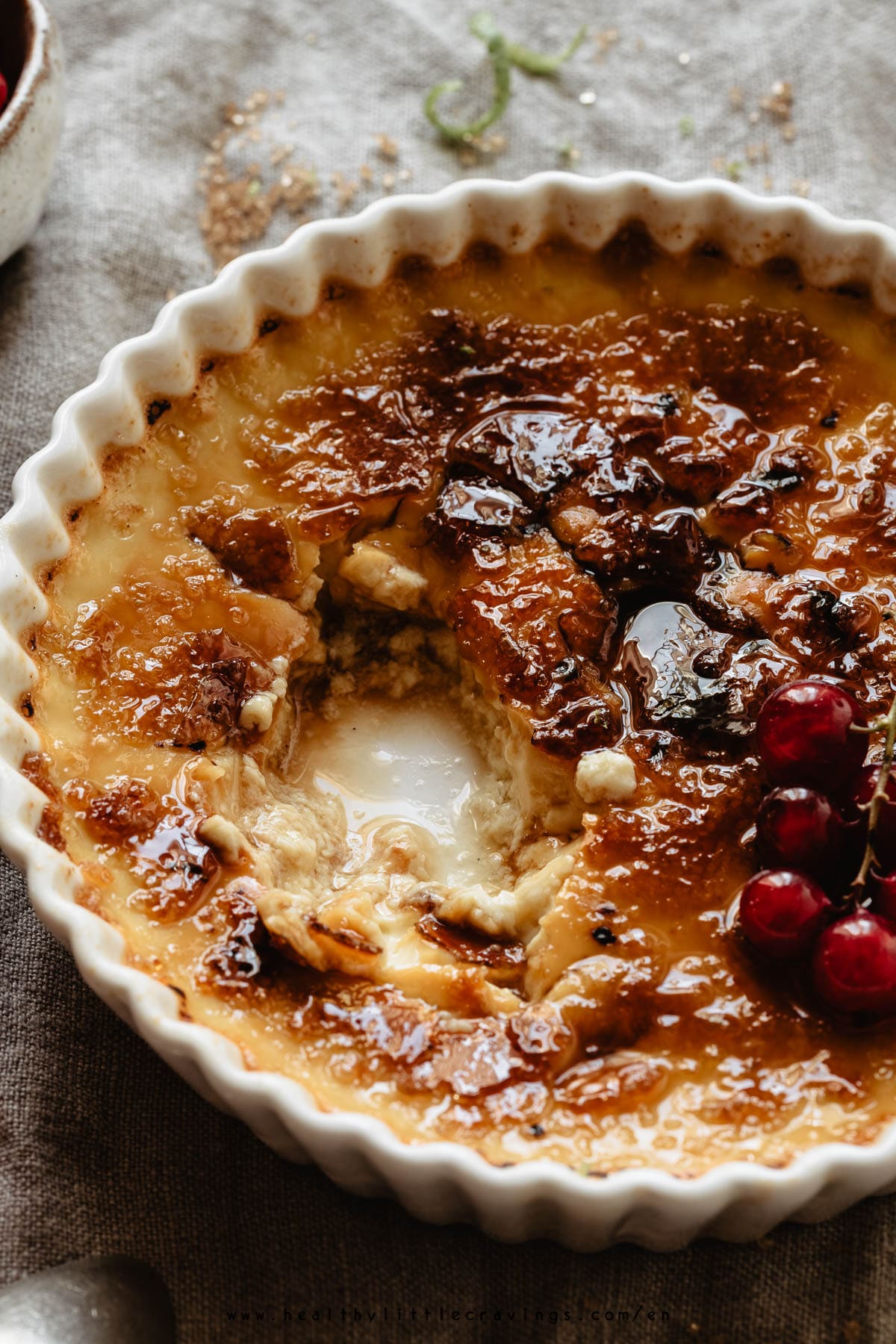 ---
Do you have other questions?
It's not easy to answer all the questions you may have, so PLEASE leave a comment below and I'm glad to reply! Thank you.
---
If you make this recipe, please be sure to give it a rating and leave a comment! It would make me so happy! 🙂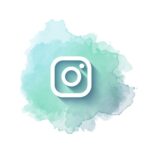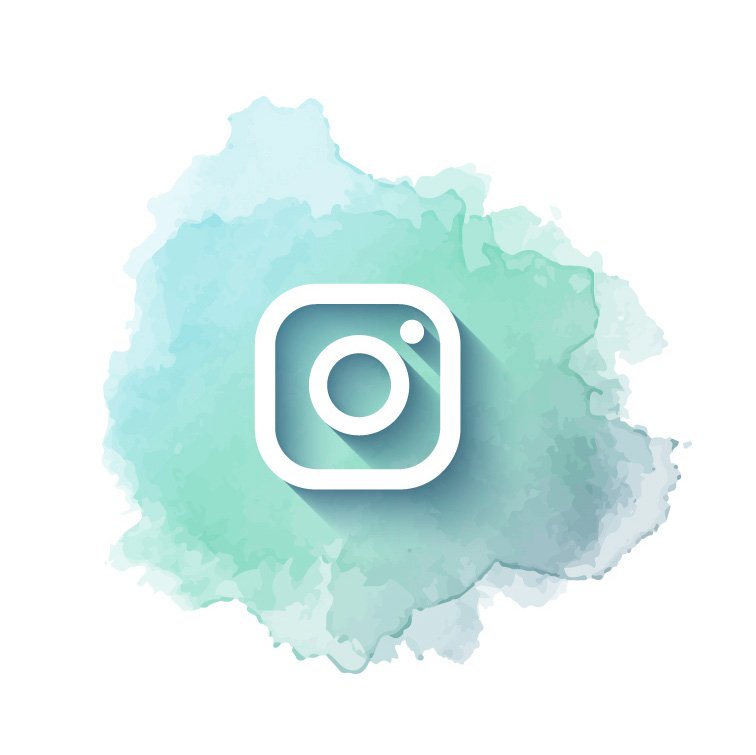 Remember: if you try one of my recipes, tag me on Instagram or DM me the photos!
---
Don't forget to pin and share this easy and delicious recipe!
REFINED SUGAR FREE CRÈME BRÛLÉE WITH NO HEAVY CREAM
Despite its name, crème brûlée is actually a pretty easy dessert. You will only need a few accessible ingredients. This is made with honey instead of sugar, and milk instead of cream.
Print
Pin
Ingredients
2

Egg yolks

1

teaspoon

Vanilla extract

Half

Lemon (zest )

½

tablespoon

Organic all purpose flour

1

cup

Milk

-

210 gr

1.5

tablespoons

Honey

-

20 gr

a pinch

Salt

2

teaspoons

Raw brown sugar or cane sugar

Red currants to garnish (it balances the sweetness)
Instructions
First: did you know you can BOOKMARK this recipe and others so you can find them more easily?:) Takes seconds: you can log in (also w/ gmail) via that small icon on the right bottom corner.
For the crème brûlée:
First, preheat your oven at 320° F (160° C)

Bring a pot of water to a boil (at low heat so in the meantime you can prepare the crème brûlée batter).

In a bowl, combine egg yolks, vanilla extract and lemon zest. Slightly whisk.

In a small pot, put half a tablespoon of flour, then pour a drop of milk, enough to combine them and prevent lumps. Add the rest of the milk, honey and salt and whisk.

Bring to a simmer and turn off the heat.

Add the milk into the egg mixture and immediately stir.

If you see lumps or you don't want your lemon zest into the crème brûlée, use a mesh strainer to strain the batter.

Pour into one or more ramekins (it depends on their size).

Put them into a baking pan (I've used a deep square brownie pan), and pour the boiling water into it so it comes halfway up the sides of the ramekin. (watch video)

Bake it for 50 minutes. You will know it's done when the edges are firm and the middle is a bit jiggly.

When ready, use a large spatula to remove the ramekin, and place it on a cooling rack. Let cool down, then put it into the fridge for about 2 hours.

When ready to serve, sprinkle 2 teaspoons of sugar over the crème brûlée, then torch it.

Alternatively, place the ramekin under a broiler for a few minutes, until caramelized.
---
Want a more Summery dessert? Check out my no churn ice cream (lots of flavors' suggestion inside)!
---
© Healthy Little Cravings – Roberta Dall'Alba.
I own all content and photos' copyright.
Before using my photos and recipes, please email me.
If you would like to republish a recipe, please link back to this post and re-write the instructions in your own words.