My favorite weeknight dinners? The quick ones! And easy ones, of course. Ok, but they also have to be satisfying, flavorful and healthy. Made with wholesome ingredients.
What if I told you these grilled turkey burgers with caramelized onions have 4 ingredients (+ onions) and are so simple and quick to make?!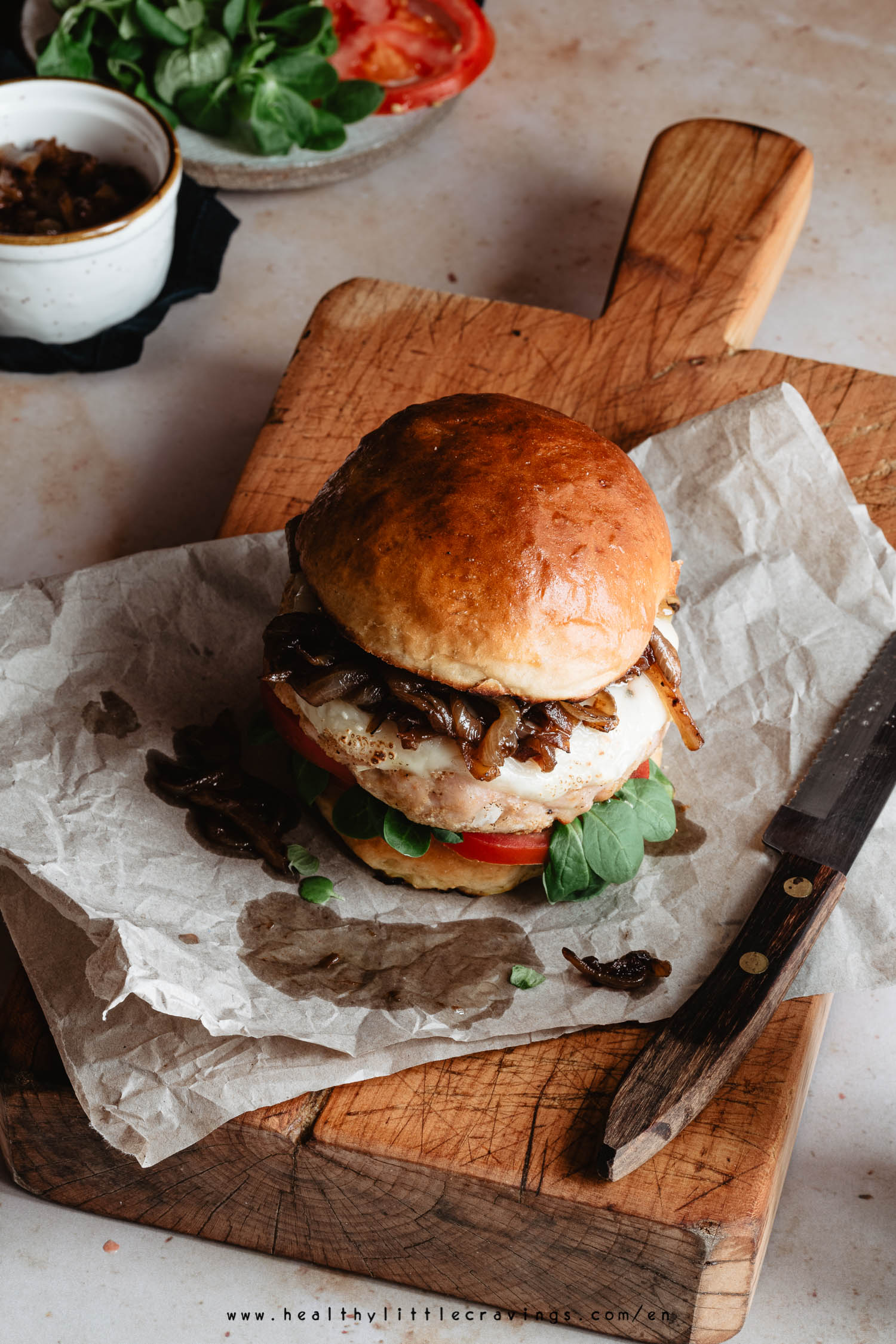 How to make grilled turkey burgers?
Ok, I have to confess: I don't go crazy for meat and that's because I don't like cooking it.
Maybe the problem is that I used to cook it too much (I was afraid of getting sick from eating undercooked poultry, yup) and you know that overcooking is enemy to meat.
As a result: overcooked meat = tough meat = me doesn't like it = me gives up. Oh but I didn't give up on these.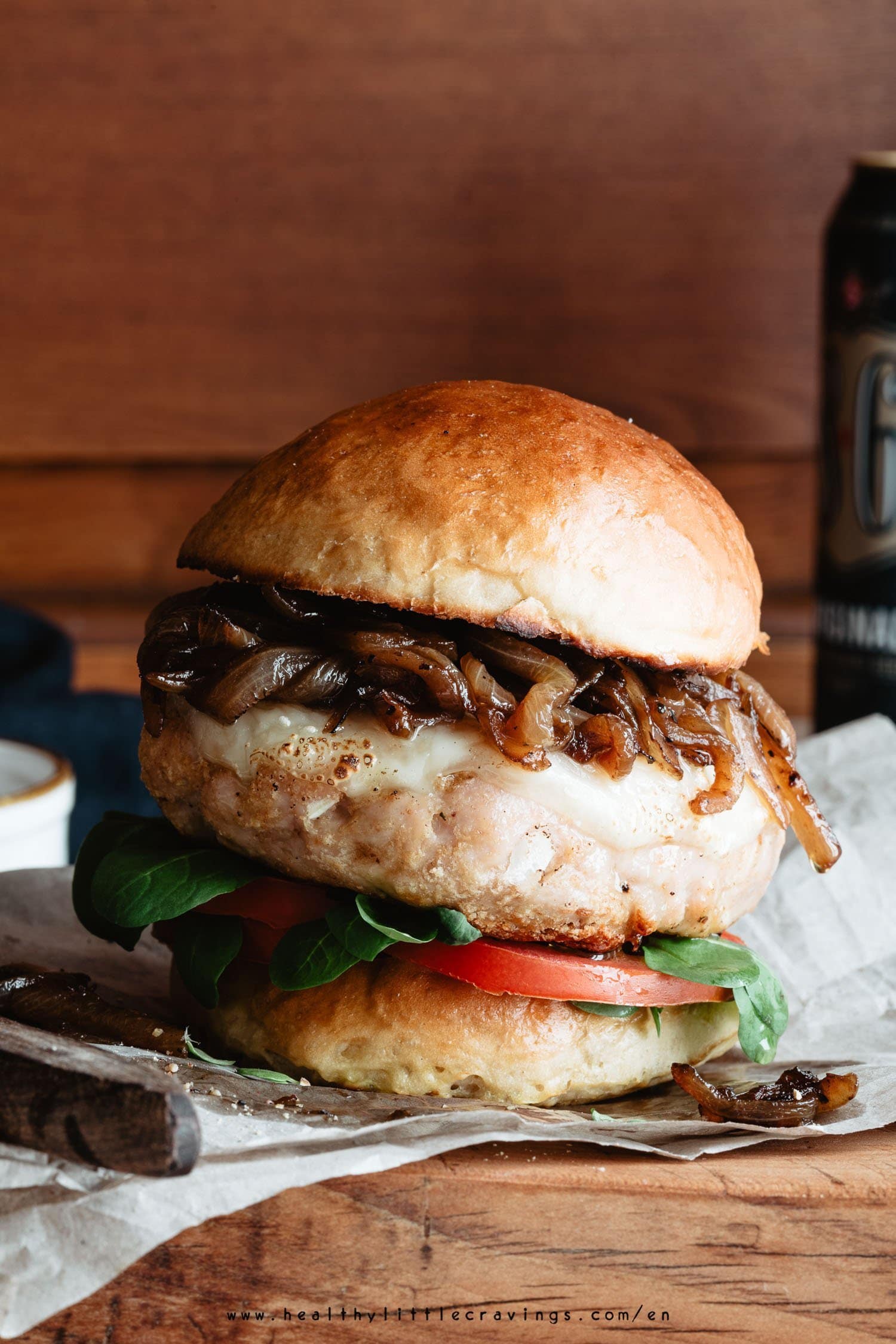 These grilled turkey burgers turned out perfect each time I made them (ask my boyfriend!).
I love the touch Dijon mustard gives: makes the mixture slightly more moist and the flavor more spicy.
Another thing you can do to make them more juicy is to use oil into the mixture.
To keep it more "light", though, I don't use any oil, neither into the mixture nor on the grill pan (also, remember there's extra virgin olive oil in the caramelized onions!)
---
Making these burgers is extremely easy and quick, my friend. You will only need one bowl, four ingredients, three steps and 20 minutes!
Combine all the ingredients into a bowl, mix well with your hands and form into 4 patties.
Heat the pan at medium high heat, then lower to medium.
Now grill your patties for 4-5 minutes each side. Try to flip them just once.
---
For the caramelized onions: follow this recipe, my absolute favorite!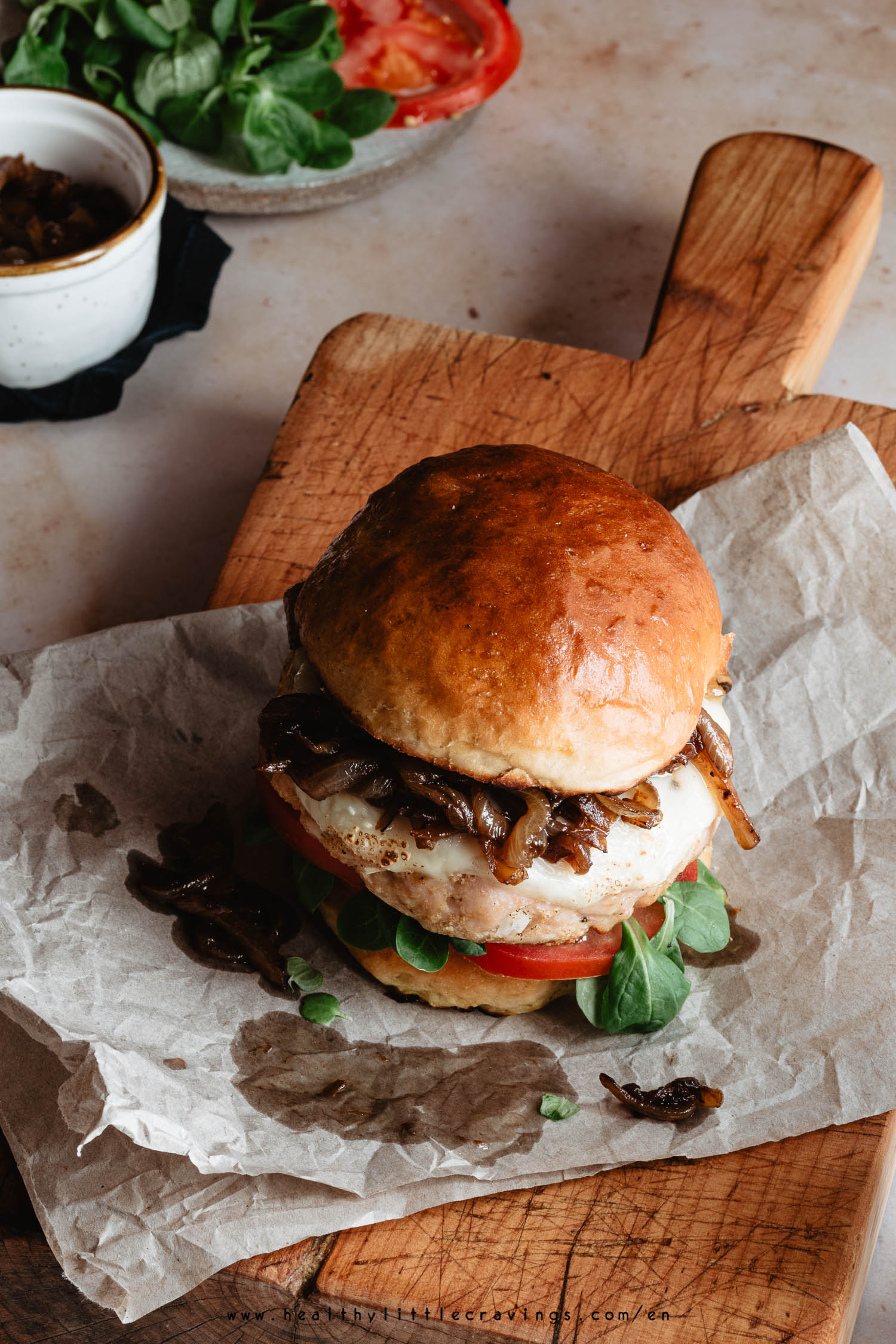 How long to grill turkey burgers?
That's a tough question (IMHO).
Because poultry meat has to be fully cooked in order to be safe, they say 160 degrees F (approximately 71° C) is the ideal internal temperature and indicates doneness. Reference: read this chart.
Certainly, the best thing is to have a thermometer (which I regularly use in the kitchen and I find SO handy, not only for this purpose).
In case you don't have a thermometer yet: first consider buying one, and second try to "train" your eye.
If the burger still looks pink, keep cooking (duh). If you've cooked it for about 5 minutes each side and it still seems undercooked on the sides, keep cooking.
BUT: everything also depends on the size of the burgers right? The patties you see in the photos took a bit more than 5 minutes each side to cook, and that's because I made them too thick (about 200 gr each).
Instead of dividing the mixture into two parts, try to make them thinner (approximately 100 gr each).
If you are still hesitant, cut your burgers in half and simply check the doneness in the center.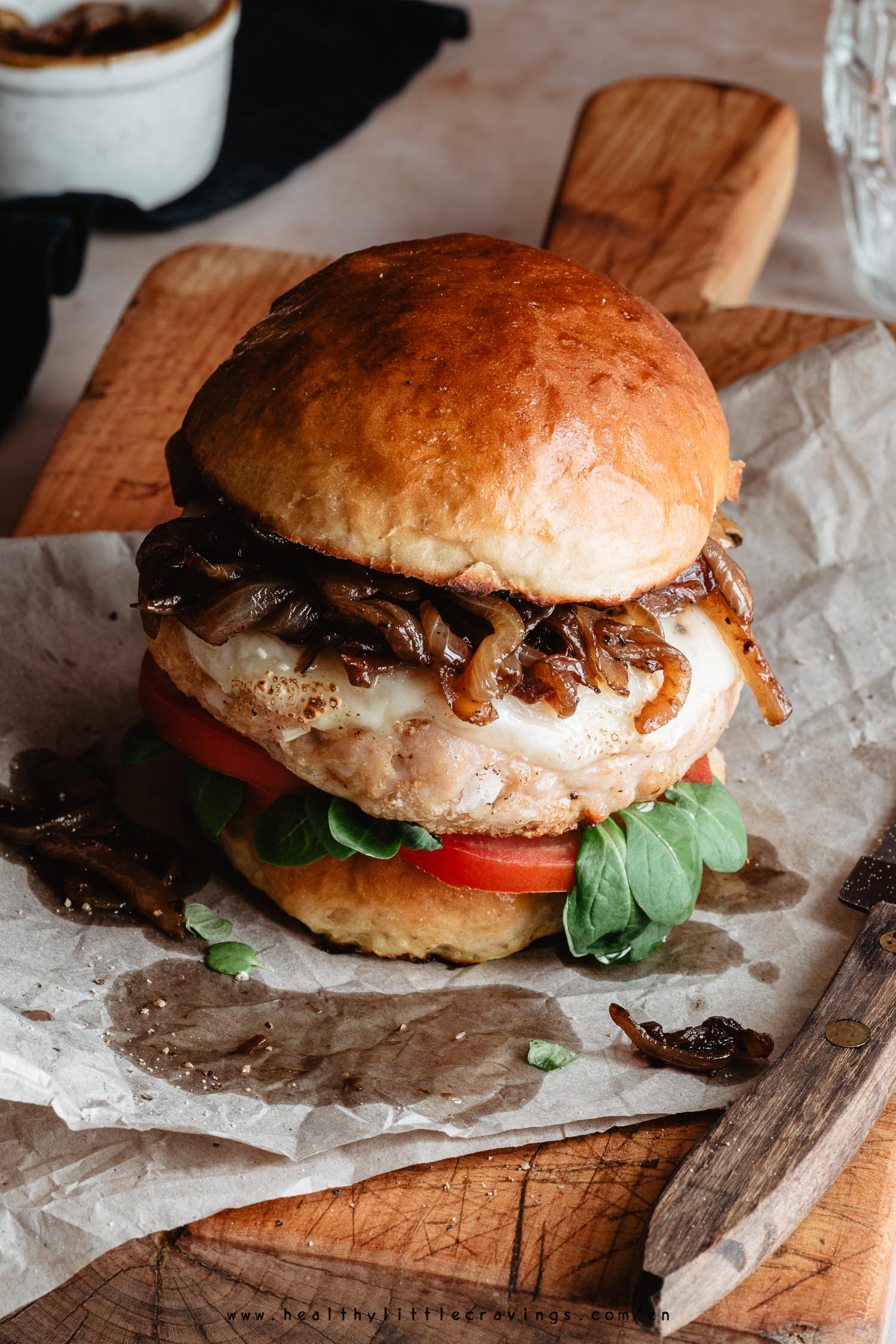 Can you freeze turkey burgers?
Of course you can!
Form the patties then use plastic film to wrap them. Put them into freezer bags and freeze.
My mom uses a burger maker: she uses parchment paper on both sides of the patties, then freeze.
What to do with leftover thanksgiving turkey?
Well, these healthy turkey burgers! Instead of using turkey mince, use cooked turkey + mustard + salt + breadcrumbs. Blend together and if too dry, add an egg and/or oil!
Easy-peasy.
---
YOU MAY NEED…
The following are affiliate links which means I make a commission off of them with no additional cost to you. Thanks for supporting me!
To grill my burgers I usually use a grill pan like this. Buy the best one you can find!
---
If you make this recipe, please be sure to give it a rating and leave a comment! It would make me so happy! 🙂
Remember: if you try one of my recipes, tag me on Instagram or DM me the photos!
---
---
Don't forget to pin and share this easy and delicious recipe!
---
Liked this recipe?
I think you will LOVE these GRILLED SALMON BURGERS!
---
© Healthy Little Cravings - Roberta Dall'Alba.
I own all content and photos' copyright.
Before using my photos and recipes, please email me.
If you would like to republish a recipe, please link back to this post and re-write the instructions in your own words.