Alert, hot topic!
Today we are talking props, more precisely food photography props and where to find them.
Feels a bit magical, like J. K. Rowling and her Fantastic beasts. Right?
Well, my friend, finding the perfect props and building a collection without spending an arm and a leg, is almost a matter of magic. Or luck. Or savvy.
This post will be helpful (hopefully!) especially for those of you who are just starting out.
I'm gonna share some tips on how to build your collection, based on my experience and my mistakes. Because yes, it's easy to fall into the "cute-but-useless-prop" trap! And I wish someone told me that, years ago.
---
What you'll find in this post
---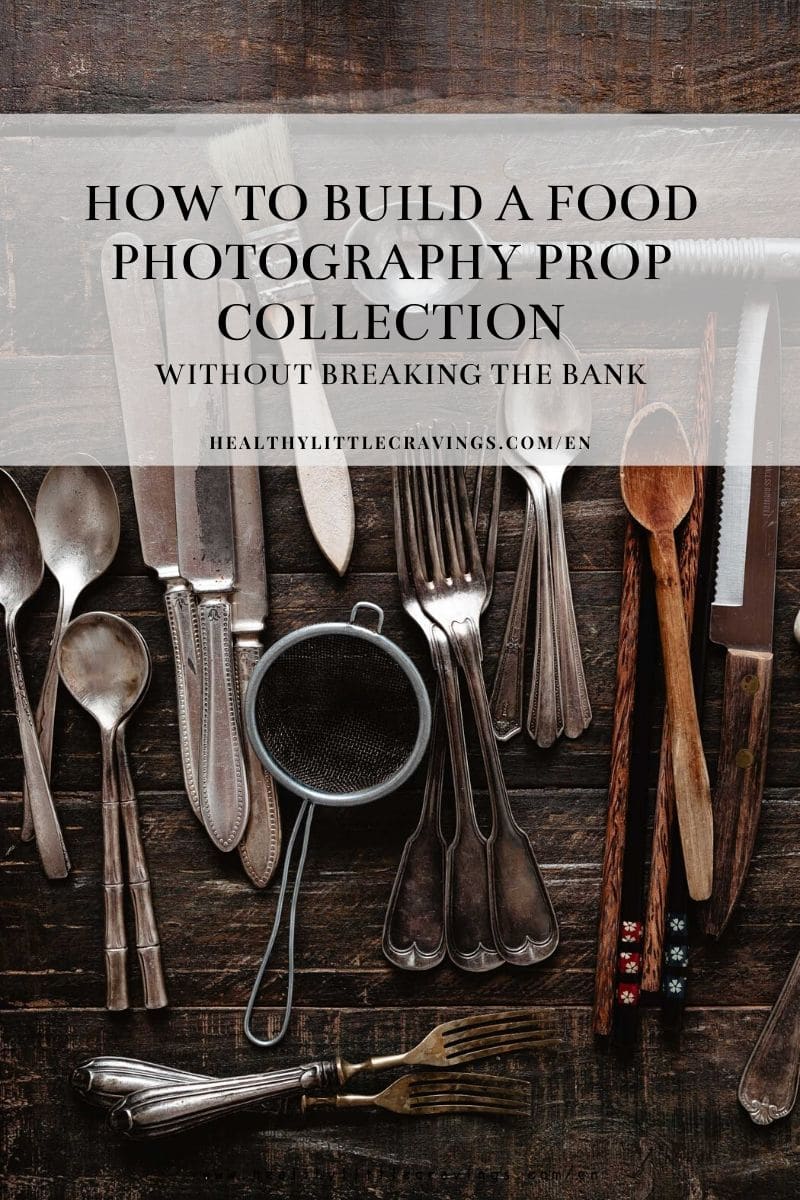 Do you really need that prop?
If you're starting out, this is exactly the starting point.
You NEED to sit down (well, not literally), take a piece of paper (notes on your phone are ok), think, then write things down (like what you really need).
Ask yourself: "do I really need this prop?"
There are some things you need to consider before losing your head and buying alltheprops.
What is your style? OR what is the style you aim to?
Example: my style is kinda rustic (see the bowl below?), so I really love incorporating vintage props (bowls, cutlery, tins...) into my photos.
But I didn't know that at the beginning, so now I have a few pieces that I never use.
Do you prefer a "cleaner" look for your photos? Then choose more "neutral" props, not necessarily vintage (but still matte, remember).
If you're still developing your style, try to analyze other people's photos and what you like most. What's the style you're aiming to? Decide what to buy accordingly (but remember style evolves).
What do you usually photograph: savory or sweet?
In my case, I usually shoot both savory and sweet. Therefore, I need a combination of things that I'll use in both cases (I can use pie tins, for example, for both savory and sweet pies).
If you shoot savory, like pies, soups, pasta, salads, meat etc, you'll need bowls, plates, bigger cutlery, maybe a pie pan...
If you usually shoot sweet, you'll probably need a cute muffin tin (example), smaller cutlery, smaller plates...
How gorgeous is this pie pan? (unluckily I have 3 of them and I always use the same).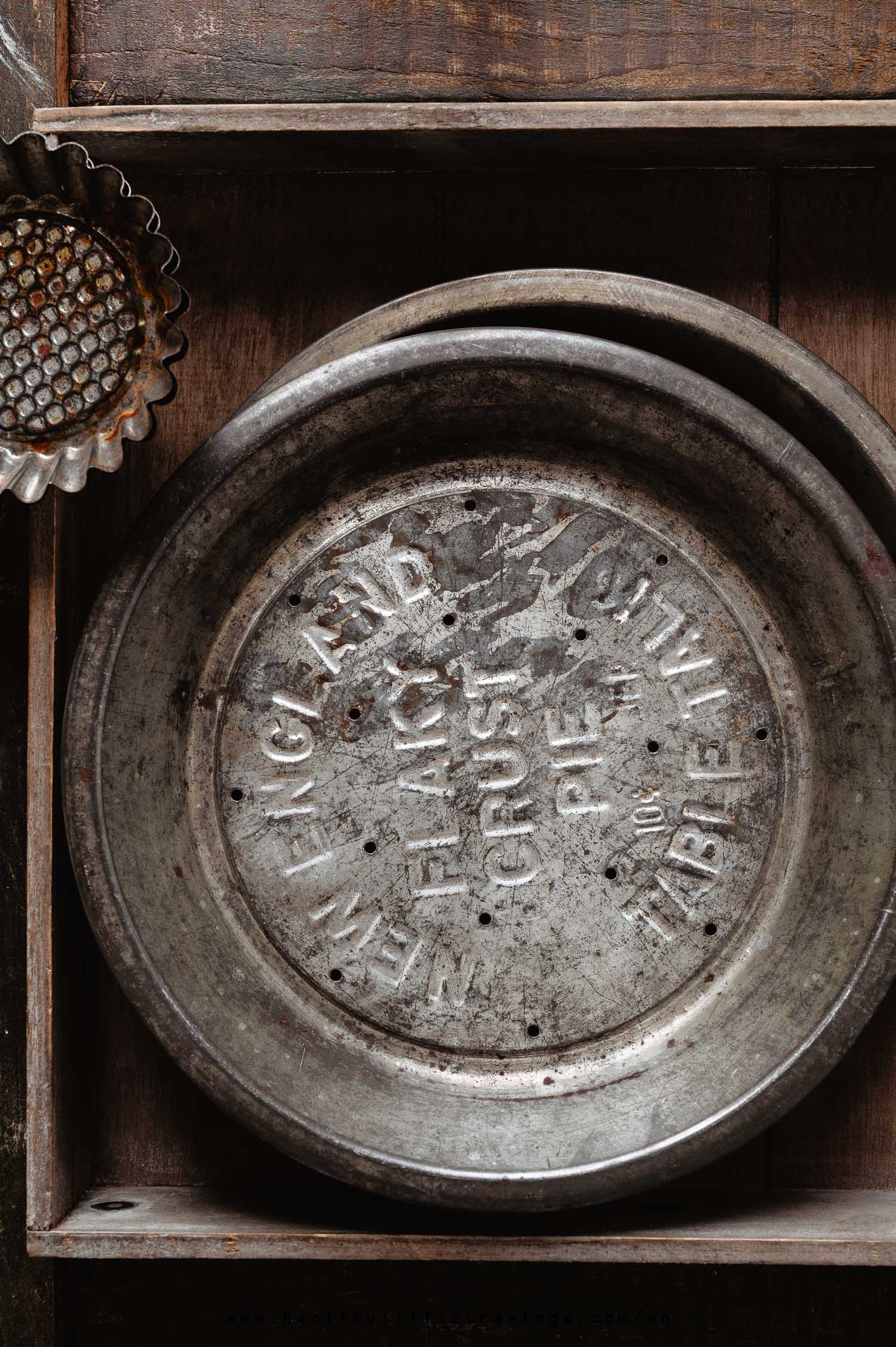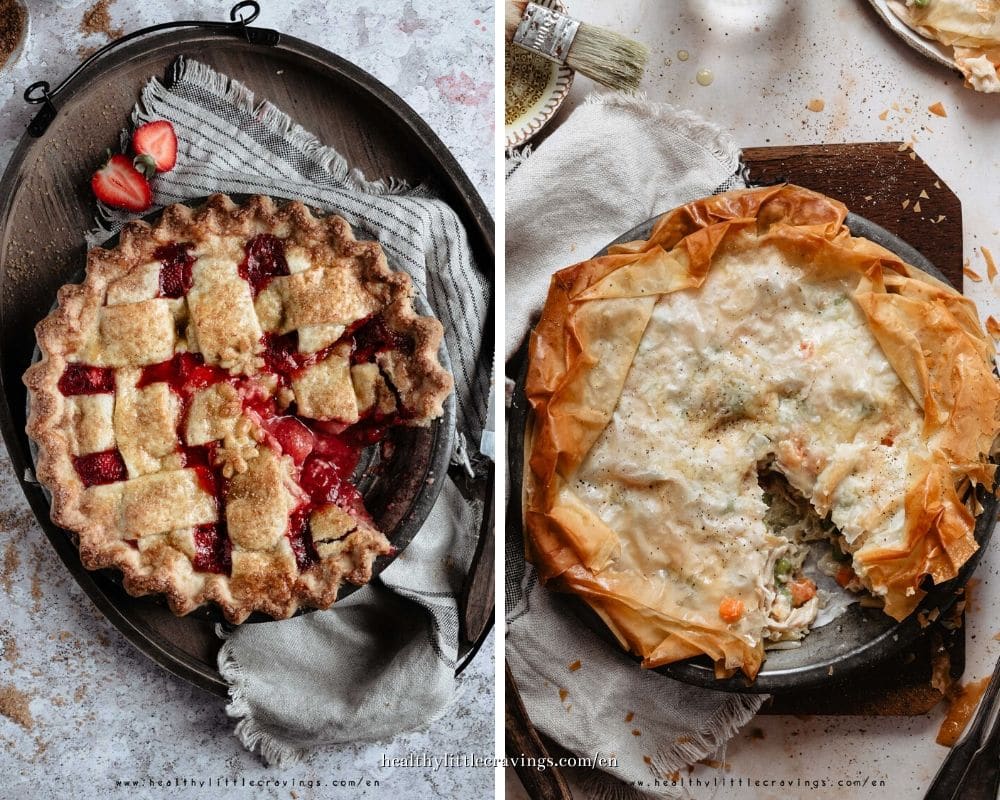 Is it versatile?
I can use a pie pan for both savory and sweet pies, right? That's what I like! Versatility. Props I can use over and over.
In this photo, I've used my vintage pie pan as a serving dish for falafel. Cute, eh?
Do you usually shoot with a macro lens or do you prefer "wider" scenes?
Yep, things change! If you love wider scenes, you'll need a larger amount of props too (unless you go minimal - example).
If you LOVE your macro lens like me instead, then at the beginning you'll need just a few pieces (or no props at all!)
---
WANT TO LEARN MORE? BOOK A SESSION! IT'S TAILORED TO YOUR NEEDS!
---
Do you already have something similar?
My suggestion is to avoid having too many pieces of the same prop (avoid sets of plates, sets of cutlery...).
Look at this photo. I have too many knives (I have 6, not 3), and I usually use one or two. In this case I'm definitely not a good example.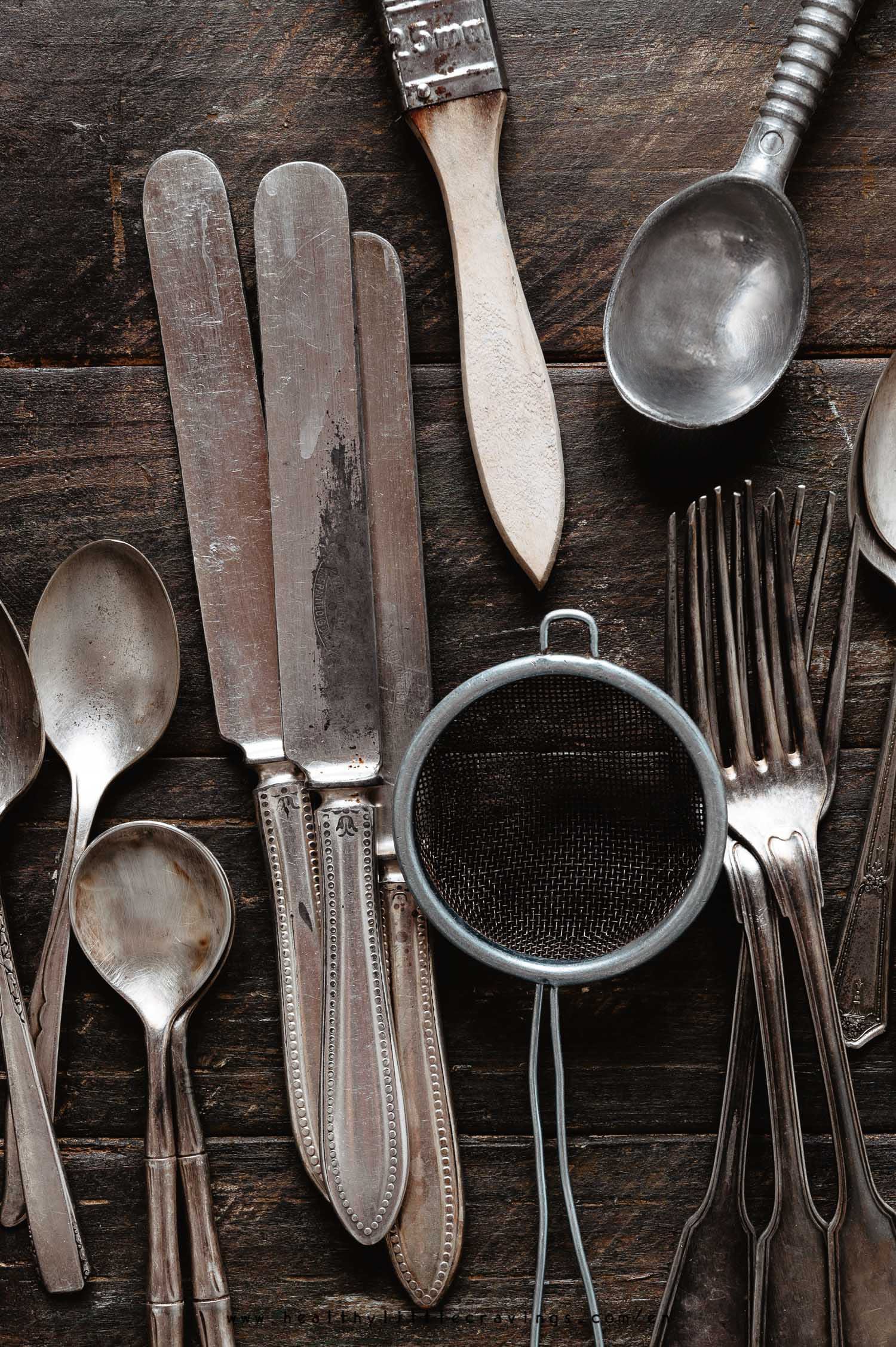 So if you really need to buy forks, spoons and knives because you don't have any, my advice is to buy 3 of each, maximum.
BUT, if you can only find sets (I recently bought a set of loaf pans because it was convenient compared to buying a single one), consider giving them away to other photographers like you.
Is it "too much"? Is it distracting?
Remember what you're photographing: FOOD, not props. Your props are just an "addition". They contribute to tell a story, but they are not the main characters.
So, avoid pieces that are "too much", too distracting.
Cheap VS "fancy"
In general, also in life, my philosophy is "it's not the quantity but the quality, that counts".
Same with props. I prefer spending 25 € for one gorgeous handmade ceramic bowl, than 8 € for three cheap bowls that aren't that cute.
That being said, I'm not saying you NEED to spend money in fancy props.
There are dozens of cheap pieces out there with a decent quality and "performance" (= looks good in photo).
This is the latest addition to my collection, and it's from IKEA (it's called Gladelig). It was only 6 €.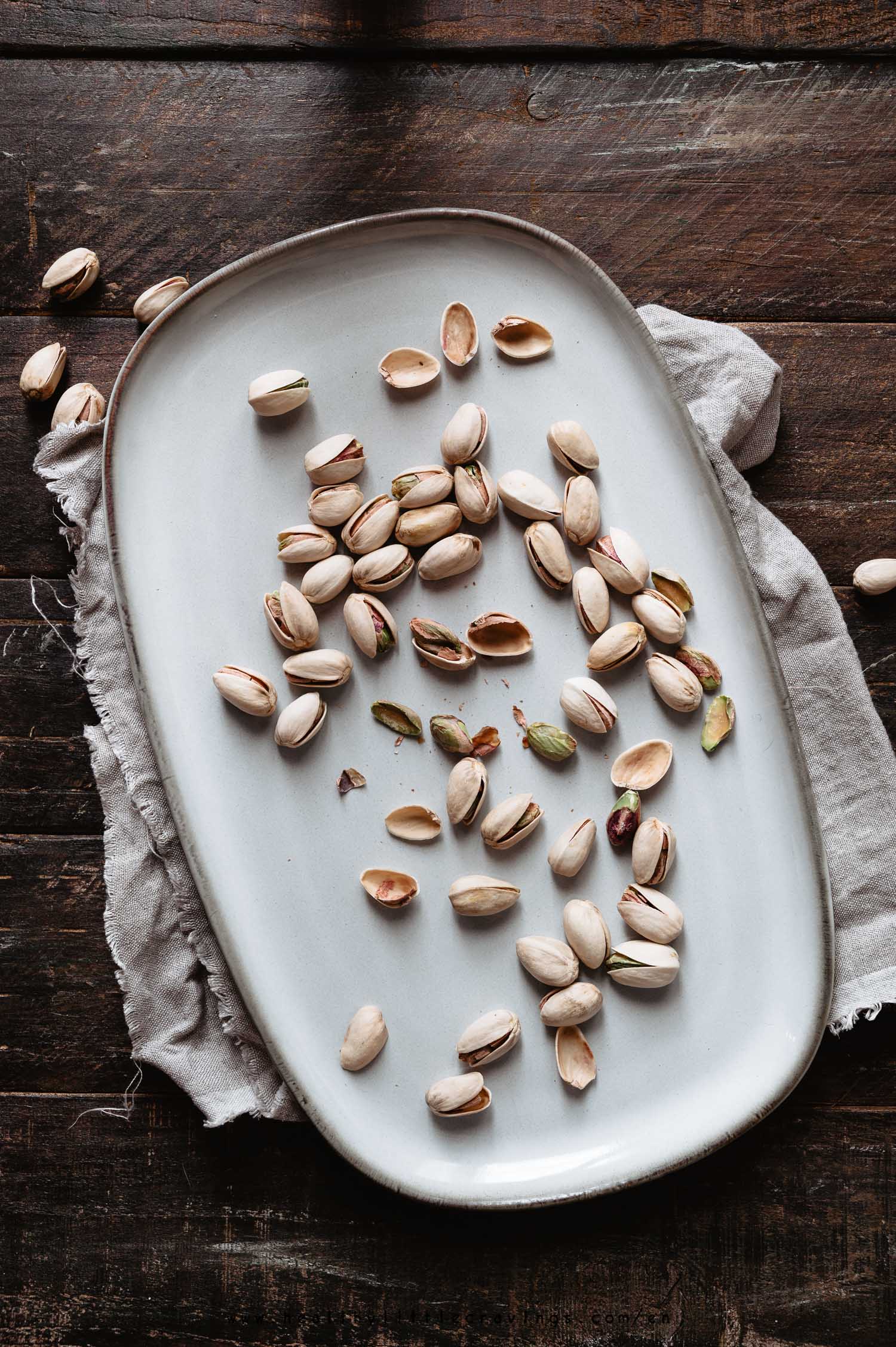 Same with these bowls: they were cheap (3-4 €), but I still use them!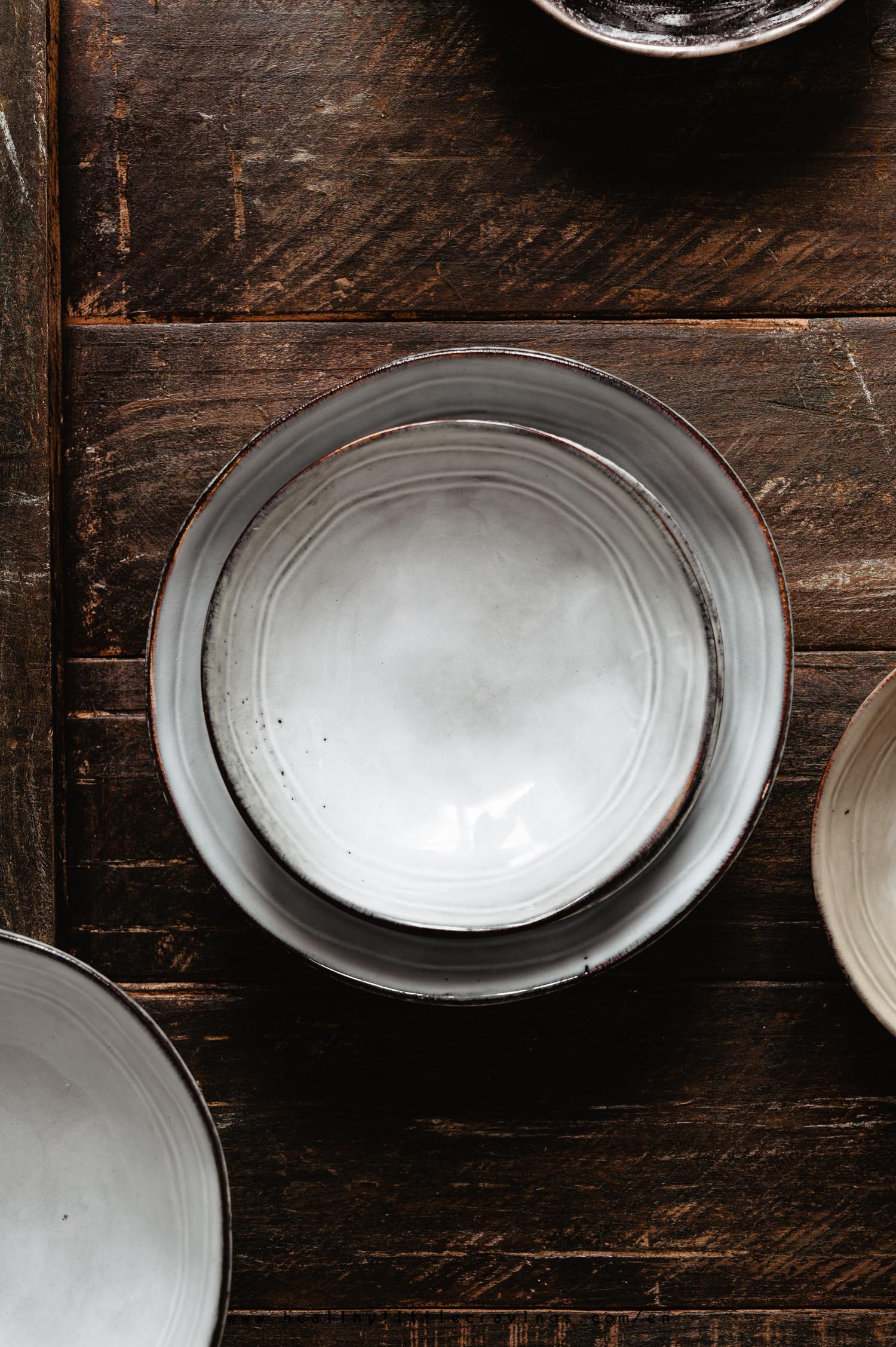 Right now, my food photography props' collection is a combination of high quality pieces and cheaper (but nice) ones.
What I'm saying is: aim to quality, niceness and "performance" not quantity.
At the beginning, I used to buy too many cheap props, that maybe I didn't even need (or like). No good for your pocket, believe me.
---
If you find cute props around, remember to tag me on Instagram! I'd love to see them!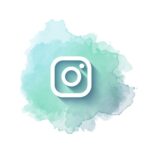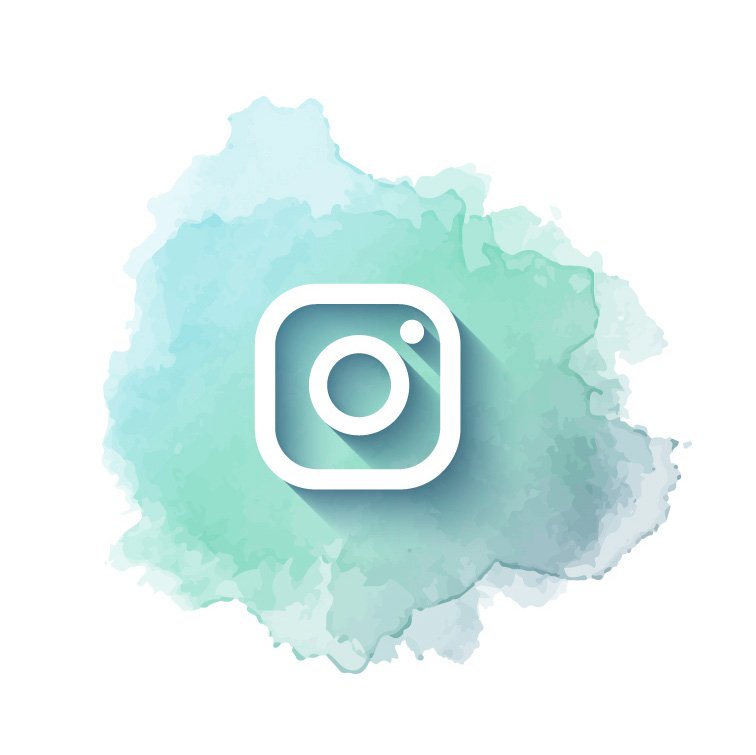 ---
These black bowls? Perfect for soups, but also granola/yogurt. Price? I think they were 3 or 5 € each at Flying Tiger.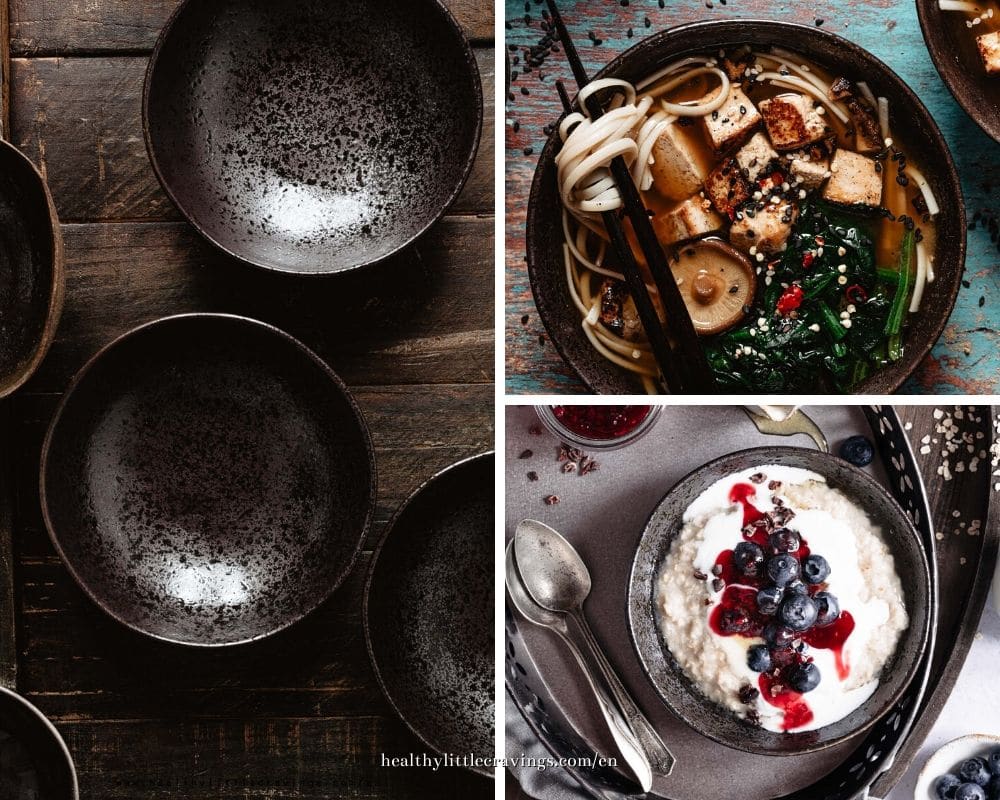 WHERE to buy food photography props - MY favorite shops
Ahhhh let's get to the heart of the post! WHERE TO FIND food photography props.
My collection of props comes from different shops, online and "offline". Sometimes I can also find them at the supermarket (yep!).
Currently, when I have to shop for new props I look for them on:
My favorite shops on Etsy are:
- linens: LinenCrafts and Anberlinen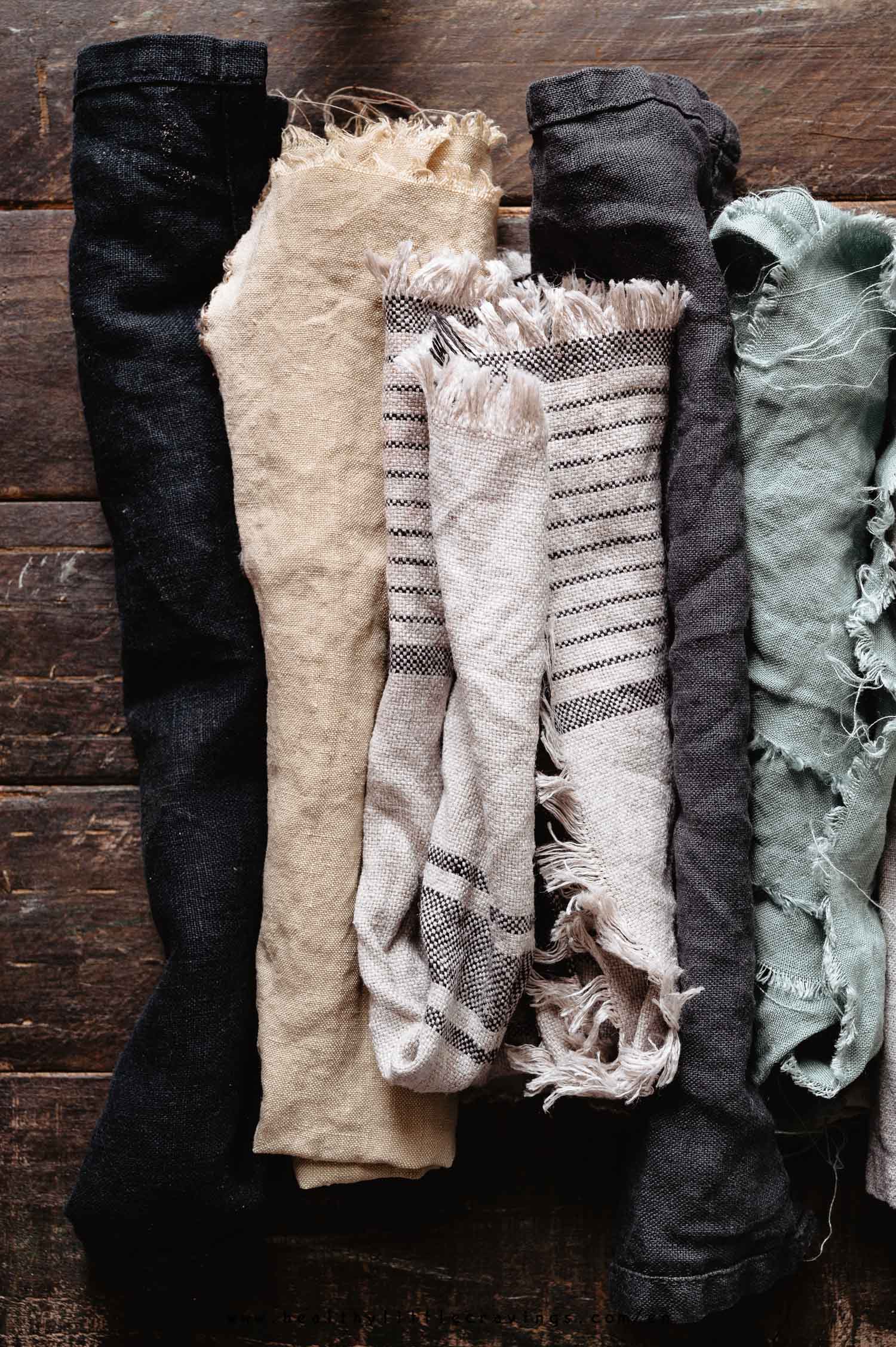 - ceramics: BoutiqueCeramics
- cutlery: OrianaNiChearnaigh, totalvintage, fisfinds
- others: Cinqavenuevintage, VeryVictorianStudio, BodaciousOld, ANTIQUEcountry, HomelandVintage
The above-mentioned are shops I bought from so I have direct experience with them (and they didn't ask to be mentioned, so it's not a matter of promotion).
If you like my style, these are the words I usually use to find props: vintage cutlery, vintage muffin tin, vintage pie pan/tin, vintage loaf pan, vintage baking tray, stoneware bowls/dish, ceramic rustic dish/bowls, vintage tea strainer, vintage ice cream scoop, vintage cheese grater... (vintage everything!)
Ebay (I use the same words I use on Etsy)
Nomliving (some of my favorite ceramics). I'm OBSESSED with their pinch bowls. Ahem....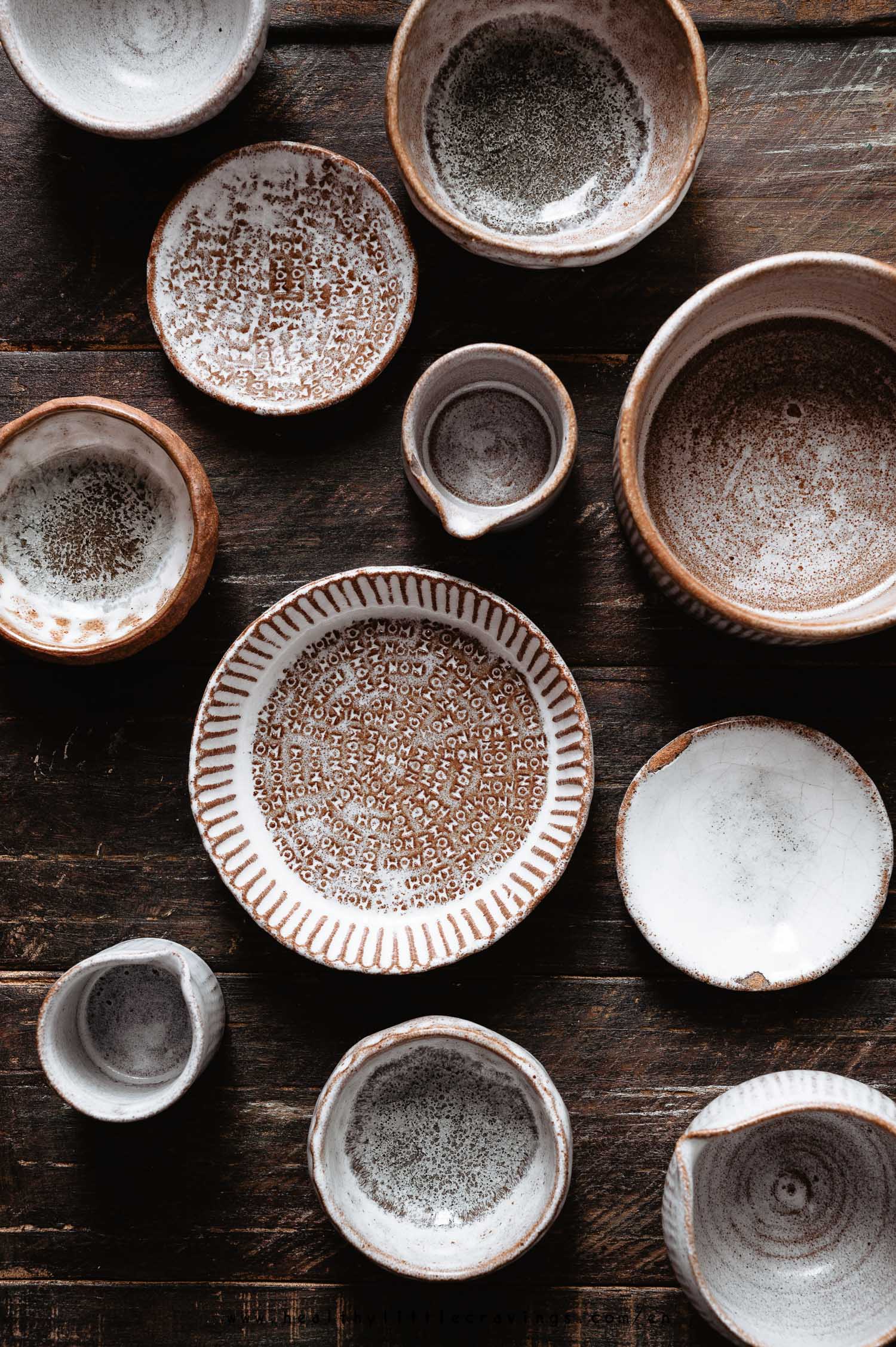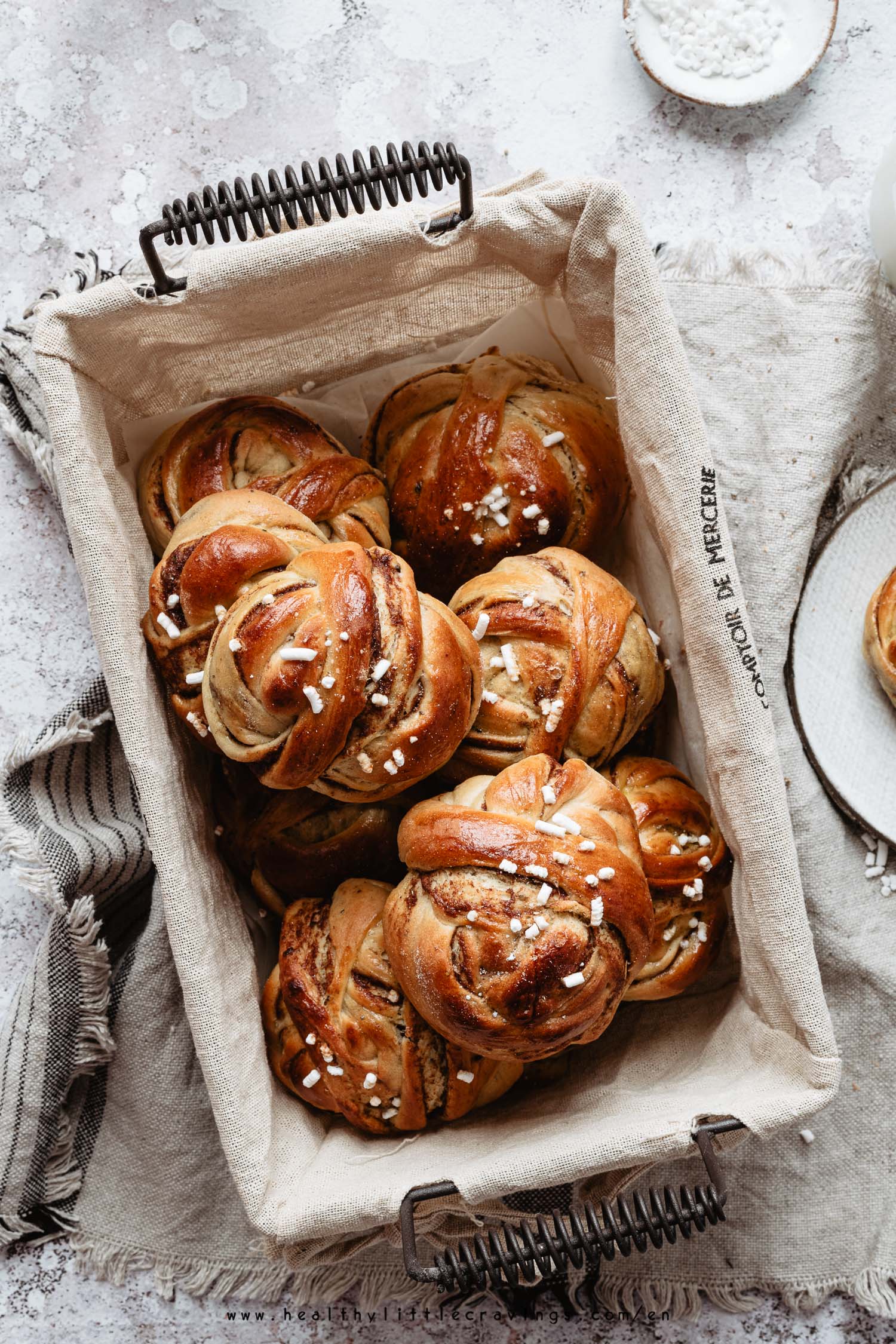 Local flea markets
Local thrift stores
Grandma's house (like the cutting board in this photo)
Ceramists
Two of these bowls (the ones on the right) in the photo, for example, were made by a local ceramist here in Italy (even though he's English, so you can try to contact him).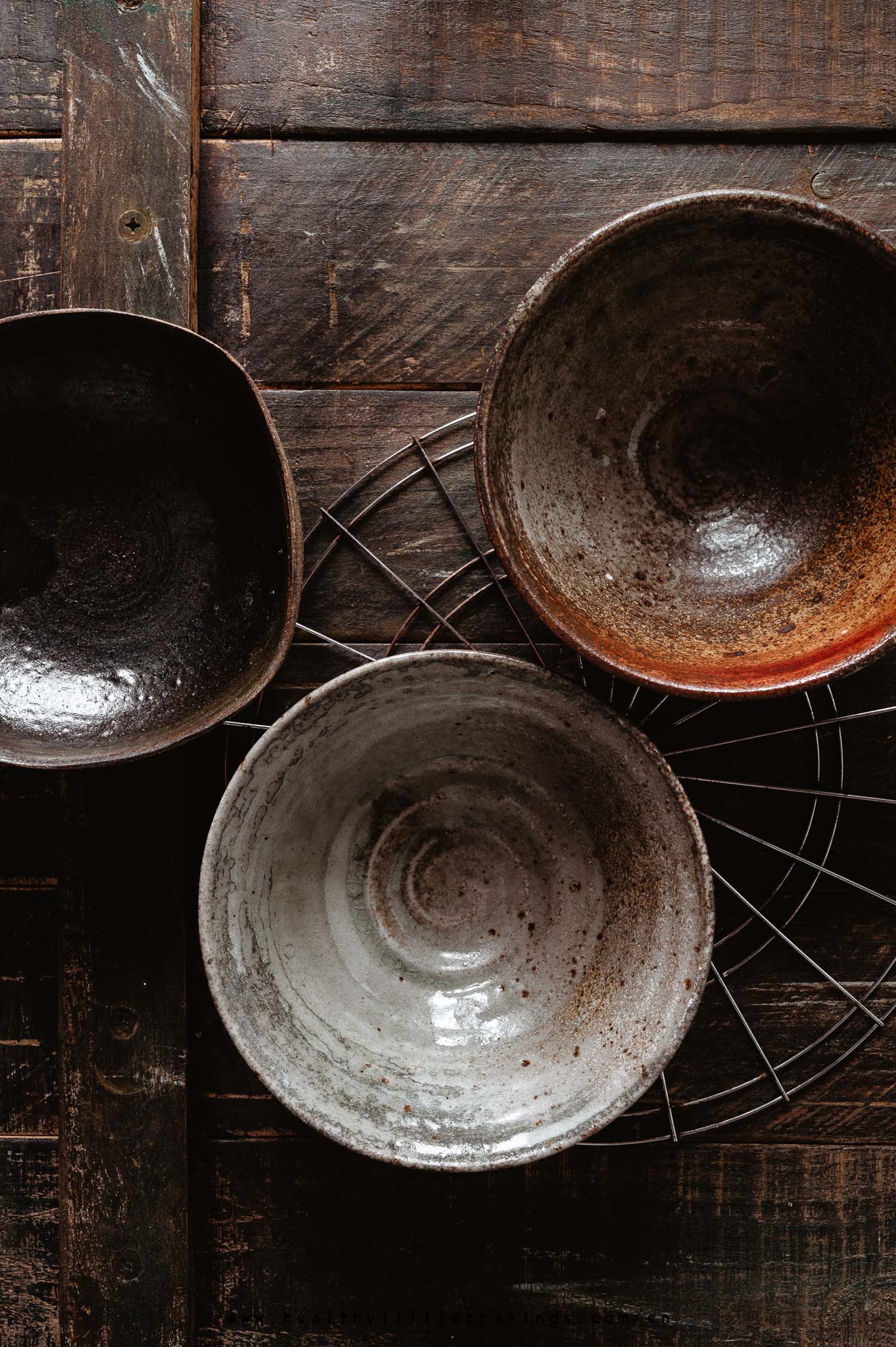 "Maintaining" your collection of food photography props
When you'll own a few basic props (some bowls, a dish, pieces of cutlery...) and if your financial resources allow you that, it will be time to buy other pieces to "maintain" your collection, right?
At that point, I would recommend to pay even more attention to what you buy. And keep asking yourself the questions above (Is it my style? Is it versatile? Do I already have too many of these?)
A few months ago, I felt I needed a vintage/used cutting board, to give more depth to my flatlays.
I was lucky to find it at a local thrift store. It was only 14 € and perfectly suited my style.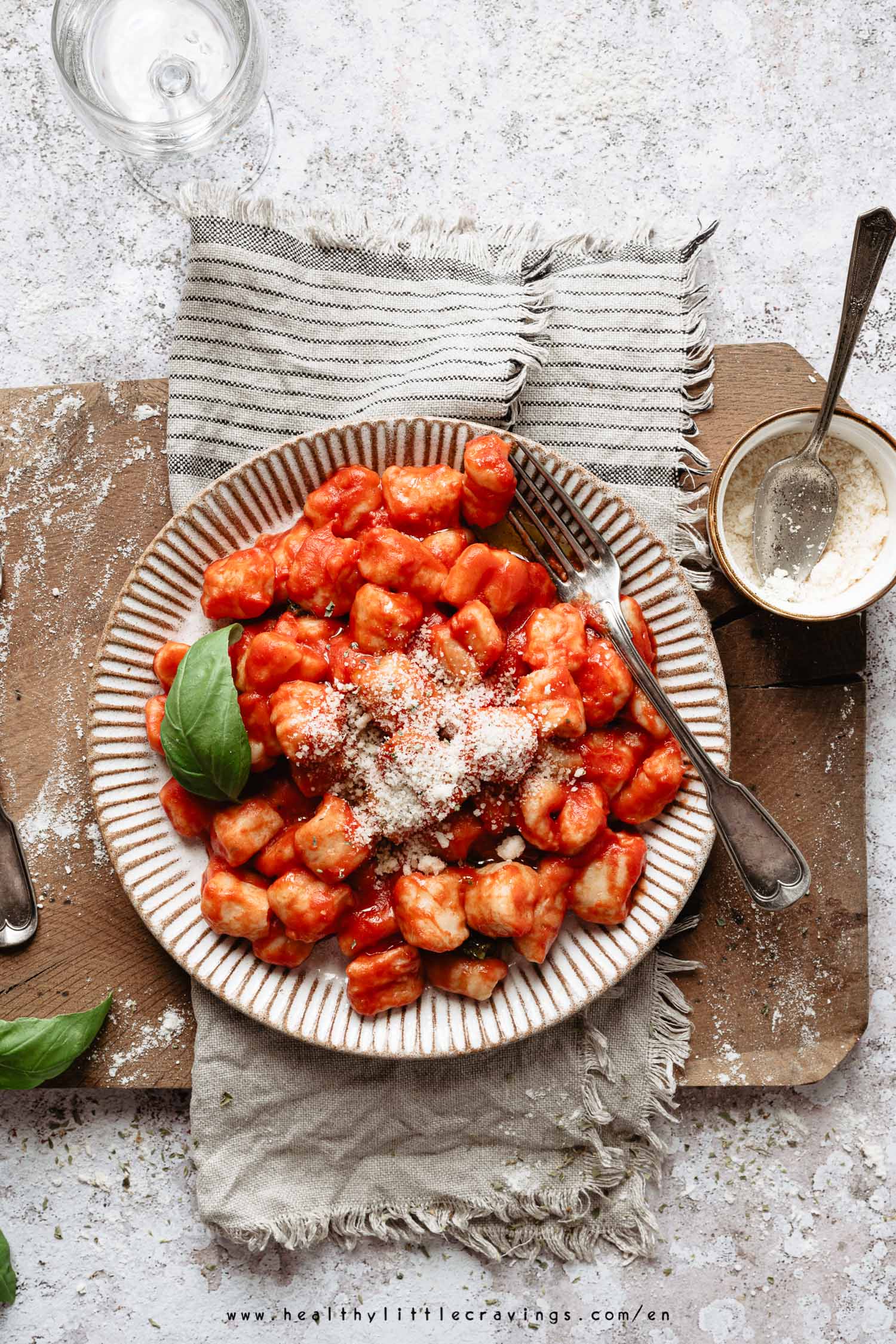 [For clients work instead, you can also consider renting props. So you avoid accumulating stuff you'll never use.]
If you can't afford props at all... (solution!)
I wish someone told me I can shoot without props.
If you absolutely cannot afford to buy them, well... focus on food!
You can take amazing photos without using props (or using just one), did you know that?
You can use your backdrop only, some parchment paper, a napkin, or just your tray. OR your food (crumbles, seeds...).
In this photo, I've only used a blue napkin.
Here instead I focused on the cinnamon rolls and nothing else.
This cake photo? I've only used parchment paper!
---
P.S. Have you already read my other blog post on "props on a budget"? Go go go!
---
Look at this one: my only prop here was (again) parchment paper!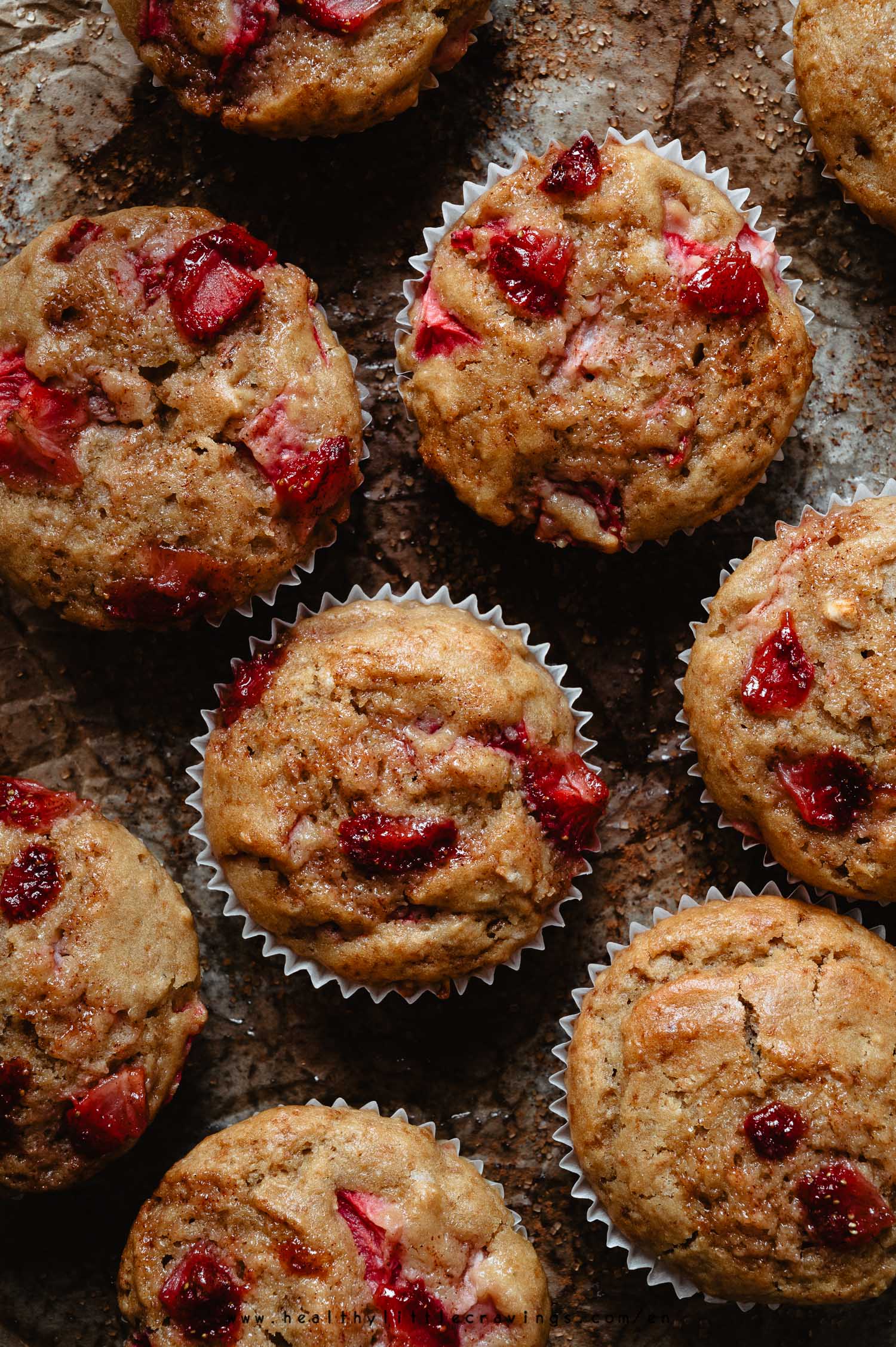 Essential props for food photography
In conclusion, as you can see there's no need to break the bank, seriously. You can find props everywhere, I suggest you spending some time to find the best deals.
Plus, it's up to you: you can buy one expensive (maybe higher quality though) prop, or a few more cheaper (but still cute) pieces! Or both.
If I had to list a few things you'll absolutely need though:
at least one bowl
one plate (not too big, small is better)
a couple of napkins
fork, knife, spoon (do NOT buy giant cutlery, again: small is better)
a couple of pinch bowls
a glass
---
Do you have other questions?
It's not easy to answer all the questions you may have, so PLEASE leave a comment below and I'm glad to reply! Thank you!
---
Don't forget to pin and share this post on Pinterest!
---
If you liked this food photography props post you'll love this one too!