2020, WHAT. A. YEAR.
What is going on around the world? Everything: a pandemic, massive protests, a catastrophic oil accident in Russia… oh man!
Sometimes I need to remember good things still exist.
Last week I definitely needed something sweet to cheer me up, so I made my sweet milk buns with chocolate chips (for the nth time).
I made these last year for my nephews and they were a SUCCESS! Try them, you won't regret!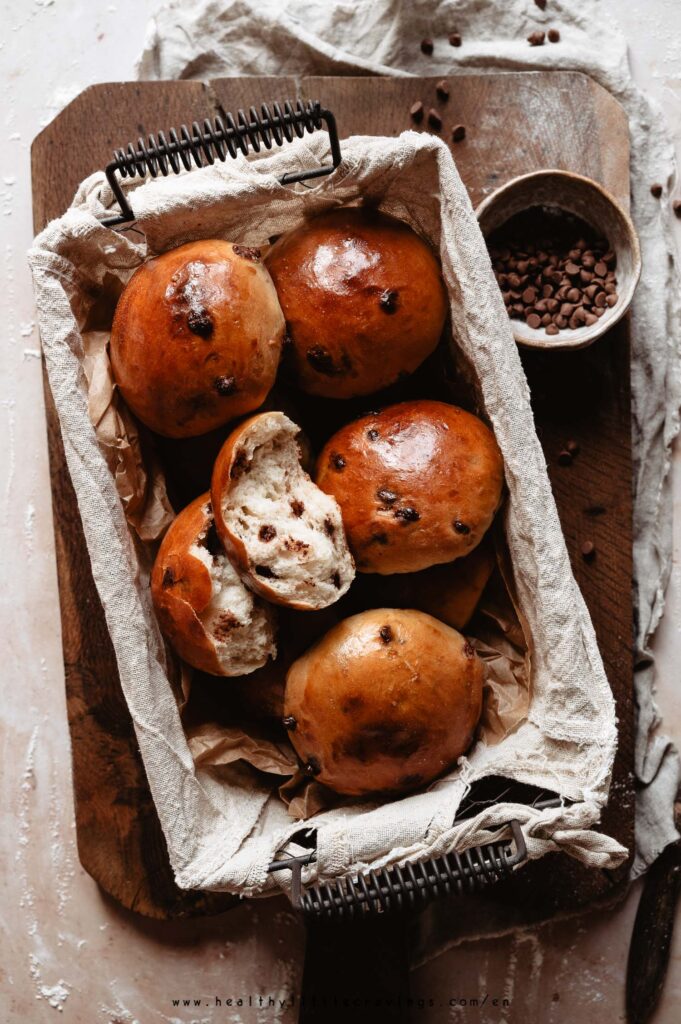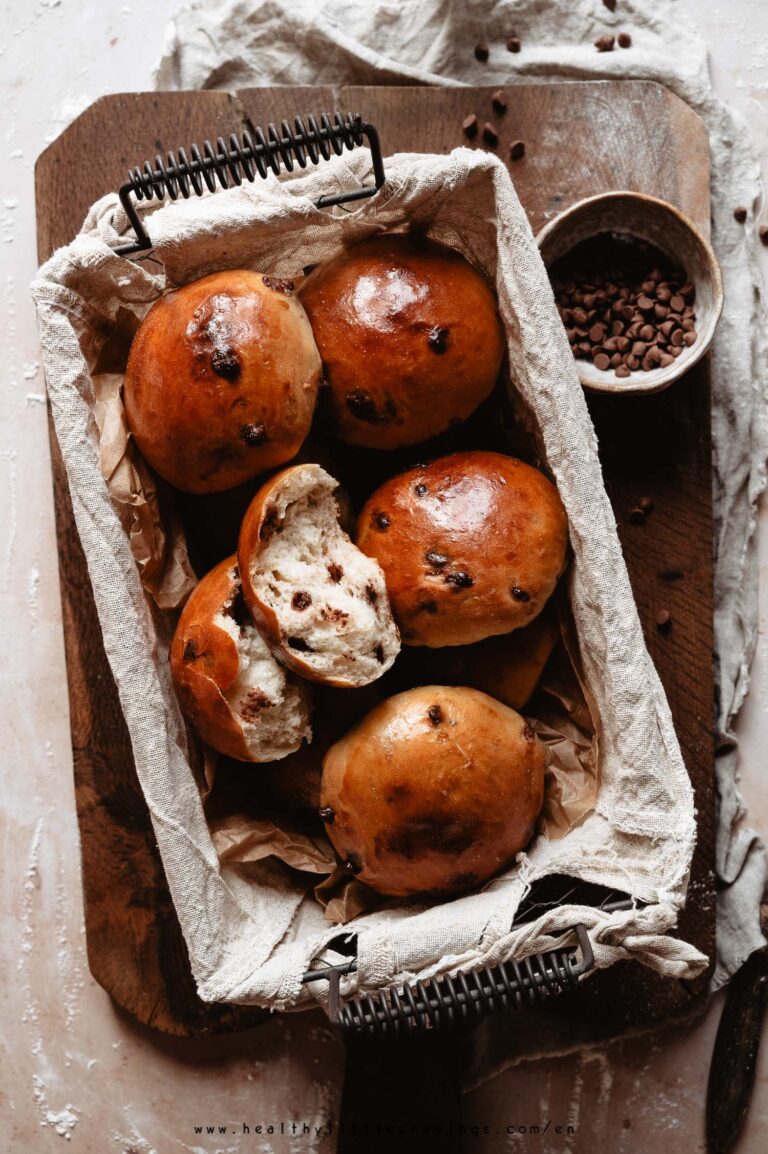 The amazing
flavor

of these chocolate chips milk buns

It's always difficult, to me, to describe recipes with words and make you really understand what they taste like.

EVERY SINGLE recipe I post on the blog, is food I really appreciated. And I mean, REALLY appreciated.
So, when I share it, I love to describe how amazing it was. Sometimes though there are not enough words and you just have to try the recipe.

Same with these chocolate chips milk buns: I can't even describe their flavor, it's too good. But, I'll try.

When I made these for the first time, more than a year ago, I simply used my Hokkaido milk bread recipe and added chocolate chips.
Then last week I tried to increase the quantity of powdered milk.

The flavor changed, for the better.
Adding more milk obviously translated in a more milky sweet flavor. And OMG, what can I say? You just have to try it.
It's WAY better than those store-bought ones!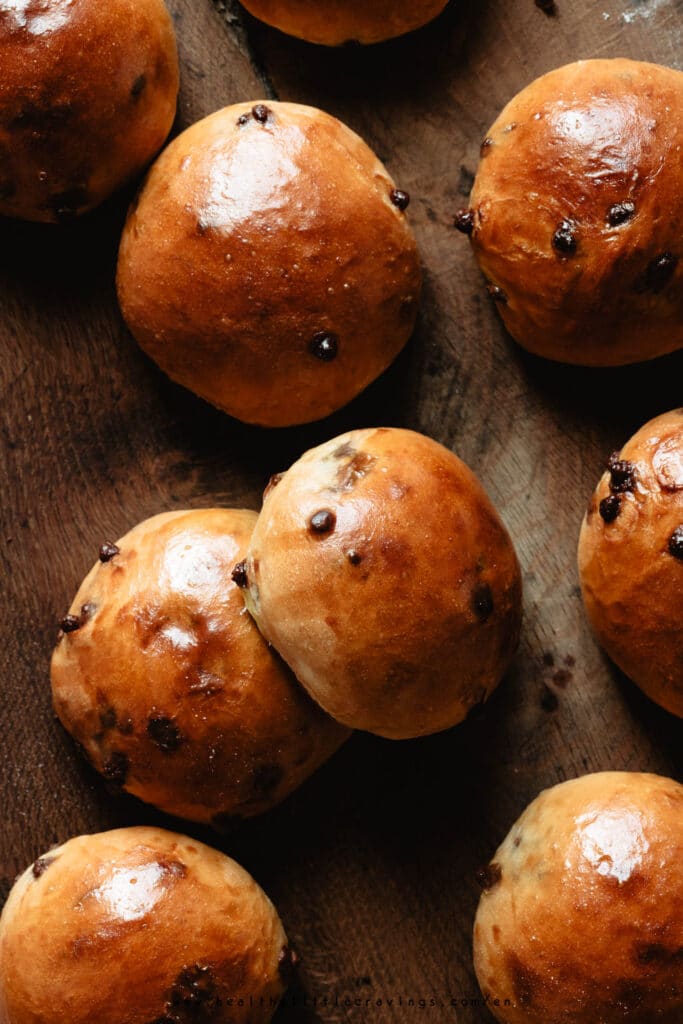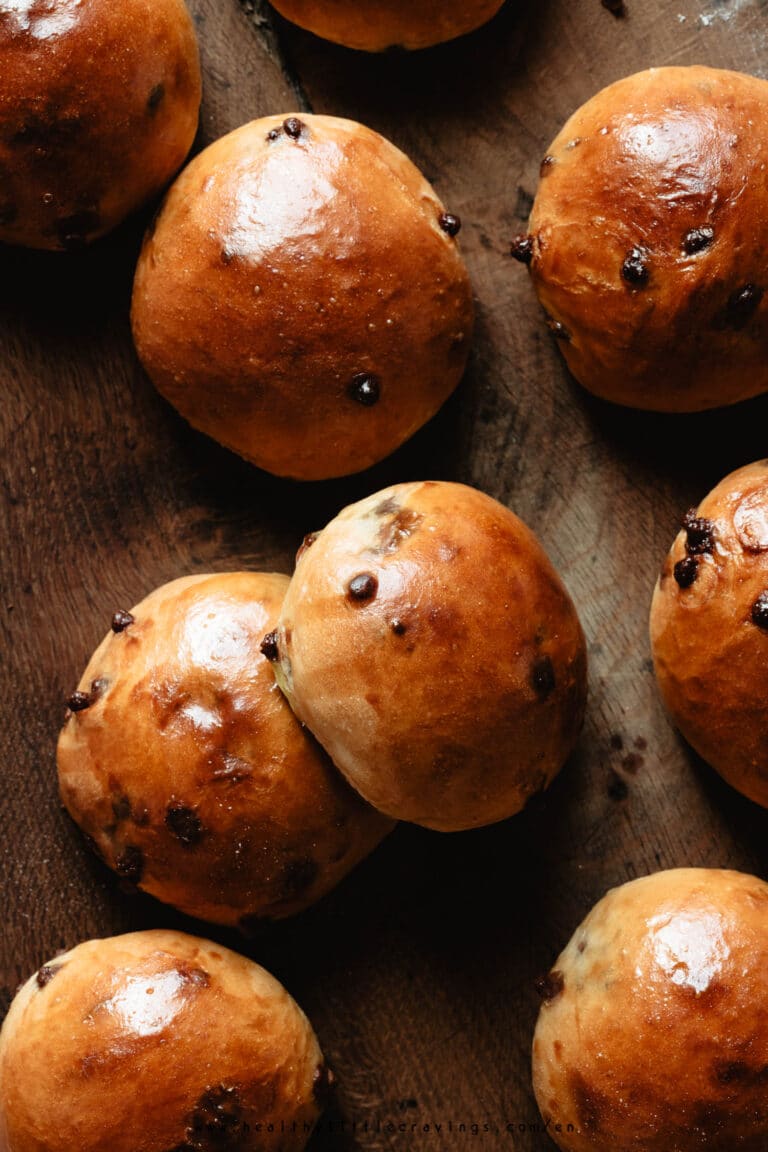 How to make milk buns – key steps
Making milk buns with chocolate chips is not difficult, even though there are some steps in which you have to be "careful".
Let's see (they seem a lot, but the process is like any other yeast leavened baked good)
Tangzhong method: the KEY to the softness.
First, you have to make water roux by combining water and flour, then make it thicken (at low heat) and let cool down.
In my Hokkaido milk bread's post, in the FAQs paragraph, you can read WHY water roux gives softness to our bread.
When cooled down, you can start making milk buns.
Add flour, salt, sugar into a stand mixer's bowl, activate.
Now add warm milk + dry yeast, half of the egg, powdered milk (you can also add this before), water roux and let knead.
Butter is added at the end because fat can inhibit gluten formation.
Add it softened, not melted.
Let knead until gluten forms.
The ultimate test: windowpane test
Take the windowpane test to check if gluten network is formed.
You just have to take a small piece of dough, then gently stretch it with your fingers. If it doesn't tear immediately, then it's ready.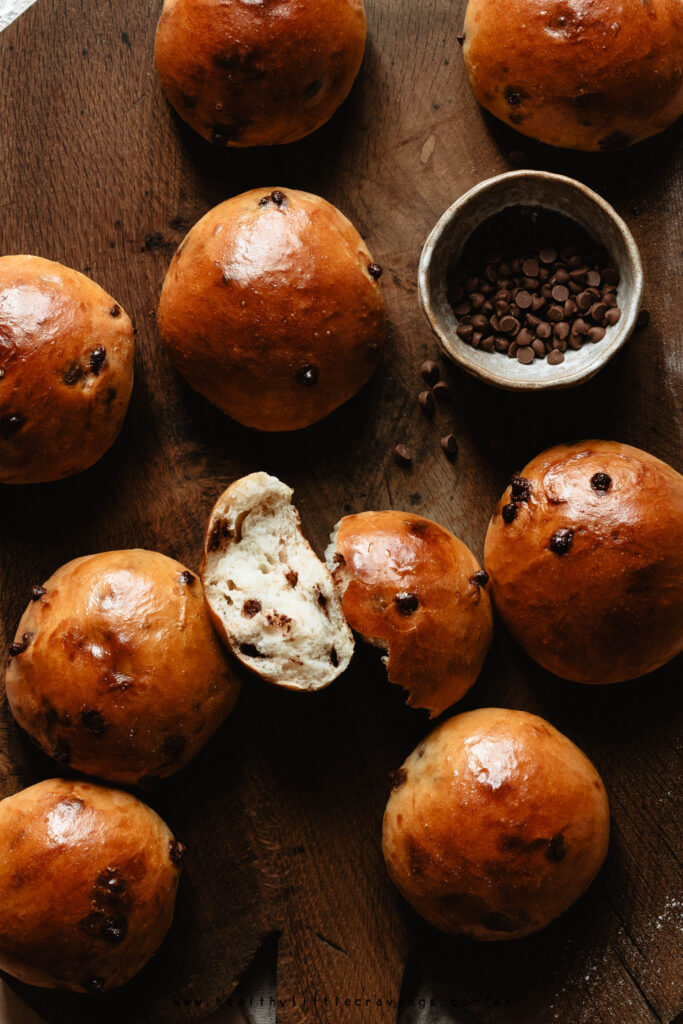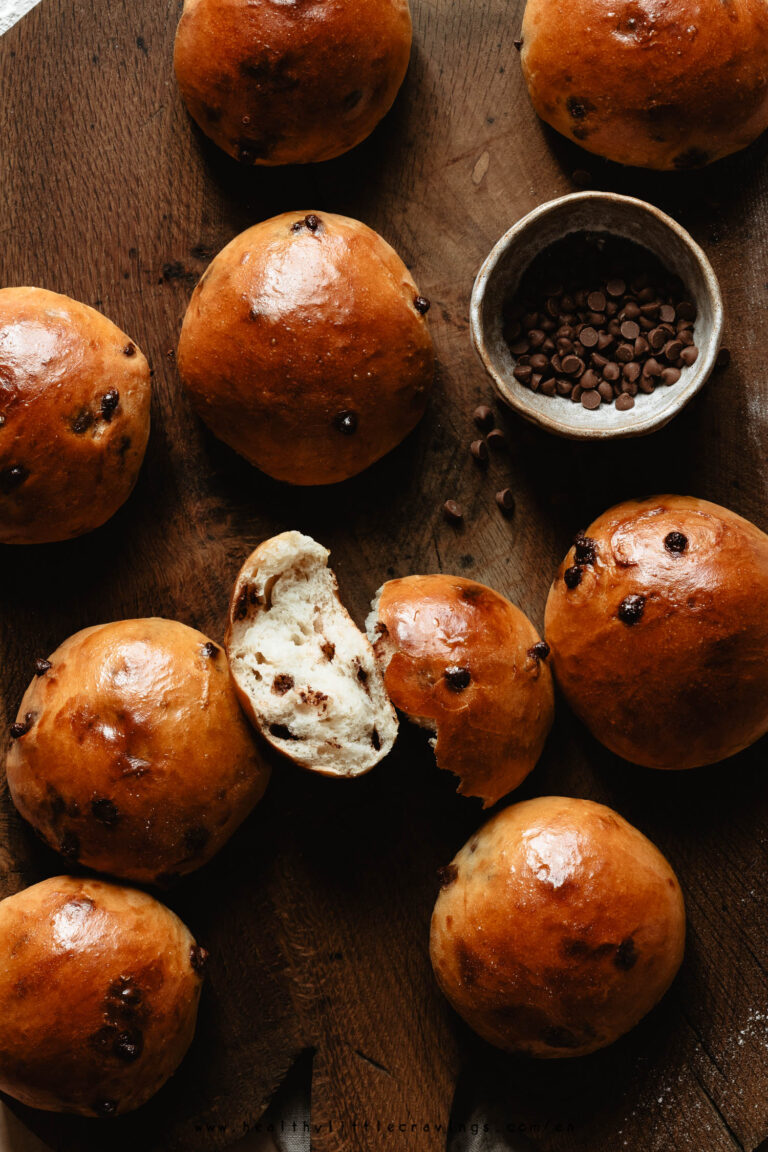 The TRICKY PART: adding chocolate chips to the milk buns
Add them at the end and let incorporate just a few seconds to prevent them from melting. I say this part is tricky because the risk is melting the chips, so you'll end up not having those chocolate "pools" in the final product. Makes sense?
Same when forming the buns: be gentle and work quickly (otherwise chocolate will melt).
Let rise again, until doubled, covered with plastic.
Brush the buns with egg wash and bake.
Check them after 12 minutes: you want them golden brown, so if they're not, let them cook for 2 more minutes.
IMPORTANT: let them cool down on a rack
Take them out of the oven, brush with more milk, then put them on a cooling rack to cool down.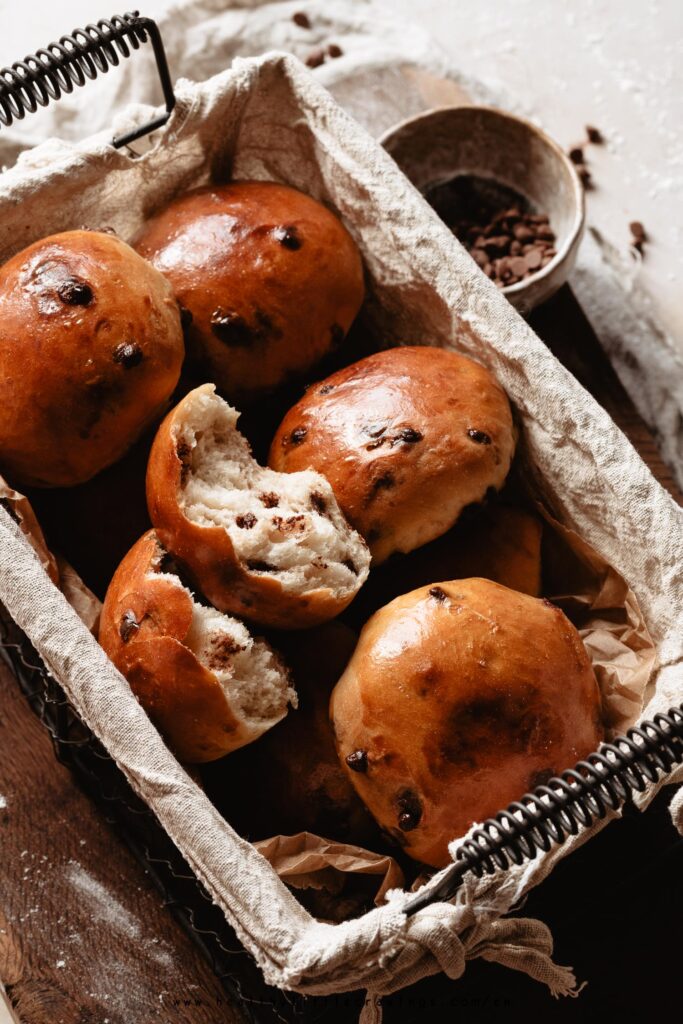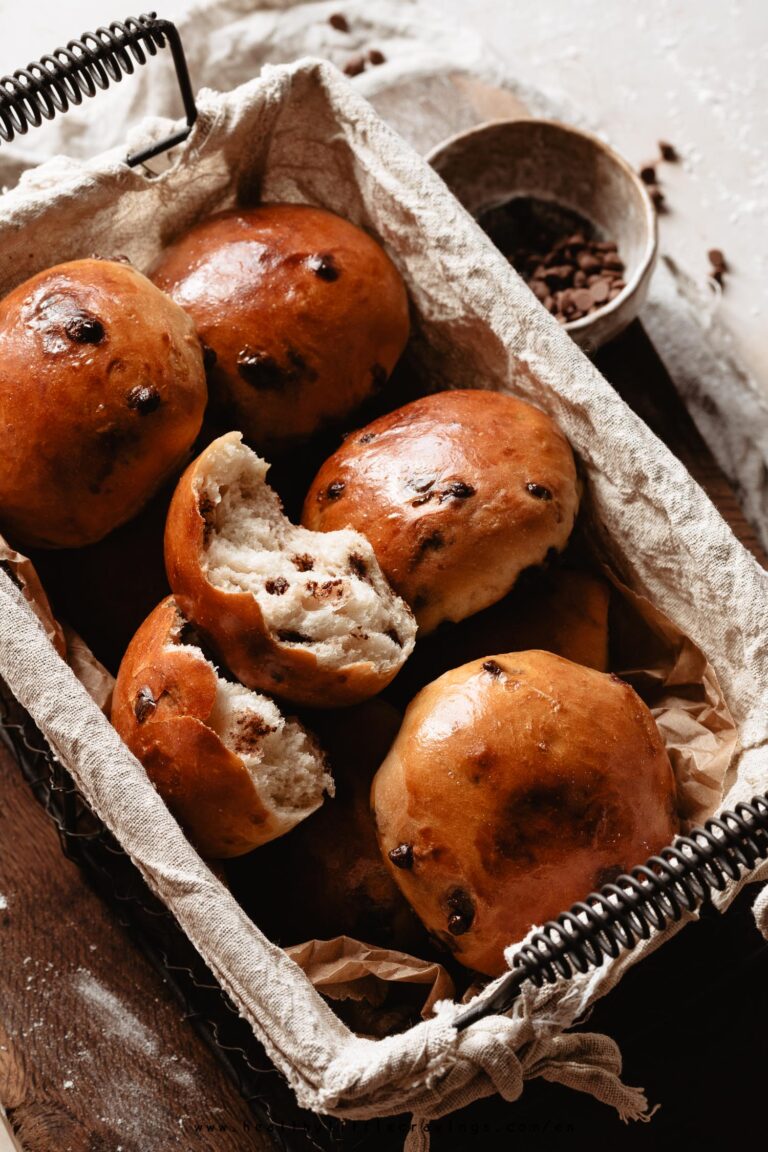 Is my dough well kneaded? What is the windowpane test?
The main problem a "beginner" baker may face is over-kneading vs under-kneading. How can you understand if it's the right time to stop kneading?
If you UNDER-knead, the dough will look loose and it will tear because gluten "structure" hasn't formed yet.
If you OVER-knead, your dough will be tough and will tear, this time because gluten network is too tight.
To check gluten development, perform the windowpane test: take a piece of dough, gently stretch it with your fingers. If you manage to stretch it so it's thin and translucent and it doesn't tear, then you can stop kneading.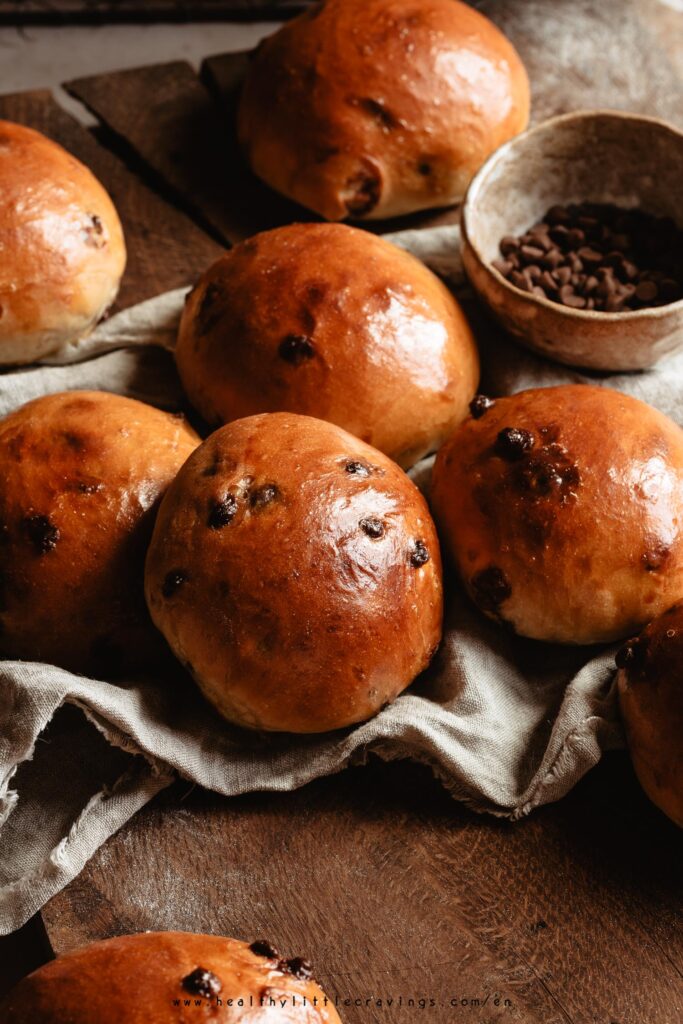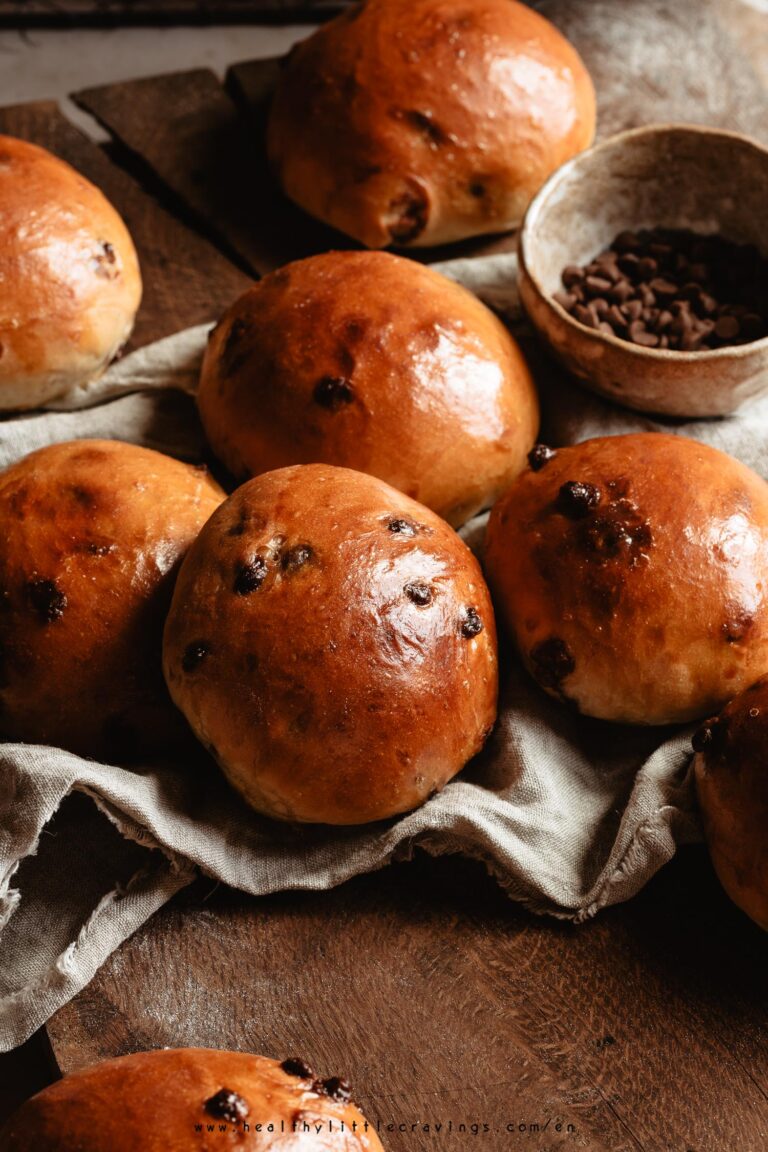 How do you make your buns fluffier?
I could say, once again, go read my Hokkaido milk bread post, but I'm going to explain it one more time: to make your buns fluffier (but also other asian bread recipes), you should use the Tangzhong method.
Tangzhong, aka water roux, consist in cooking flour and water, so the starches in the flour gelatinize.
When added to the dough, this will create "structure" and "hold" liquid.
While baking this liquid will create more internal steam (and makes buns/bread rise).
I recommend reading this post by King Arthur Flour.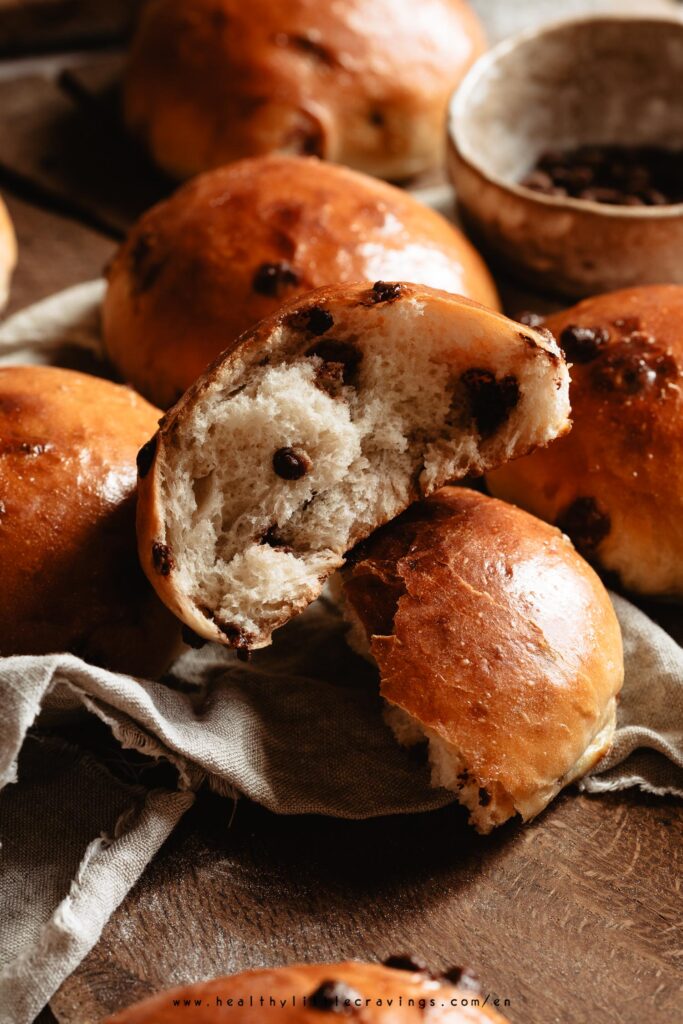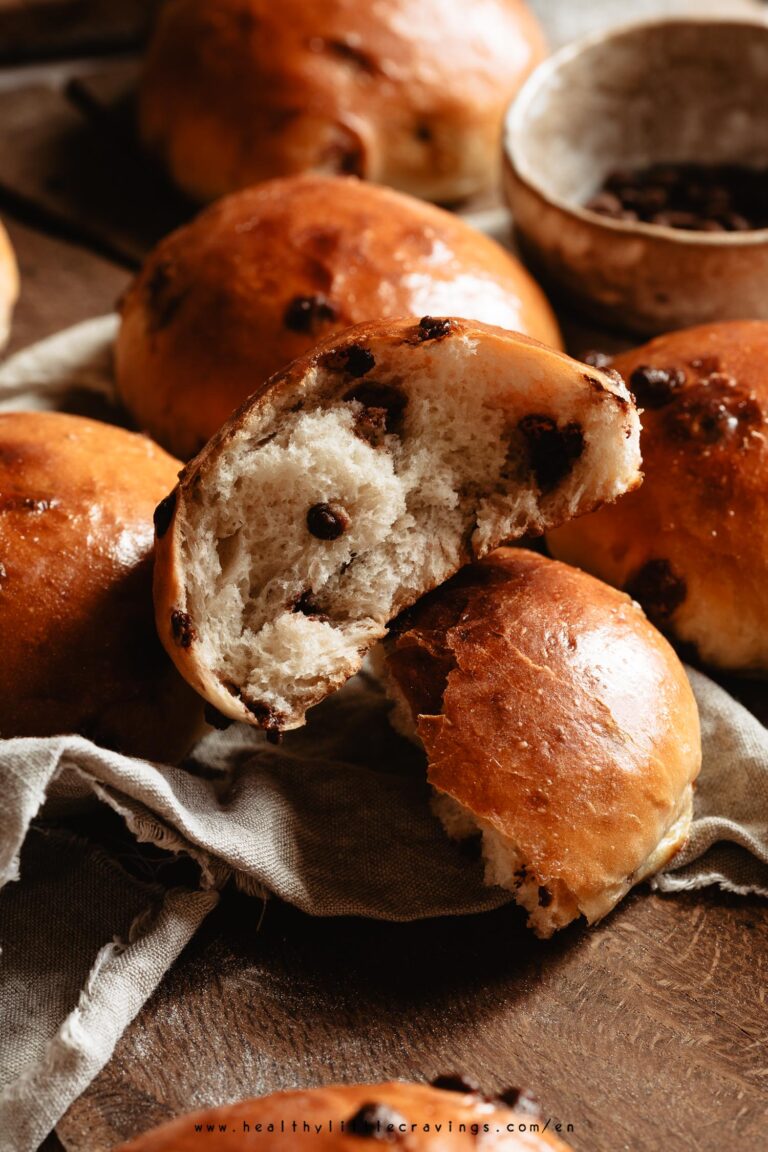 What can I use instead of milk powder in bread?
You can omit it (or use condensed milk), but I'm telling you: it won't be the same.
If I found this ingredient here in Italy (where sometimes I can't find everything I need), you in the US can find it too.
Powdered milk – not the one for babies, this is the one used in baked goods – can be found in the baking section at the supermarket.
I bought mine, then stored in a jar, and it lasted for months.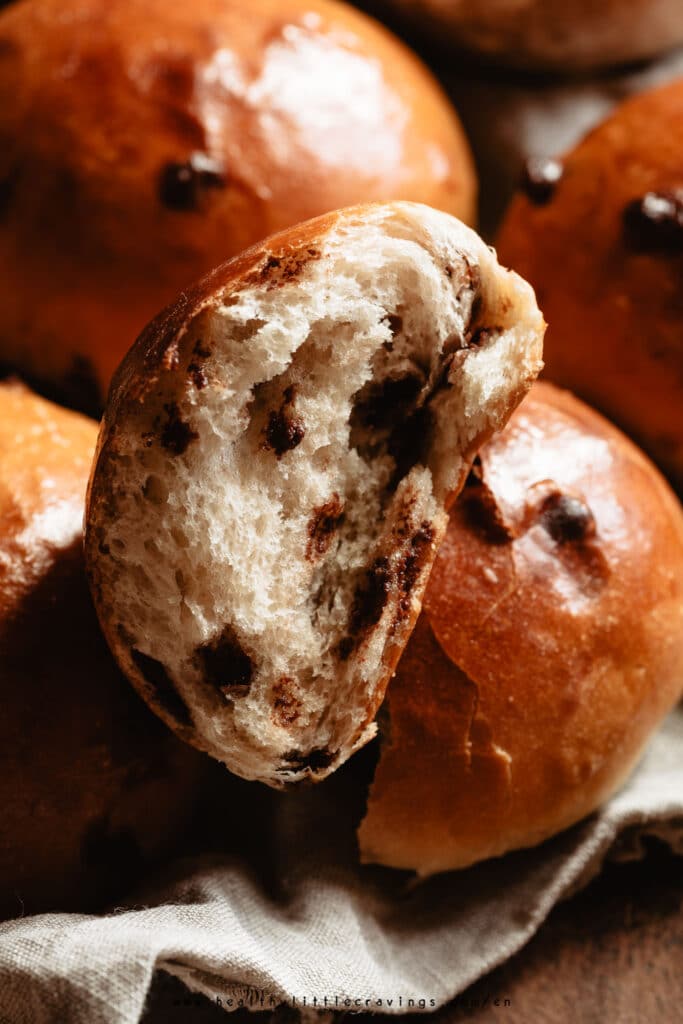 ---
Do you have other questions?
It's not easy to answer all the questions you may have, so PLEASE leave a comment below and I'm glad to reply! Thank you.
---
If you make this recipe, please be sure to give it a rating and leave a comment! It would make me so happy! 🙂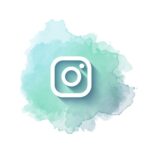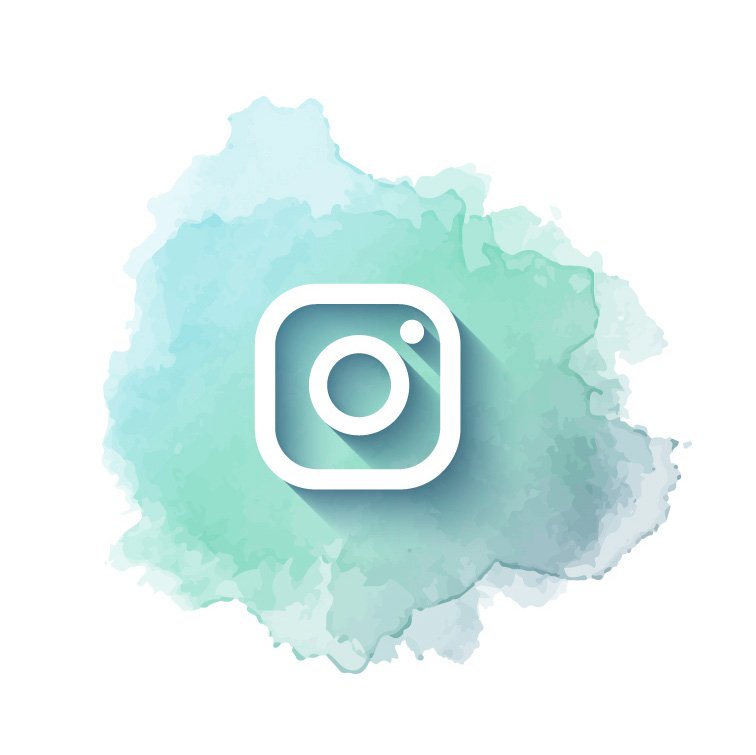 Remember: if you try one of my recipes, tag me on Instagram or DM me the photos!
---
Don't forget to pin and share this easy and delicious recipe!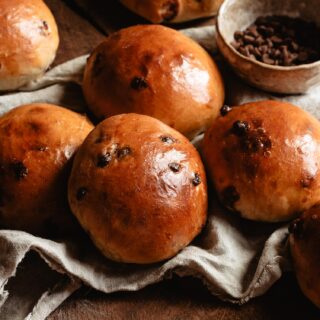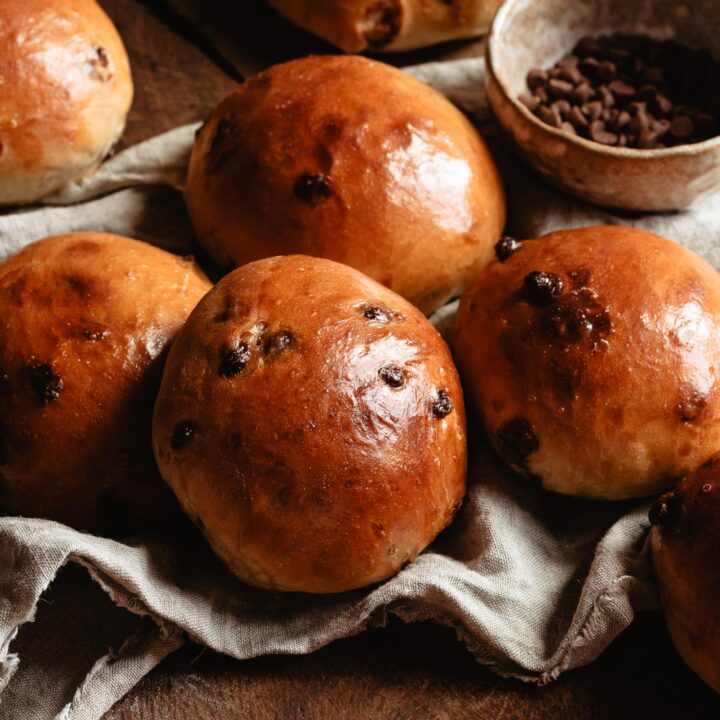 CHOCOLATE CHIPS MILK BUNS
A delicious snack: sweet (but not too much) and milky SOFT chocolate chips milk buns. Using Tangzhong method. EXTRA SOFT.
Print
Pin
Ingredients
For the water roux:
3

tablespoons

Bread flour

-

25 gr

3.5

fl. oz

Water

-

100 gr
For the buns:
1 ⅔

cup

Bread flour

-

320 gr

1.5

tablespoon

Brown sugar

-

30 gr

1

teaspoon

Salt

-

5 gr

1

teaspoon

Dry yeast

-

2 gr

⅔

cup

Warm milk at 35-40° Celsius

-

120 gr

2

tablespoons

Milk powder

-

10/15 gr or more

Half Beaten egg

-

25 gr

2

tablespoons

High quality unsalted butter – softened

-

25 gr

½

cup

Chocolate chips

-

75 gr
Instructions
For the Tangzhong (water roux):
In a tiny pan, combine water and flour and whisk.

Place it over low heat on the stove and keep whisking with a spatula, until you get a thick gel-consistency mixture (if you have a thermometer, wait until it reaches 65°C – 150°F)

Pour it on a plate, cover with plastic wrap and let it cool.
For the buns:
In your stand mixer's bowl, add flour, sugar, salt and activate at low speed (using the flat beater). After a few seconds, add dry yeast and warm milk (ideally at 35-40° C / 95°-104°F).

Add half of the egg (slightly beaten), powdered milk, cooled-down water roux, and let everything incorporate.

Add the butter (softened), change attachment with dough hook and let knead for about 10/15 minutes (or until gluten network has developed – read the post to know how)

NOW add the chocolate chips and let incorporate just a few seconds (otherwise they'll melt).

Place the dough into a slightly greased bowl, then cover with plastic wrap, and let it rise for 1.5 hours in a warm place.

After the dough has doubled, gently press it to degas it.

Divide it into 10 equal pieces and roll them into balls (pay attention not to handle them for too long otherwise chocolate will melt).

Place them on 2 separate baking trays (so they have "room" to rise), cover with plastic wrap and let rise for about 1 hour.

Preheat the oven at 180°C (350°F).

Make egg wash by combining remaining egg and milk, when buns are doubled brush them.

Bake for about 14 minutes.

As soon as you take them out of the oven, brush with more milk so they become softer.

Let cool down onto a cooling rack.
Nutrition
Nutrition Facts
CHOCOLATE CHIPS MILK BUNS
Amount Per Serving (1 bun)
Calories 207
Calories from Fat 45
% Daily Value*
Fat 5g8%
Carbohydrates 34g11%
Protein 7g14%
* Nutritional information is only an estimate. The accuracy of the nutritional information for any recipe on this site is not guaranteed.
---
If you liked these chocolate chip milk buns you definitely have to try my HOKKAIDO MILK BREAD! It's soft like a pillow!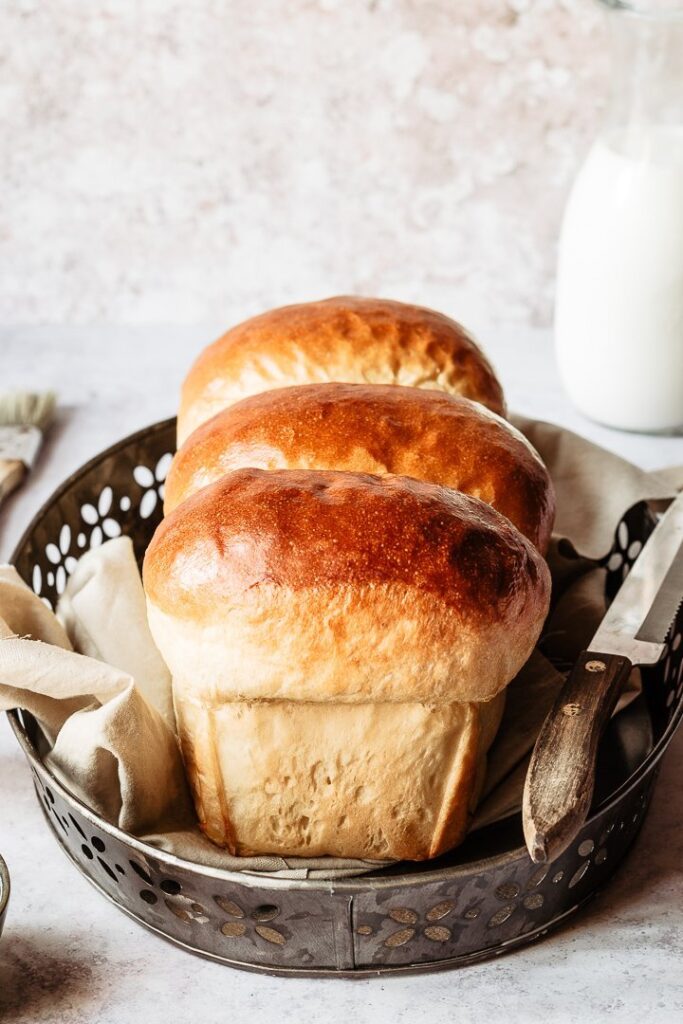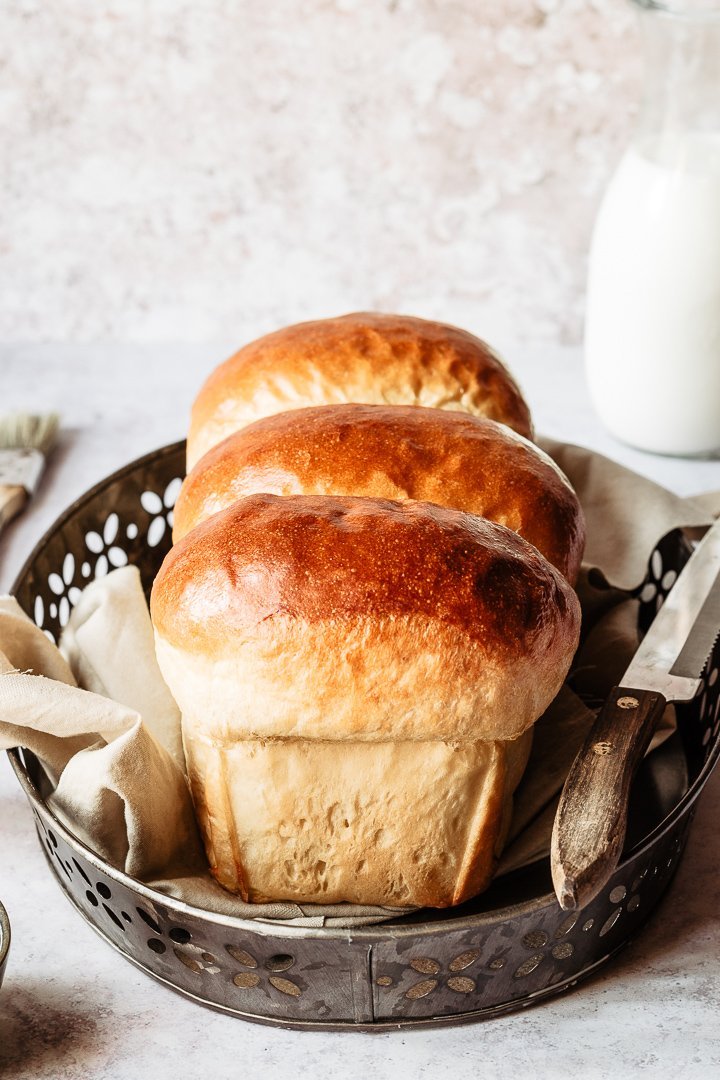 ---
© Healthy Little Cravings – Roberta Dall'Alba.
I own all content and photos' copyright.
Before using my photos and recipes, please email me.
If you would like to republish a recipe, please link back to this post and re-write the instructions in your own words.