This post is also available in:

Italiano
If you're reading this, in all probability you're not Italian (in fact, my audience is 45% Italian and 55% international), but you would love to visit it.
It's a fact, people really LOVE il Bel Paese, or maybe just the idea of it.
They dream of retiring here.
They would love to try our pasta and pizza, swim in our seas, stare at our unique warm dusks.
If you're one of them, well you'll enjoy these pappardelle and my pesto with sundried tomatoes.
Sponsored by my in-laws who gave me a bag of sun-dried tomatoes from Sicily lol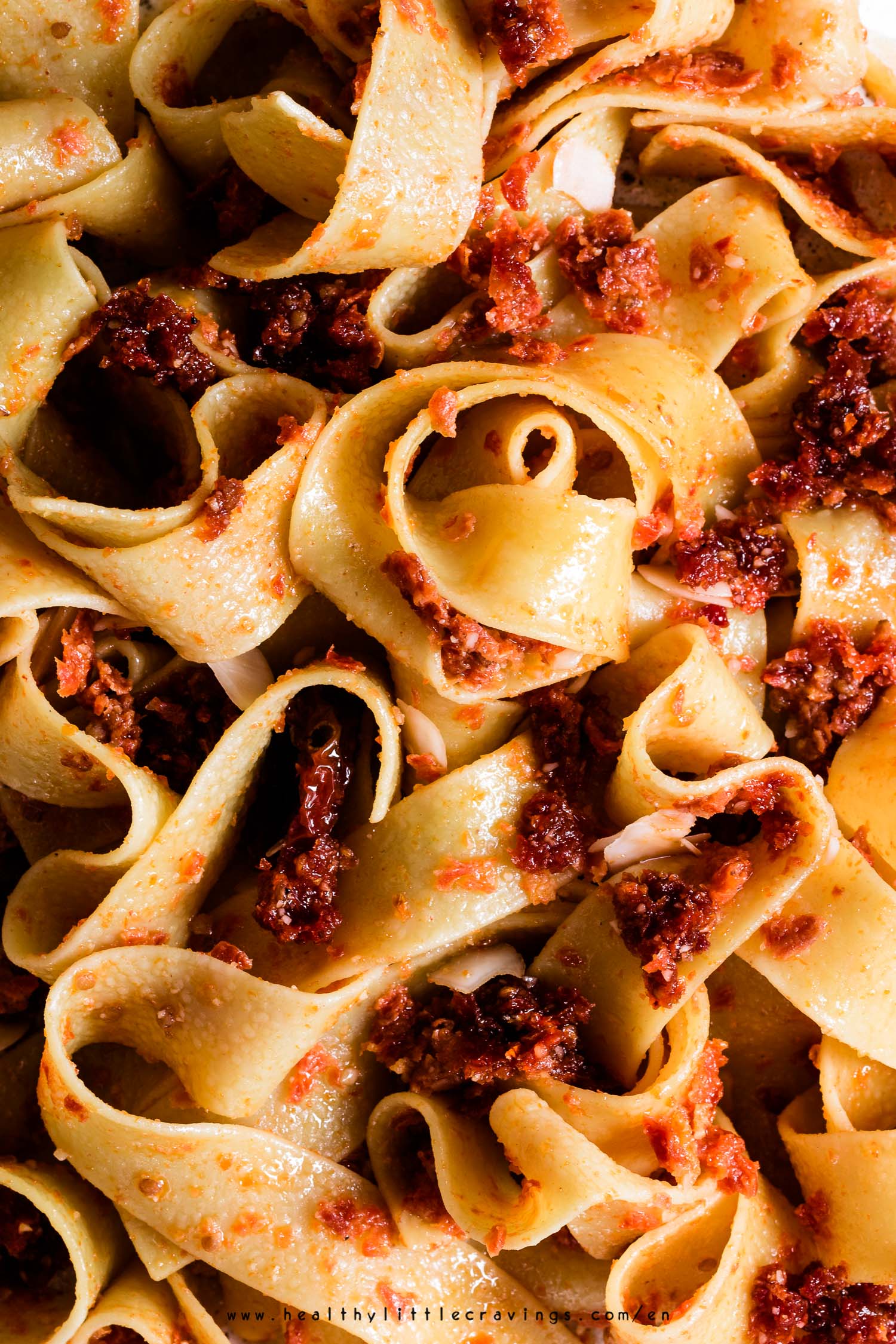 Extra flavorful pesto with sundried tomatoes
The fact that I can't pass you a plate of whatever I share with you on the blog, starts bothering me. Seriously, I wish I could pass you a forkful of these pappardelle with red pesto. Look at them! If you close your eyes, can you feel the flavor? Tell me yes!
You may think this red pesto is similar to pesto alla Genovese, instead it's a completely different thing, because it has no basil in it. It's made with only FOUR ingredients:
Sicilian sun-dried tomatoes,
Sicilian cold-pressed extra virgin olive oil,
garlic,
Sicilian almonds.
That's it. So how can something so simple be so delicious? The answer is in the quality of the ingredients: I am lucky enough to have my in-laws that give me amazing products from Southern Italy. If you're not, please check if some grocery stores where you live have certified Italian products. Otherwise, book a flight and come visit me! You won't go back home empty-handed.
Its intense flavor…
This pesto is not a "throw all the ingredients into the food processor" pesto. You have to soak the sun-dried tomatoes overnight, because they're too salty to use them as they are, then let them dry out in the oven or – if you're lucky – out in the sun. If you read the next paragraphs, you'll see I answer some questions about this procedure.
Don't worry though, even if we're going to soak them, the tomatoes will still be intense and will give such an amazing flavor to the pasta.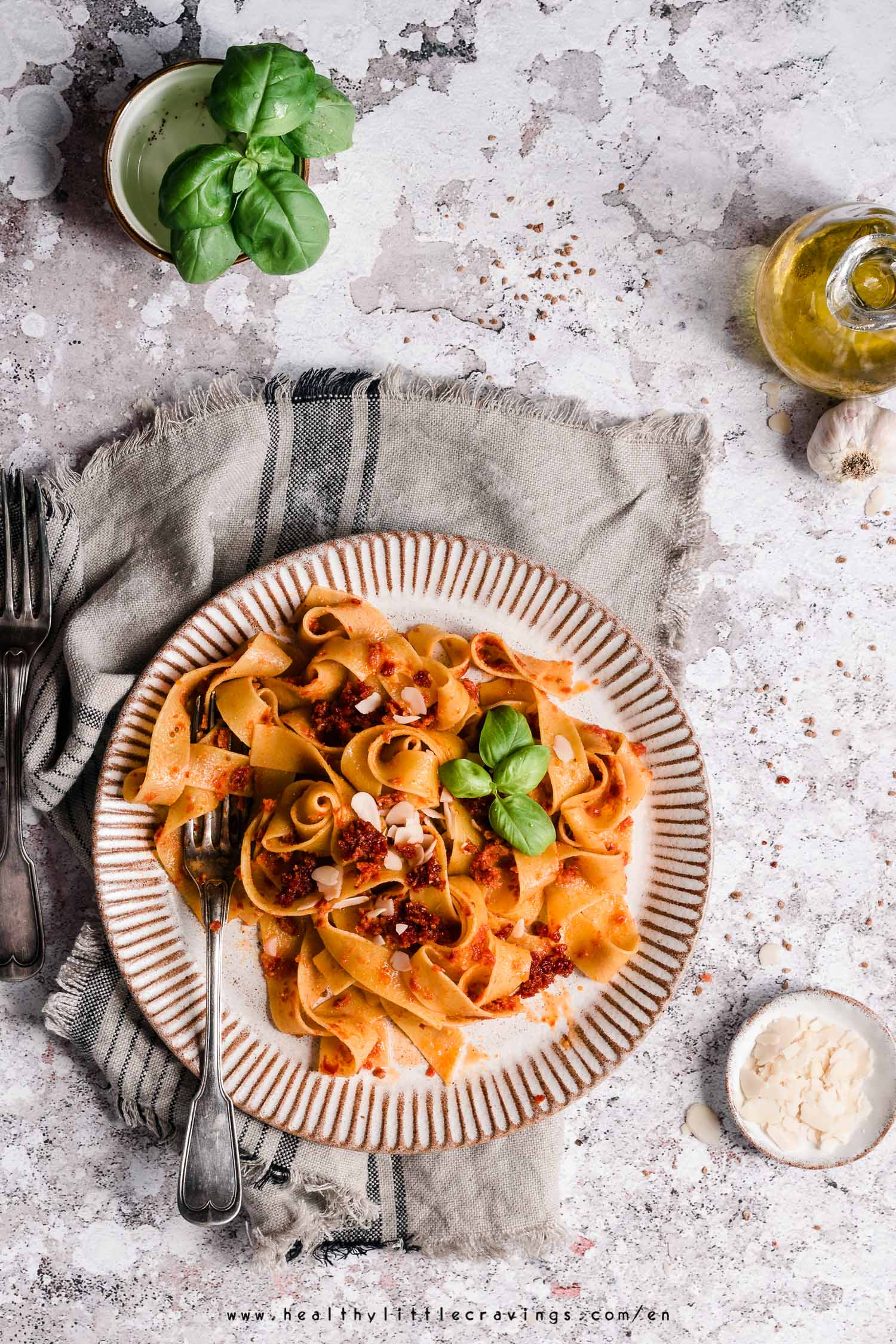 Few FAQs on tomato red pesto:
What is red pesto made of?
As mentioned above, red pesto is made with sun-dried tomatoes, extra virgin olive oil, garlic, nuts (almonds, pine nuts etc). Some people also use basil and parmesan cheese.
Do you rinse sun-dried tomatoes?
Yes, you have to rinse and soak the tomatoes (and viceversa).
I used to make the pesto without rinsing them but it was way too salty. Then my father-in-law told me to do so and it was "eye-opening". By doing so, you can really taste both the sweetness and the saltiness.
How do I soften sun dried tomatoes?
You have to soak them for a few hours or overnight.
How long does sun-dried tomato pesto last?
If the sun-dried tomatoes are dried well, the pesto will last many days. (even if it's in oil, I store it in the fridge)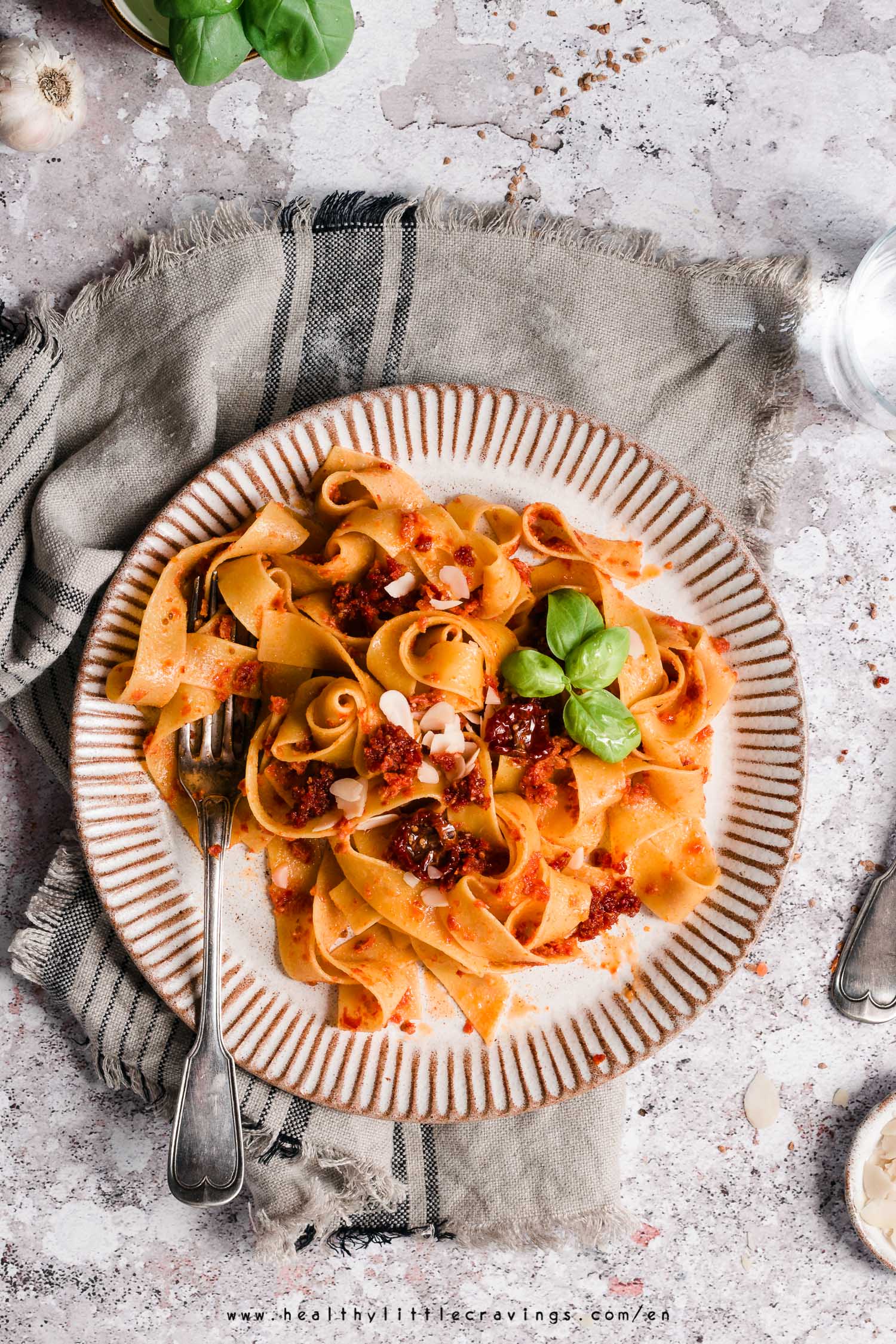 How to prepare sun-dried tomatoes for the pesto:
As mentioned above, you can't use salty sun-dried tomatoes. Follow these steps to make sure they're "pesto-ready"
First rinse them roughly,
Put them into a bowl with water (not too cold, neither hot) and soak them for a few hours or overnight,
Rinse them again,
Place them onto a baking tray and let them dry out in the sun; alternatively, dry them for a few hours in the oven at 50°C (120°F);
When dry, you're ready to make your pesto!
---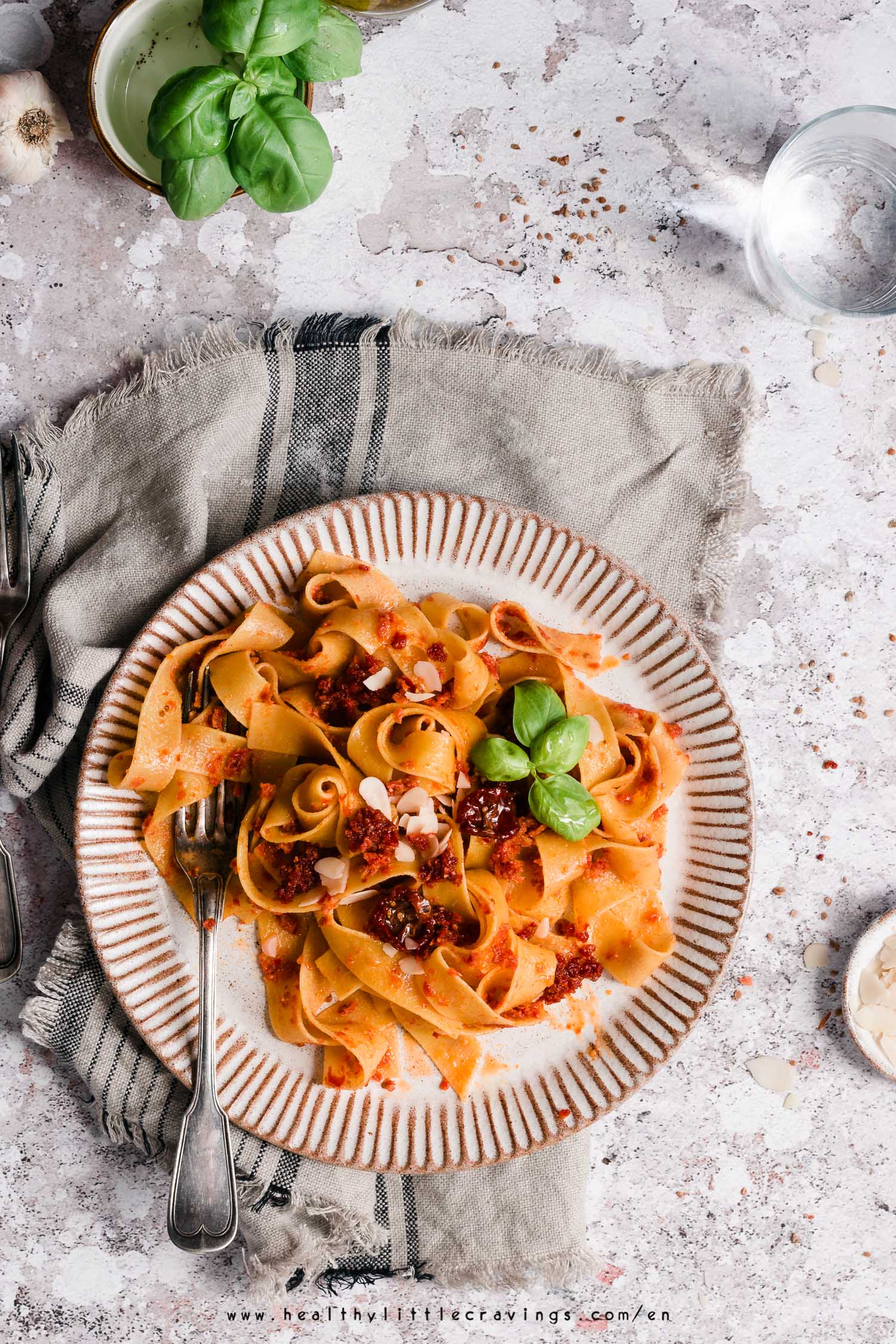 WHAT TO USE TO MAKE THE PESTO: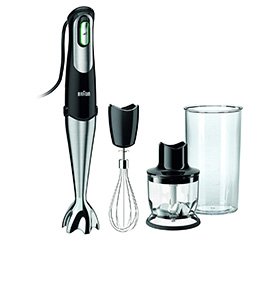 To make this pesto with sundried tomatoes I've used my favorite food processor with the smallest beaker: CLICK HERE.
---
If you make this recipe, please be sure to give it a rating and leave a comment! It would make me so happy!
Don't forget to share your photos with me on Instagram: tag me or send a DM!
---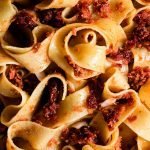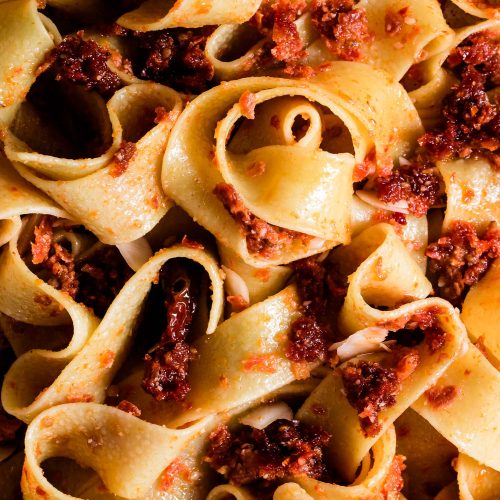 PAPPARDELLE WITH SUN-DRIED TOMATOES PESTO
Extremely flavorful and easy red pesto made with just 4 ingredients!
Ingredients
For 2 or 3 people:
60 gr

Sun-dried tomatoes

75 gr

Extra virgin olive oil

15/20 gr

Almonds

a small clove

Garlic

240 gr

Pappardelle pasta

(store-bought, made with eggs)
Instructions
Read the post to know how to get your tomatoes "pesto-ready".

Using a small food processor (I've used the one I recommended above), roughly blend tomatoes, garlic, almonds until you obtain a "meal".

Add half of the extra virgin olive oil until you get almost a creamy consistency.

Put your pesto into a jar and pour the remaining oil.

Cook the pasta following the package instructions then dress it with red pesto!