Re-creating at home healthier alternatives of famous snacks?
It's incredibly satisfying.
Making them taste almost like the original?
Twice as satisfying.
Eating these magnum ice cream bars in these super hot afternoons?
Excessively satisfying!
You ready to become a huge fan of these bad boys?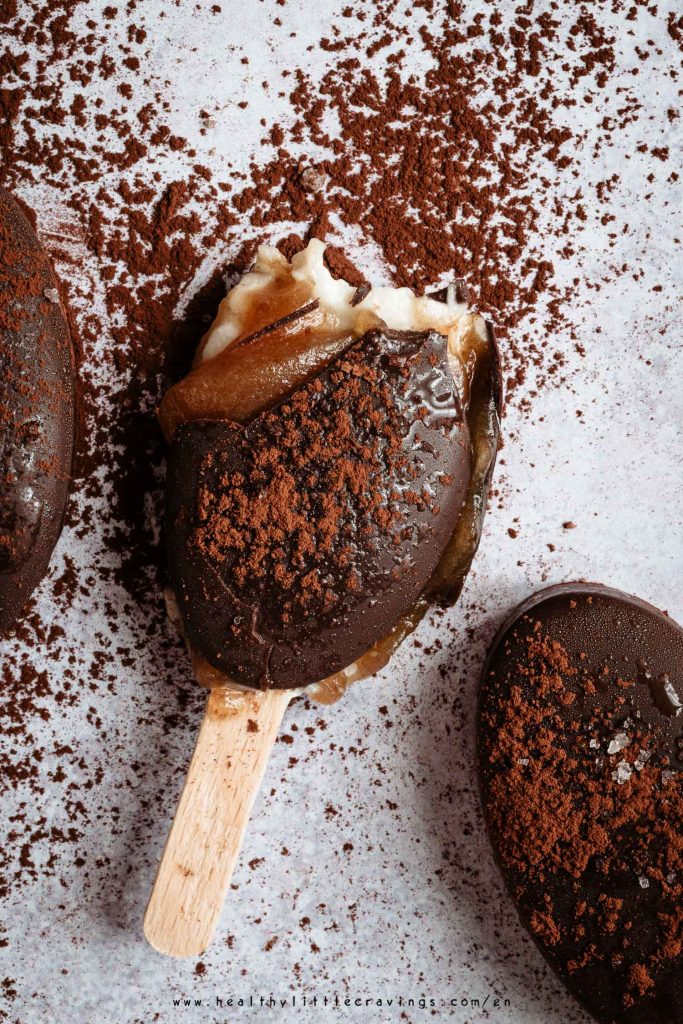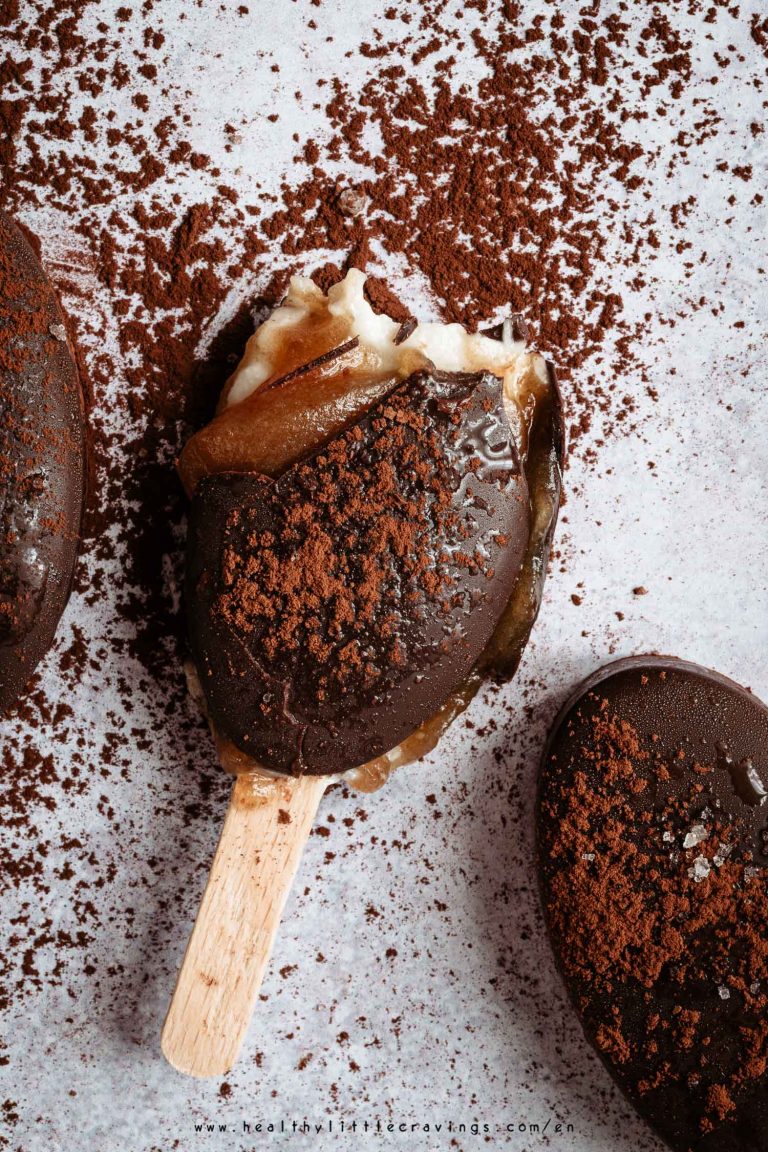 These magnum ice cream bars passed the crucial test...
No, I'm serious. These bars have passed the ultimate test: dad's test.
You know, to be a successful food blogger you have to make recipes that won't work for you (well, also), but for dozens or hundreds of other people. Usually family, friends and partners have to "sacrifice" themselves and eat your experiments (what a sacrifice uh).
Same happened with these magnum ice creams bars: I made them for my boyfriend and he's been…pleasantly surprised. He loved them! Same with my nephews.
On the other hand, my dad is a bit more skeptical and does not always find vegan recipes appealing.
Guess what though: he loved them too! He said they were absolutely scrumptious.
That's why I'm telling you they passed the ultimate test;)
I'm sure that if he approves them, then everyone will!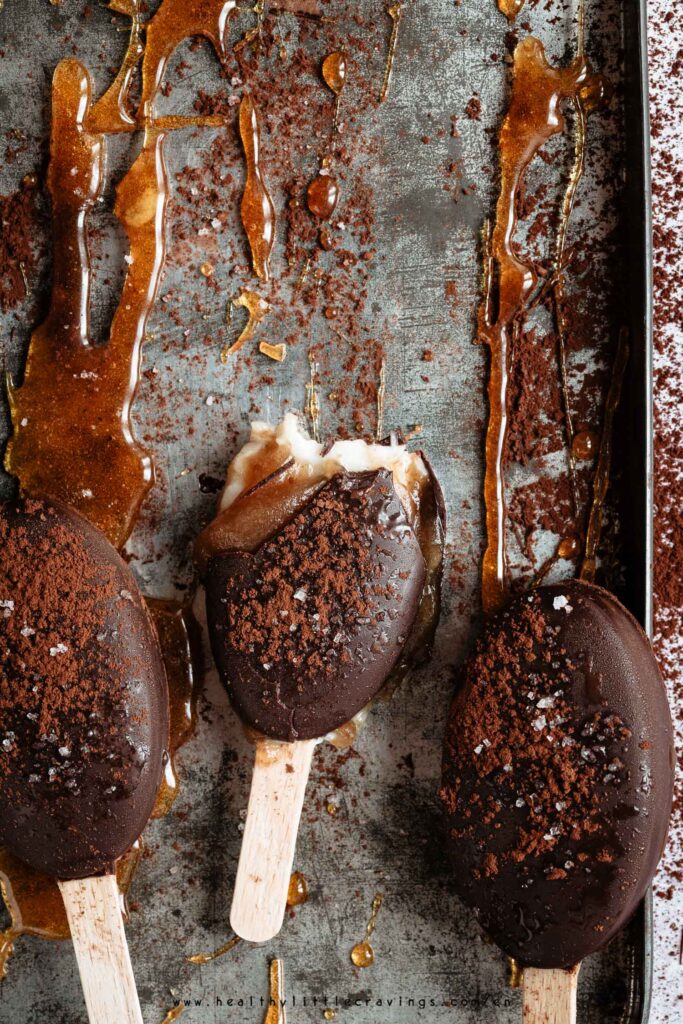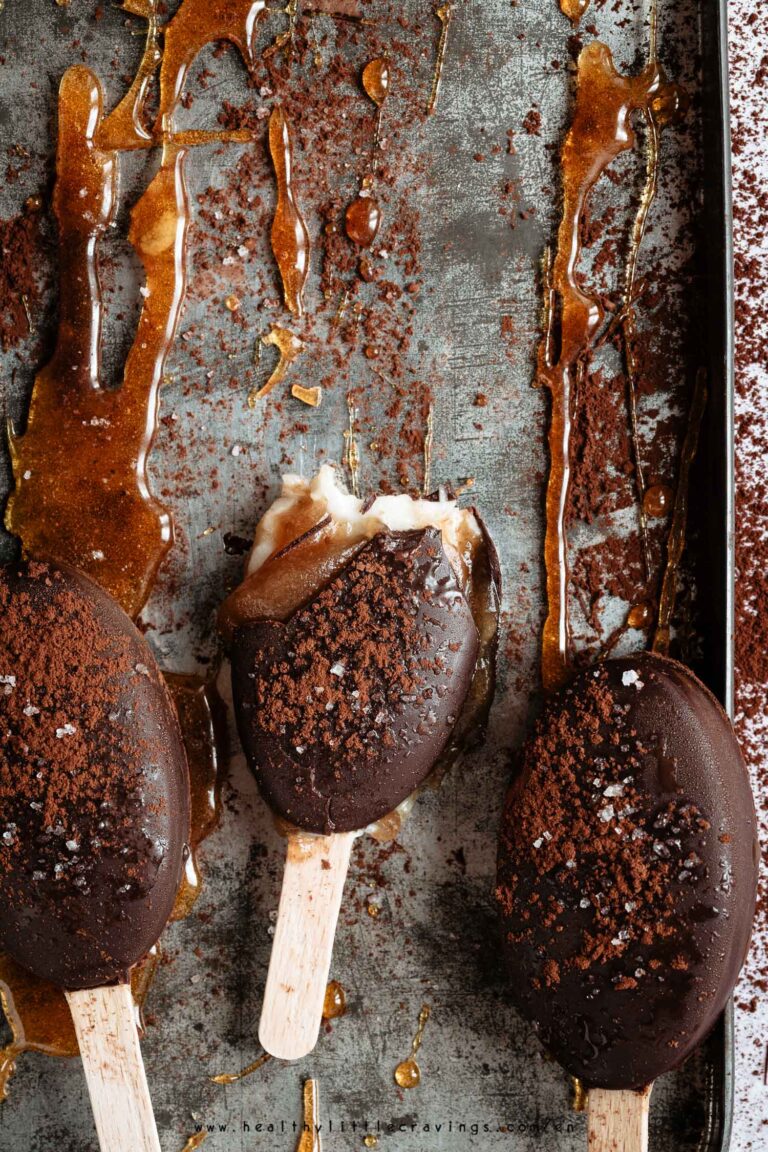 It's not always easy to make vegan ice cream that tastes good...
FAQs
This recipe was born because one day, two years ago, I was craving the famous Magnum Ice Creams.
You all know though they're not the healthiest snack in the world.
Therefore, I surfed the Web and I found out so many recipes for vegan ice creams/popsicles using the popular formula "soaked cashews + coconut milk".
I immediately tried to develop my own recipe and... it was love at first bite! And second bite, and third and so on!
But making vegan ice cream is not always easy. So here are some questions answered:
What's vegan ice cream made of?
The classic vegan ice creams you'll find online are made of full fat coconut milk, some kind of sweetener, and often cashews.
Easy ingredients (not the cheapest though).
What's the secret to vegan ice cream?
The super creamy full fat coconut milk.
As this post from The Kitchn says, if you'll try to use other milks, the recipe won't work because it will be too watery.
You need those fats in order to eat the creaminess.
Should you use a thickener?
Not in this recipe.
But if you want to thicken the mixture, try to add some cornstarch.
Can you use other nuts instead of cashews?
Try with almonds!
But...is vegan ice cream healthy?
It's healthier than the store-bought ones for sure.
This recipe just has 7 ingredients. Yes, they're high in fats, but they're pretty nutritious and energizing. So, I don't consider them a junk food!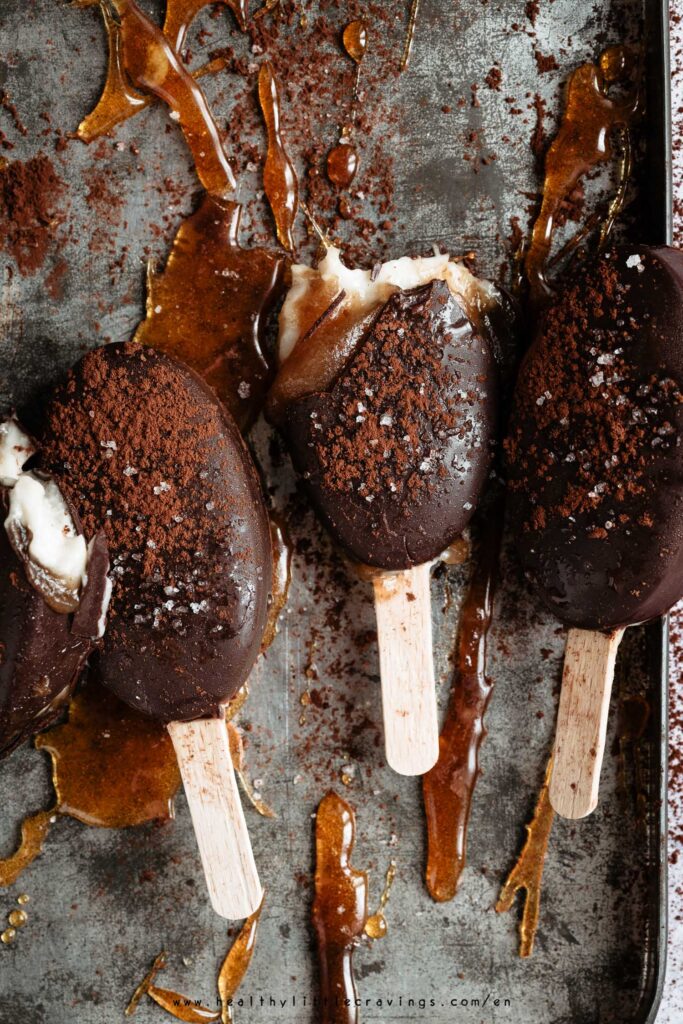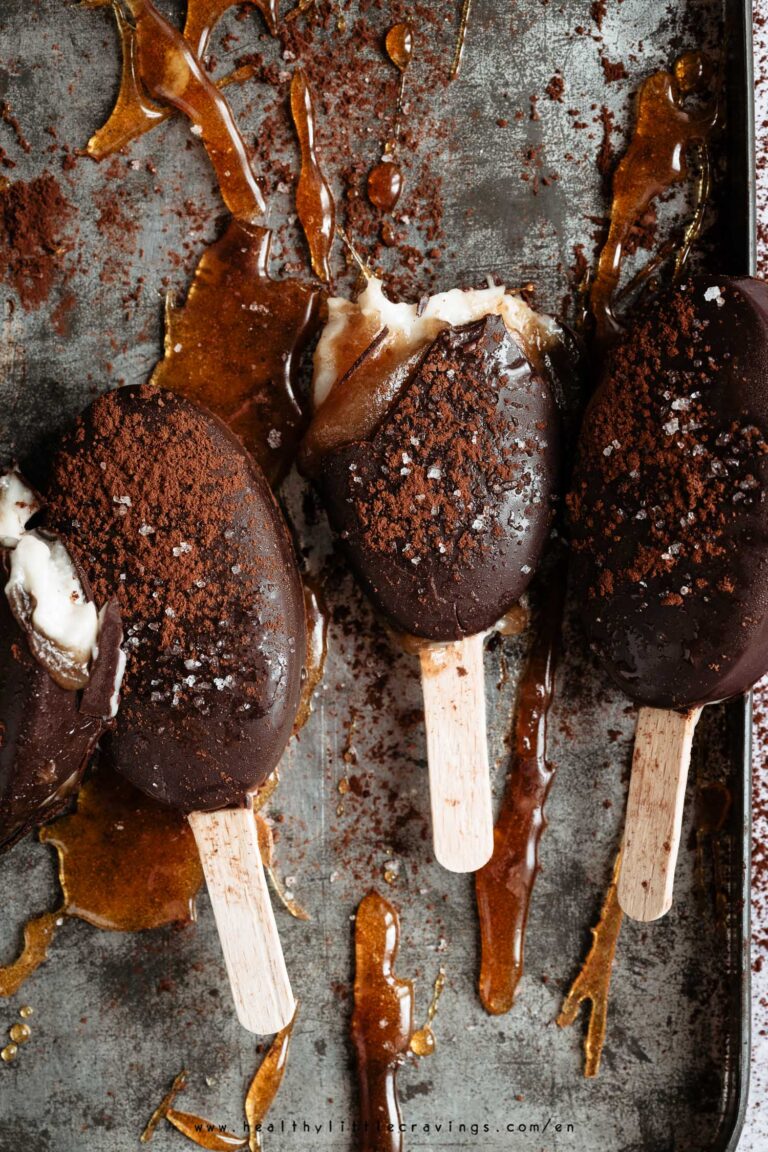 ---
MY RECOMMENDATION:
The following are affiliate links which means I make a commission off of them with no additional cost to you. Thanks for supporting me!
To make these mini magnums you have to use this mold (or similar!)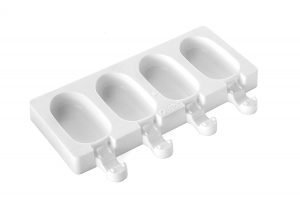 ---
If you make this recipe, please be sure to give it a rating and leave a comment! It would make me so happy! 🙂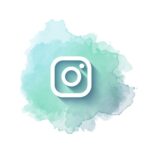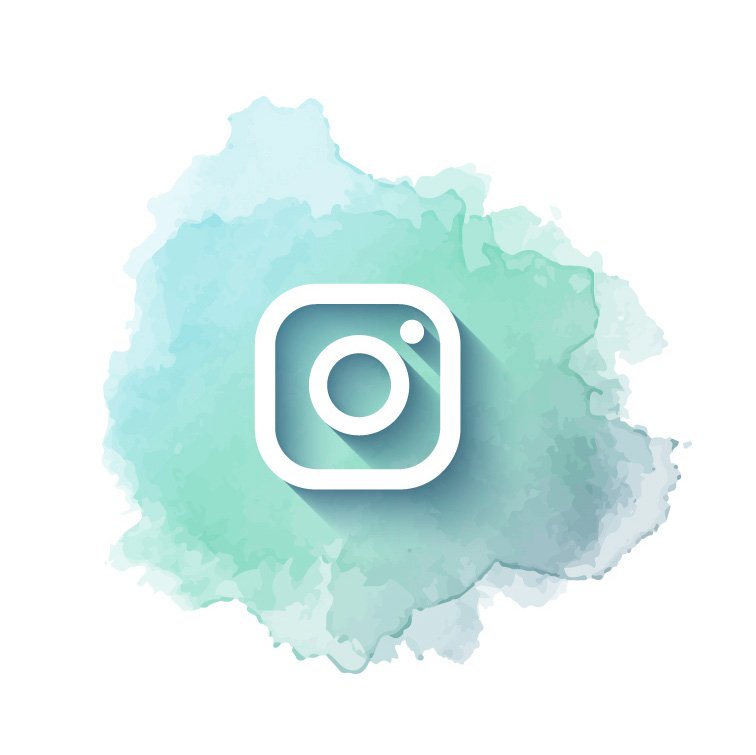 Remember: if you try one of my recipes, tag me on Instagram or DM me the photos!
---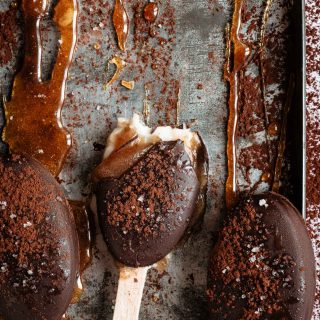 VEGAN MAGNUM ICE CREAM BARS
Refreshing vegan and refined sugar free magnum ice cream bars made with cashews, chocolate and dates.
Print
Pin
Ingredients
For the creamy base:
65 gr

Cashews

65 gr

Full fat coconut milk

a piece

Vanilla pod
For the caramel:
4

Medjool dates

60 gr

Water

a pinch

Salt
For the chocolate layer:
approximately 75 gr

Dark chocolate
Instructions
Let the coconut milk can chill in the fridge overnight.

In the morning: melt the chocolate and let it cool down a bit, then fill the ice cream molds, to create a first layer of chocolate, and let it set in the freezer. After a few minutes - or when firm - create a second layer if necessary.

Second step is preparing the caramel sauce: pit the Medjool dates and blend them together with water and a pinch of salt.

Blend until you get a nice and creamy consistency.

Pour approximately a teaspoon of caramel in every mold (it will probably exceed, you can use it for oatmeal or to sweeten other foods). Freeze them again.

NOTE: make sure to be quick when you take the molds out of the freezer so they don't melt.

Third step: using a powerful blender, blend cashews together with coconut cream (the fat part of coconut milk + a bit of coconut water). Add also the seeds from the vanilla pod and blend until it gets super creamy.

Pour the mixture into the molds and freeze again.

Meanwhile, melt the remaining chocolate in case it set, let it cool down.

Cover the surface of the magnum ice-creams and put them back into freeze for the last time.
---
© Healthy Little Cravings - Roberta Dall'Alba.
I own all content and photos' copyright.
Before using my photos and recipes, please email me.
If you would like to republish a recipe, please link back to this post and re-write the instructions in your own words.