Do you feel it's time to get serious about food photography?
Do you feel like you're in limbo and you need someone to guide you to reach your food photography goals?
Do you need to take your photos to the next level, learning more about what makes them WOW?
With my online food photography course, The Outstanding Food Photographer Program, I've got you covered!
Enrolment is now closed.
12-WEEK MENTORSHIP FOR FOOD PHOTOGRAPHERS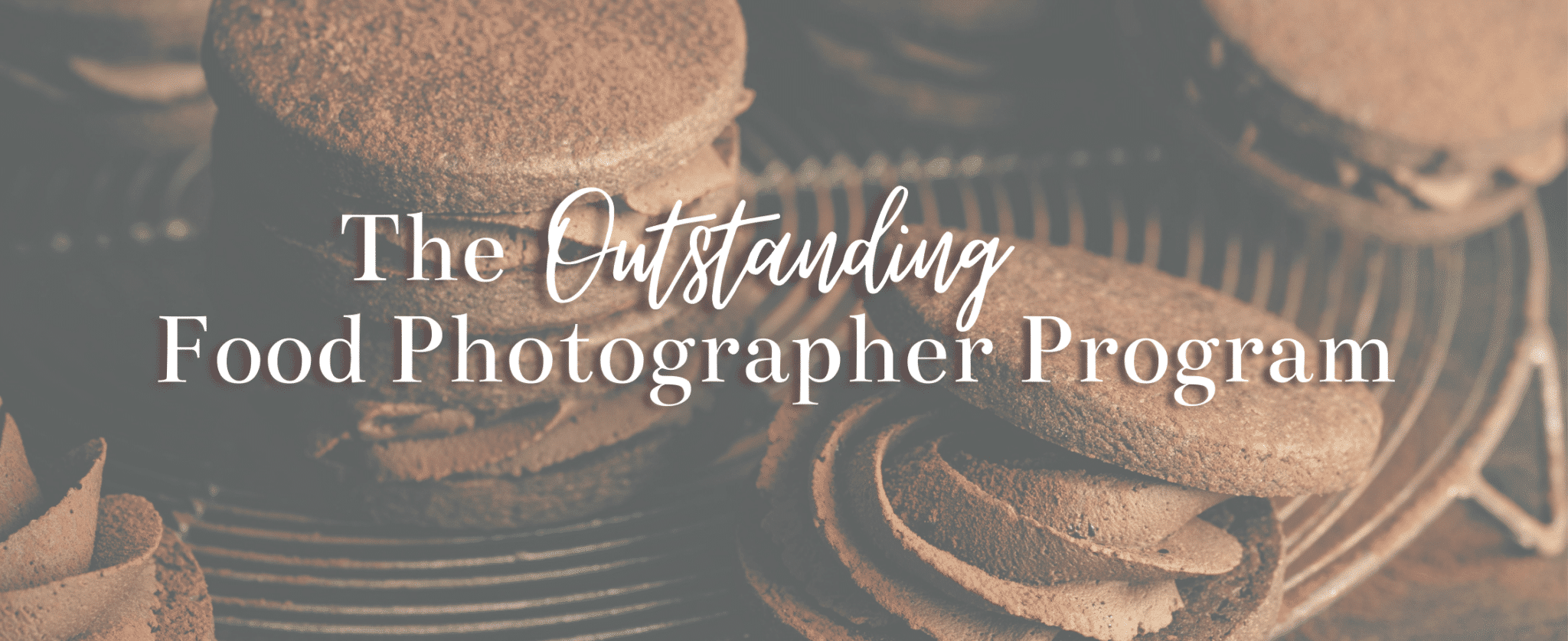 WHAT IF...
You could finally stop shooting on autopilot, only thinking about the rules, and start focusing on

developing your aesthetic sense

instead...
You could give a boost to your creativity,

elevate your food photography

and stand out in the community...
You could build a strong mindset,

reach out to clients confidently

, build a

profitable business

and go full-time as a food photographer...
You could increase both the quality of your photos and your prices, to work less and earn more...
...without the hustle, without draining your mental energy and feeling overwhelmed?
---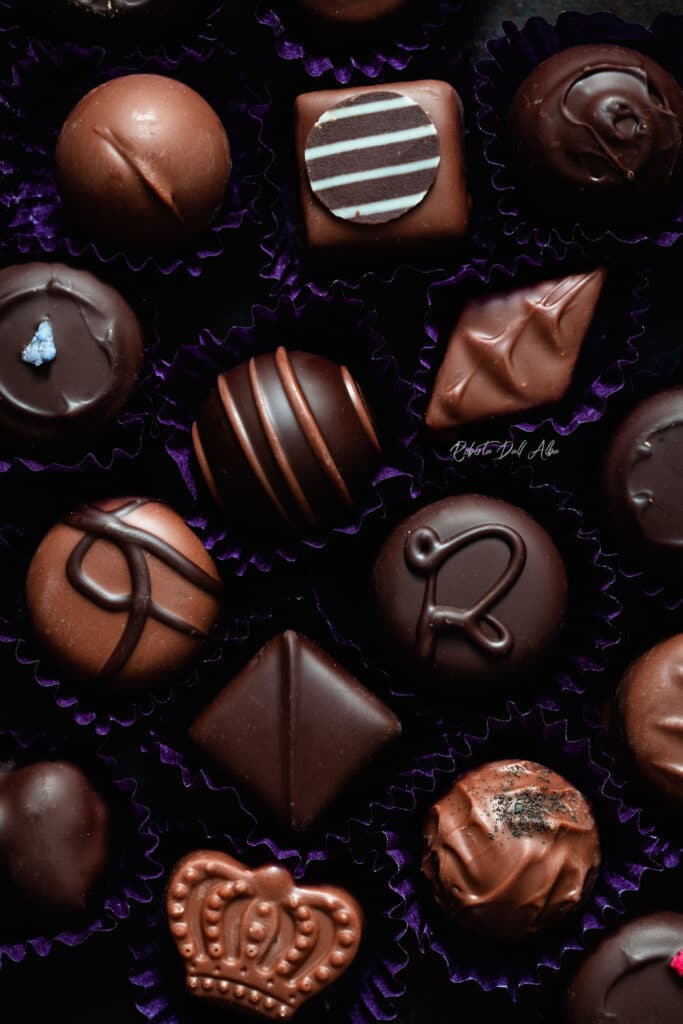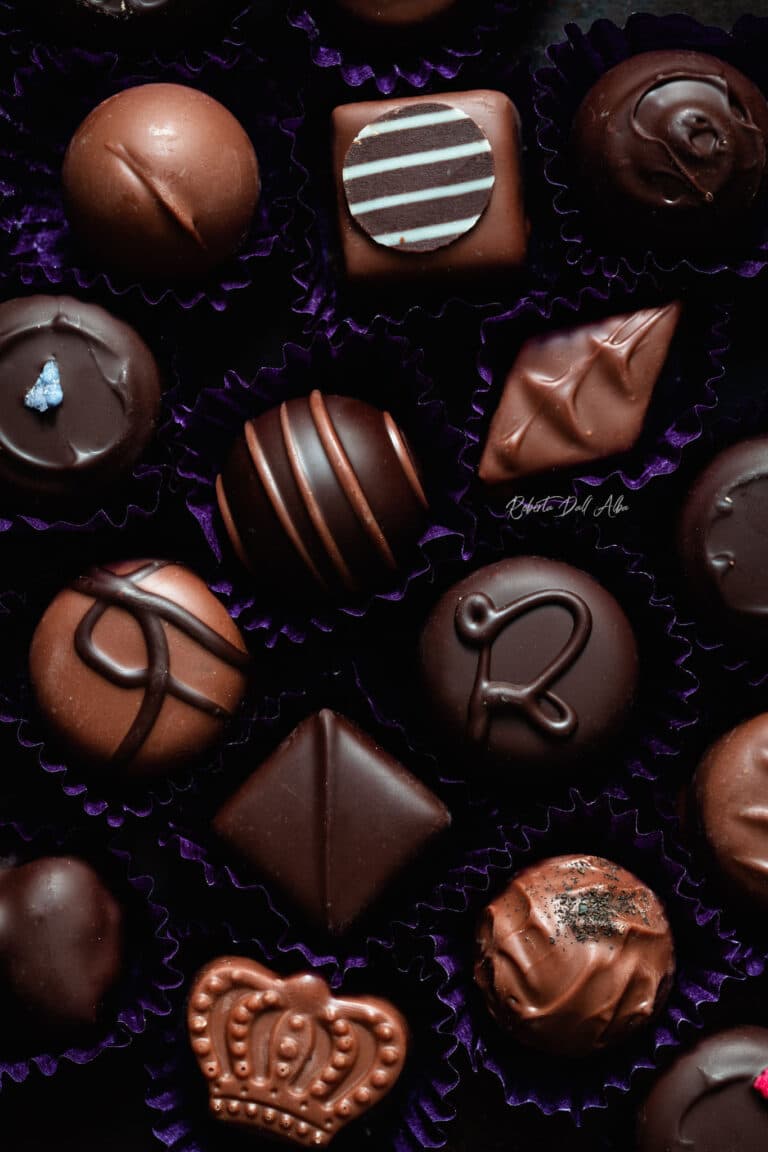 HERE'S THE PROBLEM...
Here's what most food photographers do:
They invest in courses to learn the technical aspects of food photography...
They apply the rules like they're on autopilot, without really paying attention to the creative approach...
They only take inspiration from other food photographers' photos...
But they are not really digging deep to find their unique style and approach...
Eventually, these food photographers end up comparing themselves too much with others in the community, frustration come in and they don't even try reaching out to clients and achieving their goals.
Can't blame them! Comparison is a real thing. There are thousands of food photographers, and I understand you can get caught by this vicious cycle.
Good news, it DOES NOT have to be this way!
---
Hi, my name is Roberta...
I am a full time food photographer and food blogger, founder of "The Outstanding Food Photographer Program".
I know how it feels to struggle with creativity and finding your own style.
I started my food blog in 2016, but quickly realised I needed to take high quality photos in order to differentiate myself.
I invested in a food photography course and started shooting photos following the "rules", almost on autopilot.
My only inspiration was other people's work, my mind and soul were not open, I wasn't really focusing on myself and what makes my eye unique.
I quickly learned a lesson: you can learn all photography rules in the world, but unless you stop rationalizing the process and really start digging deep within yourself , it won't be possible to find your unique voice, to stand out and attract the right clients (to make good money!)
I was on a mission: I learnt everything I could about the creative approach in food photography (and how to get paid more!).
In the meantime, I was able to confidently reach out to big names in the industry (and actually work with them) and build my business. I found my unique voice and now I'm honored to say people get inspired every day by my work.
So I decided to put together a program to teach my methodology...and this is how The Outstanding Food Photographer Program was born!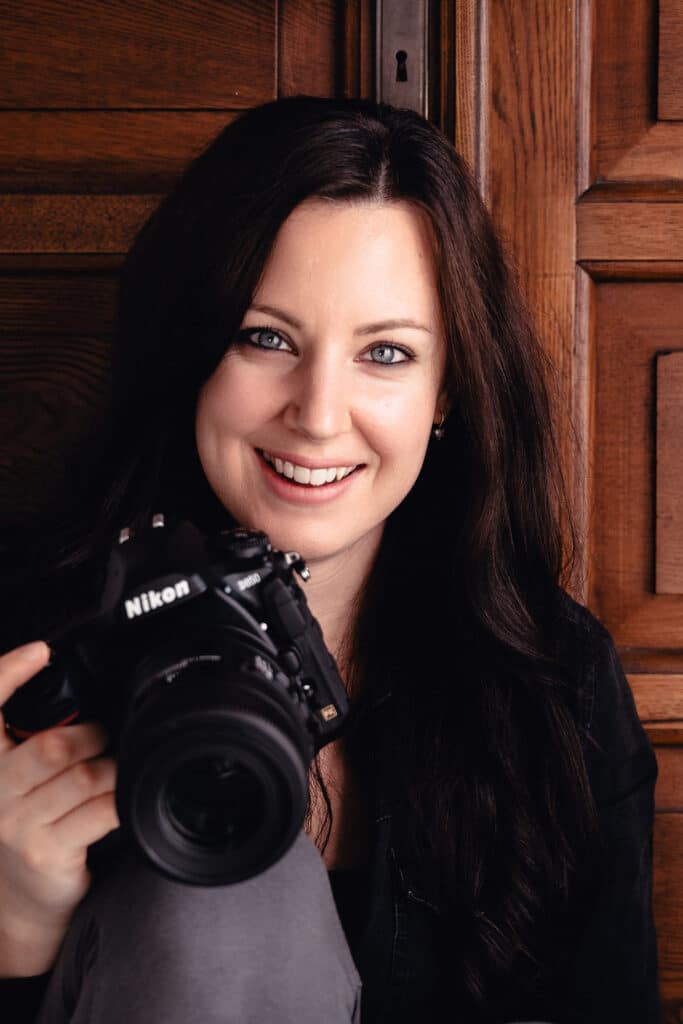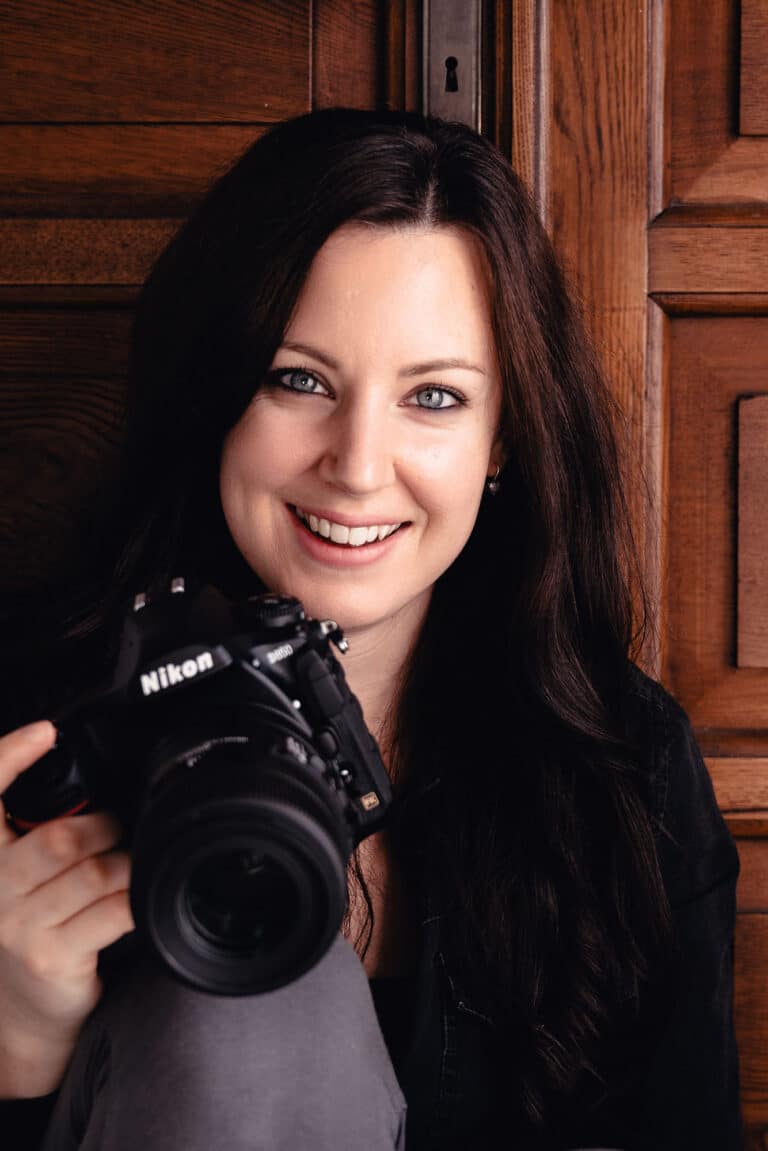 ---
THIS FOOD PHOTOGRAPHY COURSE (PROGRAM) WORKS BEST IF...
I have found that my system works best if:
1.You already know the basics of photography and you are looking to elevate your food photos, to stand out and start working with clients;
2.You are a food blogger or food photographer and you're looking to develop your aesthetic sense and take your photos to the next level, so you can earn more confidence and money.
WHY THIS MENTORSHIP PROGRAM IS DIFFERENT...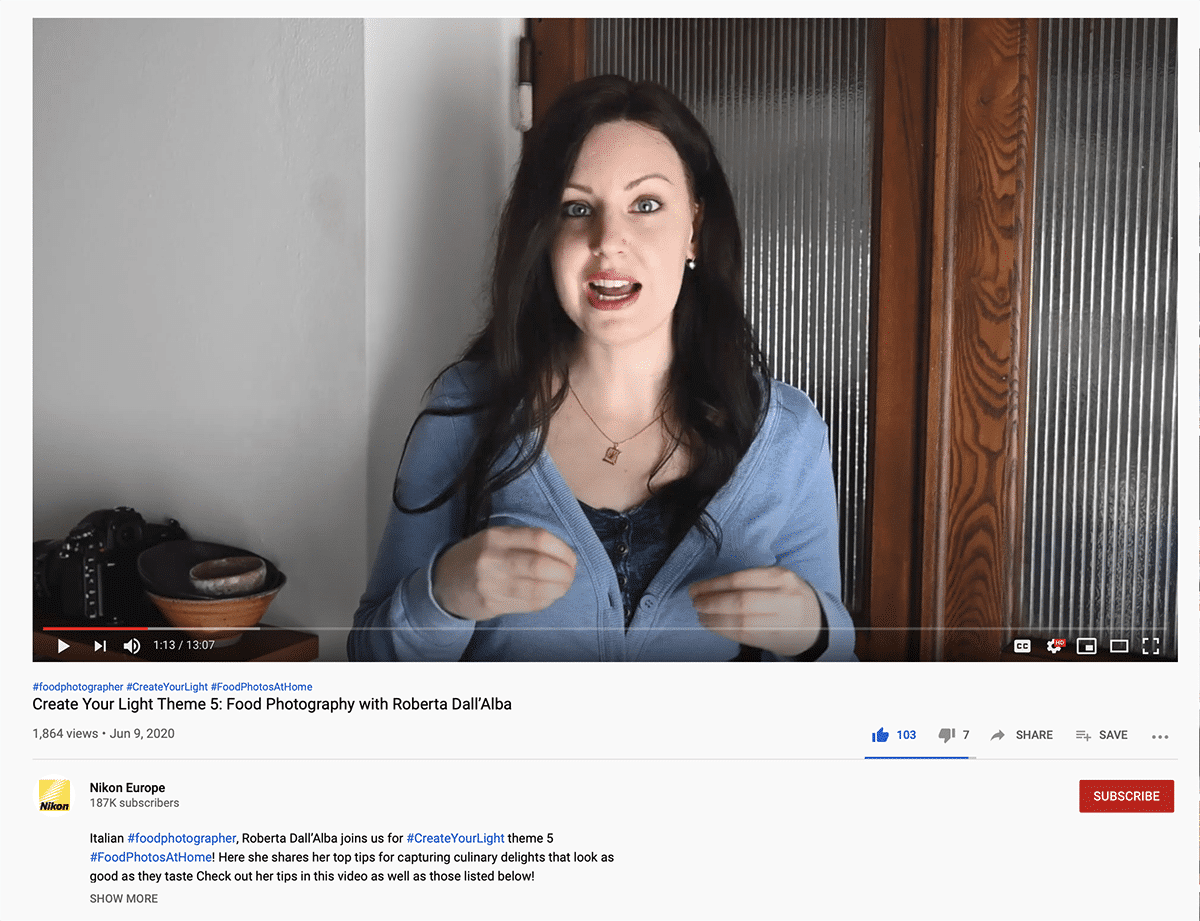 Teaching has always been a passion of mine, I care about each one of my students and I am 100% results-oriented – I want YOU to succeed and develop your aesthetic sense.
I strongly believe that everyone is unique and can make a difference: I care deeply about who you are, your qualities and your time.
I want you to make a living with food photography, I want you to be paid more, I know your worth!
I will fully support you with LIVE weekly group calls, direct feedback, as well as daily support (+ one 30 minutes goal setting call + one 60 minutes 1:1 coaching session!)
I'll teach you how to overcome limiting beliefs, develop a strong mindset, be confident before/during/after your photo shoots and when you approach clients.
You will get lifetime access to the material (+ updates!)
THE MODULES
The Outstanding Food Photographer Program will cover all these topics:
Module 1: Mindset & creativity
In week 1-2, you will learn how to develop a strong mindset that will guide you from the very beginning of the program and throughout your career. Identify your limiting beliefs and develop a "growth mindset".
Become more confident by digging deep and finding what really inspires you and makes your work unique.
Module 2: Light and colors, with focus on storytelling
In week 3 and 4, learn to focus on the narrative aspect of food photography instead of going on autopilot: understand & practice how to tell a story using light and colors.
You will have the opportunity to see my entire creative process, thanks to behind the scenes videos.
Module 3: Composition with a focus on harmony
Week 5 and 6, learn how to go beyond basic compositional rules and study what makes a photo harmonious, balanced and beautiful so your viewer can think WOW!!!
Watch me style and let me help YOU style your favorite food!
Module 4: Editing with a focus on the aesthetic
Week 7 and 8, focus on creating the actual aesthetic of your photos, that helps convey a visual tone or mood, through color correction and color grading. Let's make your vision come true!
Module 5: Business, be confident, reach out, make money!
Week 9 and 10, learn to build your portfolio, find clients, price yourself, increase your current prices and confidently approach clients to sell your uniqueness!
Extra support
Week 11 and 12: two more weeks of full support!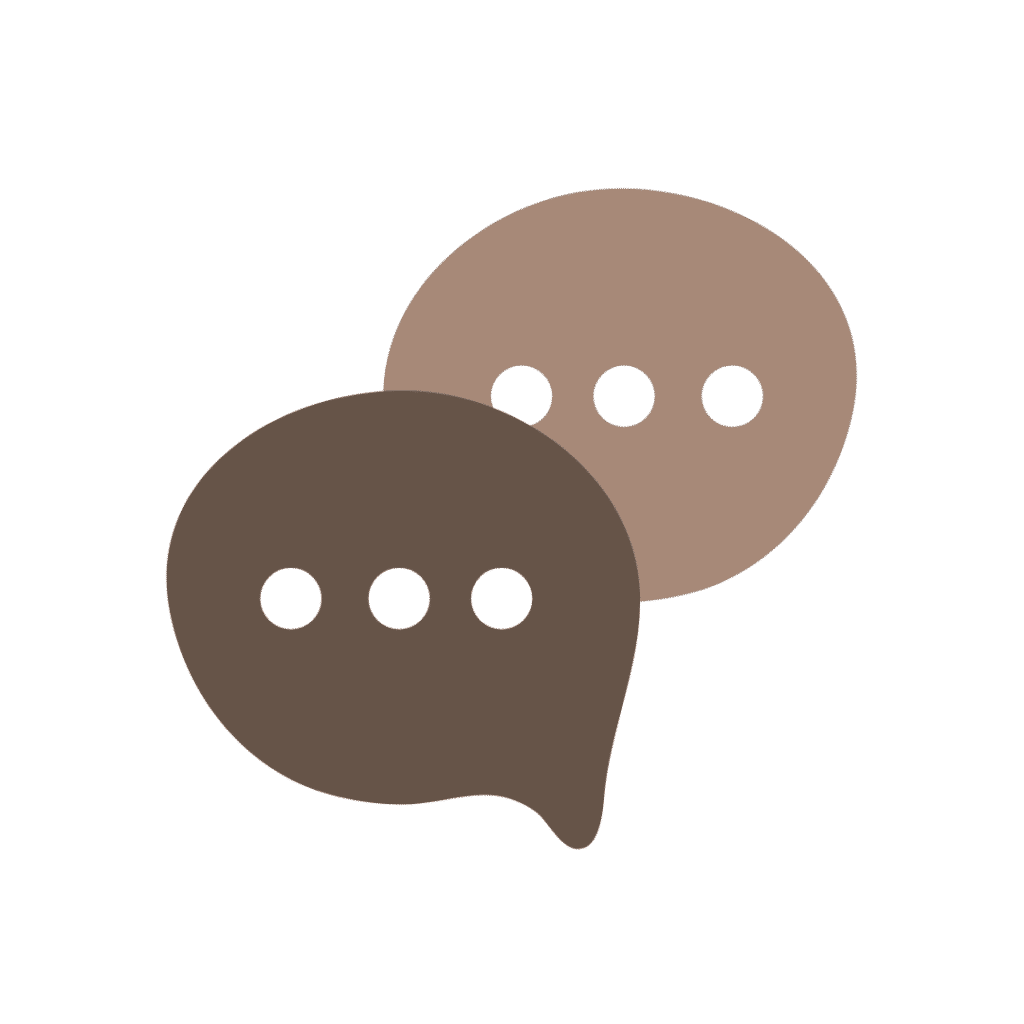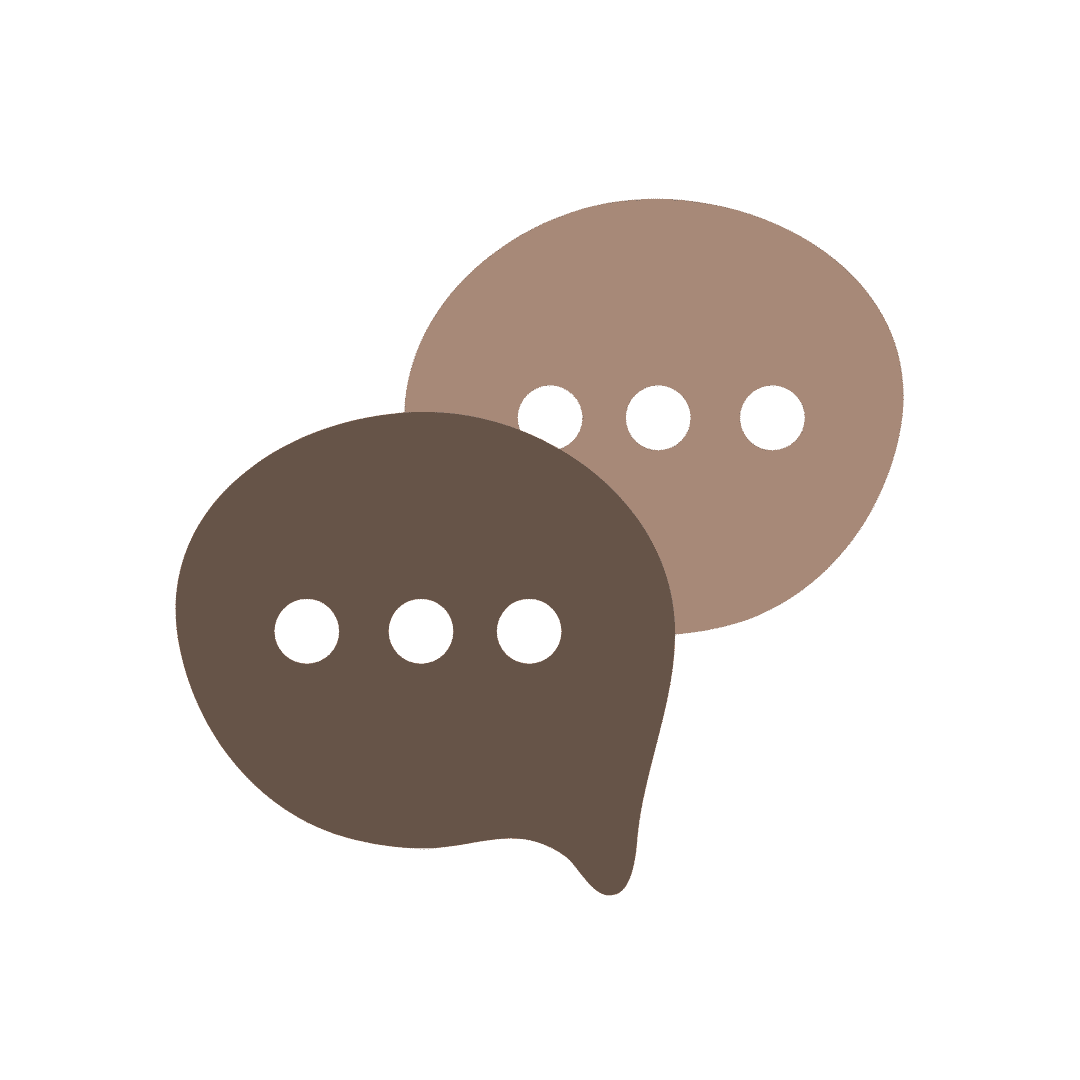 WHAT SOME OF MY STUDENTS SAY...
---
---
WHAT YOU WILL GET...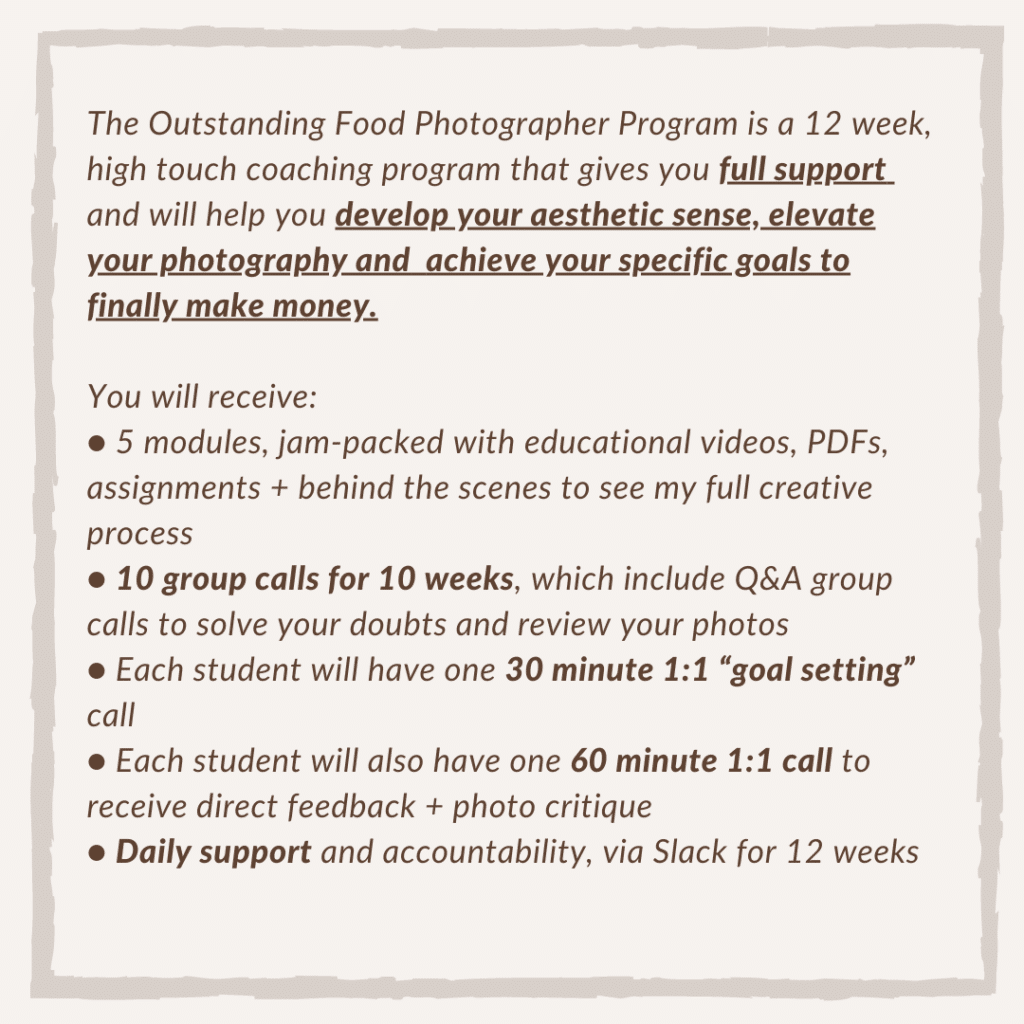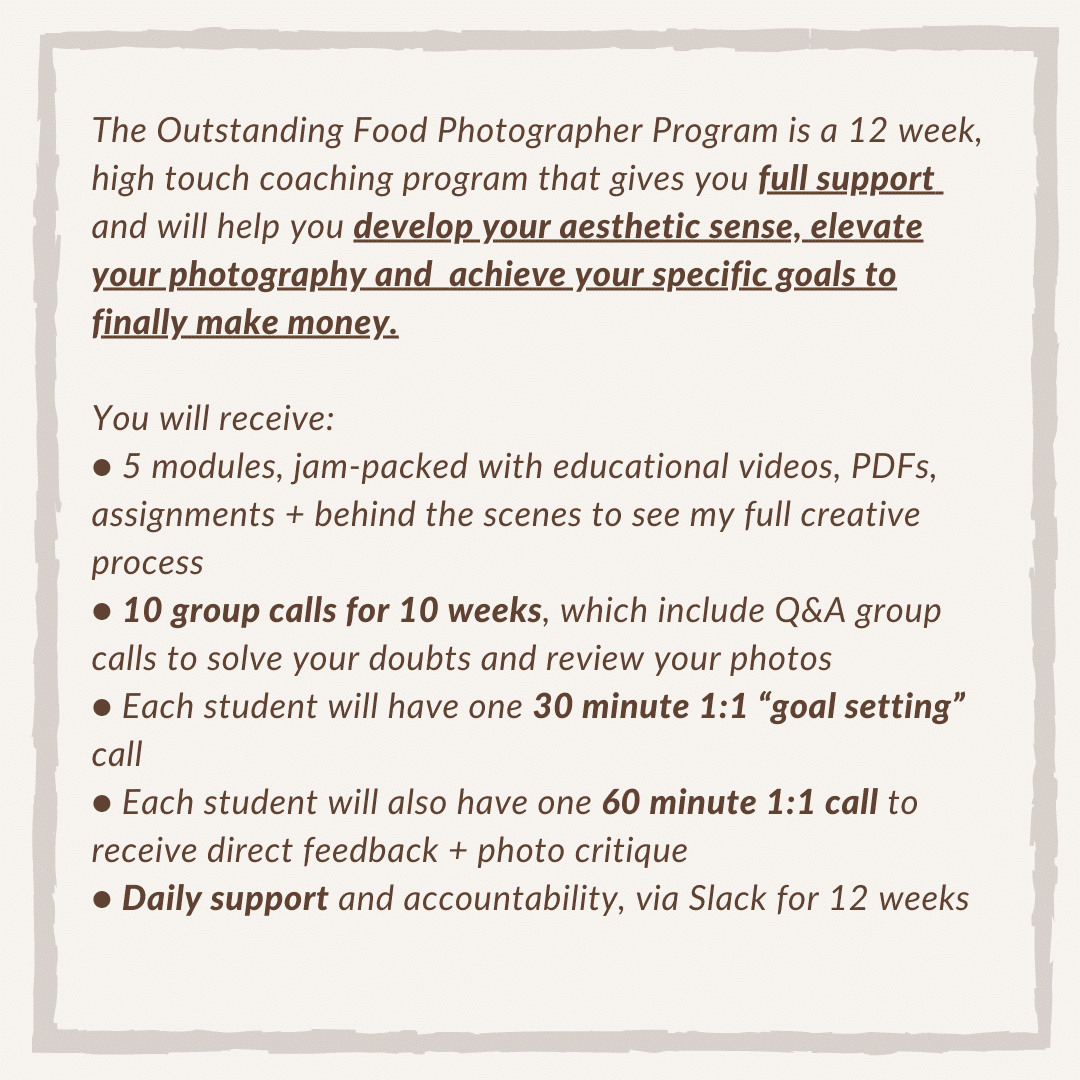 ARE YOU READY TO REACH YOUR GOALS?
Want to work together? Click the button below to book a Discovery Call with me. On the call, I'll get to know you, ask some questions about your food photography journey and learn about your aspirations.
At the end of our call, 1 of 2 things will happen:
1. You'll either be a perfect fit, and I will extend an invitation to work with me as one of my clients,
2. If it's not a good fit, that's totally okay! NO hard feelings and NO obligations on your part — I will point you in the right direction and suggest something else you can do to achieve your goals (my 1:1 are usually a great option for people who don't join)
LET'S DO THIS!