Prepare your oven: it's time to make some delicious mini blueberry tarts!
---
These last mornings has started with me meditating, then reading (I'm now reading 'The Alchemist' by Paulo Coelho. I bought it yeeeears ago and never read it), 15 minutes of soft yoga, healthy breakkie (85% of times oatmeal) and then work, work, work with some piano music in the background, soooo relaxing. It's making me feel good, so why not keeping this routine.
Mini blueberry tarts that were born by chance...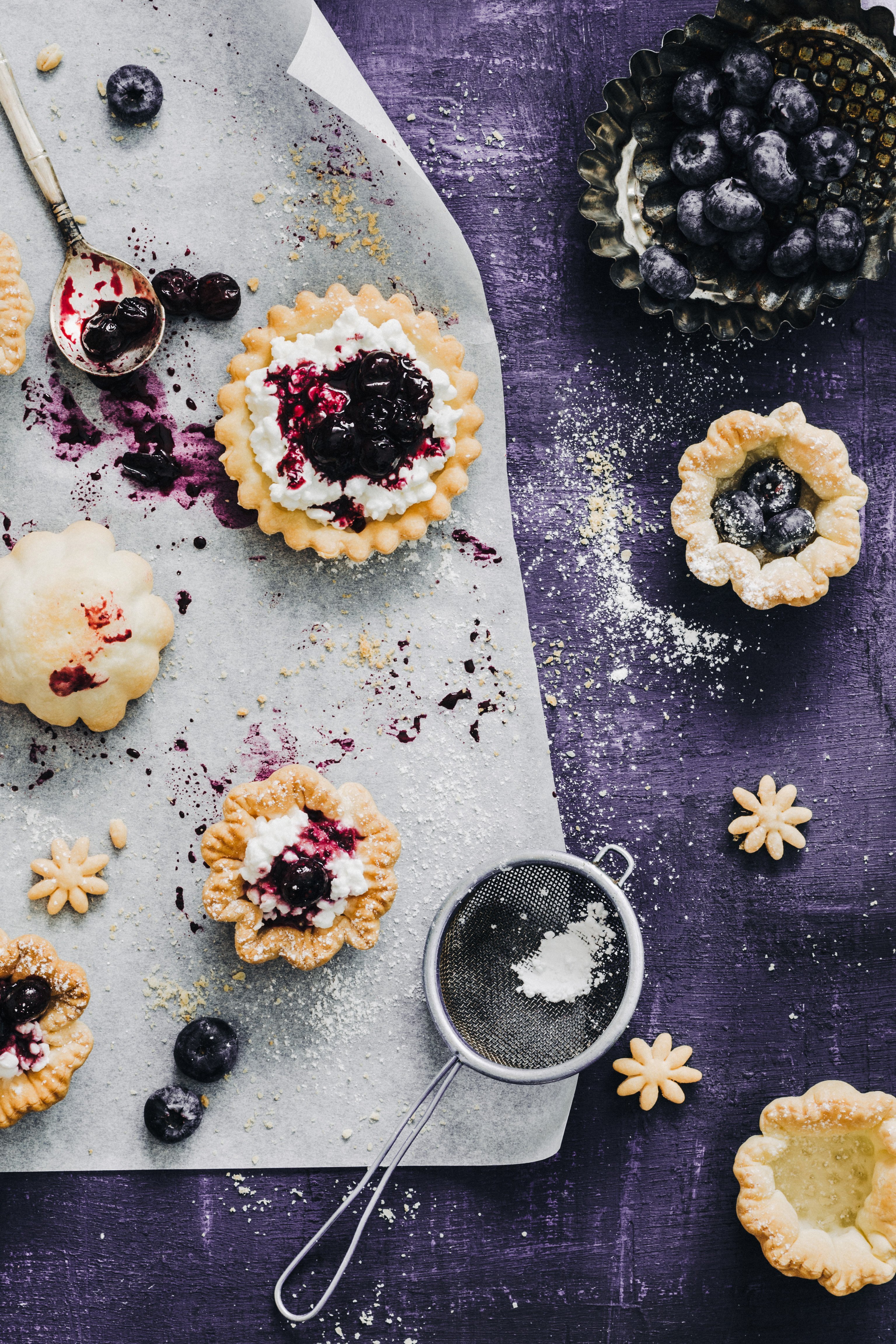 If you've been following me on Instagram - and the blog - for quite a long time, you know that I always take part at Kimberly's (@thelittleplantation) Instagram  challenges. She makes these kind of "competitions" every season (for example, last one was in June) and I fancy them because I can make my creativity flow and also to be inspired by the other participants.
If you're wondering what I am driving at, yes it's Kimberly's "fault" if these mini blueberry tarts were born! So let's thank her lol
I actually had in mind to make these for like a month or so, but today's theme of her #eatcaptureshare challenge was 'purple' and these were perfect because of the blueberries, you know.
Easy last minute dessert!
My initial idea was to use phyllo pastry: it's lighter and less fatty. The other day while grocery shopping, though, I found this puff pastry with pretty good nutritional facts (I don't remember them now) and I decided to use this.
Regarding the filling: at the beginning, I wanted to simply fill my mini tarts with cottage cheese and nothing else, but then I thought I had some coconut milk (and its cream) to use up and...this came out!
Oh, you're wondering what's on top? Syrupy blueberries with a touch of alcoholic vanilla extract (mine is homemade)
My parents loved them! My mom's palate is more used to sugary stuff, so she added a bit of icing sugar on top. For the rest, amazing!
Reason why, if you were looking for an EASY LAST MINUTE dessert, this is perrrfect.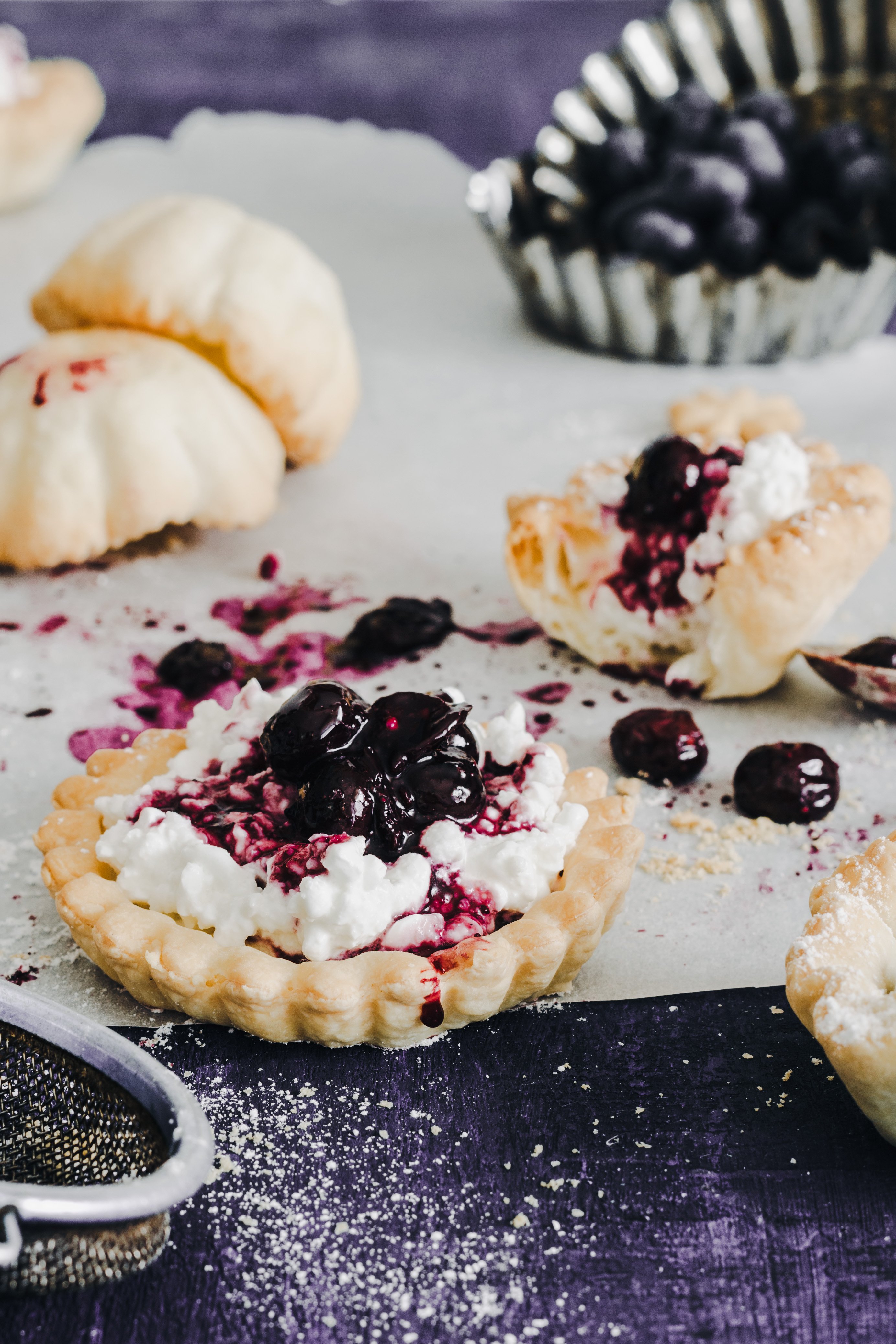 ---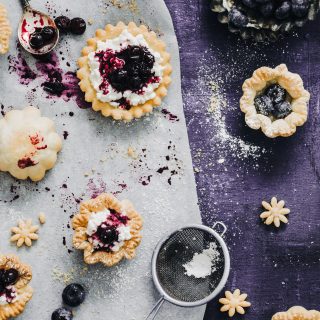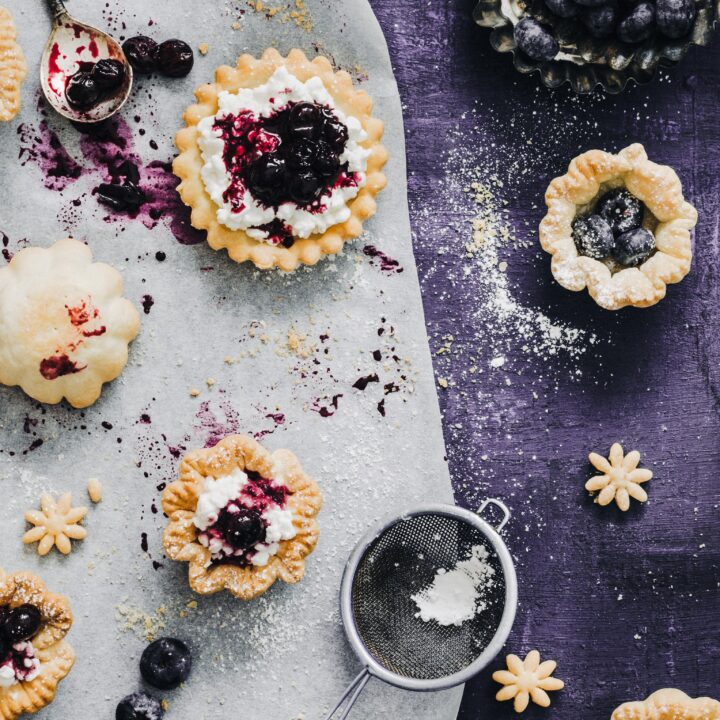 BLUEBERRY TARTS
Easy and healthy mini tarts with cottage cheese and blueberry vanilla topping.
Print
Pin
Ingredients
230

gr

Puff pastry or phyllo

-

(better if homemade)

60

gr

Frozen blueberries

half a teaspoon

Date syrup

a few drops

Vanilla extract

150

gr

Cottage cheese

50

gr

Coconut cream (from a can)
Instructions
Preheat the oven at 200°C (or 400°F).




Lay flat your puff or phyllo pastry, then

cut it into 8 round pieces.

Place each piece into the muffin tin sections and press gently.

Pierce the pastry with a fork to avoid forming bubbles and

fill with

pie weights

(I used soy beans because they're small).

I didn't grease my muffin tin because it was made of silicon, but if you need to then grease it.

Bake for 15/25 minutes (mine took 25 minutes to bake)

In the meantime, prepare the blueberry topping: in a pan -at low heat - let the blueberries defrost with a teeny tiny amount of water and the date syrup.

Add the alcoholic vanilla extract so the alcohol can evaporate.

Let become syrupy and stir with a spatula to prevent sticking.

Make the cottage filling by mixing cottage cheese and coconut cream.

[With COCONUT CREAM I'm referring to the creamy part of the coconut milk can.]

When the pastry is baked, let it cool down, then fill with cottage cheese + coconut mixture and top with blueberries' "compote".