Mine is a blog for those who wants to eat wholesome food with a touch of indulgence (every once in a while!). I don't focus on specific diets.
It is my job, though, to please (almost) everyone.
So, friend, here's a delicious grain free granola with for those who cannot eat grains and gluten.
Oh, no, it's actually for EVERYONE who wants to vary and stop eating the same breakfast (aka me, I love oats, but it's important to vary!).
---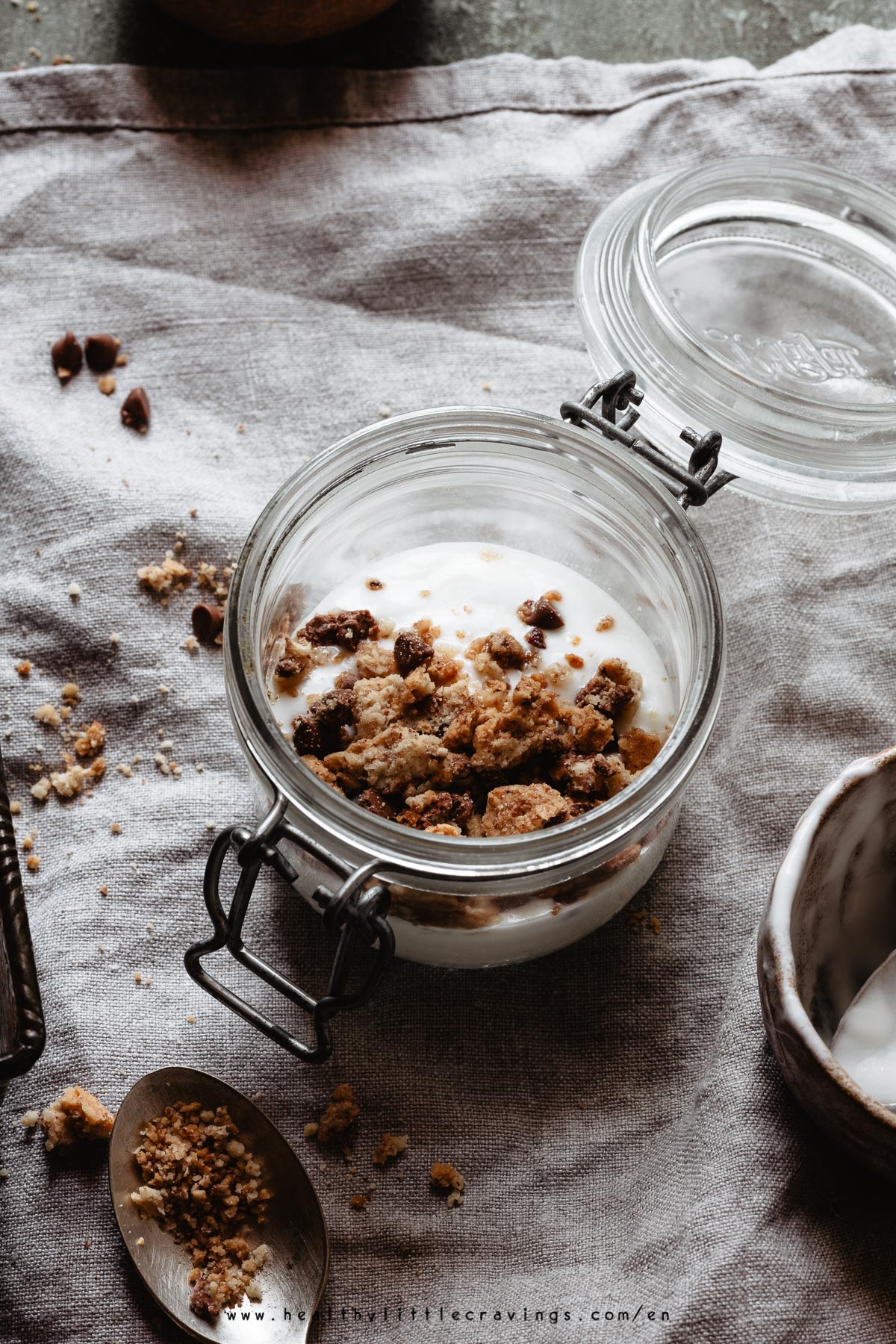 What is this grain free granola made of?
I remember that, when I developed this recipe, I was simply bored with my classic oat granola.
Don't get me wrong: I LOVE IT. But I wanted to create something different.
I had some almonds to use up. I ground them. Added some other ingredients. Et voilà.
So, let's see what's in our grain free granola!
ALMONDS
This is our "base".
You can either grind (roughly) your almonds or use store-bought almond meal.
I've tested both. I noticed store-bought almond meal absorbed more and became a bit too wet.
NUT BUTTER
I've tested this granola with pecan butter and almond butter. I loved both!
I find this recipe is perfect to use up some nut butter you're not consuming (like in my case: my almond butter was too thick and I couldn't spread it. It was amazing here though.)
AQUAFABA
Aquafaba is not something I use that often.
In this case it kinda acts like a "egg binder".
Is it necessary? I haven't tested without it, so unfortunately I can't tell.
MAPLE SYRUP
Maple, agave, use what you prefer.
If you're not vegan you can also use honey.
OTHER INGREDIENTS
In this case, I've added cocoa nibs and chocolate chips.
But possibilities are endless: you can add seeds (any kind!), other nuts, dried fruit (apricots, apples, banana, cranberries, blueberries...), coconut and so many other things! You choose.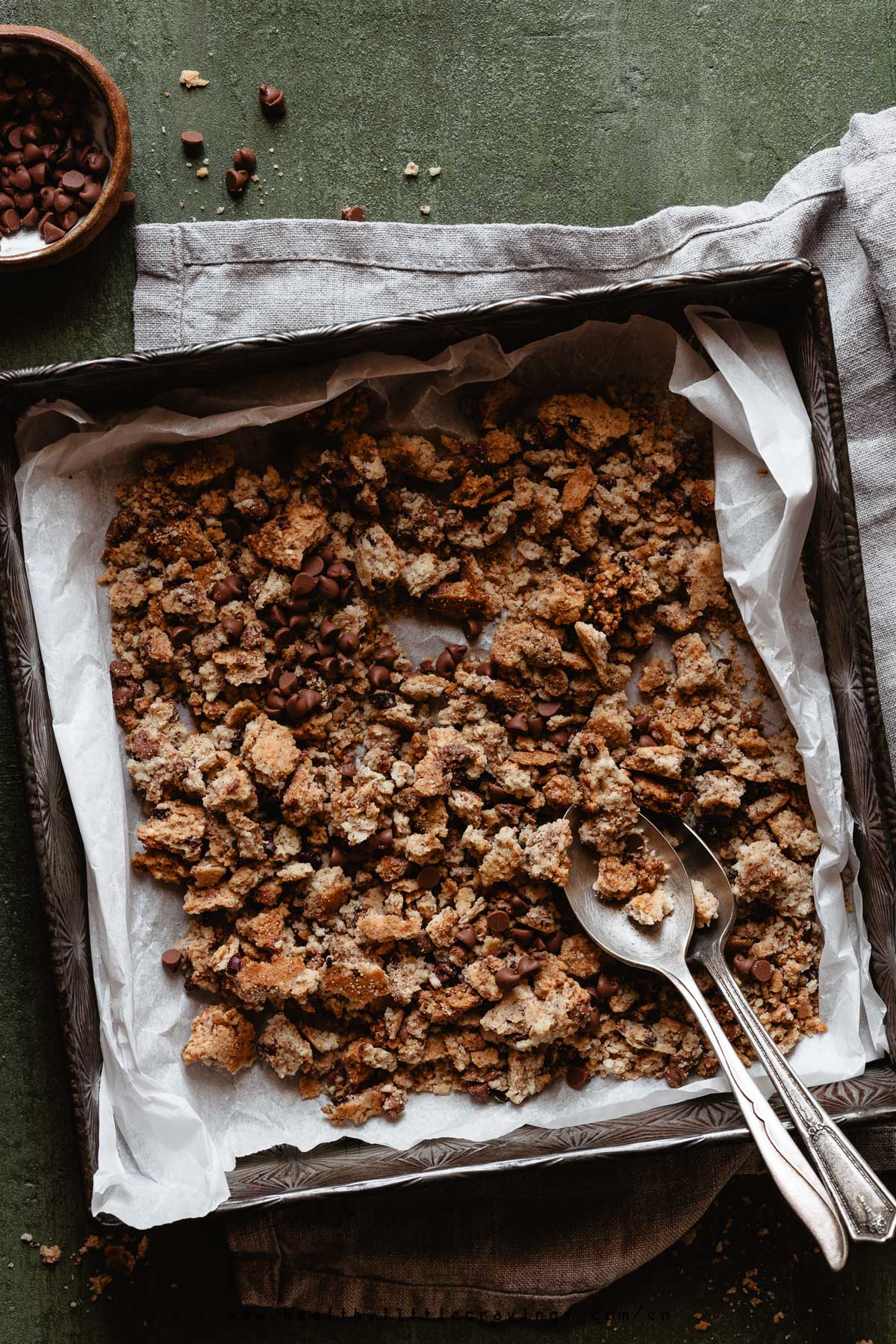 Making this granola is extremely simple: you'll only need a bowl, then combine all the ingredients. My advice: work them with a fork or with your hands, like you're making crumble.
Want big granola chunks? Do not create crumbles. Instead spread the mixture into a single layer, on your baking tray, then bake. Let it cool and break it into chunks!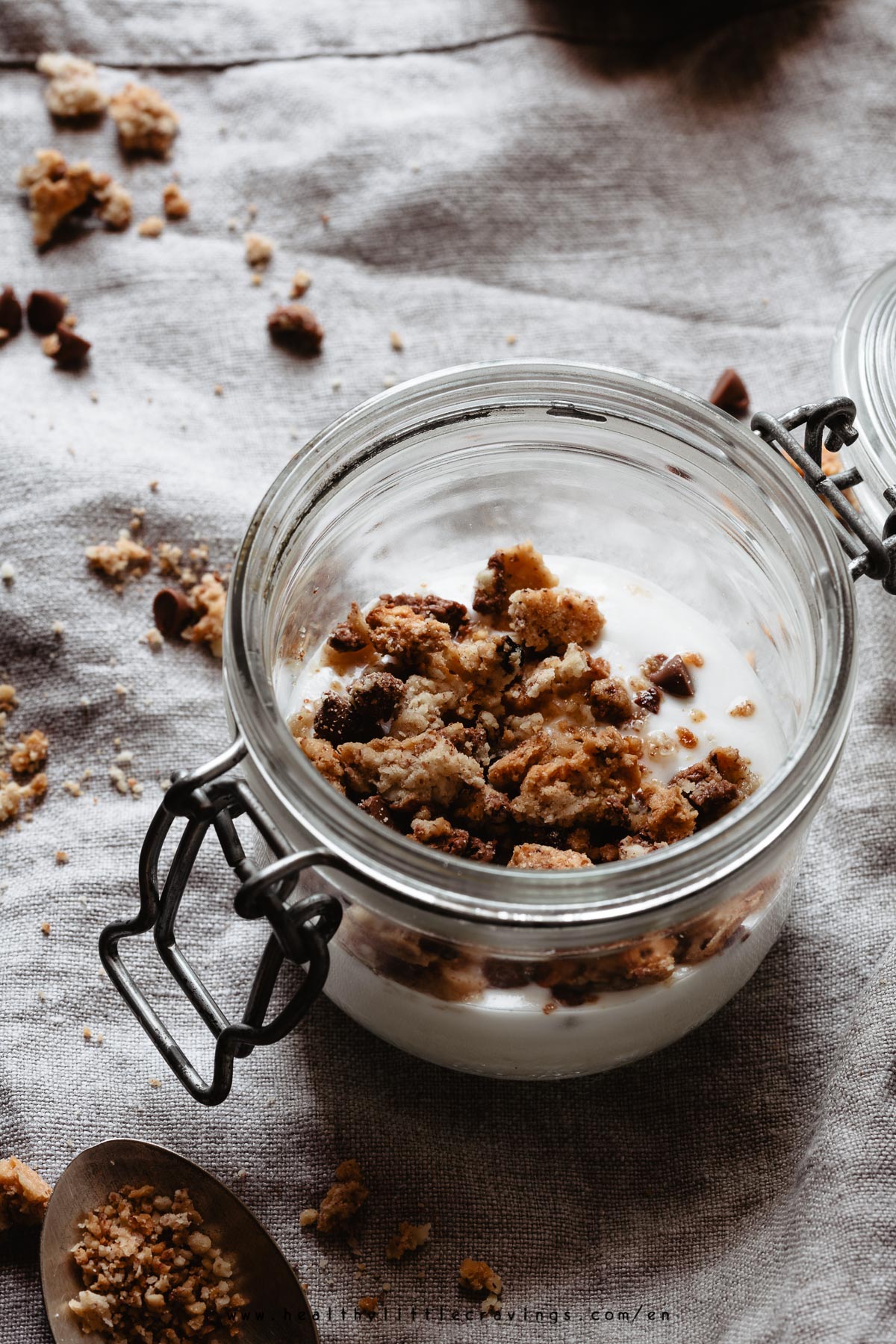 What can I use instead of oats in granola?
As I mentioned above, I developed this grain free granola recipe to create something different than the usual oats granola.
If you have a favorite recipe, feel free to experiment and use almond meal/grounds instead of oats. But remember they're not the same thing (duh).
Oats are mainly carbs. Almonds are mainly fats.
You may have to adjust the other ingredients.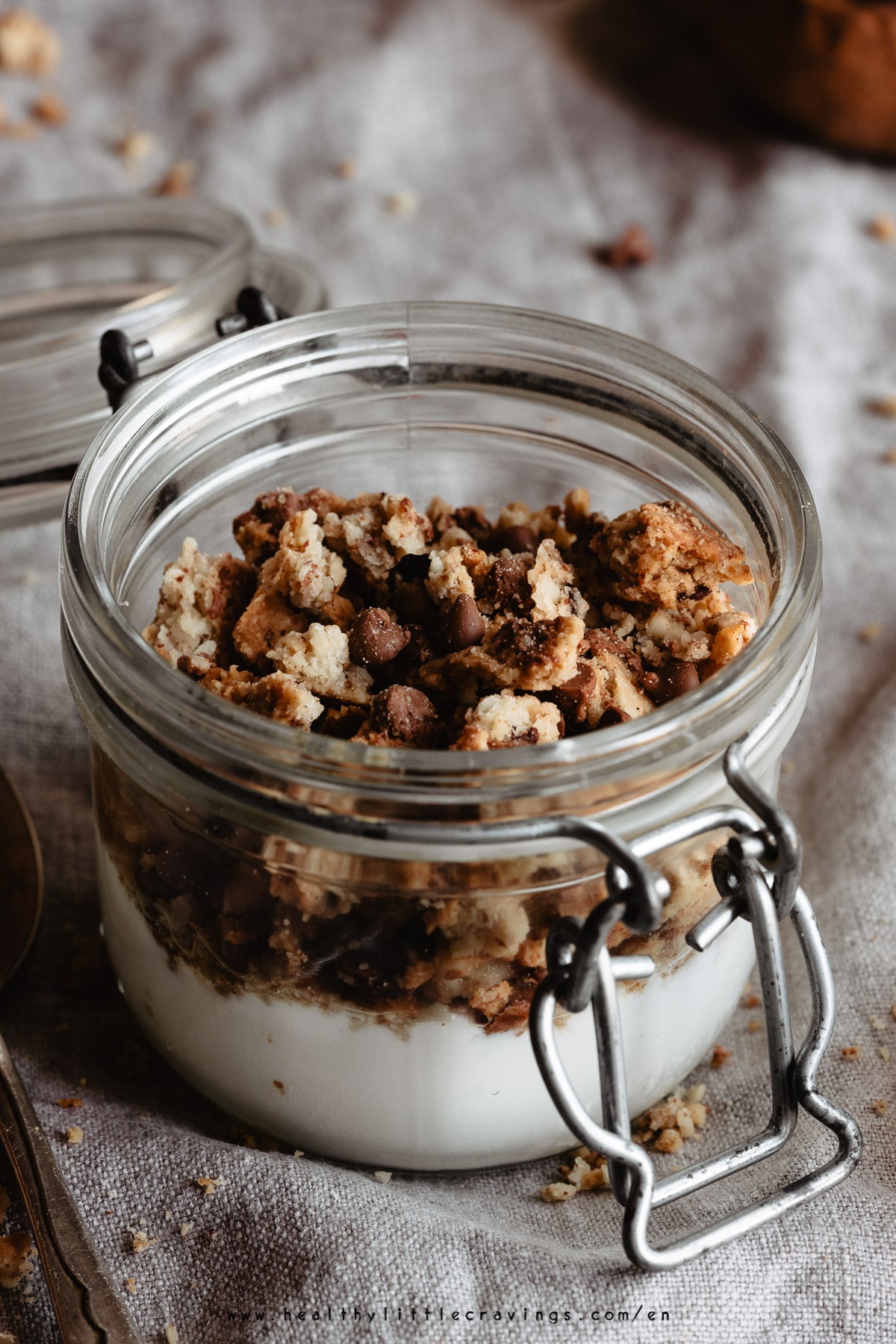 What can I eat this granola with?
I love my granola when dunked in milk.
OR with some good yogurt (lately I've been enjoying goat yogurt!).
TIP (not for those who only like crunchy granola):
I take photos during the day so I usually put my granola into a jar of yogurt, mix, refrigerate until the morning after. The yogurt "soaks" the granola and its flavors. I love it!
Another tip: I usually plan to make this when I know I will eat chickpeas for lunch/dinner. I only use the aquafaba I need, then rinse my chickpeas very well and cook immediately that day.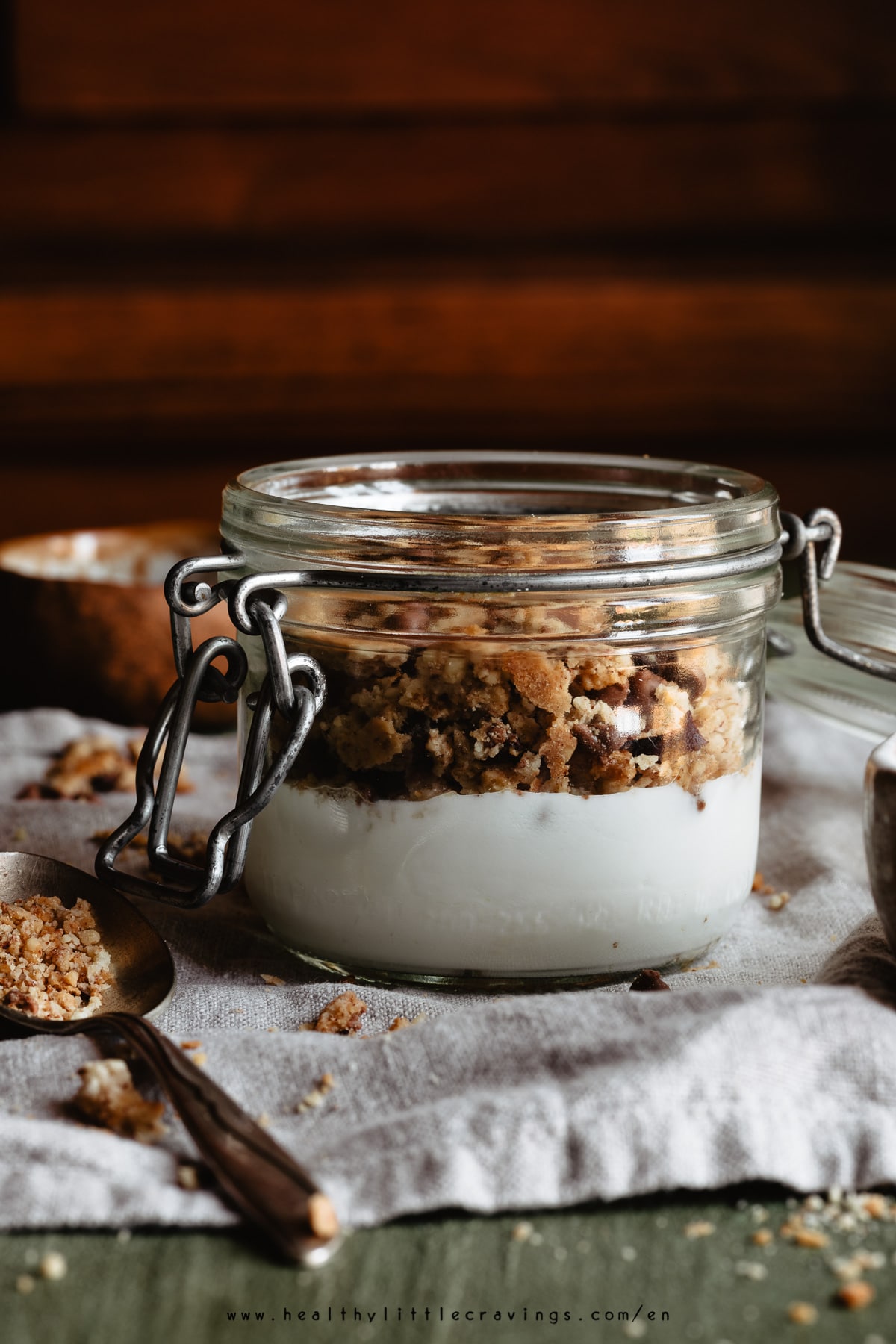 How can I store this grain free granola?
I usually put it into an airtight container (when it's cooled down! Very important!)
This granola was good even after 4 days!
---
Do you have other questions?
It's not easy to answer all the questions you may have, so PLEASE leave a comment below and I'm glad to reply! Thank you.
---
If you make this recipe, please be sure to give it a rating and leave a comment! It would make me so happy! 🙂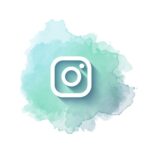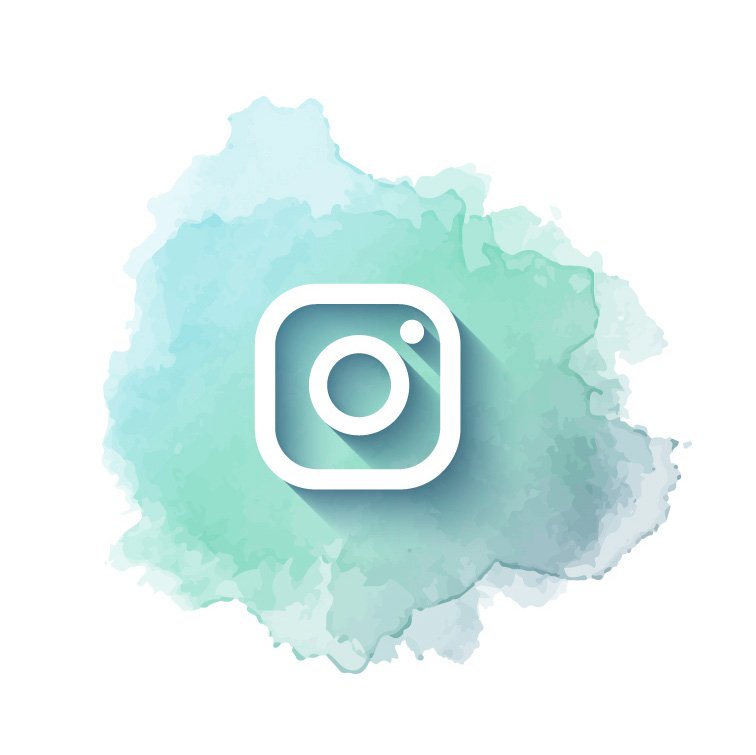 Remember: if you try one of my recipes, tag me on Instagram or DM me the photos!
---
Don't forget to pin and share this easy and delicious recipe!
VEGAN GRAIN FREE GRANOLA
Granola isn't just made of oats: you can also create your vegan grain free one using almond meal and nut butter! Plus, with chocolate, everything's better.
Print
Pin
Ingredients
1.5

cups

Almond meal

-

150 gr

⅓

cup

Nut butter

-

70 gr

4

tablespoons

Aquafaba (unwhipped - from unsalted chickpeas)

1

tablespoon

Maple syrup

Cocoa nibs

-

to your taste

Chocolate chips (vegan)

-

to your taste

A pinch of salt

Cinnamon

-

to your taste
Instructions
Pre-heat the oven at 150° C (302° F)

In a bowl, combine your almond meal, with nut butter (I've tried both pecan's and almond's), 4 tablespoons of aquafaba (liquid from cooked unsalted chickpeas) and maple syrup.

Stir using your hands, like when you make crumble.

Add cocoa nibs, chocolate chips, a pinch of salt and a pinch of cinnamon (I actually love strong flavors so I put a lot more than a pinch).

Now, spread the mixture (crumbles) on a baking sheet lined with parchment paper and bake for about 35 minutes. To prevent burning, remember to stir every once in a while.

Time depends on how moist the granola was.

Let it cool down and enjoy with milk or yogurt.

TIP: I take photos during the day so I usually put my granola into a jar of yogurt, mix, refrigerate until the morning after. I love it!!!!
---
Looking for another grain free recipe? Try these gluten free pancakes!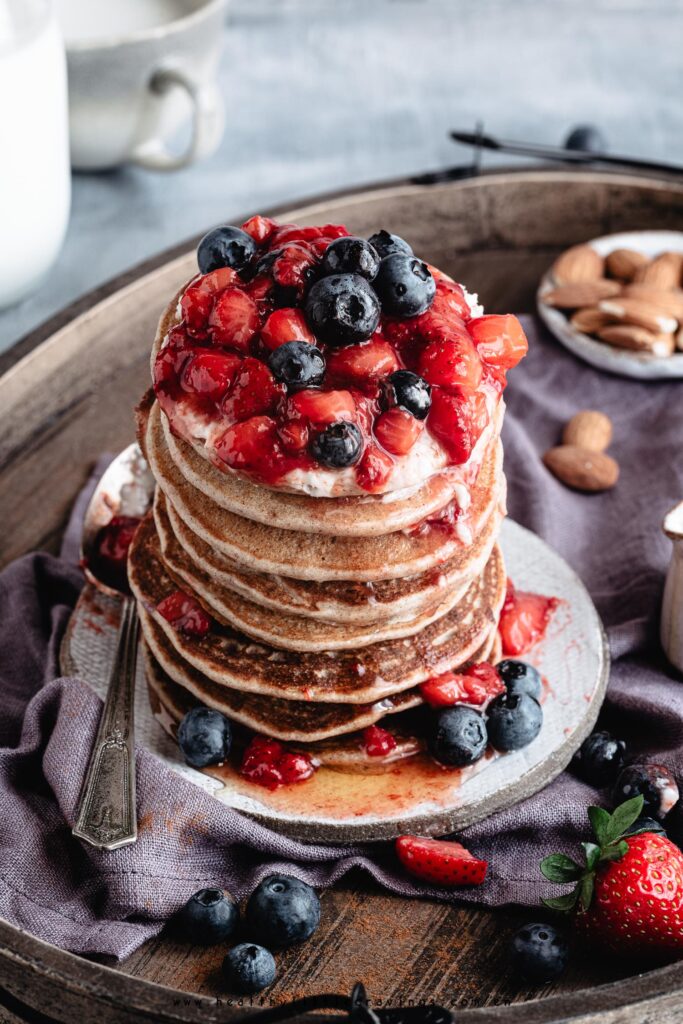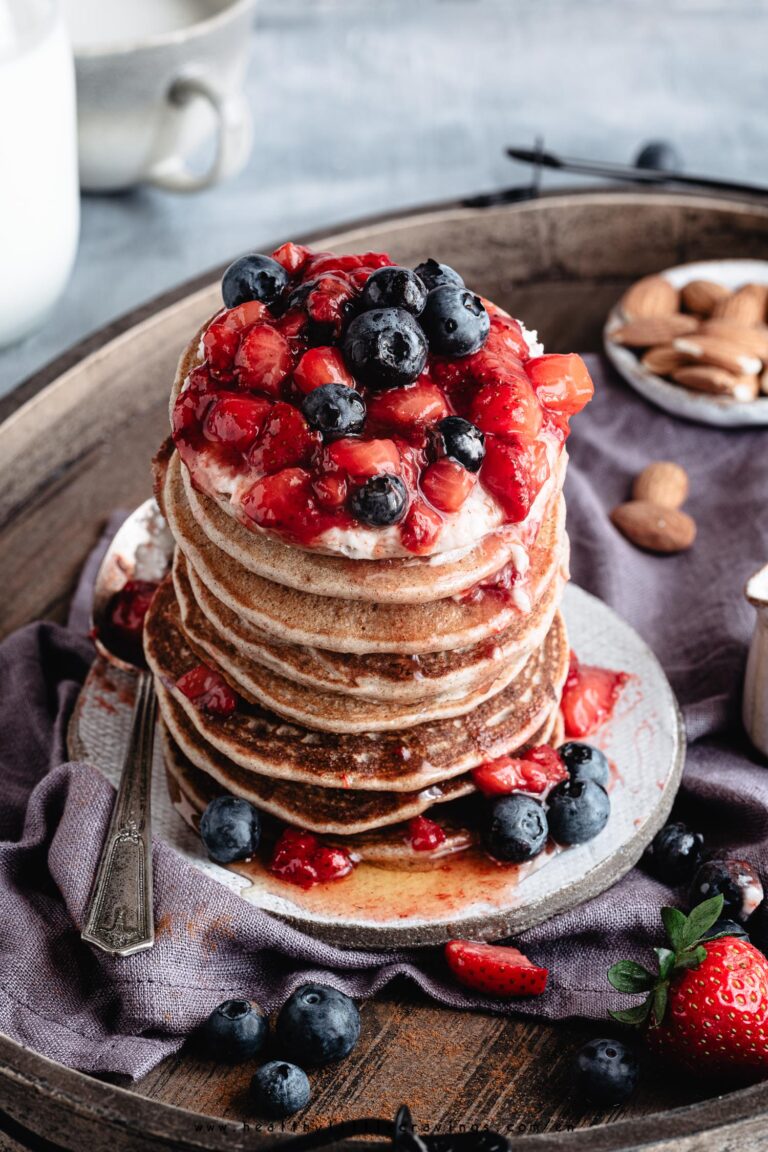 ---
© Healthy Little Cravings – Roberta Dall'Alba.
I own all content and photos' copyright.
Before using my photos and recipes, please email me.
If you would like to republish a recipe, please link back to this post and re-write the instructions in your own words.