Time to bring back to life another old recipe, an old but gold I'd say: my no baking powder waffles with whole wheat flour and basically no sugar (except for the honey!).
This recipe is easy, quick, foolproof; it has fibers and no excessive useless amount of sugar in it. Is there anything better?!
You just found the perfect healthy waffle recipe to brighten your breakfast up, my friend!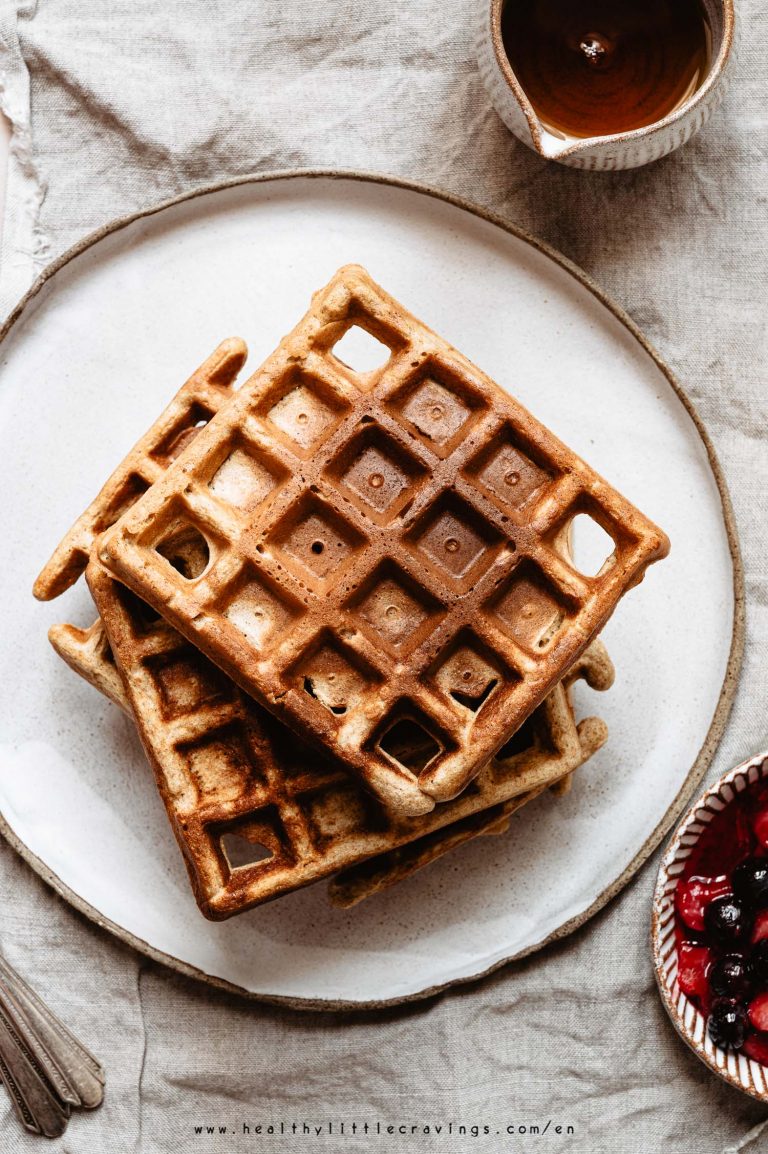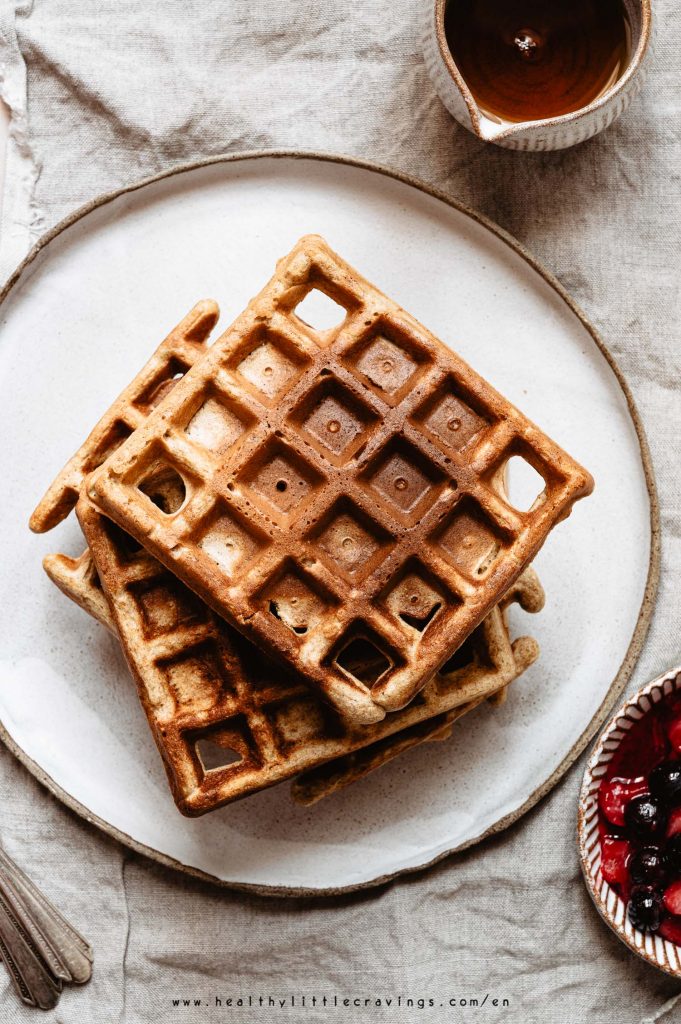 Today's healthy breakfast: whole wheat no baking powder waffles
This recipe was born about a couple of years ago when me and my lovely little community were discussing baking powder sensitivity on my private Facebook group (that is now archived 'cuz I don't have time for everything sigh).
At the time, I decided to substitute this chemical leavening agent with baking soda + lemon juice (which is an acidic substance).
Now, I'm still not 100% this is suitable for those who are sensitive/intolerant to baking powder, because it's technically related to soda. So PLEASE make sure you can eat it first!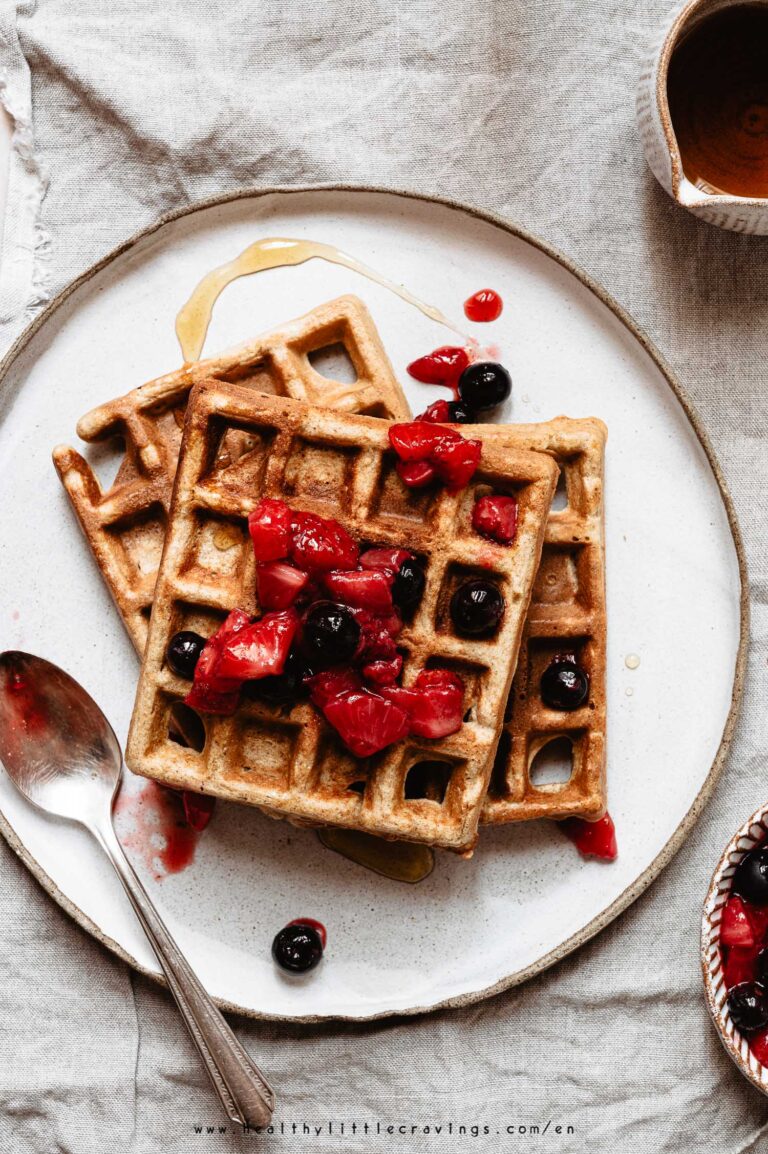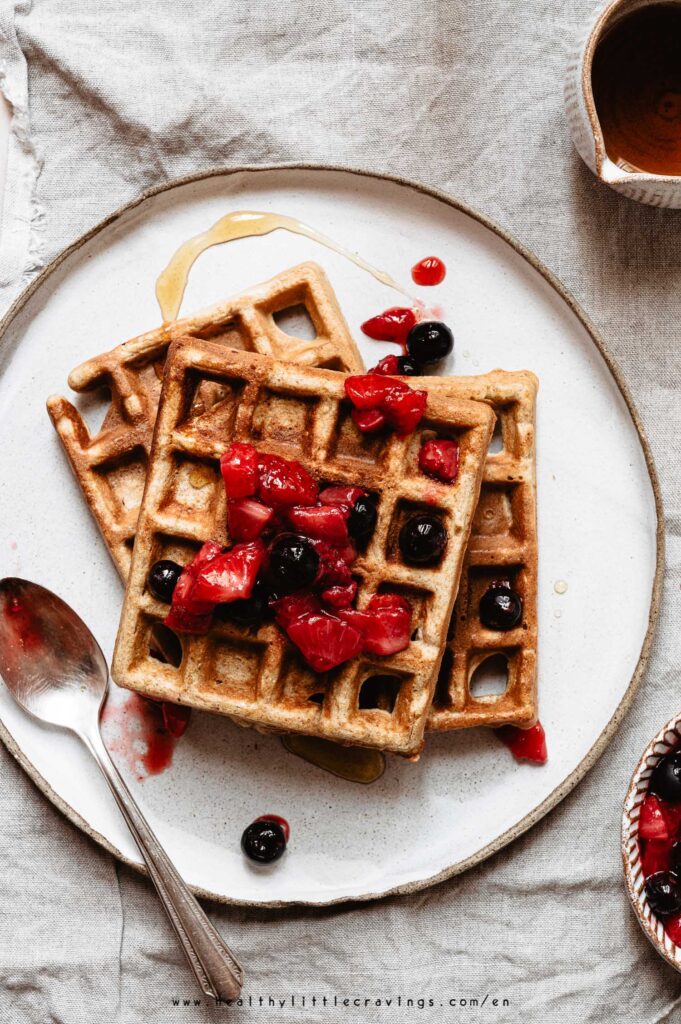 Anyway, whether you are intolerant or not, I'm sure you'll love this recipe. It's definitely one of those easy recipe that you carefully protect and bring out on lazy Sundays. Especially if you're hosting a brunch.
It's easy, delicious (have fun with those toppings!) and healthy (hello whole wheat flour!)
I love them because they're crispy on the outside and fluffy on the inside, and that's how the perfect waffles should be, in my opinion.
What do you say?! Leave me a comment, I'd be happy to know!
P.S. You'll see I didn't use any fat in the batter, instead many recipes out there call for it, they say it's necessary. Honestly, my recipe worked anyway, so trust me and try it!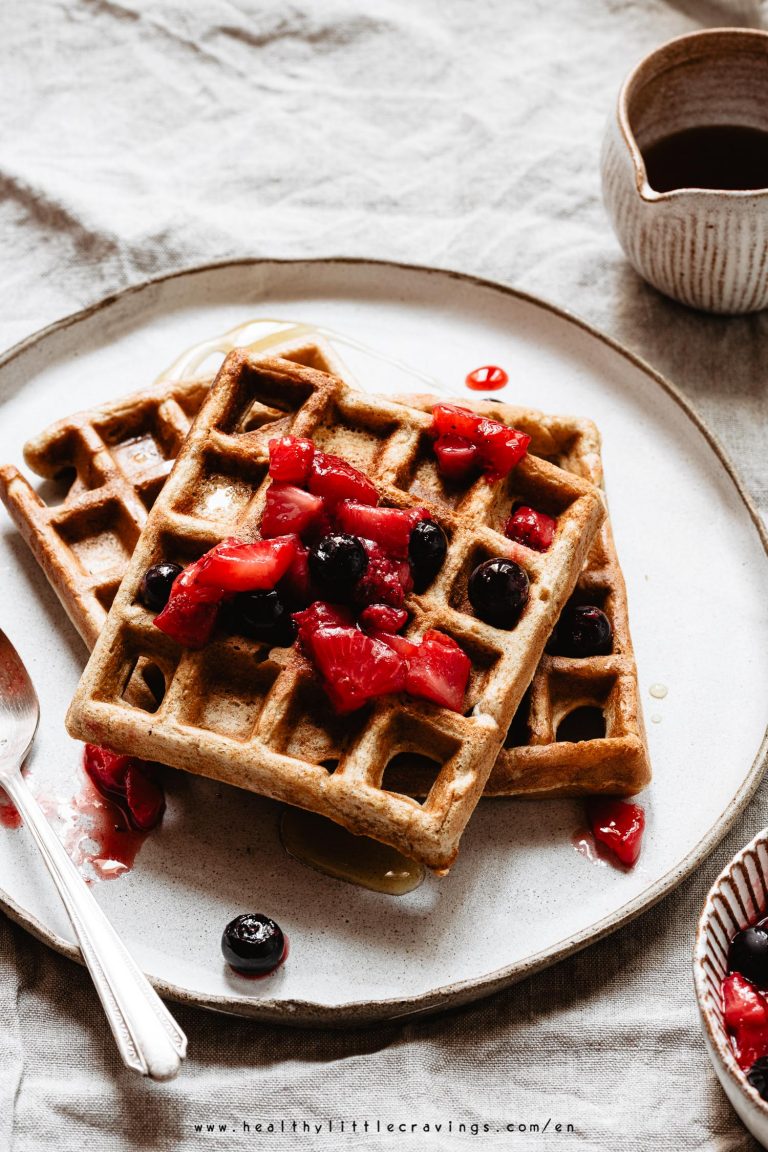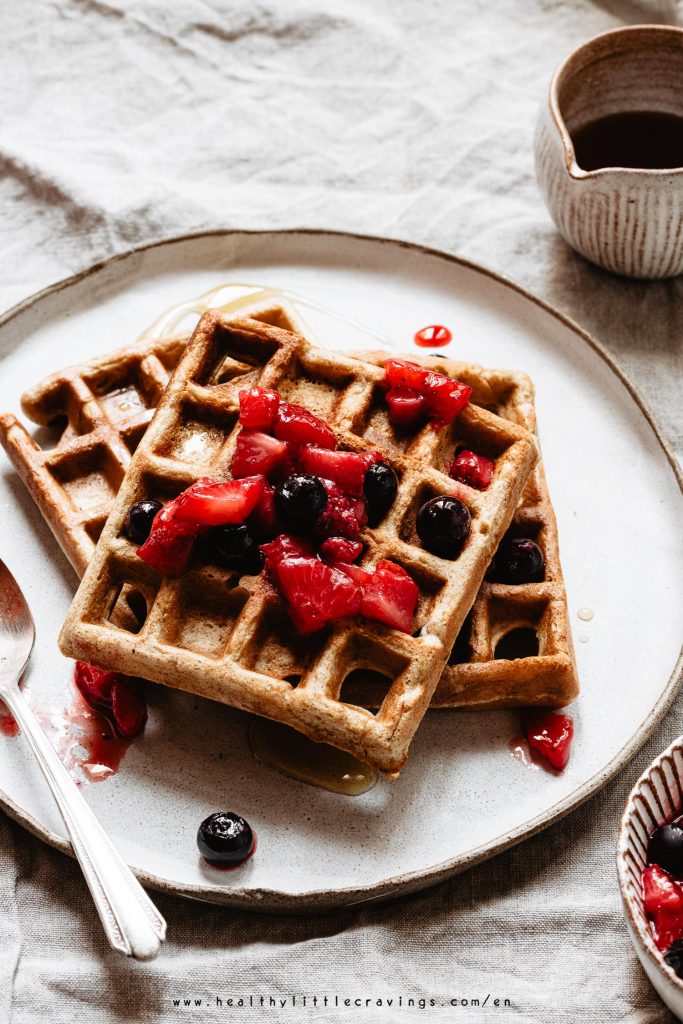 What happens if you don't use baking powder in waffles?
If you don't use baking powder, the waffles will turn out crispier. In this recipe, I've used just a tiny bit of baking soda and lemon juice, so the waffles are crispy on the outside! If you want to make them fluffier, add some extra leavening agent.
Can you use baking soda instead of baking powder?
Of course! This is how I made THESE waffles!
I used half a teaspoon of soda and one of lemon juice, also yogurt plays its part here.
On BonAppetit, I read that "baking soda has 4 times the power of baking powder, so ¼ teaspoon soda is equivalent to 1 teaspoon of baking powder."
Hence, half a teaspoon works as 2 teaspoons of baking powder here.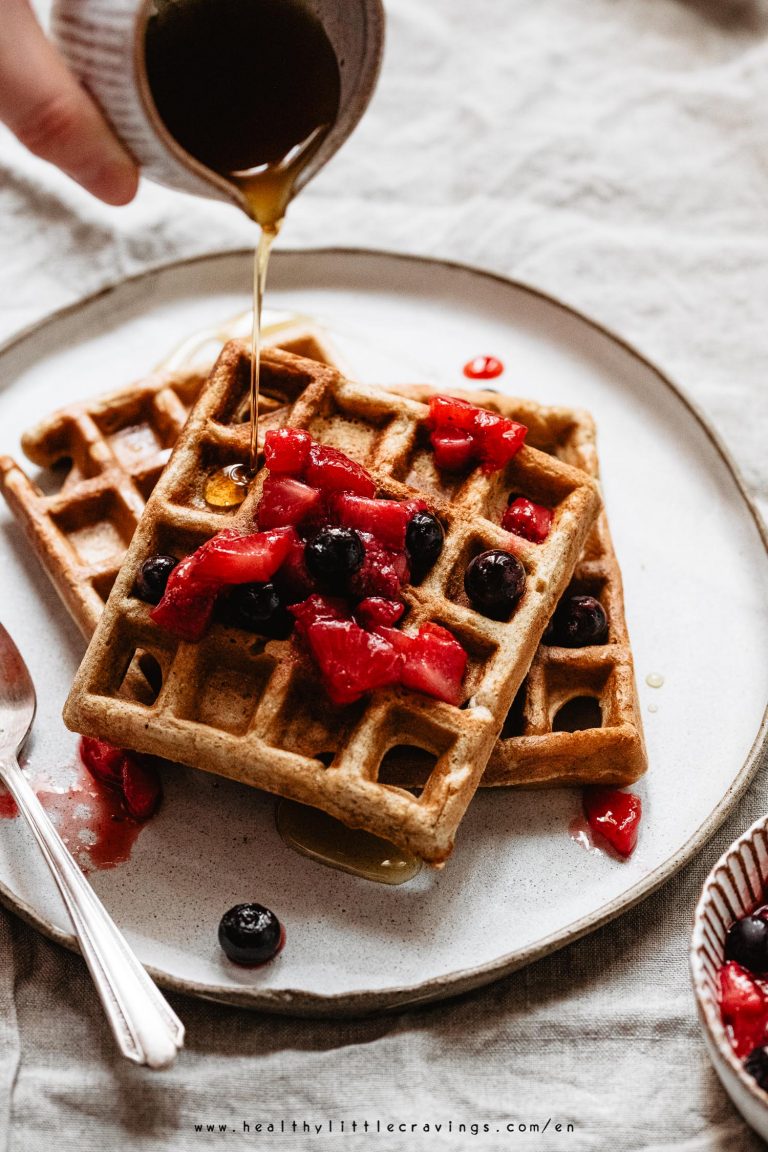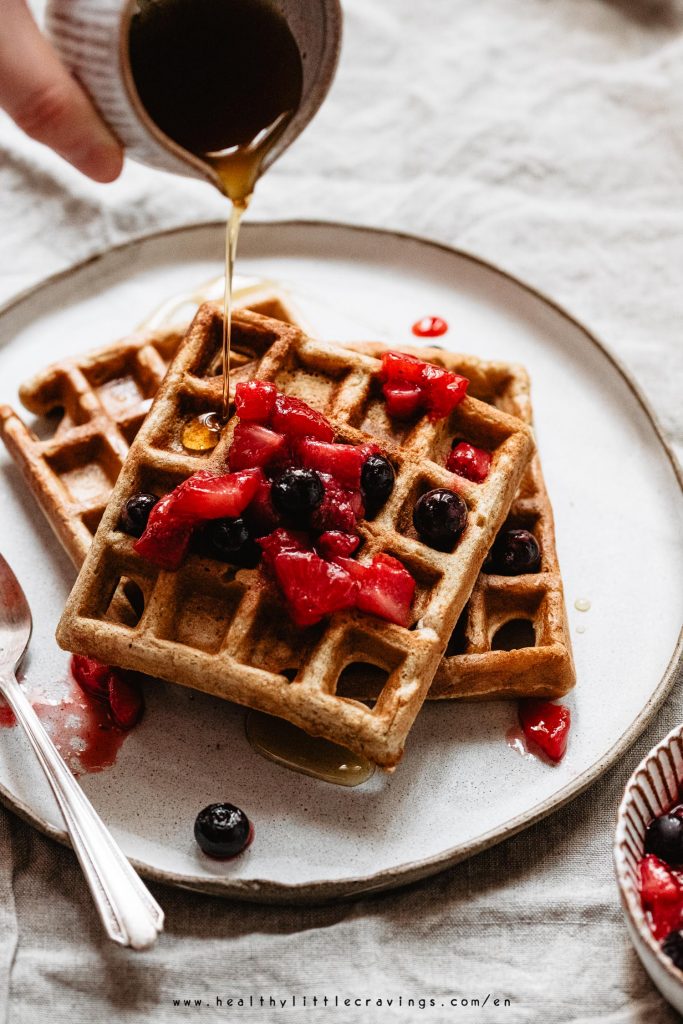 Is baking soda the same thing as baking powder?
Mmm actually no.
Baking soda is a pure leavening agent and it reacts when combined with an acidic substance (lemon juice or vinegar, or cream of tartar).
Baking powder contains baking soda and other ingredients like cornstarch and a powdered acidic substance. In simple terms, it's ready to use.
It's up to you to decide what to use!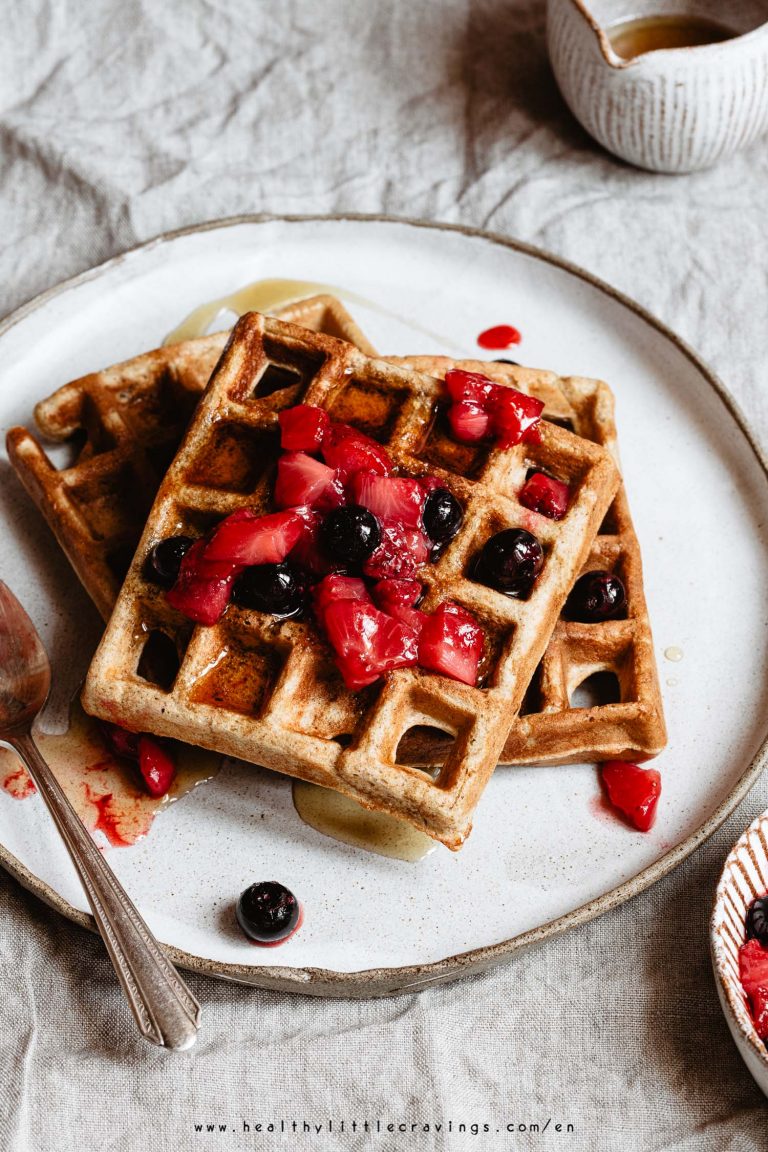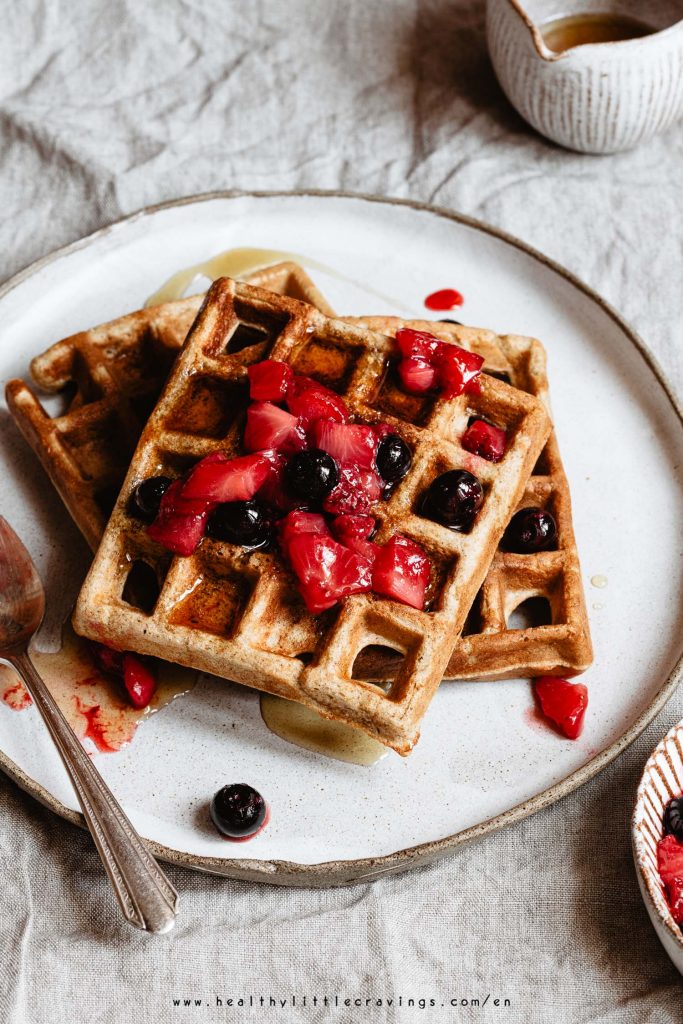 ---
WHAT I RECOMMEND:
The following are affiliate links which means I make a commission off of them with no additional cost to you. Thanks for supporting me!
If you don't have a waffle maker or you want to substitute yours, consider buying one like the above. Do not be afraid to spend some more money on a good appliance, you won't regret.
---
If you make this recipe, please be sure to give it a rating and leave a comment! It would make me so happy!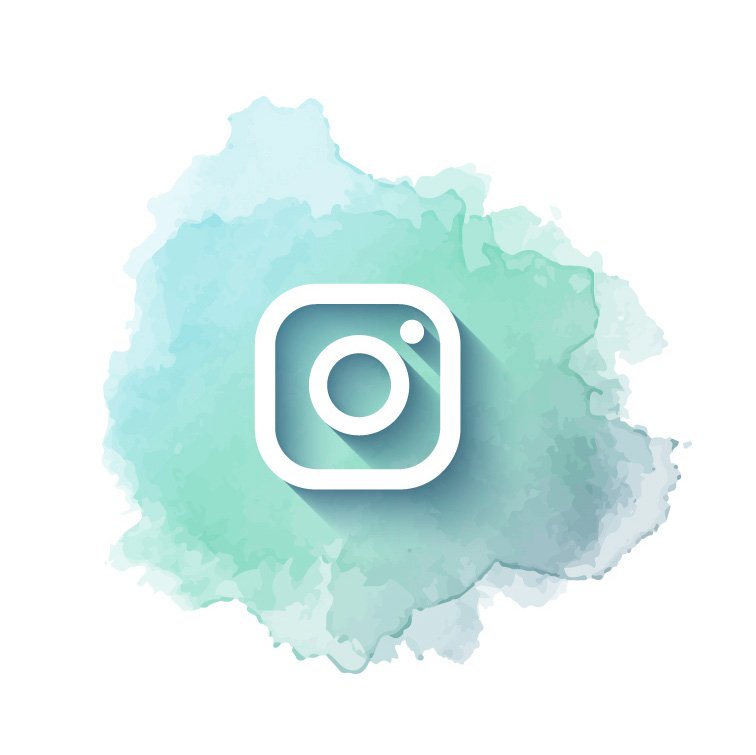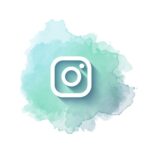 Don't forget to share your photos with me on Instagram: tag me or send a DM! I love seeing your creations!
---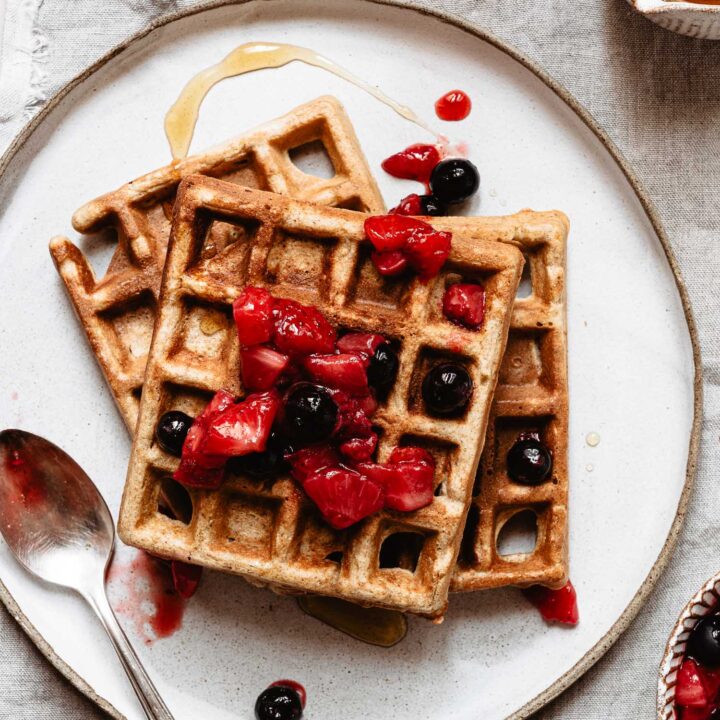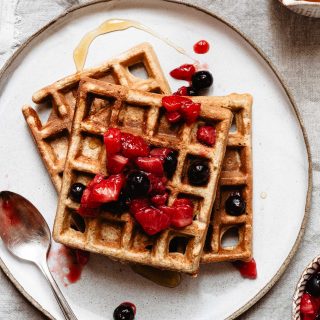 NO BAKING POWDER WHOLE WHEAT WAFFLES
They're easy, foolproof, healthy, crispy on the outside and fluffy on the inside: these no baking powder waffles are the perfect breakfast!
Print
Pin
Ingredients
100 gr

Whole wheat flour

a pinch

Salt

1 teaspoon

Vanilla extract

1

Egg

1 tablespoon

Honey

45/50

gr

Yogurt (or plant based yogurt)

70/80 gr

Milk or plant based milk

half a teaspoon

Baking soda

1 teaspoon

Lemon juice
Instructions
Preheat the waffle maker.

In a bowl, add the flour, salt and set aside.

In another bowl, add vanilla extract, egg, honey and yogurt and stir well.

Pour the flour into the egg mixture.

Now gradually pour the milk: the mixture should not be too thick or too runny (watch video above)

If it's creamy enough, do not add any more milk.

Lastly, add the baking soda and the lemon juice on top of baking soda so it bubbles. They'll make waffles rise.

Stir, but do not over mix otherwise they'll turn out tough (like muffins and pancakes!)

Spray the waffle iron with non-stick cooking spray.

Pour about 2 tablespoons (or more, if your waffle iron is bigger) of batter for each waffle on the waffle maker and cook for a few minutes until they don't stick to the iron anymore.

Resist the urge to peek and don't lift the lid!

Top with homemade yogurt and fruit.
Nutrition
Nutrition Facts
NO BAKING POWDER WHOLE WHEAT WAFFLES
Amount Per Serving (1 waffle)
Calories 106
Calories from Fat 18
% Daily Value*
Fat 2g3%
Carbohydrates 17g6%
Protein 5g10%
* Nutritional information is only an estimate. The accuracy of the nutritional information for any recipe on this site is not guaranteed.