A funny way to present pizza: easy and quick pizza star bread to eat as an appetizer (or how you prefer!)
---
It's December 27 while I'm writing this post and I-AM-SO-CONFUSED. What day is it? Monday, Tuesday…? This is a common perception after the holidays I think, it's like a Christmas hangover. Am I right? We're all stuffed with food that we can't even reason, and the last thing we want to talk about is…food. But hey, I've got a food blog guys, so here we go again: talking about food for the umpteenth time this week! I beg your pardon, lol
But I won't bore you with a long post today, promise!
A super quick pizza star bread for your New Year's dinner
The idea to share my quick pizza recipe on the blog came a few weeks ago, when I remembered I posted it last year on December 24, just in another shape (see the photo).
Then, at the beginning of the month, I saw @zoebakes' stories on Instagram: she was making holiday star bread with raspberry jam and it dumbfounded me! It was just BEAUTIFUL, so I thought 'Why not making a savory version using my quick pizza recipe?'
Look, isn't it beautiful?
When I shared it on Instagram last year it had – you can see it on the link above – a round shape, it was formed by many dough balls and scamorza cheese between them, finally topped with cherry tomatoes. This time I wanted to make something different, and tadaaaan. Thanks Zoe for the inspiration!
Quick note on the quantity of yeast: when I posted the recipe on Instagram, I said you only needed 3 gr of dry yeast, this time I used 7 gr (a whole packet). If you have time, experiment with less grams and see how much it takes to rise and double in size. This really depends on different factors, first among everything the temperature of your room.
For the filling: I've used San Marzano tomatoes and made my own sauce (quick to make), but you can use your favorite. If you're vegan or you want to keep it 'light' skip the mozza! Mozzarella here gives that extra pizza-ish touch, but I've tried both versions and they're both absolutely excellent.
---
Remember: if you try one of my recipes, tag me on Instagram or DM me the photos!
---
NOTE: This post contains affiliate links which means I make a commission off of the links below with no additional cost to you. Thanks for supporting me!
---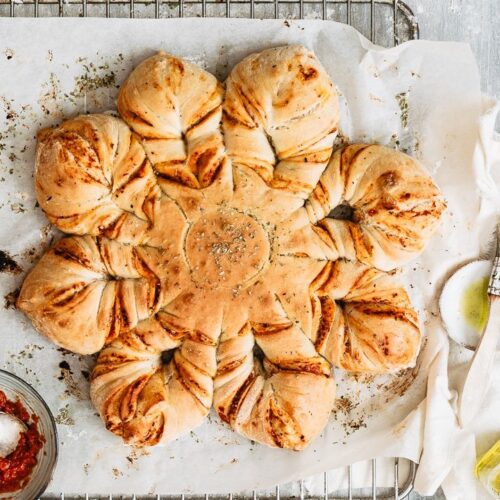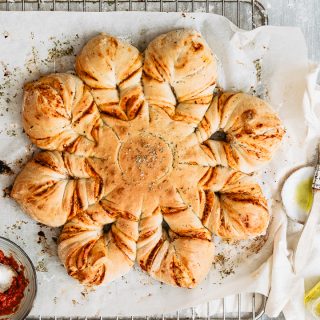 PIZZA STAR BREAD
A funny way to present pizza: quick and easy pizza star bread to eat as an appetizer (or however you prefer!)
Print
Pin
Ingredients
500

gr

Spelt flour

300/320 gr

Lukewarm water

6 gr

Sugar

a packet

Dry yeast

-

(Approximately 7 gr)

12

gr

Salt

12

gr

Extra virgin olive oil
For the filling:
one can

Whole peeled San Marzano tomatoes

-

(approximately 400 gr)

Salt

Extra virgin olive oil

Oregano

One mozzarella

-

(optional. I've tested both with and without mozzarella)
Instructions
Combine lukewarm water and dry yeast, let it set aside for 5/10 minutes.

Using a stand mixer (or a bread machine, like I always do), combine flour and sugar (you can use caster sugar or brown sugar). Activate the machine.

Pour the water + yeast mixture, and let absorb.

Add salt and let it combine, finally drizzle in the extra virgin olive oil and let absorb.

Once the dough forms into a ball, let the mixer

knead for approximately 15 minutes.

Put your ball into a deep bowl, cover with a lid or plastic and let it raise for 2 hours or until doubled in size.
If you want to use mozzarella:
Cut your mozzarella into very little pieces and let the excess liquids drain.
For the tomato sauce: (you'll have some leftovers)
Let your whole peeled San Marzano tomatoes cook into a pan with salt, oil and oregano for about 10 minutes or until most of the water has evaporated.

IMPORTANT: the sauce must be as thick as possible.
To create the star/snowflake shaped pizza:
Preheat the oven at 200°C (400°F).

Divide the risen dough into three equal pieces.

Onto a floured surf, roll out each piece of dough into 23 centimeters discs.

Spread some tomato sauce and mozzarella onto one circle and add another layer of dough. Add sauce and mozza and the last circle.

NOTE: it's very IMPORTANT that you add flour onto every disc, so it will absorb the excess liquids and the dough will be workable.

Place a round cutter in the center of the circle and cut the dough into 16 wedges (if you watch this, it'll be easier).

Gently twist each piece one away from each other 2 or 3 times, then seal pinching the ends.

Brush with extra virgin olive oil and bake for 35 minutes.