This post is also available in:

Italiano
These raw vegan buckwheat bars are the snack you were looking for: coconut-y flavor, with a touch of lemon zest. You read to try?
---
A few days ago I asked you on Instagram (oh, you were not there? Then stop, for literally 2 seconds, and give a follow. Thanks friend!)…
So, I asked you where you usually seek inspiration when it comes to recipes. Most of you answered: Instagram, cookbooks, food blogs.
Same for me, but I also love finding inspiration on Pinterest and into magazines.
The inspiration for this buckwheat bars' recipe came after reading Chickpea Magazine, a vegan food & writing quarterly that I discovered a while ago.
How to sprout buckwheat (and actually any kind of seed/legume)
Issue 28 of Chickpea Magazine it's all about Earth. I confess, I was mainly attracted by the cover (click here to see it), it's just so beautiful and…earthy (duh)
In this issue you'll find (copy and pasted from their website):

• a better space for organic waste
• sprouting 101
• i went plastic-free for a week
• soil stories: why good food grows underground

…and much more.
Bought it, started leafing through and immediately saw they dedicated page 24 to SPROUTING.
Sprouting is one of those fancy things (I thought) that I've tested once and never tried again, 'cause it just involved a lot of work apparently for no reason. Thanks to their crystal-clear explanation though, I understood that sprouting is actually pretty simple and I think I'm going to experiment with other seeds in the future.
So, in case you – like me – were looking for an easy way to sprout, here's how:
First rinse a cup of buckwheat groats (or other seeds/legumes);
Let them soak for 8-10 hours or overnight;
Rinse them

very 

very well and place them onto a colander (I've used a pasta strainer);
Chickpea magazine, about the colander method, says: "It works best for small amounts of sprouts, as they should not pile up – they all need relatively good access to the air."
You can also use a jar closed with a cheesecloth or use a sprouting tray.
Rinse them twice a day until they sprout (2 to 4 days);
Use them in your recipes or make mine!
See? It's easy!
Coconut lemon buckwheat bars
Ok, now you've learned how to easily sprout this recipe's main ingredient: buckwheat.
The flavor? COCONUT AND LEMON. Since there was a lot of date "caramel" into the mixture, I wanted to give a touch of freshness so I added the zest and juice of a lemon. With coconut butter and coconut flakes, believe me, it's to die for!
The final touch: I wanted to drizzle something on top but I was out of white chocolate so I've used dark chocolate instead. The cherry on top, I nailed it!
Remember: if you try one of my recipes, tag me on Instagram or send the photos to healthylc@outlook.it
---
NOTE: This post contains affiliate links which means I make a commission off of the links below with no additional cost to you. Thanks for supporting me!
---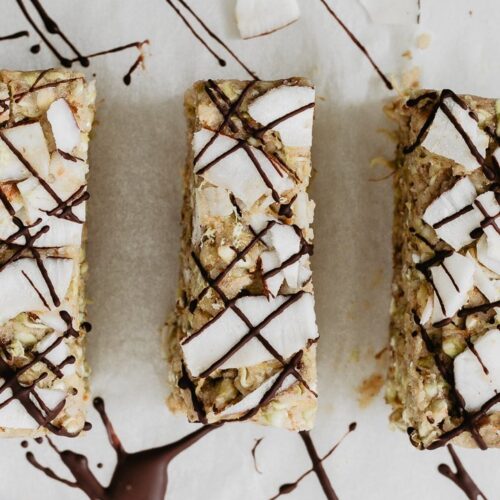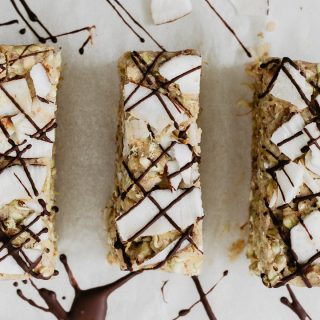 BUCKWHEAT BARS
Raw vegan buckwheat bars with a delicious touch of coconut and lemon!
Print
Pin
Ingredients
70 gr

Medjool dates

-

(approximately 5 pitted dates)

35

gr

Water

40

gr

Coconut butter

-

(NOT coconut oil)

125

gr

Sprouted buckwheat

10/15

gr

Coconut flakes

half a

Lemon (zest + juice)
Instructions
Sprout your buckwheat groats as mentioned in the post above.

Line a 8 x 15 cm (approximately 3 x 6 inches) loaf pan with two pieces of parchment paper: one lengthwise, the other one horizontally.

In a bowl, add your dates mixture and the melted coconut butter to the buckwheat sprouts. Stir until you obtain a thick and sticky mixture.

Add the zest of half a lemon and 1 or 2 teaspoons of lemon juice.

Place the mixture in the prepared pan and use a spatula to press it into the pan.

Let it set into the fridge and store in an airtight container for a few days (you can freeze them!)