This post is also available in:

Italiano
I'm sure this vegan one pot pasta is what you were waiting for!
---
I'm Italian. I mean, 100%, born and raised. And I love food and food culture.
Let me say one thing: when talking food, we Italians can be very fussy and snobbish sometimes. When we see something that goes against our tradition, we almost tear our hair out (lol, imagine the scene). Ok ok, sometimes it's justified. You can't put spinach everywhere, people. And you can't call it "bolognese" if you add broccoli to the pot. It's just a completely different thing.
You know what though, I believe everyone can create his/her variation and it's so beautiful to experiment and use fantasy when in the kitchen. The important thing is to eat good food. Am I right?
I'll tell you an anecdote: I used to snub Hawaiian pizza with pineapple and bacon. Now it's on my top list (almost) of things to try. Yup, I'm serious. I'm so intrigued by this sweet and savory combination. Can't wait to make it! Stay tuned!
Let's talk one pot pasta…
One pot pasta was – sorry, IS – one of those snubbed things by Italians. Why? Ahem, because pasta and pizza are inviolable (chicken on pasta is just inconceivable for us) and "you have to do them by the book".
However, one thing I'm sure most Italians don't know is that we have our version. It's just called with another name: "pasta risottata" (can't be translated).
"Risottata" comes from "risotto". Basically, you treat pasta like it was a risotto: sauté, add pasta, cover with water/broth, let it simmer, stir and it's done. Well, one pot pasta is the same of pasta risottata. The starch will do its magic. .
My vegan one pot pasta, to please everyone's palate
I'm still speechless, I swear. I've never made such a creamy pasta (I think you'll read the word creamy many many times in this post). I wanted to keep it italian-ish so I combined a few fresh ingredients that I love: tomatoes, basil, oregano and some capers. Oh and pesto, for two reasons: 1. because I had to use it up; 2. because pesto is always a win.
The result is an extremely easy, quick, wholesome, nutritious lunch. Just perfection.
One pot pasta pros
While making – literally, when I was stirring – this vegan one pot pasta I was concentrated thinking about all its advantages and I found two main ones:
no waste of water

: to make "regular" pasta you should bring the water to a boil, cook and strain. You don't need to drain here: you will only use the water you actually put into the saucepan.

no gas waste

: generally, you would have to turn on the heat and [again] bring water to a boil then cook. Let's say you'd spend 30 minutes with gas on. Making this one-pot lunch will make you save half of the gas!
…the third one is the CREAMINESS. Believe me, this pasta is just damn creamy. This is because the starch of your pasta and the water will emulsify together (also with oil and pesto) and will create a delicious thick sauce.
Did I convince you? Yes? Let me know! No? Go and give it a try!
---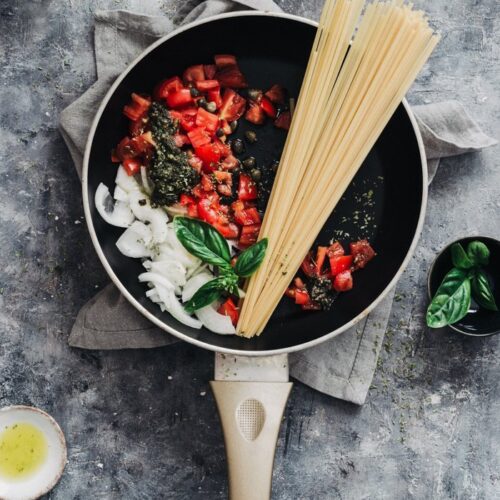 VEGAN ONE POT PASTA
Italian style vegan one pot pasta with tomatoes, basil and capers.
Print
Pin
Ingredients
115

gr

Tomatoes/cherry tomatoes

50

gr

Onion

5 or 6

Capers

a

drizzle

Extra virgin olive oil

a

pinch

Salt

90

gr

Pasta of your choice

about 400 ml

Water

Oregano

a couple of leaves

Basil

2/3 teaspoons

Pesto
Instructions
Rinse your tomatoes and chop them into small pieces. Mince the onion.

Add them to a large saucepan, with a drizzle of oil, capers, salt and let them sauté for a few seconds, on medium heat.

Add pasta, water, a couple of teaspoons of pesto, a sprinkle of oregano and two leaves of basil. Stir.

Bring to a boil, cover and reduce heat. Let it simmer until it is cooked (about 15 minutes). Remember to stir every once in a while.

Pasta will become so creamy thanks to the starch.