Learn how to make pickled red onions! The easiest recipe you'll find on the web!
---
It was August 15 a couple of days ago and, here  in Italy, we celebrate 'Ferragosto', a public holiday that coincides with the Assumption of Mary feast. In this period, everyone is on holiday, most factories and shops are closed. My parents are on vacation too, together with my sister, brother-in-law and nephews. So it's me and Lucy – my dog – at home. My neighbors sometimes are here, sometimes they're not.
Did you see the movie I Am Legend starring Will Smith? Well, I feel the same. The city is EMPTY, seriously. Why does everyone wait for this week of August to go on vacation?! Who knows…
Serenity reigns…
I live in the suburbs and I'm surrounded by factories and now that they're closed there's just PEACE. The only sounds I hear all day long are Lucy snoring, my phone's ringtone when my grandma, mom or boyfriend call, and the planes in the sky.
It could seems pretty depressing, right? Well, sometimes I feel lonely, I confess. [Do YOU ever feel like this?]
But I also feel serene, calm. I've got time to think, meditate, do some great yoga without any interference. Plus, almost every day I go visit my grandma, then I've got to work and go grocery shopping …so, time flies you know.
Anyway, my boyfriend came on Tuesday, in the afternoon, and I'm super happy to spend some quality time with him and finally cook delicious food to share.
Like these amazingly tasty pickled red onions.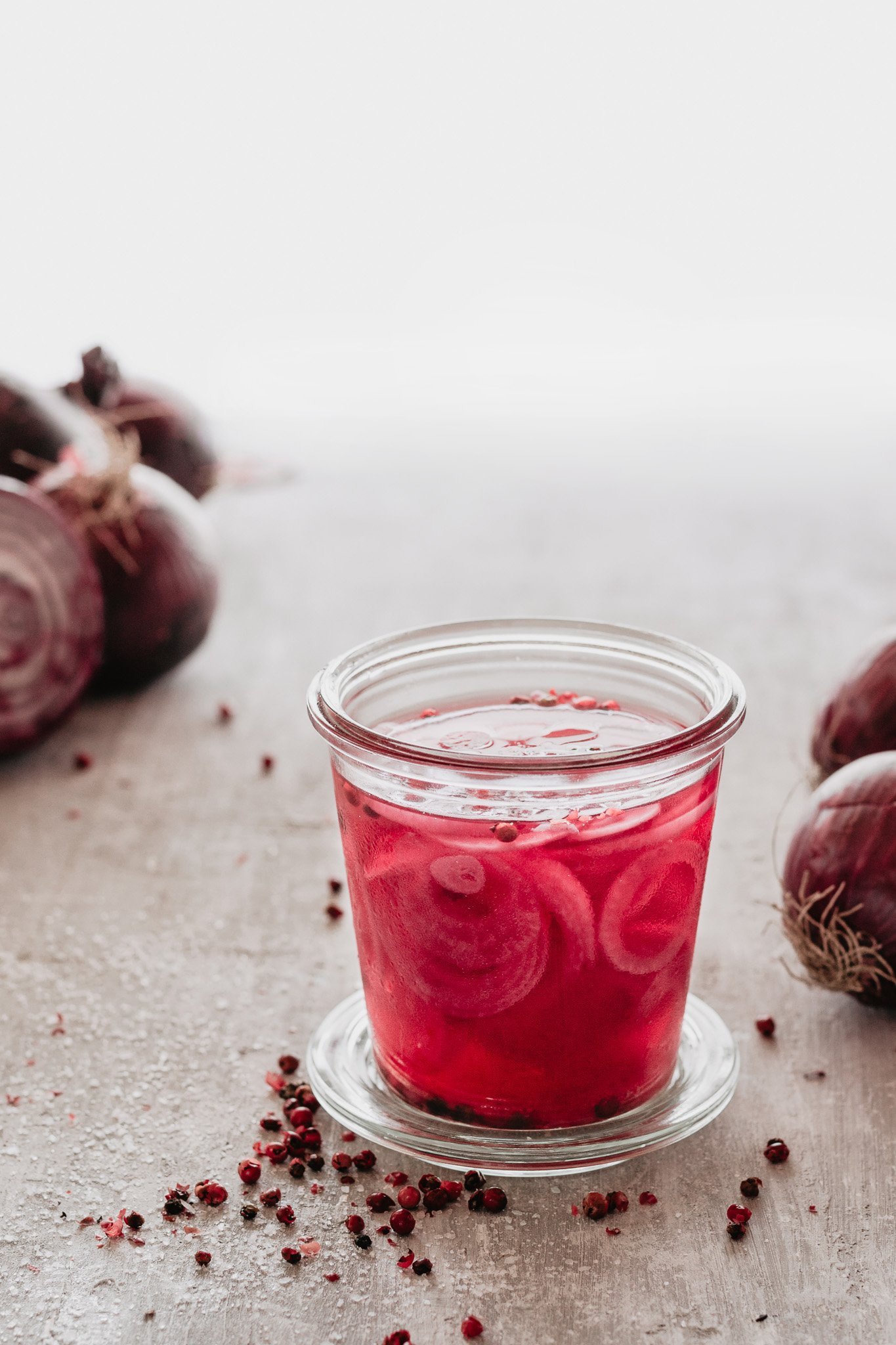 How to make pickled red onions, the easy way…
I presume that in August no one wants to stop reading long blog posts – you have better things to do right? – so I'm gonna go straight to the point. I've been wanting to try pickled onions for AGES! Mainly to garnish salads and top burgers with them.
The only "problem" with the recipes I've found on the web was they involved 'boiling water' or 'wait x amount of days' and sometimes I'm too lazy and I want everything immediately.
So, here's my recipe.
You'll only need one jar and 6 ingredients. Pour, stir, slice and slightly shake. Oh, and eat!
Now go, make 'em and tuck them into your sandwiches!
---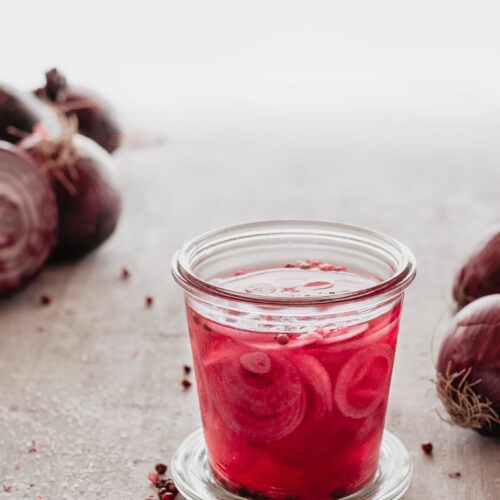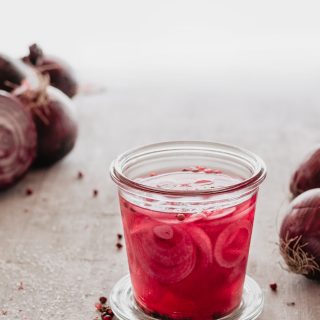 PICKLED RED ONIONS
The quickest and easiest recipe to make pickled red onions!
Print
Pin
Ingredients
1

Red onion

half of the jar

Apple cider vinegar

-

or other vinegar

half of the jar

Water

one

teaspoon

Sugar

-

(optional)

a

pinch

Salt

one

teaspoon

Red peppercorn
Instructions
Peel the onion and slice it.

Place the slices into the jar.

In a jar, pour 50% water and 50% vinegar, red peppercorn, salt and sugar (optional). Stir.