In this post you'll find the recipe for the super refreshing watermelon feta mint salad!
---
I am SO EXCITED, it's here again! Watermelon feta mint salad is back, you guys! Wait, I should explain…
A long time ago…
Actually, no. It was one year ago. I was super active in my private FB group ( it's called Piccole Sane Abitudini – in italian) and we were exchanging recipes over and over again. Then, one day, a girl shared this amazing and refreshing salad made with watermelon, feta cheese and mint. Love at first bite! You know how much I love the sweet and savory combo lately right?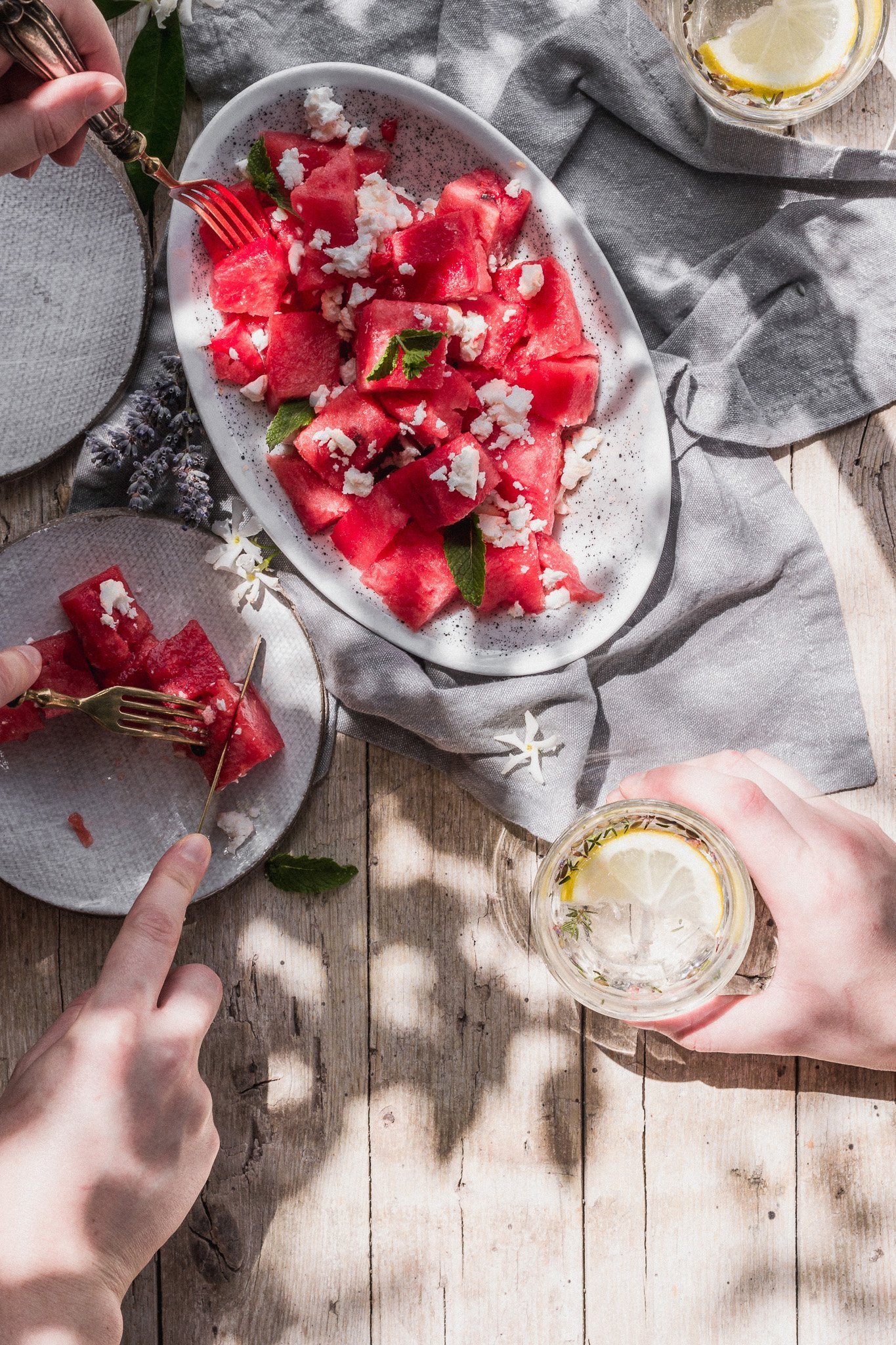 Who doesn't want to eat tons of watermelon in Summer?
Someone once told me that our body craves what that season is offering in that moment. During cold seasons we need comfort food, "heavier" sharp flavors, cooked vegetables and fruit (and maybe more sugar too!). Instead, as the warm & hot seasons approach, we start craving lighter food, more delicate flavors and veggies that have plenty of water in them.
Ever paid attention to this? Our body is just amazing.
So yeah, craving tons of watermelon, cucumber and water (and ice cream haha) is normal in this period.
You know what I served this salad with? A fresh lemonade that I've called "Herb Garden" because it was made with lavender and thyme, both herbs from my garden! Super delicate flavor, try it (here's the recipe for the lemonade)
Gather, share, love
If you've been following me on Instagram you know that I've been participating in Kimberly's (@thelittleplantation) #eatcaptureshare challenge this month. Unfortunately, today's the last day. Uff! I am so sad. As I told you a few days ago, every challenge is a chance for me to challenge myself (sorry for the repetitions) and to improve.
I highly suggest you to join these kinds of things on Instagram, they're always a huge opportunity to CREATE instead of simply consuming content.
Today's theme was 'gathering'. My mind immediately though of those amazingly stuffed tables I always see on Pinterest (check them out here). Gathering makes me think of food + my beloved ones. Makes me think of me sharing food with others, swapping plates. So, yeah…
So, today, head over to #eatcaptureshare hashtag to take a look to all the content this community created!
And remember: gather, share, love!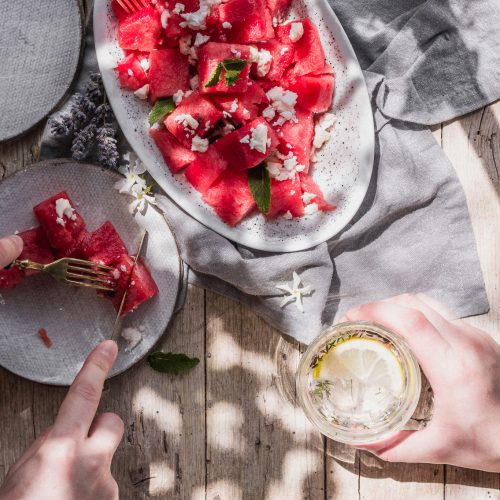 WATERMELON FETA SALAD
Super refreshing and healthy salad: watermelon feta salad with mint leaves
Print
Pin
Ingredients
Watermelon

-

to taste

100

gr

Feta cheese

-

or marinated tofu (tofu feta)

a

few

Mint leaves

a

drizzle of

Extra virgin olive oil

a

drizzle of

Lemon juice

-

optional
Other ingredients to experiment with:
olives, basil, other herbs, capers (not many, they're salty), lime juice...
Instructions
Chop the watermelon into chunks and place them in a colander to drain (this is optional though).

Sprinkle the feta cheese (or tofu feta - I'll post mine soon, meanwhile google the recipe). Season with oil, mint leaves, lemon juice and mix.

Let it chill in the fridge for about 30 minutes so the mint leaves can scent the watermelon salad.