*I just ate one of these no bake chocolate coconut donuts*  WANT THE RECIPE?
---
Not gonna lie to you guys, now that Summer is finally here I'm so impatient to write the intro of the recipes and then do something else that doesn't involve PC-work.
Besides, today, I've got a bunch of fresh lavender and borlotti beans that are patiently waiting to be photographed (I'm waiting for the Golden Hour).
Sooooo, I won't chat any longer and I'm only gonna say a few words on these no bake chocolate coconut donuts with mint so you can get an idea.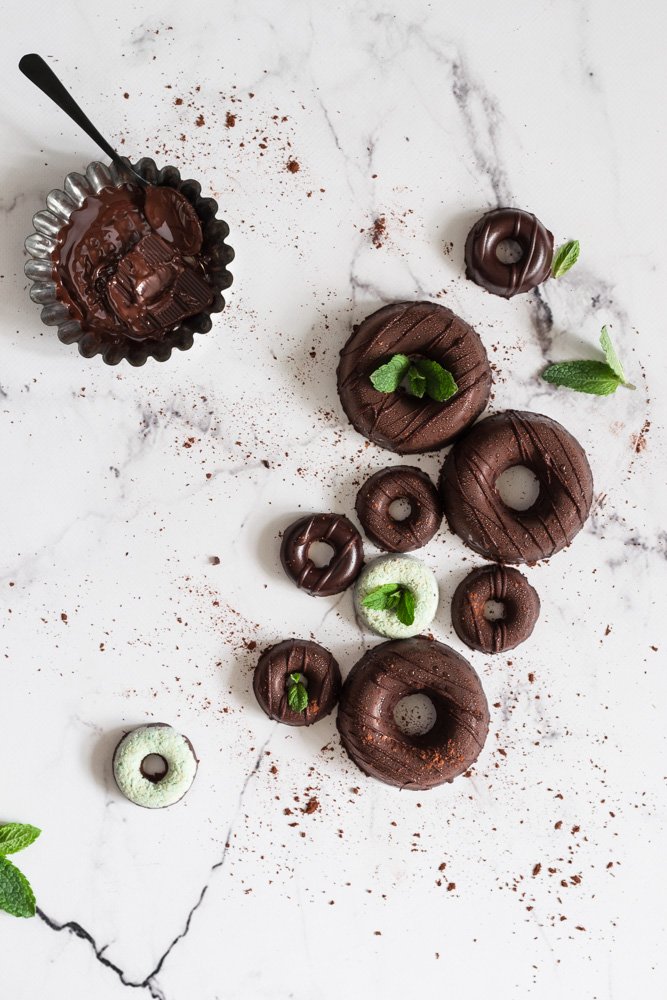 These no bake chocolate coconut donuts were born in a sunny afternoon…
Yes, they were born in a sunny afternoon, the day before #nationaldonutday (June 1) 🍩 and, for the nth time, you know I LOVE TRENDS and these kinds of hashtags so, I couldn't exempt from doing something myself! They're always an excuse to create (and eat!)  something different.
I combined a couple (well, 6) ingredients, put in the molds, covered with my love (chocolate) and tadaaaaan! Just amazing. Easy-peasy and quick.
I eat them as a treat or pre-workout snack but you can eat them whenever you want obviously.
About the homemade mint extract…
If I had mint syrup at home I would've used that instead of mint extract. The syrup is way more intense and flavorful so use it if you can.
To make the mint extract instead: take about 40 gr of fresh mint leaves and 125/150 gr of 95° pure alcohol (edible). Wash the leaves, dry them and put them in a dark glass bottle together with the alcohol. Close the bottle and store it into a dark sideboard for a couple of weeks (remember to 'shake' the bottle every 2/3 days. After 2 weeks, strain the leaves and bottle the finished extract.
Now excuse, I'm off to shoot those beans and lavender! Enjoy my no bake chocolate coconut donuts!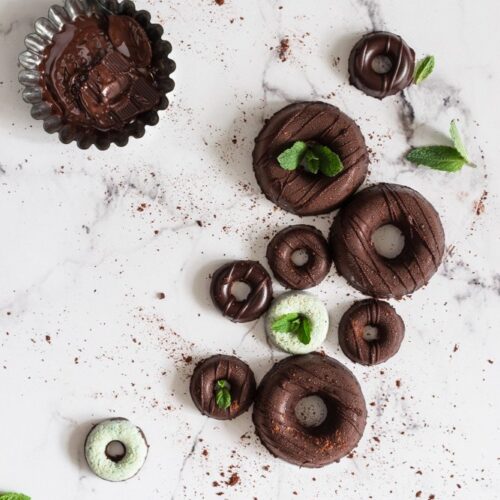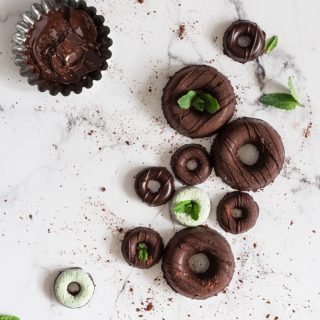 RAW CHOCOLATE DONUTS
Print
Pin
Chilling time:
30
minutes
Ingredients
80

gr

Dark chocolate

50

gr

Shredded coconut

2

teaspoons

Mint extract

20

gr

Coconut oil

20

gr

Milk

55

gr

Ricotta cheese

10

gr

Agave syrup
Instructions
First thing first, melt the chocolate on a double boiler. When melted, cover the donuts' molds with a first layer of chocolate. Let it chill into the freezer.

Meanwhile, in a pan, toast your shredded coconut with some mint extract. Add the coconut oil and let it melt (keep stirring). Turn off the heat.

In a bowl, combine the coconut mixture with ricotta cheese, a drop of milk and agave syrup.

Cover the donuts' molds with a second layer of chocolate and let it chill again into the freezer.

Fill the molds with some coconut mixture and cover with the remaining chocolate. Let set into the freezer (you can store them in a container and keep them into the fridge up to 3 weeks)