In this post you will find the recipe for this yummy and nutritious healthy carrot cake oatmeal. 
---
Yesterday (Tuesday, since I'm writing this on Wednesday) it definitely has not been a productive day: I woke up late, at 7.50, because I rolled over and hit snooze and then I didn't hear it. If you follow me, you probably know what this means: no Miracle Morning, or better say, very short MM because I had other things to do during the morning. I don't like missing my routine, even if I'm running late. SO, instead of getting up without doing anything, I prefer practicing just a few minutes: Ujjayi breath, quick medidation, or yoga. Then I write on my Five Minute Journal while having breakfast and that's all, I feel immediately better.
Less is better than nothing, right?
Despite that, my day didn't want to start. I was soooooo slowpoke.
BUT…
There's always a "but", right? Yesterday I went to bed feeling very peaceful, I spent a night with a dear friend laughing so I was cheerful. So when I rested my head on the pillow I was super positive and I thought "Ok, this day is ending, but tomorrow I have a brand new chance to give all myself". Believe me, I was very proud of myself thinking that. Sure enough, I woke up thinking how lucky I (and WE) am to have this opportunity daily. Isn't this beautiful? Have you ever thought of that?
By the way, one step that I will never miss during my morning routines is breakfast. Oh definitely not!
Carrot cake oatmeal is comfort food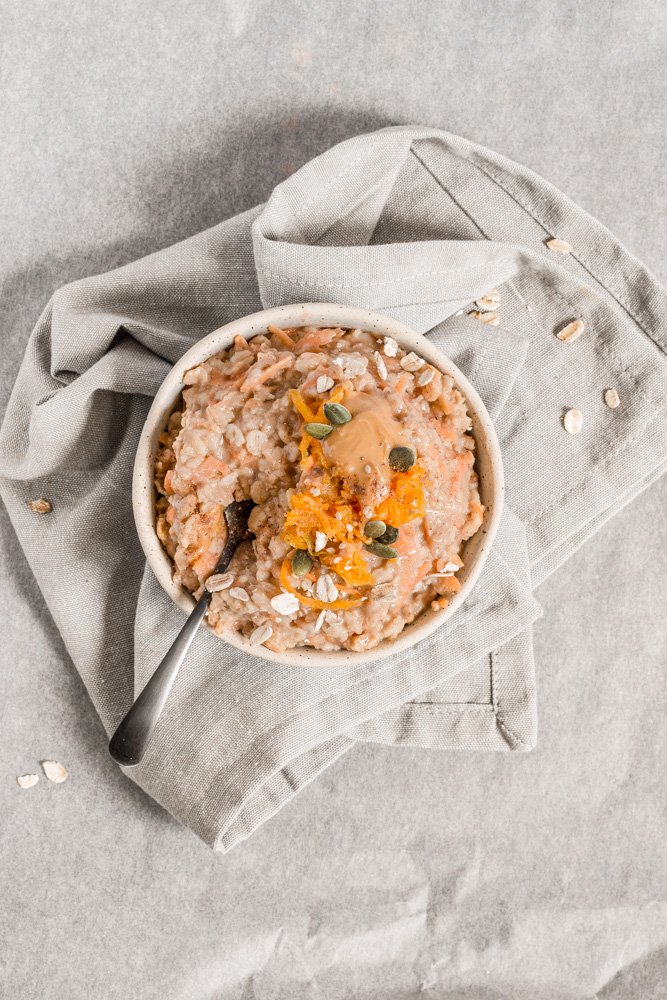 Let's face it: Autumn is here, my dear friends. At least, here in Italy. The sky is gloomier, the temperature is lower, even if there's an annoying mosquito buzzing around me. What a crazy weather.
Fall/Autumn means one thing: comfort food. Soups, minestrone soups, hot beverages, lasagna (yep), hot oatmeals…
This healthy carrot cake oatmeal is perfect for those mornings when you crave something to "cuddle" with. And I told you so many times: oatmeal is the ultimate breakfast. Easy, quick (see note), nutritious, healthy, tasty!
 *Note: for a super-duper quick version, add all the ingredients in a jar, shake, put into the fridge overnight. The morning after, when you get up, you just have to heat it up. SO delicious.
As you'll see, the amounts of flakes and liquid is always the same that works for me (35/40 gr oats, 120 gr of liquid). Feel free to adapt this carrot cake oatmeal to your diet and reduce/increase quantity.
Oats…
In my last post, I wrote that usually I don't like giving you information on food, just because the Internet is full of unreliable websites and references. What I love doing though, is examine the nutritional facts by myself. Oats, for example, are packed with minerals, fibers and are high in iron. They're made 70% of carbohydrates, 8% proteins and 7.5% of fats. Soluble fibers in fact also makes us feel satisfied and control blood sugars level.
…and carrots.
What? Ever thought of carrots into oatmeal? Well carrot cake oatmeal will change your mind. I have a special memory linked to this veggie: when I was young, in Summer, I used to go near Venice with my family. This lil village had a beautiful promenade, a nice historical centre and…an amusement park with loads of carousels. When me and my sister asked mom and dad to go there they used to told us "Yeah, we eat carrot first, so we can see them from here"…a nice way to told us 'No'.
---
Ingredients: (for one carrot cake oatmeal)
Oat flakes, 40 gr
Water, 120 ml
Milk or almond milk, 30 ml
Carrot, one half or one small
Honey, to taste (substitute with agave/maple syrup if vegan)
Cinnamon, one level teaspoon
Nutmeg, a sprinkle
Vanilla extract, two teaspoons
How to:
Pour the flakes in a small pan together with the water, keep stirring and bring to a boil. Always keep the flame low.
When it starts boiling, add the grated carrot, cinnamon, nutmeg and vanilla extract. Cook for five minutes or so and finally add a drop of milk to cream your carrot cake oatmeal. Top with some honey and seeds, and eat it when it's still hot.