This post is also available in:

Italiano
In this post you'll find my mom's famous strawberry jam tart recipe!
---
Ok, I know, I know, this is not what many of you would consider "healthy" or something to eat every day. I can agree on this last point. Eating it everyday would mean turning it into a bad habit. We need a varied diet, right? That's why we should vary and change the jam on top! Ahah.
Joking aside… let me be clear: I honestly think this actually IS healthy because it's made with love. It's natural, made with simple ingredients, all from scratch. Yes, it's a treat. No, it can't be dangerous for your health. No, it's not junk food. My mom always selected the BEST ingredients before making something for us.
I will keep enjoying these kinds of treats because I am lucky enough to have a special person to make them for me and my family. Let's be grateful and tell the diet to buzz off sometimes!
Me and my mom: our weird relationship
Only me, myself and I know what I feel when talking about the relationship with my mom. Now don't expect to read a detailed story tho.
We used to have a nice and enjoyable relationship, even if we obviously bickered sometimes. Totally normal in a mom/daughter relationship, don't you think? . Then I moved to another city, I lived alone for 3 years and a half…and everything changed. What happened? Well this is what I think: during the period at university I became independent, no one was telling me how to and when to do stuff (I was pretty good at managing things tho!) then I went back cohabiting with my parents…and this messed me up.
Since that moment – when I came back to my parent's house – we started arguing every single day, for small potatoes. But that's ok. You know why? Because we know that we love each other, we are there for each other. I mean, sometimes I feel like arguing became just a irrelevant habit.
My mom is a recipe developer…
I declare myself a recipe developer. I love testing, mixing ingredients together, experimenting, combining flavors, trying new recipes, measuring grams, getting my hands dirty. When a recipe doesn't come out like predicted, I love examining in depth what happened. I take a bite and analyze in my mouth what the food tastes like. Then I write everything down and repeat, test, re-test.  I've never spent months developing a recipe though.
Instead my mom, well my mom is on another level. She spent years refining her recipes. She spent years measuring grams and making adjustments. Until she came up with a dozen of perfect recipes that she never changes. Well, if they want, they change. I mean, pastry-making is a science and even if  ingredients always interact with the environment (humidity, temperature, air etc) so it can happen sometimes recipe don't  come out as she wanted (and she gets upset).
 Her famous strawberry jam tart
My mom is traditionalist – when talking sweets/desserts. She has her "set" of recipes that she alternates during the four seasons. She makes strawberry jam tart all year round though!
Therefore, all friends and family friends know this famous 'mom's tart'. Sometimes she gives it away as a gift, sometimes she barters it for something else. That's how it goes around here!
My mom always thinks I don't appreciate what she does, because I love baking different things and I tell her to go easy on making sweets. Reality is when she's not looking I always steal a piece of cake!
If she only could read this post! I mean, come one, it's an expression of love.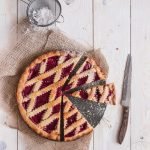 Mom's strawberry jam tart
Finally, my mom shares her famous strawberry jam tart!
Ingredients
This recipe makes enough pastry for a 24 cm tart.
360

gr

All purpose flour (00 flour)

115

gr

White sugar

200

gr

Cold butter

1

Egg

1

Egg yolk

2

gr

Salt

1

teaspoon

Baking powder

(level)

1

small bag

Vanilla powder

1

Lemon zest

1

Orange zest

Homemade strawberry jam

Enough to cover the tart ( approximately 250 gr)
Instructions
Preheat the oven to 180 C.

Combine dry ingredients in a bowl (flour, sugar, salt, baking powder, vanilla powder, lemon and orange zest).

Add cold butter and egg + egg yolk. Mix very quickly until you get a nice and smooth ball of dough. NOTE: work it as little as possible otherwise the butter will melt and the crust will come apart.

Transfer the pastry to a 24/26 cm tart pan and spread it - with your hands - evenly over the bottom.

Top with enough homemade strawberry jam (mom says NOT TOO SWEET!)

Bake it for 20 minutes (fan-assisted oven). Pay attention not to burn it.

NOTE: If you want to decorate it with fruit instead of jam, cook the crust itself but before PRICK IT with a fork to prevent puffing up during baking. Let it cool down, then top it with smashed banana (+ lemon juice to prevent oxidation) and fresh fruit.