In this post you will find the recipe for this extremely easy and delicious vegan chocolate mousse.
---
Easter is gone. What an AMAZING day it was for me!
Around the holidays I usually see people complaining – because complaining is mainstream right – about the falseness of festivities.
It's too commercial!
You only see your relatives twice a year!
It's all about gifts! There's no love!
Well, let me tell you: I find it's just a sterile discussion.
When it comes to family…
As far as I'm concerned, holidays are all – and without any doubt – about family: we gather, kids – aka my nephews – are home from school, we have fun, we see each other with so much enthusiasm! We are joyful and grateful to have each other.
It's true, I only see my uncle, auntie and cousins during the holidays, but to me this is such an amazing thing. Knowing that we have each other even if we don't meet often.
So, now I ask YOU: are you happy? What are the holidays about? If you're not that close to your family, are you doing something to improve the situation?
When it comes to chocolate…
Uhm, err, where do I start from? People often ask me if my recipes are healthy.
My answers:
1. Read at the name of my website/IG handle;
2. Of course, but it obviously depends on how MUCH you eat too.
I mean, in my opinion (and remember this is my opinion), a piece of high quality dark chocolate a day is good for health, mind and soul. "A piece" is not something I can quantify because we all have different necessities, right?
Also, if I know I'm a choco-eater (ehm…) and I eat a piece a day (well, not every day actually), I try not to eat other sweets (cakes, cookies, sweetened stuff…)
It's all about balance, as always!
Regarding this vegan chocolate mousse made with tofu: is it healthy? YES, if you're going to share it with someone else. This dose makes approximately one little jar of vegan mousse, so make sure not to eat it all (I mean, you don't want to eat 70 gr of "food of the gods" right?).
And if you're on a diet, just reduce the amount of dark chocolate.
In conclusion, this is the perfect way to recycle all the Easter Eggs you or your kids received in these last days, isn't it?
---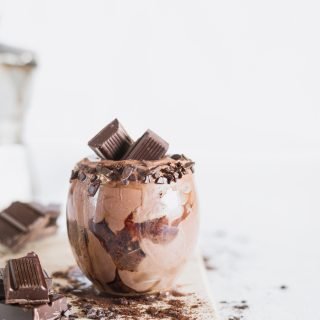 Vegan chocolate mousse
Vegan choco mousse made with silken tofu. Super easy and delicious!
Print
Pin
Ingredients
170

gr

Silken tofu

70

gr

Dark chocolate

half a

teaspoon

Espresso powder

a

pinch

Salt
Instructions
First of all, melt the chocolate in a double boiler and let it cool down.




Gradually add the melted chocolate, a pinch of salt and the espresso powder. Blend for a few more seconds. You should get a mousse consistency.

Finally serve the vegan chocolate mousse in a bowl, with a shot of espresso coffee.

Easy right?
Nutrition
Nutrition Facts
Vegan chocolate mousse
Amount Per Serving
Calories 495
* Nutritional information is only an estimate. The accuracy of the nutritional information for any recipe on this site is not guaranteed.
Disclaimer: Affiliate links are used, meaning if you purchase through my links I will receive commission at no additional cost to you. NOTE: I only recommend products that I LOVE and use daily.
Affiliate marketing allows me to continue to share free and affordable information. Thanks for your support!