Don't ask me the cause but it became a lot harder to write blog posts lately. I mean, I have plenty of recipes. I take more than enough photos, almost every day. I can't just come here and talk about the mere ingredients, right?
Instead, what I determinedly want to do with EVERY SINGLE POST is helping you understand that a healthy lifestyle is made of healthy little habits.
It's made of daily choices. And happiness, because happiness is the key to everything (reason why healthylittlecravings.com motto is 'eat healthy, embrace happiness').
You build it every day, brick by brick.
It's not a goal, it's a lifetime journey.
So here I am, trying to spread this message around the world…
Month ending…
Almost the end of January. Oh wait. Today's the last day, tomorrow is February 1st (it may be Feb 1 when you read this post).
I mean, first month of the year is gone. Already. Puff. Gone.
I still can't believe it, but I won't drag on and on because I talked about this on my latest post (by the way, have you seen those delicious Bounty Bars? I know you're craving them now so go and check them out! You don't want to miss 'em right?)
I had so many plans set on this first month of the year, but things don't always go like you expect. They didn't. I'm still full of projects though, but I am planning them to be sure I reach my goals. Are you too?
Month starting…
As I mentioned, I'm full of ideas right now. One of them includes implementing free content here on my website ('cause you deserve it!), some others are remunerative projects (fingers crossed for me!)
I feel so grateful day and night, because I have this huge opportunity to manage my days and choose between so many kind of works.
What about your job? Do you feel happy about it? Do you want to change something? I will never stop saying that if you do what you love, happiness will start coming your way, you will be more serene, you will be naturally more motivated, you'll start changing your life little by little.
And if you're not doing what gives you joy, then make a plan and start living your dream life! Also, feel grateful and always play homage to all the things you already have. Feeling grateful is one of the most important things to me. It keeps me conscious of the abundance in my life. 'cause law of attraction, you know.
Oh, you don't know what law of attraction is about? Then I'll write a post about it!
Easy vegan crepes, with a pink touch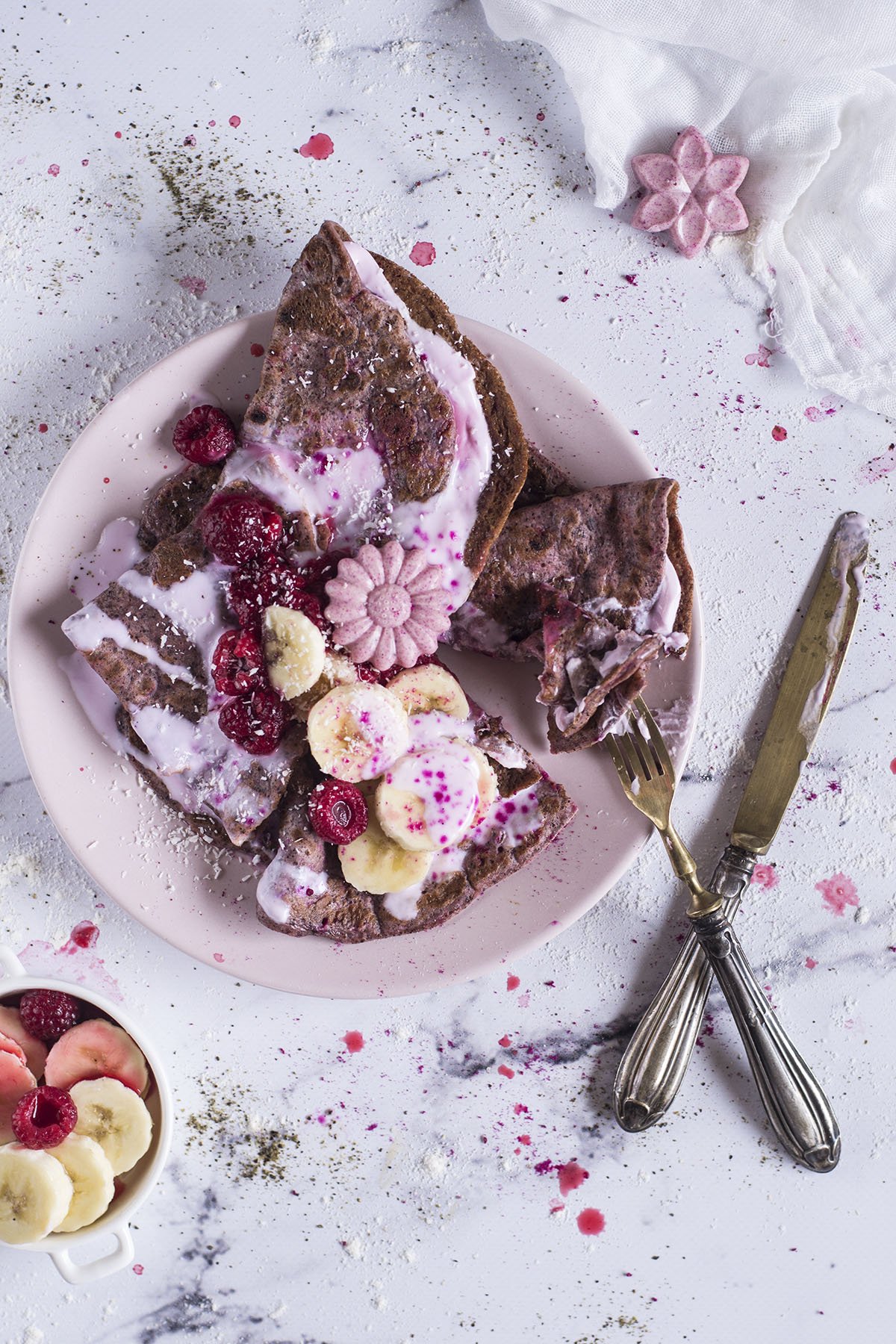 Hemp flour crepes yes PLEASE! All day everyday if I could!
I've used hemp flour for the first time some months ago and I immediately liked it. It has that nutty flavor that is so unique. It gives your dishes an extra touch, plus it's gluten free and so rich in protein.
Of course you cannot substitute regular flour with 100% hemp's, but you can replace in a certain percentage (like 20%)
I will surely post more recipes with it because I love varying and using 'special' flours.
In my plans: hemp bread sticks, hemp pancakes, hemp pizzette… Any other ideas?
Please pay attention: this is NOT a gluten free recipe because I've also put spelt flour into the batter.
---
Ingredients (for one person)*:
Spelt flour, 40 gr
Hemp flour, 10 gr
Pink pitaya powder (optional)
Oil, 5 gr
Ground flaxseeds, one tbsp
Water, three tbsp
Plant milk, 130 gr
Apple cider vinegar, a drizzle
Vanilla extract
How to:
Make the egg substitute by adding water to flaxseeds, stir gently and set aside.
Sift both hemp and spelt flour, then add oil**, plant milk, a splash of apple cider vinegar, a touch of homemade vanilla extract and whisk. Last, combine the egg substitute made with flaxseed.
Meanwhile heat a pan and, when hot, pour some batter onto it. Immediately tilt the pan with a circular motion so the mixture spreads evenly. Cook all the batter in the same way.
Top these easy vegan crepes with your favorite fruit and yogurt, jam or nut butter.
*number of crepes may vary depending on your pan's size. I've used a small one and made four.
**I've used seeds oil, but you can substitute with coconut oil or olive oil (not strongly flavored)