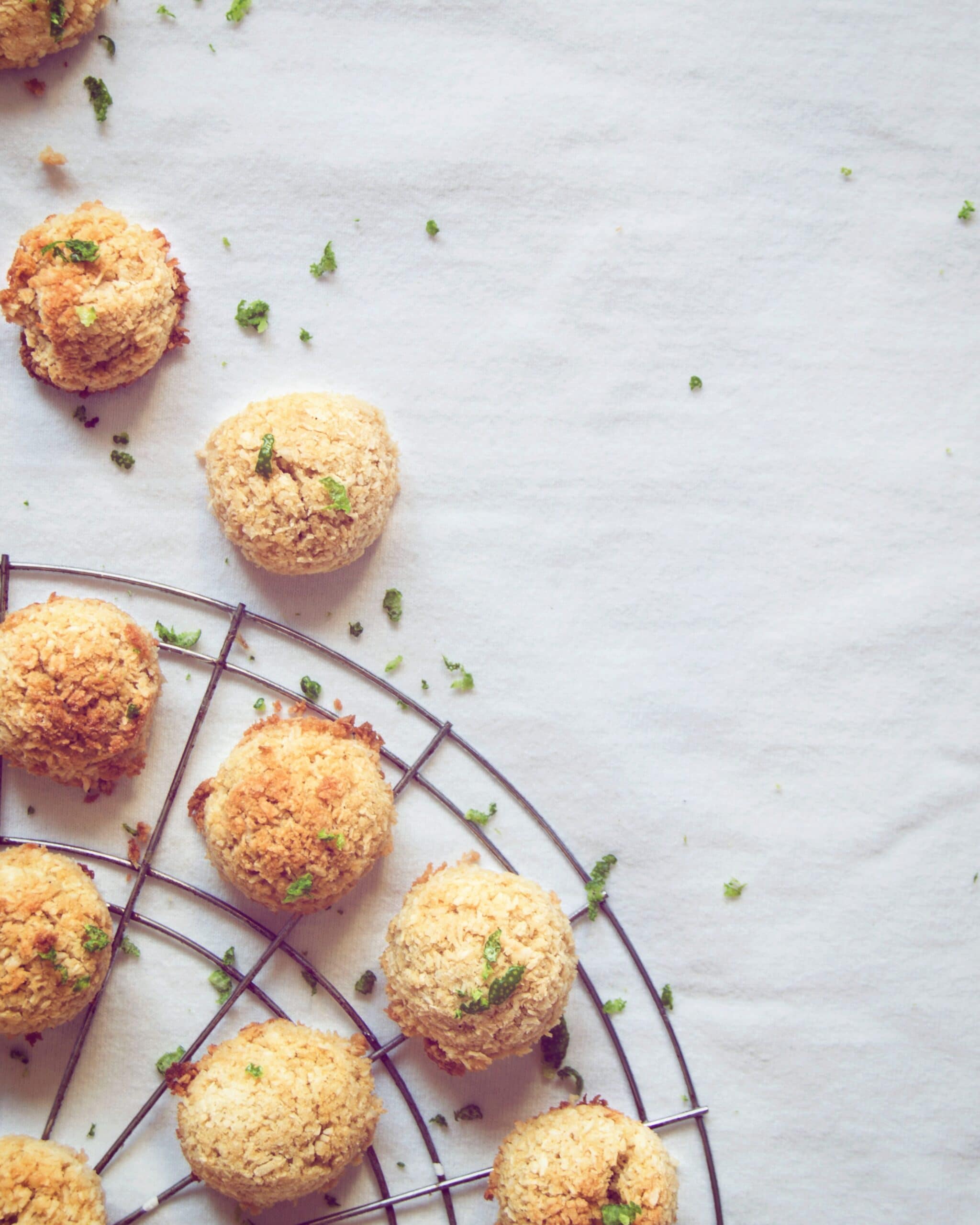 Kitchen is a place where you can let off steam, you can experiment and test out ingredients, you can also relax. Someone feels himself/herself in it, you can cook or just eat and enjoy your time with family and friends. For some delicate souls instead, kitchen is a cage and a place where weaknesses come alive. But there's no one better than others. The final aim for everyone is being healthy, chasing wellness and if you have problems…just find a solution!
As far as I am concerned my kitchen is that little place where I'm sure I can feel joyful, where I can test and let my imagination run wild. Those of you who know me better, know that I love making traditional recipes as well as modern and innovative. I like messing around, trying and trying again, making mistakes and then re-trying. Because if you give chances you'll always finish doing something good.
Now, today I'm sharing these little delicious bites, called macaroons (not macarons like the french cookies). They're usually made of almonds, coconut, sugar and different flavorings. As I previously wrote, I love testing and for this reason I thought "What about making some vegan macaroons?"
So, which is that secret ingredient I was talking about? Aquafaba of course!
For some reasons when aquafaba is beaten like egg whites, it reacts in the exactly same way and if you add sugar it becomes a meringue. Weird uh? You can consult aquafaba.com for more answers to all the mistery around this thing.
About the reaction they write "There are a few biochemists and phytochemists and kitchen experimenters from the groups tinkering with various aspects, but there is no real definitive consensus yet. The proteins and starches in the aquafaba tend to mimic the proteins in egg whites in many respects, but the science is still pending."
Let's get back to business and cook!
Recipe adapted from theblenderist.
---
Ingredients: (for 10 little vegan macaroons)
Reduced aquafaba (liquid from cooking legumes, in my case from chickpeas – NOT SALTED), two tablespoons
Muscovado sugar, 25 gr (or more, if you want)
Shredded coconut, 70 gr
Salt, a pinch
Vanilla extract, some drops
How to:
You want aquafaba to have egg whites' consistency, so if the liquid inside your can is too watery reduce it, otherwise do not.
Drain the chickpeas keeping aquafaba and set them aside (make a salad with them, yummy!).
PLEASE NOTE: read the ingredients on the can and use it only if it's not salted. When I first tried aquafaba I did not noticed it had salt. Result? Pretty disgusting.
If you find the cooking water is too runny, let it simmer over low heat until it's reduced in volume (about one third).
Let it cool and store in a sealed jar into the fridge, until you need it.
Preheat the oven at 160° C/320° F. Meanwhile in a bowl, beat aquafaba and muscovado sugar until stiff: the final consistency should be like a real meringue. Add the shredded coconut, some drops of vanilla extract and a pinch of salt and stir. The mixture is very sticky and crumbly, so when you're going to shape the macaroons it's better if you work with wet hands. Arrange the little balls on a baking tray lined with paper and bake for 20 minutes or so, until they golden.
Finish with lime zest on top, it'll give freshness and will be even more exotic. Beware! They're addicting!