This post is also available in:

Italiano
I'm back after a while with another recipe of an amazing CAKE: carrot cake without almonds inside, BUT with an extremely tasty almond sauce on top.
Some weeks ago I went visiting my grandma, she wanted to show me a crochet that she was making so she took me to the living room. When she opened the sideboard where the crochet was, my eyes fell on…what? A super cute silicon mold! I obviously asked my nonna if she was still using that and when she said No, you can take it. I was so happy!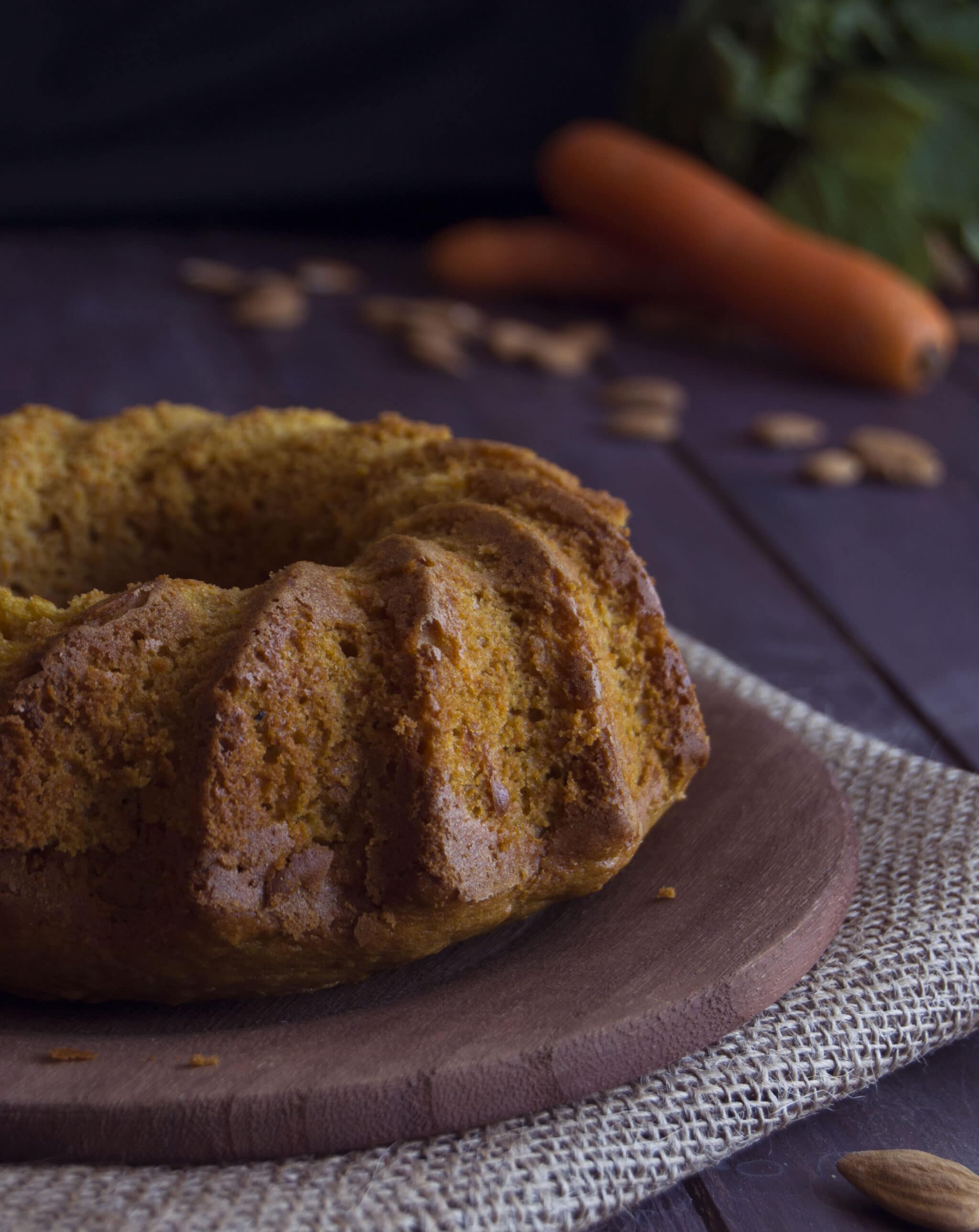 The mold I'm talking about is the typical Bundt cake mold, also known in Europe – Germany, Austria, Switzerland – as Guglhupf (you can find it here). Moreover I wanted it so badly because my Pinterest board was always full of this amazing cakes!
Of course when I got home I immediately tried a recipe, precisely a lemon poppy seeds bundt cake that I have to make again before sharing with you guys.
Instead, some days after that, I saw in the fridge some carrots that I needed to use up. What better occasion than this to use my mold and bake some good stuff? Reason why I took my old carrot muffins' recipe and baked it again. No almonds inside the cake, perfect for those who have allergies/intolerances, but if you want the extra touch you can serve the cake with this amazing vegan almond sauce.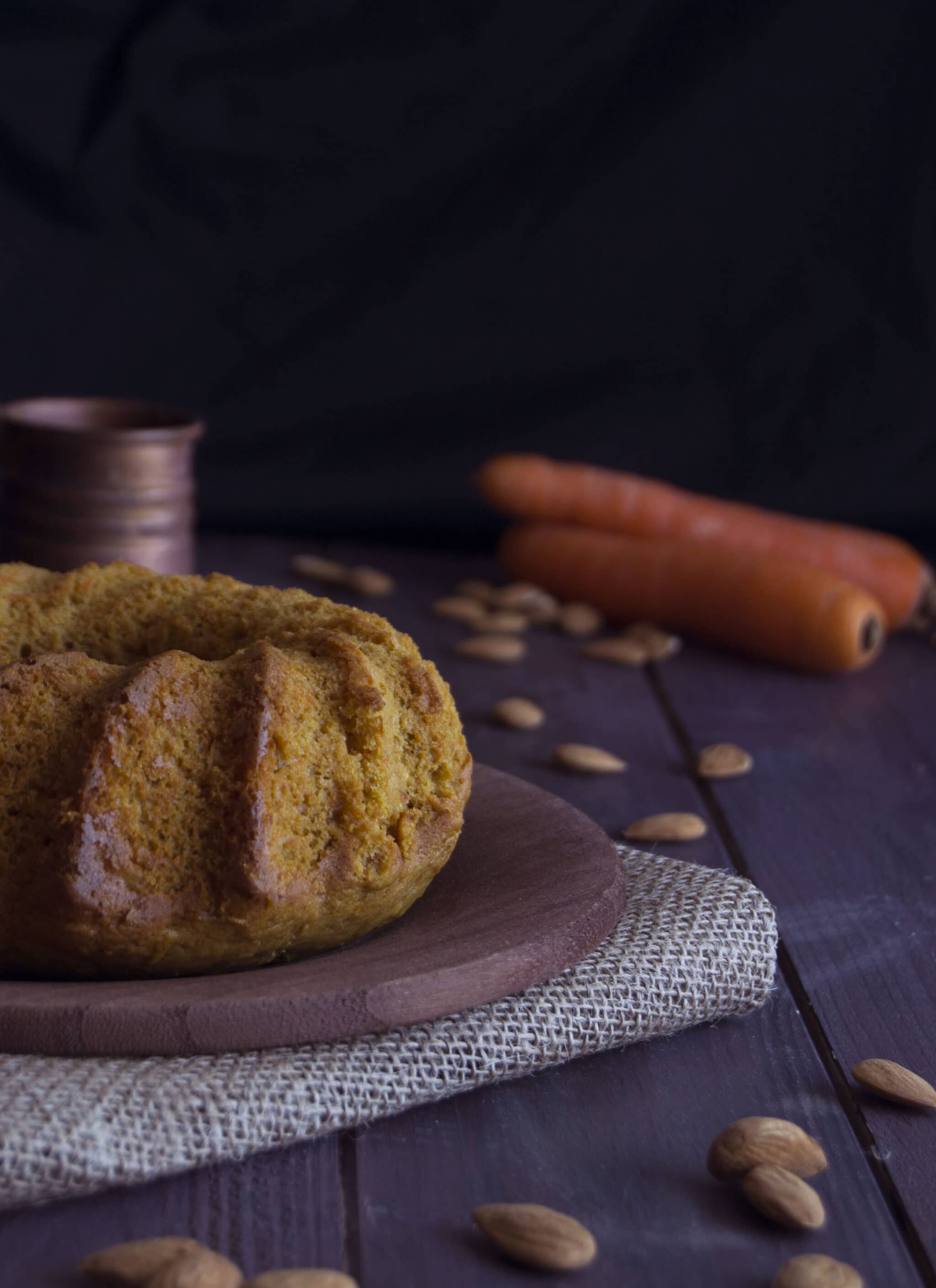 ---
Ingredients:
For the carrot cake with almond sauce
Peeled carrots, 150 gr
Eggs, two
Muscovado sugar, 80/85 g
EVOO, 50 gr
Spelt flour, 180 gr (you can also use whole-wheat spelt flour and spelt flour, 50/50 %)
Baking powder, 8 gr
Vanilla extract
For the almonds sauce
Soy milk or almond milk, 250 ml
Almonds, 25 gr
Almond flavouring, some drops
Agave syrup, one teaspoon
Rice flour, one teaspoon and a half
How to:
Take your eggs out of the fridge to bring them up to room temperature.
Preheat the oven at 180° C/360° F.
First thing beat the eggs together with the muscovado sugar for some minutes until they "write" – this means that when you make the mixture fall from the spoon, you have the time to write a letter on the surface before it fades.
Rinse and peel the carrots and, if need be, squeeze them to take all the extra liquid out. Add them to the eggs/sugar mixture with 50 gr of EVOO (you can use another kind of oil) and stir gently to prevent deflation. Sift the flour onto the mixture together with the baking powder and stir again. Finally, add some drops of vanilla extract.
Pour everything into a bundt cake mold and cook for 20/25 minutes – remember to check if it's cooked with a toothpick (if it comes out clean, then the cake is ready). Let it cool down.
For the sauce: blend the almonds until you get a flour and add it to the hot soy/almond milk straight into the pan. Flavour with some drops of almonds flavouring and sweeten with a bit of agave syrup, then put the rice flour to thicken. Bring to a boil and cook for some minutes. Take it off the burner and let it set.
Serve the carrot cake with the sauce…or nothing at all! It'll be amazing as well!