This post is also available in:

Italiano
Vegan easter eggs
---

Vegan Easter eggs.
Easter without chocolate eggs? Never happened in my entire life. My mother always tells me and my sister that when we were younger we received even five/six chocolate eggs. Oh, and when I was attending University I obviously gifted me with it! Honestly, that's not exaggeration, I think it's a little treat.
In my last post I told you how I live this feast day so I'm not going into details. Instead I will tell you the anecdote behind these photos. Usually when I shoot I have kind of a clear idea, so this was the case. I wanted a blooming composition, not too much in bloom though, also with branches and leaves. Unluckily I did not have anything of what you can see in the picture, except for olive tree leaves.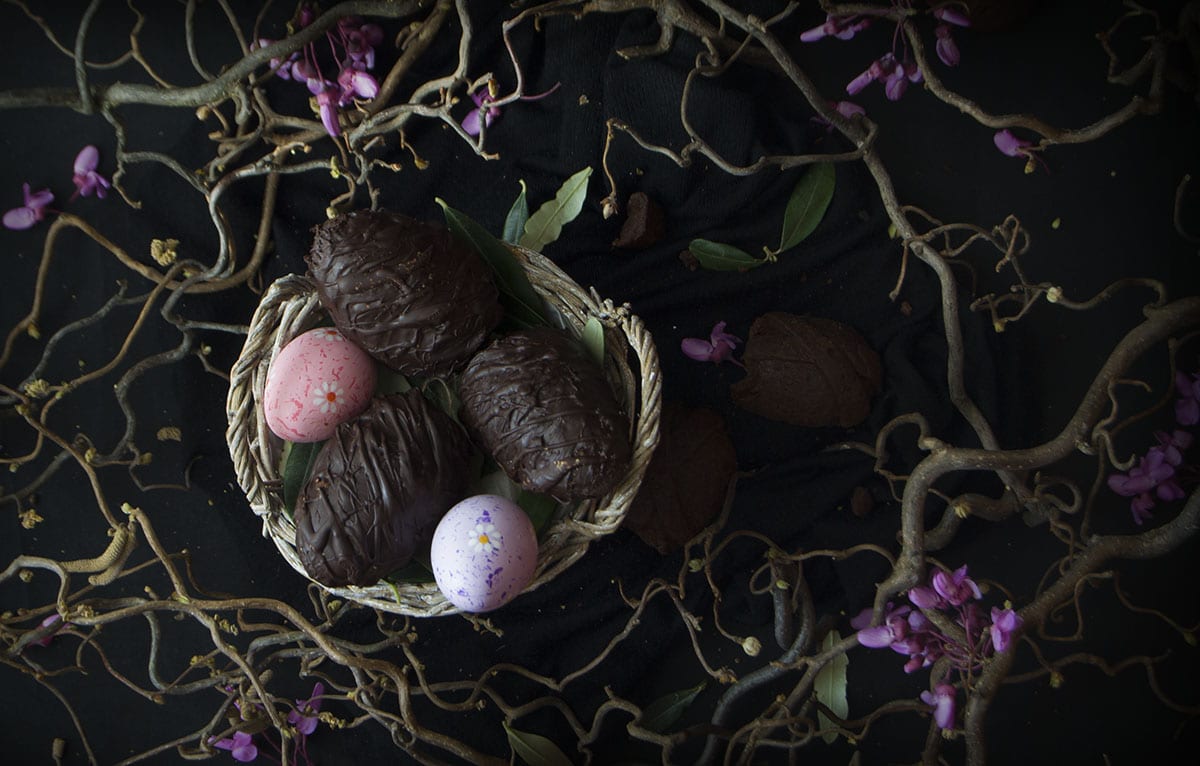 The anecdote.
Then I remembered that, when I went visiting my grandma last Sunday, she was doing this flowered composition with common hazel "contorto" (means with twisting branches). I kindly asked her to give me some of it. Furthermore, the day before yesterday, I went biking hoping that I did find some pink cherry tree flowers. I didn't. I saw a nice blossoming tree in the back yard, though. Yesterday, instead, my mother called me and told me she saw something, but when I went I felt guilty because I did not know if that was someone else's tree. I gave up and I went visiting a nursery to find some fake blossoms…but guess what. I didn't like them! To console myself, I bought some colorful eggs and a nice basket I went back for the second time to that tree that my mom saw, yet I felt guilty. I went back home and I found out that the tree in the back yard was ours. End. Same old story: look around you before watching farther.
Vegan Easter eggs.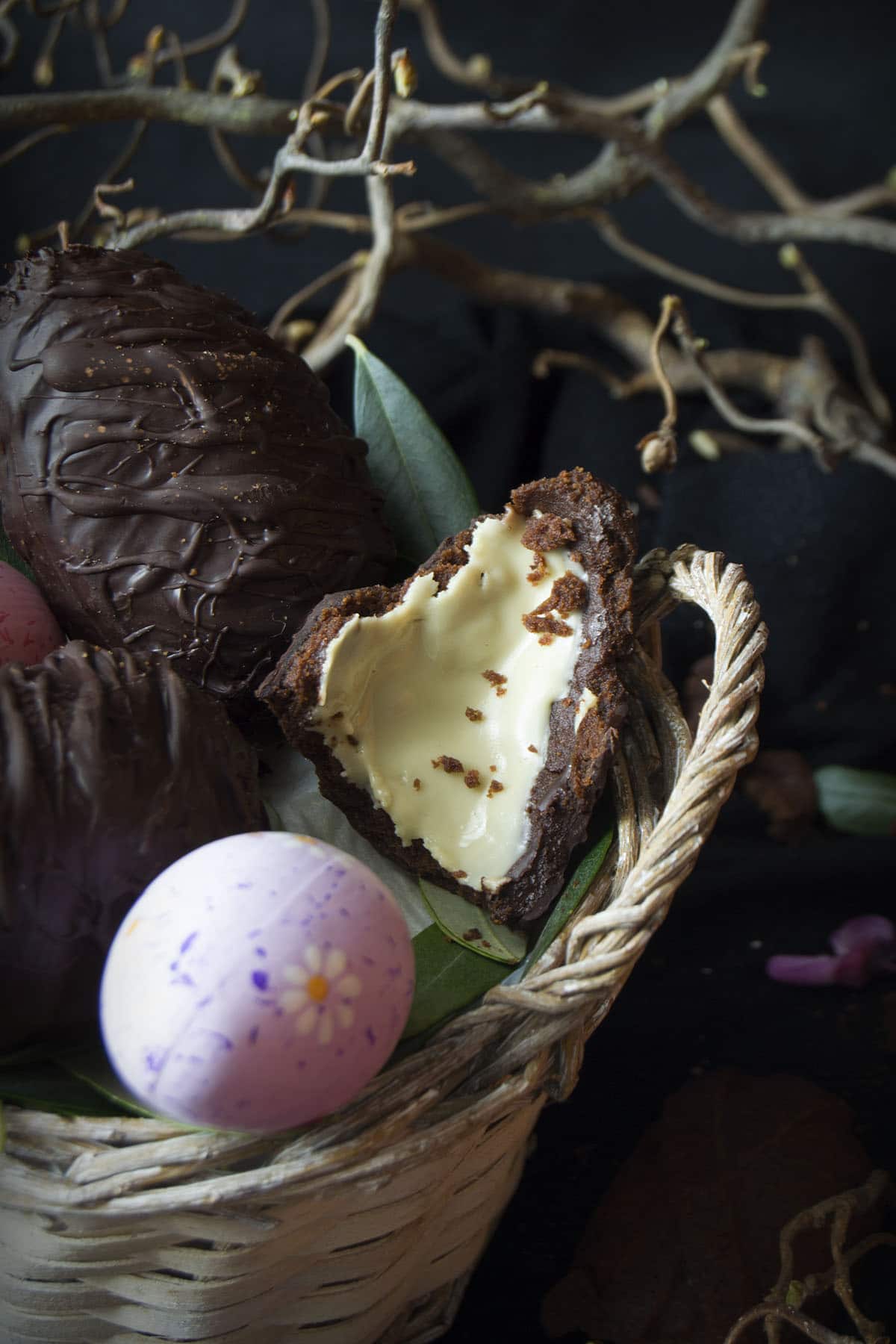 About one/two weeks ago I got an idea. I wanted to make Easter chocolate eggs but I realized I didn't have the molds. Guess who solved the problem? Pavoni, with these amazing cuties! I started thinking what to do and I came out with these… Crunchy cookies and melting filling, all covered with dark chocolate!
---
Ingredients: (for four eggs, eight half eggs)
For the shell
For the cookie
Spelt flour, 90 gr
Unsweetened cocoa powder, 10 gr
Muscovado sugar, 25 gr
Seed oil, 42 gr
Water, 8 gr
Ground flaxseed, half a tablespoon + water one tablespoon
Salt
Vanilla extract
For the filling
White almonds' butter, four teaspoons
How to:
First I baked the cookies. In a little cup, make the egg substitute mixing ground flaxseed and a tablespoon of water. In a bowl, beat oil, water and sugar until it emulsifies. Add the flaxseed gel, sifted flour and cocoa powder, a pinch of salt and vanilla extract. Knead until you get kind of a pastry similar to crostata's one and then let it set in the fridge at least half an hour.
Meanwhile preheat the oven at 180° C and when the pastry seems ready to be hard enough, divide it into eight pieces and fill slightly pressing to make it stick to the mold. Cook for about fifteen minutes or so. Let the cookies cool down.
Melt the chocolate, put together two half shells and seal with a bit of chocolate in the joints. Put in the freezer for some minutes, than take them out and cover the surface with all the remaining chocolate. Place them on a grinder to set.
Store in the fridge.