[:it]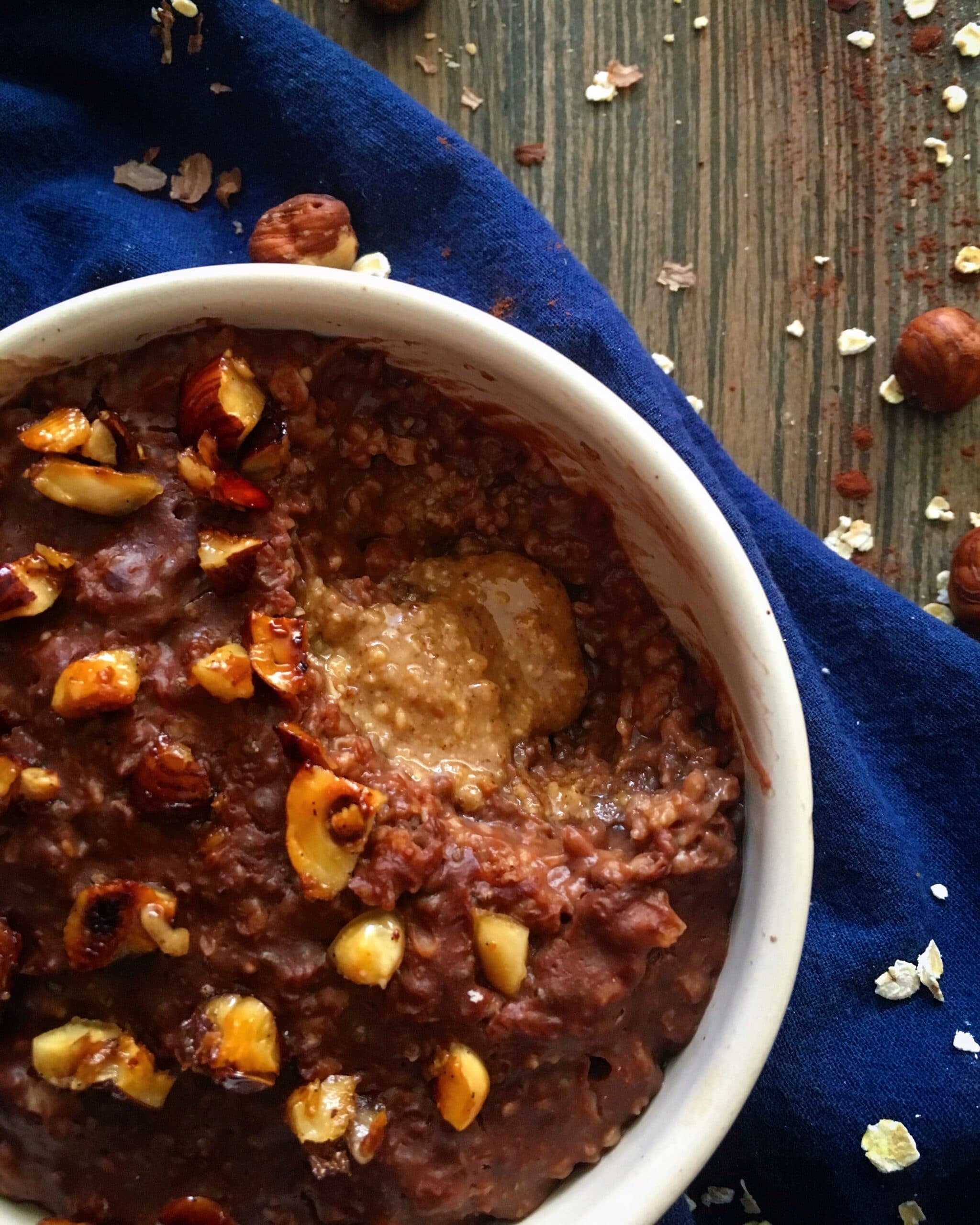 Realizzare piatti gustosi ma sani è stata la mia prima missione, sin da quando ho aperto il blog, e se mi segui da un po' già lo saprai. Ho lanciato il sito con questo obiettivo, ho iniziato pubblicando spesso ciò che mangiavo per colazione. E oggi è un'altra di quelle giornate: ecco il mio porridge cacao e nocciole con cuore di burro di nocciole e nocciole pralinate allo sciroppo d'agave e vaniglia…Simil Ferrero Rocher!
---
Sai, ultimamente ho spesso dei momenti di negatività. Passo gran parte della mia giornata su Internet a scrivere, a cercare ispirazione, a imparare, a salvare fotografie o ricette per poi reinventarle. Il Web e i social sono per me una fonte di ispirazione, ma in alcuni momenti fanno di tutto tranne che aiutarmi. I Social, poi, sono una trappola. Sono quella vetrina in cui sì sei presente e in bella vista, ma no non è tutto rose e fiori. Anzi. Sei costantemente messo alla prova, in un tempo infinitesimale puoi fallire miseramente oppure ottenere un enorme successo. Sei perennemente accostato agli altri, confrontato. Non fraintendermi, tutto ciò non è negativo di per sé, lo diventa però quando sei tu stesso a farlo. A quel punto stai ore ad analizzare i dettagli, a capire come mai non stai avendo quel successo che speravi di avere, a capire cosa non funziona e perché nonostante tutto l'impegno messo le persone non lo vedano. Ed è, credimi, la peggior cosa che tu possa fare. Chiaramente in questo momento mi sto rivolgendo a me stessa, SO BENE che non dovrei paragonare il mio lavoro a quello di altri perché io sono io, giusto?
Ma sai cosa? Questi momenti fortunatamente rimangono tali, rimangono istanti di una giornata, minuti. Poi esco a passeggiare o a fare un bel giro in bicicletta, vado al supermercato o nei negozi a trovare ingredienti nuovi, cucino qualcosa di buono, oppure mi prendo 20 minuti per fare yoga…e tutto passa.
Ti invito ad accettare i momenti negativi perché fanno parte delle nostre vite quotidiane, quando stanno per svanire prendi un bel respiro e ricomincia.
E ora, vai a farti un bel porridge coi fiocchi…d'avena!
---
Ingredienti: (per un porridge cacao e nocciole)
Fiocchi di avena, 50 gr
Semi di chia nera Bioglan, un cucchiaio
Cacao, un cucchiaino
Energy boost Bioglan, un cucchiaino
Acqua, q.b (indicativamente 200 ml)
Sale, un pizzico
Burro di nocciole
Nocciole, tre o quattro
Sciroppo d'agave, mezzo cucchiaino o uno
Estratto di vaniglia
Procedimento:
Prepara il burro di nocciole frullandole per diversi minuti in un frullatore molto potente, fino a quando non rilasceranno il loro olio naturale. Il risultato dovrebbe essere un burro vegetale delizioso e smooth.
Per realizzare il porridge versa in un pentolino i fiocchi d'avena insieme all'acqua e un pizzico di sale. Cuoci a fuoco basso e continua a mescolare per qualche minuto poi aggiungi l'energy boost e il cacao in polvere, oppure solamente uno dei due. Il porridge è pronto dopo qualche minuto da quando comincia a bollire.
Se si asciuga troppo, aggiungi altra acqua o un goccio di latte vegetale.
Fin qui tutto semplice, giusto? E le nocciole pralinate? Non potevano che essere molto facili anche loro! Scalda un piccolo padellino, tosta le nocciole tritate grossolanamente – attenzione a non bruciarle – infine aggiungi lo sciroppo d'agave e qualche goccia di estratto di vaniglia. Dovresti vedere delle grosse bolle e lo sciroppo che caramella le nocciole. Dopo qualche secondo spegni il fuoco e decora il porridge: versa in una ciotola metà composto, una cucchiaiata di burro di nocciole, il restante porridge e infine le praline.
Porridge cacao e nocciole, o porridge Ferrero Rocher? Nel dubbio, mangiamo![:en]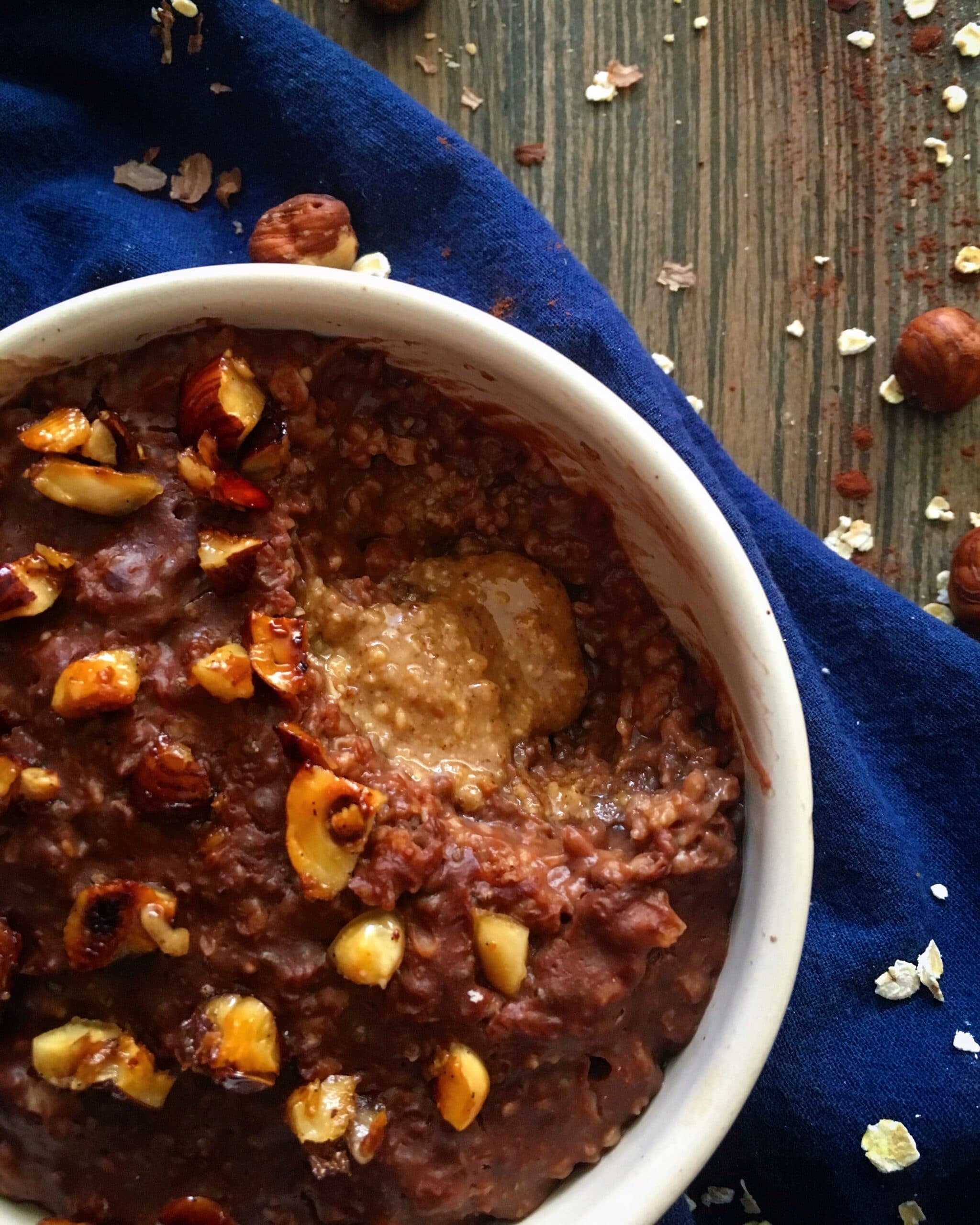 Cooking healthy still yummy dishes was my mission when I first launched my blog, and you probably already know that. At first I started with sharing my yummy breakfasts and guess what…today is another of that days: here's my cocoa hazelnuts oatmeal with a smooth heart of hazelnuts butter and crunchy hazelnuts vanilla pralines! Easy-peasy, don't you believe me? Well, go ahead and check the recipe!
---
You know, lately I've been struggling with negativity moments. During the day everyday, I spend a lot of time on the Internet, simply writing here on my website, or looking for inspiration, learning, saving pictures or recipes I want to re-invent. The Net and Social are a source for me, but in some moments it happens they're not very helpful. Social media are often a trap. I mean, yes they're a valid showcase but no it's not always a bed of roses. Indeed, you're constantly put to the test, you can immediately succeed or miserably fail.
You'll always be compared to others. Don't get me wrong, I'm not saying this is negative itself, but it becomes negative when you do it to yourself. You spend so much time trying to understand what's wrong with your pics, analyzing every details of them or others' photos. You should not do all that. Clearly I'm talking to myself now. I really know well I should not compare my work with others' work, 'cause I'm me right?
But you know what? Luckily, those moments do not last forever. They remain just instants, minutes of a  whole day. Then I go outside, take a walk, go to the grocery store, cook something, do some yoga flows and I re-find myself.
I invite you to take and accept those moments because they're part of our everyday lives, so when they're almost gone, take a deep breath and restart.
Now go and make this amazing brekky!
---
Ingredients: (for one cocoa hazelnuts porridge)
Oats, 50 gr
Black chia seeds, one tablespoon
Unsweetened cocoa powder, one teaspoon
Energy boost Bioglan, one teaspoon
Water, as required (approximaely 200 ml)
Salt, a pinch
Hazelnuts butter
Hazelnuts, Three or four
Agave syrup, half a teaspoon or one
Vanilla extract
How to:
Firstly make the hazelnuts butter: blend your hazelnuts for some minutes in a powerful food processor, until the oils are released and it turns creamy and smooth.
In a small pot, cook gently the oats together with enough water and a pinch of salt, energy boost and cocoa powder. Bring to a boil and cook for some more minutes, then turn the fire off.
All easy-peasy right? Well, the hazelnuts vanilla pralines are so easy as well.
Heat a saucepan, toast your hazelnuts and when very hot add the agave syrup and some drops of vanilla extract. You should see bubbles coming up and syrup caramelising them. Turn off the burner and compose your porridge: one layer of oats, a smooth heart of hazelnuts butter, another layer of oats and the pralines.
Your cocoa hazelnuts oatmeal – or should I say Ferrero Rocher oatmeal – is ready![:]