[:it]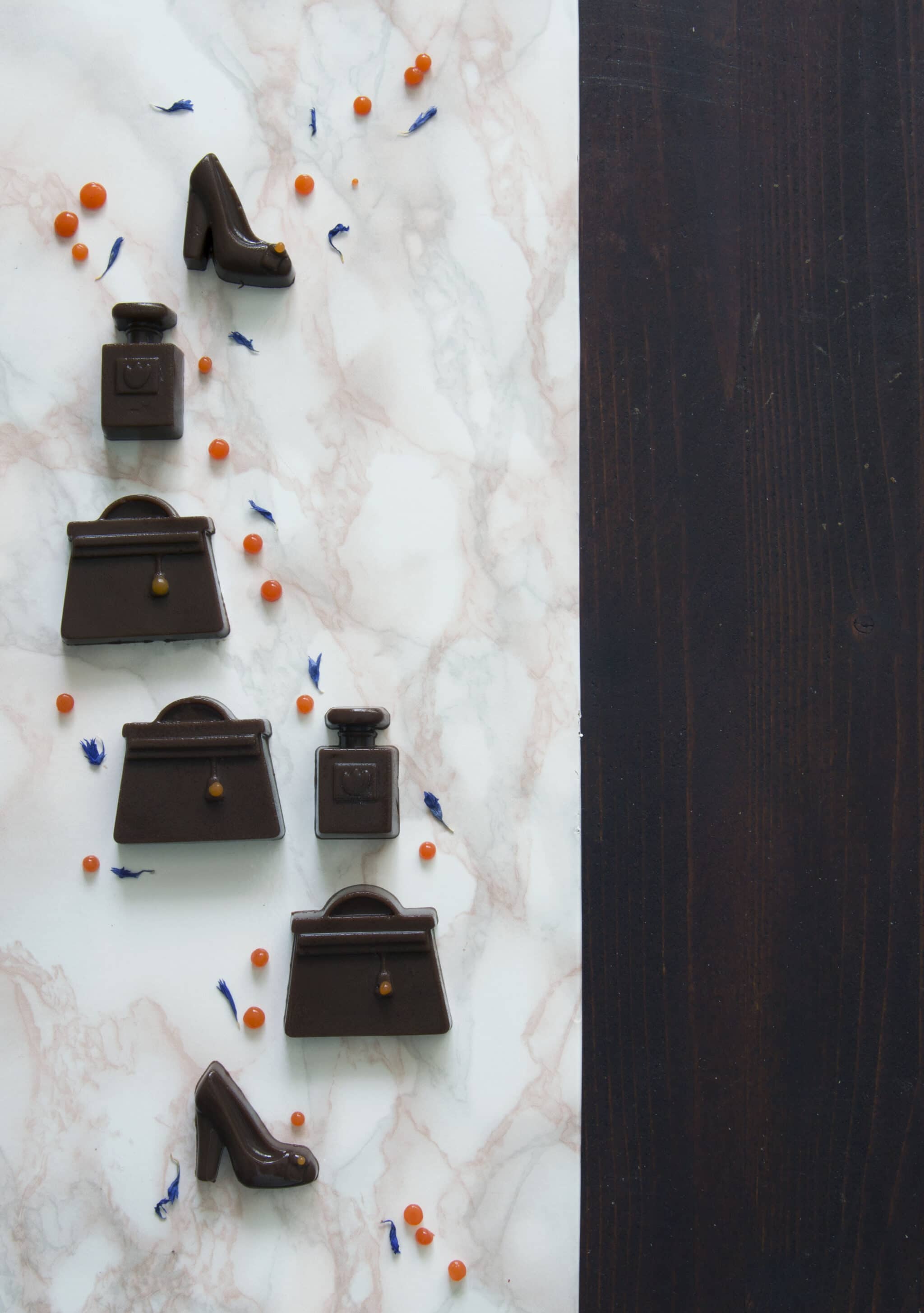 Il budino al cioccolato è uno dei miei tanti ricordi d'infanzia. Tornavo a casa da scuola e raramente trovavo le merendine per merenda, anzi direi quasi mai. Molto più spesso invece mi aspettavano al centro del tavolo dolci fatti in casa, sani e genuini. Mi piaceva un sacco proporre io stessa di fare qualcosa e il budino era una di quelle preparazioni semplici e veloci che si adattavano a questa mia richiesta. Ma che sacrificio attendere un'oretta affinché si rapprendesse! Realizzare un budino vegan con lo stesso sapore di quello della mia infanzia è pressoché impossibile, ma ci ho provato e il risultato mi ha soddisfatta.
In questa versione l'ho reso moderno e fashion grazie a questi stampini che mi ha donato la mia azienda fidata. Giusto in tempo per la settimana della moda parisienne, dato che la milanese è over, ho deciso di realizzare dei mini budini che potessero stupire anche il più severo fashion addict. Quando pensi a Enzo Miccio come giudice del tuo piatto le cose ti devono uscire per forza bene. In questa mia versione il cacao si sposa alla perfezione con l'estratto di menta fatto in casa e viene impreziosito da piccole sfere di succo d'arancia realizzate con due semplici ingredienti. Prova ad immaginare tu adesso: non stupirebbe chiunque? Piccoli bocconcini che si sciolgono in bocca insieme alle palline si succo che sprigionano il loro sapore. Voglio rassicurarti però, rimane una preparazione veramente molto semplice. Ora vai e stupisci tutti.
Stampini Fashion Pavoni
---
Ingredienti: (per un budino e 12 mini budini, indicativamente per due porzioni)
Zucchero mascobado, un cucchiaio
Estratto di menta fatto in casa, un cucchiaio poco più
Latte di soia o altro latte, 250 ml
Agar agar, un cucchiaino raso (2 gr circa)
Cacao amaro, un cucchiaio
Sfere di succo di arancia
Procedimento:
Quello che condivido con te oggi è un budino vegan veramente molto semplice e veloce, ti basterà solo qualche piccolo accorgimento dato che non utilizzeremo farine per addensare ma agar agar. Quest'ultimo è ricavato da un'alga e utilizzato in cucina per gelificare, ma ha bisogno di essere prima di essere sciolto a freddo e poi fatto bollire, infine va aggiunto al resto del composto che si sta lavorando.
Per prima cosa, in un padellino, fai sciogliere lo zucchero e l'estratto di menta assieme a un goccio di latte. Non appena si sarà formato una sorta di caramello, mettilo da parte. In una tazzina mescola il cacao amaro, l'agar agar e poco latte così da formare una cremina. In un pentolino scalda il restante latte insieme alla cremina di cacao: in questo modo non si formeranno grumi. Aggiungi lo sciroppo di menta e porta a bollore, fai cuocere per qualche altro minuto infine versa negli stampini oppure nelle coppette. Fai intiepidire a temperatura ambiente e successivamente in frigo.
Gusta i budini con le sfere di succo di arancia o confetture di frutta. Al procedimento delle sfere dedicherò un articolo apposito.
Nota: puoi realizzare facilmente l'estratto di menta acquistando alcol alimentare al supermercato e delle belle foglie di menta biologiche da qualche fruttivendolo. Lava bene queste ultime, asciugale e mettile all'interno di un vasetto ben pulito e sterilizzato insieme all'alcol. Ci vorrà qualche settimana prima che tutti gli olii vengano rilasciati.
[:en]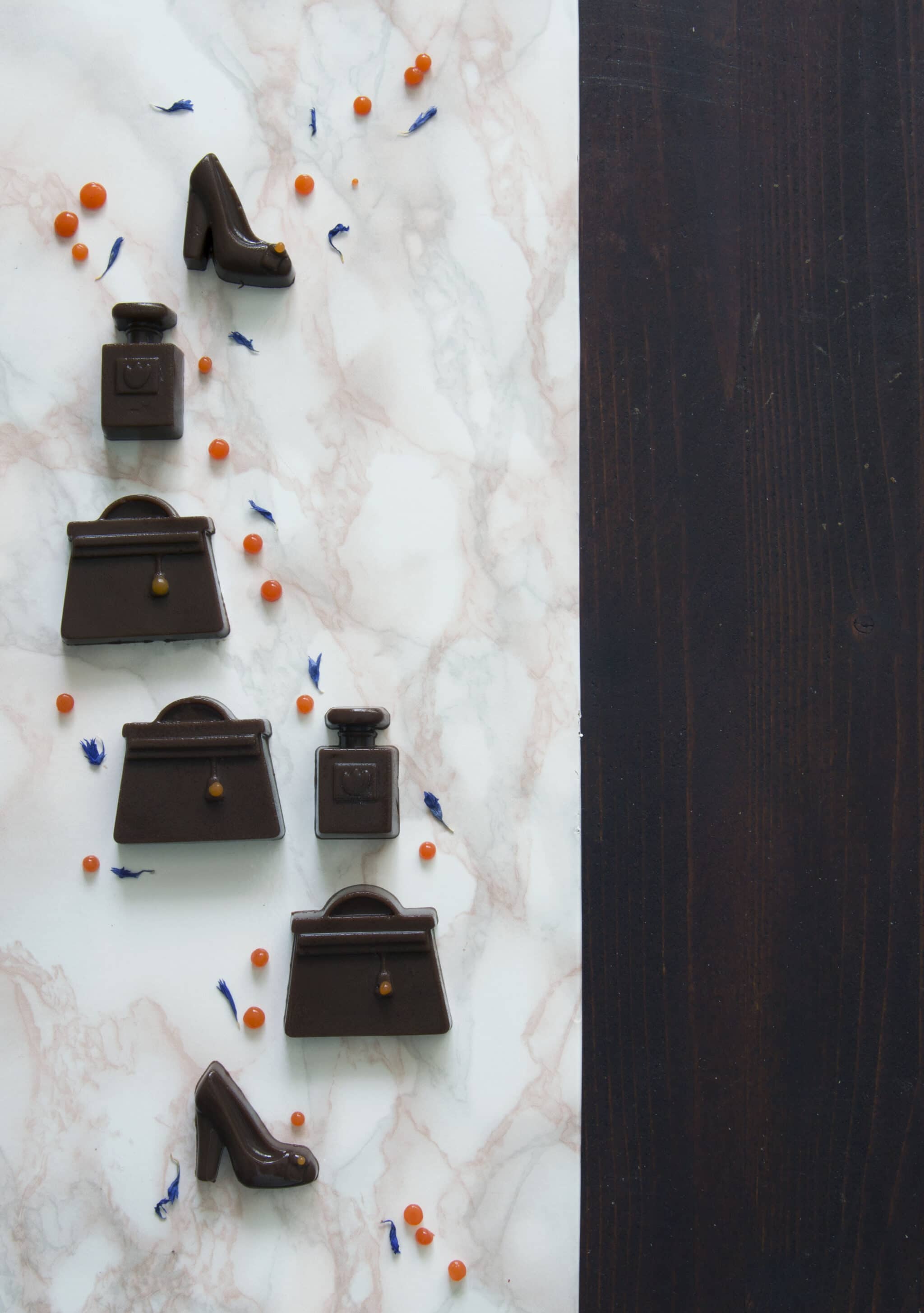 Chocolate pudding is another of my dearest childhood memories. When I came back from school I never found junk food or processed snacks, instead there was always some of my mother's simple and homemade cake on the table waiting for me. I also loved suggesting something to do as a light mid-afternoon meal and choco pudding was one of the easiest thing to do as a child. Milk, cocoa, flour and love. The only negative side was waiting for it to cool down and set. It is nearly impossible for me to make a vegan pudding with the same taste, but I tried and…I loved it.
In this variation I made little modern and fashion puddings thanks to these lovely chocolate/ice molds that Pavoni gifted me. Just in time for Paris Fashion Week I'd say, since MFW is over! These little babies will surprise even the most inflexible fashion addict out there. The cocoa powder matches perfectly the homemade mint extract and goes hand in hand with the juicy spheres. Now think: wouldn't it amaze everyone? Let me tell you, you'll freak out 'cause you'll just need few ingredients and the result will be perfect.
Fashion molds Pavoni
Ingredients: (for one pudding plus 12 mini, approximately two servings)
Muscovado sugar, one tablespoon
Homemade mint extract, one tablespoon
Soy milk or other milk, 250 ml
Agar agar, one teaspoon (2 gr)
Unsweetened cocoa powder, one tablespoon
Orange juice's spheres
How to:
Today I'm sharing a basic version of vegan pudding, made with agar-agar to thicken instead of any type of flour. It's very simple but you need to make sure you take some "precautions". Agar is a substance obtained from algae used as a thickener in puddings, jellos and other desserts, but you need to mix it with a cool liquid before heating it up and adding to the mixture.
First thing first, melt muscovado sugar and homemade mint extract in a pan together with a drizzle of milk. When it seems like caramel sauce, set it aside. In a cup mix agar-agar, cocoa powder and just a tablespoon of milk to make the pudding smooth and not lumpy. Then pour it in a small saucepan with the remaining milk and the mint syrup you previously made, take to a boil and cook for some minutes. Pour into the molds or cups/glasses, let it cool down at room temperature.
Store in the fridge and serve with jam, fruit of orange juice's spheres – to which I'll dedicate a post.
Note: you can make your own mint extract at home. You just need alcohol (for food) and organic mint leaves. Wash and dry these, put them in a jar with enough alcohol. Let them set for a few weeks until the essential oils will be released.
[:]