[:it]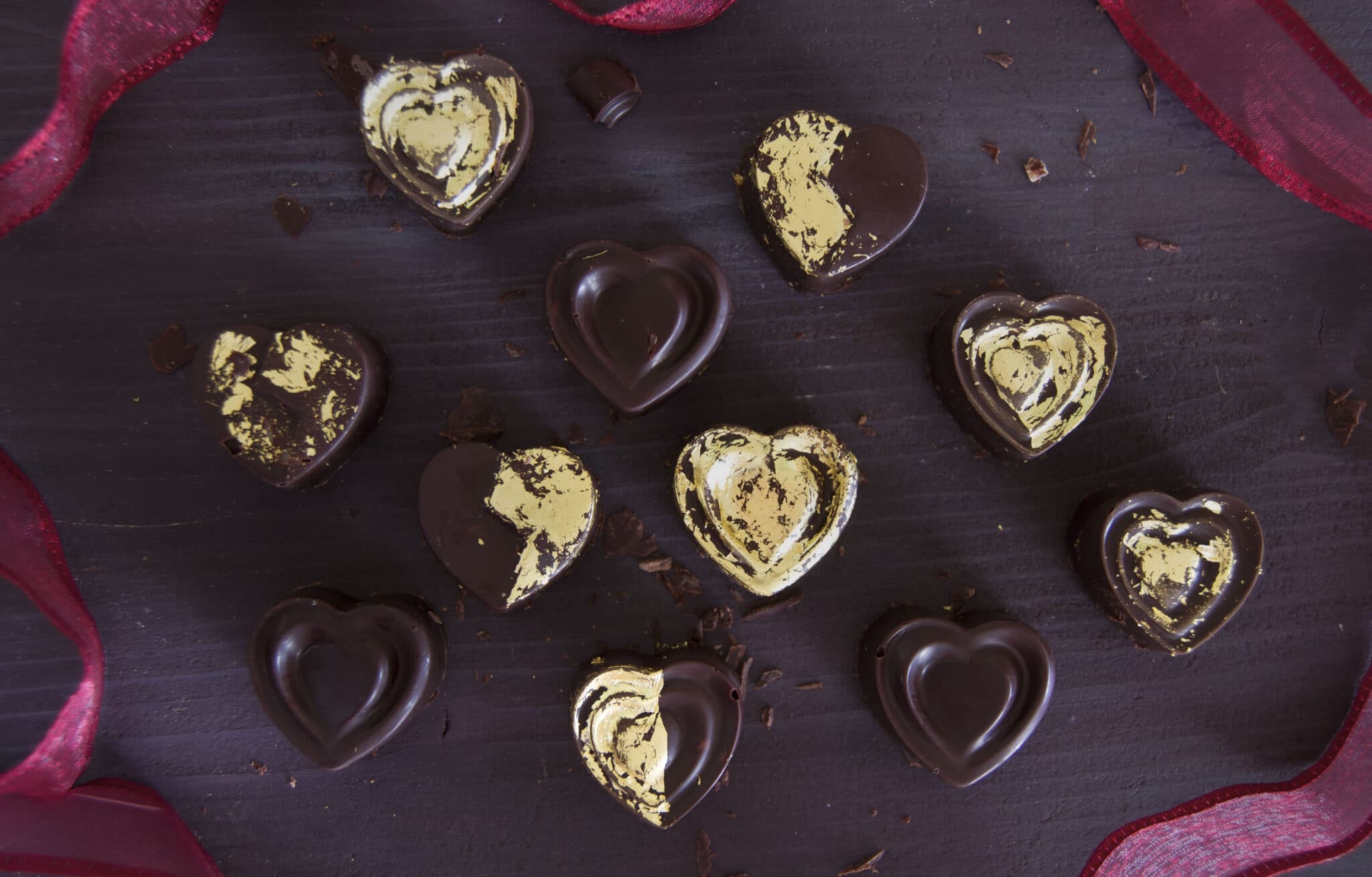 Cioccolatini di San Valentino, quale miglior modo per festeggiare questa occasione. Ad alcuni sembrerà banale, ma ti prometto che non lo sarà per nulla con queste piccole meraviglie, raffinate e delicate nel loro sapore.
Questa volta voglio raccontarmi un po' di più…
La mia storia d'Amore inizia l'Estate del 2012. In un certo senso l'avevo promesso che l'avrei raccontata, ma sarò breve dato che siamo comunque in un blog di cucina. Ho conosciuto in quel periodo quello che ora è il mio Amore. Come tutte le cose più belle non è stato semplice dare il via a questa storia, dal momento che eravamo distanti 1000 km in linea d'aria. Complice la mia testardaggine – chi mi conosce lo sa che quando mi metto in testa una cosa devo farla – e la sua forza di volontà – chi è disposto a fare ore sotto al Sole siciliano cocente, per distribuire volantini e guadagnare i soldi per prendere un aereo? – siamo ancora qui dopo quattro anni e più. Ne abbiamo passate tante, tra alti(ssimi) e bassi(ssimi), perché non è semplice gestire una storia a distanza quando si è alla prima, quando si ha un'Università che assorbe tutte le energie, quando non si hanno molti soldini. Ma ho imparato che nulla è impossibile (esclusi limiti fisici).
Voglio lasciarti un messaggio: qualunque cosa tu voglia fare, prima di dire 'no, è impossibile.' prova a pensare ad almeno un modo per poter raggiungere quell'obiettivo.
Avessi detto io – o lui – questa frase nessuno dei due avrebbe sofferto sul momento, ma si sarebbe rammaricato dopo. Il peggio che può capitare è il fallimento, ma se non ci provi hai fallito al 100%, se invece tenti c'è ancora quel 50% che ti fa sperare.
---
Ingredienti: (per 14 cioccolatini)
Per la camicia
Cioccolato fondente 70%, 100 gr
Per la ganache
Cioccolato fondente 70%, 110 gr
Yogurt intero, 80 gr (puoi provare anche con yogurt vegetale)
Acqua di rose, q.b
Per decorare
---
Ho acquistato la foglia d'oro su Amazon (questa) dopo aver confrontato più opzioni, aver visto diversi prezzi e aziende. L'Azienda Manetti mi è sembrata seria e il prezzo delle foglie accessibile.
Tuttavia, l'utilizzo di questo ingrediente è opzionale e meramente decorativo (non cambia il sapore).
Ho acquistato l'acqua di rose al supermercato Carrefour nel reparto etnico (qui quella che ho utilizzato io).
Gli stampini come al solito sono Pavoni, che non smetterò mai di ringraziare perché mi fornisce materiale di qualità. Come ho sempre detto, gli stampini sono facilissimi da usare, e soprattutto da pulire.
---
Procedimento:
Per riuscire a fare dei cioccolatini di San Valentino che superino le aspettative, ti consiglio di temperare il cioccolato. Il temperaggio fa sì che il burro di cacao presente nel cioccolato si pre-cristallizzi il burro di cacao contenuto nel cioccolato. Cristallizzare significa "diventare solido assumendo una struttura cristallina, solidificarsi" (da Treccani) dunque, come potrai dedurre, significa che il burro di cacao si stabilizza e il cioccolato alla fine della lavorazione sarà lucido e resistente.
Data l'occasione per cui ti propongo questi cioccolatini, ti consiglio di perdere un po' di tempo in più e fare il temperaggio. Altrimenti se non te la senti, puoi procedere senza, ma con il rischio che si ricoprano di una patina bianca una volta raffreddati.
Ho spiegato il procedimento qui, ma te lo riassumerò in breve (io seguo quello del maestro Knam):
Armati di termometro per alimenti (io ho questo)
Sciogli a bagnomaria tre quarti del cioccolato (in questo caso 75gr) e portalo ad una temperatura di 50/60°
Togli dal fuoco e lascia raffreddare fino a 35°
Aggiungi  il resto (in questo caso 25gr) che hai precedentemente ridotto in polvere/pezzettini con un buon coltello, portando così la temperatura a 28°
 Infine riporta a 31° (basta qualche secondo a bagnomaria)
Questa è una tabella che vi aiuterà a capire le temperature da utilizzare per i vari tipi di cioccolato:
| | | | |
| --- | --- | --- | --- |
|   | Temperatura fusione | Temperatura spatolamento | Temperatura di rialzo |
| Fondente | 50 | 28 | 31 |
| Al latte | 50 | 27 | 30 |
| Bianco | 45 | 26 | 29 |
Rivesti gli stampini a forma di cuore e fai raffreddare in freezer. Rivestili una seconda volta per far sì che la camicia non si rompa, e rimettili a raffreddare questa volta in frigo.
Nel frattempo prepara la ganache sciogliendo a bagnomaria il cioccolato fondente, ma togliendolo dal fuoco appena si è sciolto. Lascia intiepidire e aggiungi lo yogurt a temperatura ambiente, poco alla volta. Se comincia a solidificarsi troppo non versare più yogurt (allena l'occhio in cucina!). Unisci l'acqua di rose piano piano, assaggiando la ganache per sentirne il sapore. Quando ti sembrerà equilibrata, tira fuori dal frigo i cioccolatini e riempili. Poi metti di nuovo a riposare.
IMPORTANTE: di tanto in tanto passa al microonde il cioccolato temperato che ti rimane, altrimenti si cristallizzerà e dovrai ripetere il temperaggio.
Come ultimo passaggio, ricopri con il rimanente cioccolato il fondo dei cioccolatini e riponi in frigo.
Per la decorazione utilizza la foglia d'oro, maneggiandola con cura pena la rottura, e sbizzarrisciti.
Buon San Valentino a tutti.
[:en]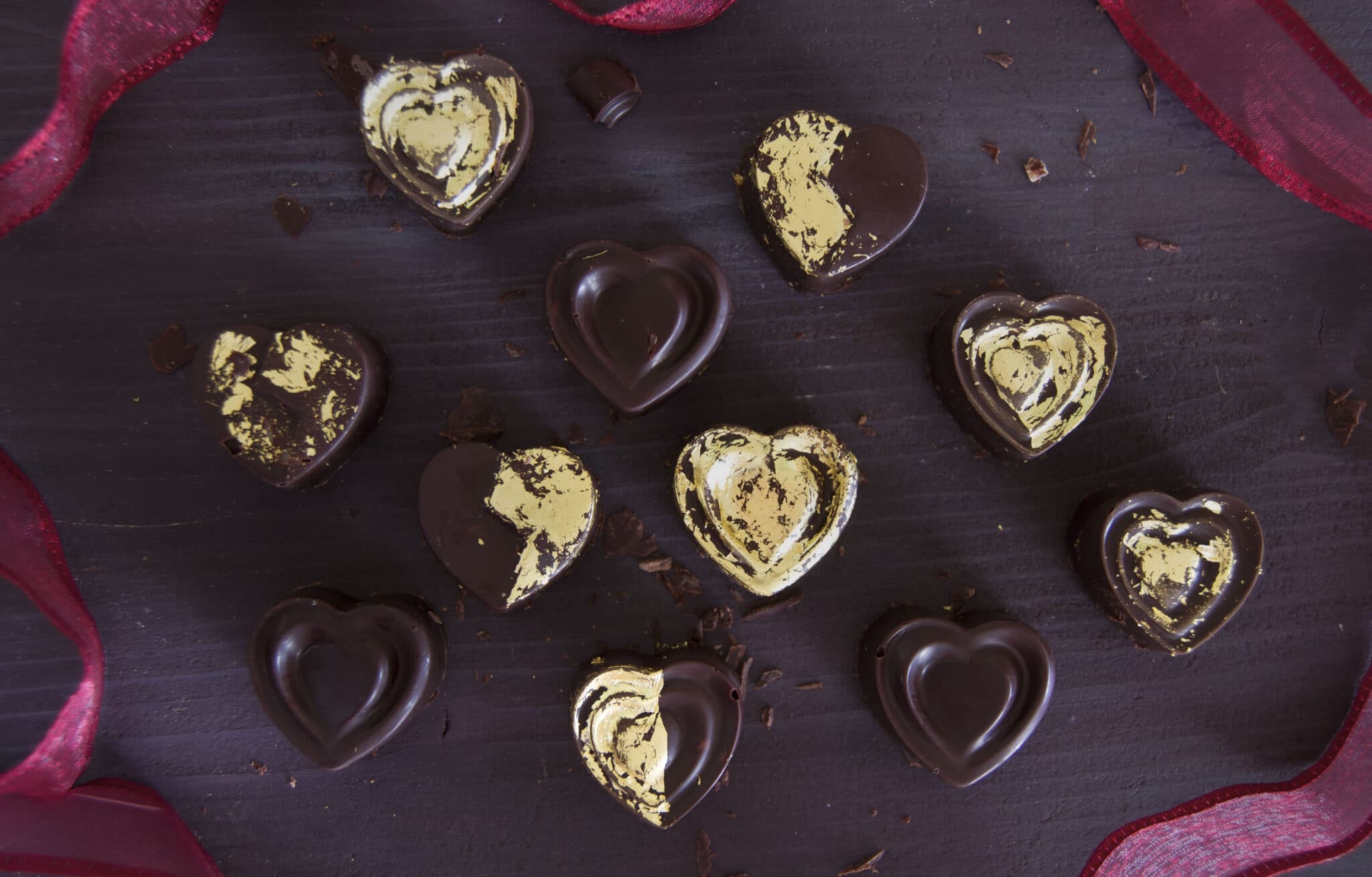 Chocolates, you know, are the perfect Valentine's day gift. Maybe you consider them a lack of originality, maybe not. Maybe you're romantic, maybe not. Well, these can't be disliked: they're nice little bombs of flavour, sophisticated and delicate.
Talking about me… I want to let myself go a bit, but I'll keep it short.
My love story begins on Summer 2012. I met my lovely boyfriend but we were already distant more than 1000 km. It wasn't easy at all at the beginning, 'cause we were both very young, without a job, plus I was a student so my academic life was taking up most of my time and energy. In case you didn't know though, I'm stubborn, I mean really really stubborn; basically if I want a thing I'll do everything to have it. Then, aided by the fact that my boyfriend started leafleting, we met. He caught a plane for Milan, where I was staying at the time, the sweetest gesture, isn't it?
We went through amazing and hard moments as well, but if there's one thing I've learned: nothing is impossible, so never give up at the beginning.
My message: do not say 'it's impossible, I'll never do it' before trying. If you give up, you'll 100 %fail, instead if you give a chance there's 50 % of hope.
If only I said 'we can't meet, there's too much distance between us', we were surely regretting now.
---
Ingredients: (14 chocolates)
For the shells
Dark chocolate 70%, 100 gr
For the ganache
Dark chocolate 70%, 100 gr
Whole milk yogurt, 80 gr (you can also try with plant base yogurt, if you're vegan)
Rose water, as required
Decoration
Edible gold leaf 23 kt, one
---
Gold leaf: I bought mine on Amazon (here) after a long research. I wanted a high quality gold leaf, but also affordable (good price/quality ratio). Manetti Battiloro seems to be the most suitable for these characteristics. 
Nevertheless this ingredient is optional, doesn't make any difference in flavour, it's merely ornamental.
Rose water: it's easier for you to find it in stores, dear international friends (I used this one).
Molds are from my lovely friends at Pavoni, they always send me high quality materials, especially molds indeed. They're extremely easy to use and especially to clean!
---
How to:
To make amazing and absolutely outstanding Valentine's day chocolates, I strongly recommend to temper the chocolate. This procedure is essential to make cocoa butter, contained in chocolate, crystallize and stabilize, in fact this prevents the final waxy texture that happens if cocoa fat separates. Tempered chocolate is shiny, flawless, smooth, and glossy, also more tough.
If you don't want to spend time tempering it, you can skip this step.
I've already described how to make this process, but I will sum up to you:
You'll need a cooking thermometer (like this one)
Melt down three quarter (75 gr in this case) of your chocolate over a bain-marie (place a bowl over a pan of simmering water. The base of the bowl has to sit above the water without touching it). Bring it to 50/60° C
Let it cool down since it reaches 35° C
Add the remaining chocolate (25gr) previously finely minced and bring temperature at 28° C
At the end, bring it to 31° C (few seconds a bain-marie are enough)
This tab will help you understand different temperatures for different kind of chocolate:
| | | | |
| --- | --- | --- | --- |
|   | Melting point | Working with spatula | Rise temperature |
| Dark | 50 | 28 | 31 |
| Milk | 50 | 27 | 30 |
| White | 45 | 26 | 29 |
Line the heart molds  with a bit of chocolate and let it set in the freezer. Then line again so the shells will be stronger, and put them in the fridge.
Meanwhile, we'll prepare the easiest ganache in the world: melt the chocolate and when melted turn off the burner. Let it cool down, then add gradually the yogurt at room temperature, and if the ganache sets too much, stop adding it.
Pour rose water a bit at a time, tasting in the meantime so you can adjust if needed. Fill the chocolates and put in the fridge again.
NOTE: warm up the chocolate once in a while, otherwise it'll crystallize and you'll have to repeat the tempering process.
Last step, dress the bottom of the chocolates.
For the decoration, take the gold leaf and let your fantasy come out – remember to handle it with care.
Happy Valentine's Day![:]